These easy crockpot chicken fajitas are going to blow you away! Take a few extra minutes to get a bit of a char on those veggies to keep the fresh grilled flavor that you love in the fajitas intact. The rest is just a dump and go easy easy meal! We LOVE these, and so has everyone who has made them! Fire up your favorite slow cooker and have a fajita night at home!
WARNING!
If you have delicate sensibilities and are easily offended by pictures of children with a rash, scroll down to the past the Halloween costumes and then keep reading. 🙂
Hey all! Is it really November already? I thought for about 1/2 a second to try and participate in the NoBloPoMo, and then realized that I have barely managed 2-3 posts a MONTH over the last few months, and I might need to dip my toe in the water a bit more before saturating you all with MY pointless drivel. Because let's face it. I'm chest deep in diapers and laundry and dishes, and that's about all I have time for lately. This is the first time I've managed to actually SIT down at the computer and do something for ME for about a week. Write that down because it is a record.
Little miss Amelia will be FIVE months old tomorrow. We had a rough week this past week. She developed some kind of wicked rash that kept spreading and getting worse and worse and worse. Our family practitioner said it was some kind of allergic reaction, so try and find out what she's reacting to. Ummm…okay. Here she is early in the week.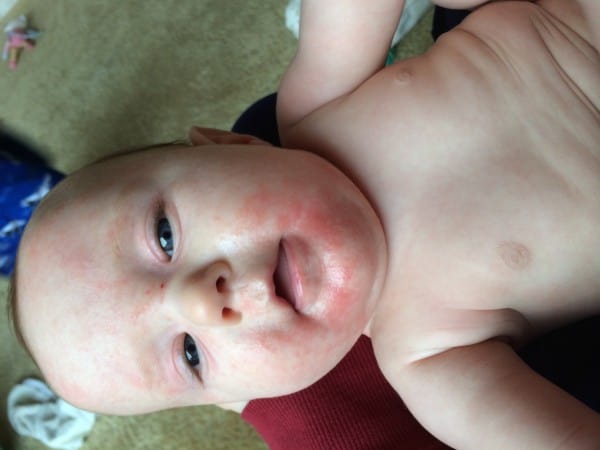 This is her by Saturday afternoon. And it kept getting worse.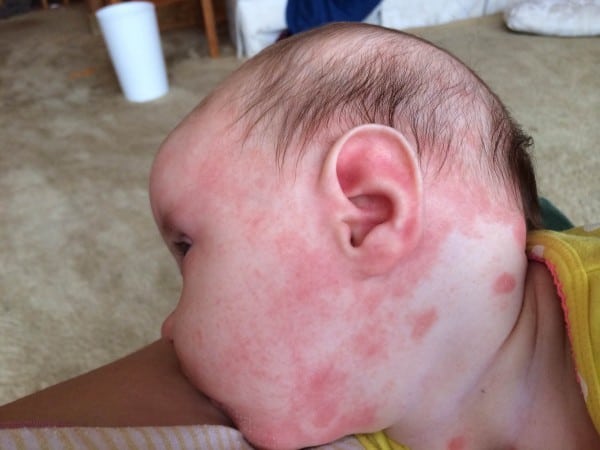 Yikes. I took her to the ER on Saturday night. We had an appointment on Monday with an actual pediatrician in the next town over, but I didn't feel like it could wait it was progressing so quickly. ER doctor said that it is eczema, and gave us some super awesome Rx cream to rub on it. It was markedly better by just the next day. That stuff is amazing.
Now this is her today. 5 months old TOMORROW! Where did it go?? She has little socks on her hands so she doesn't scratch up her face. It is still a little itchy on occasion.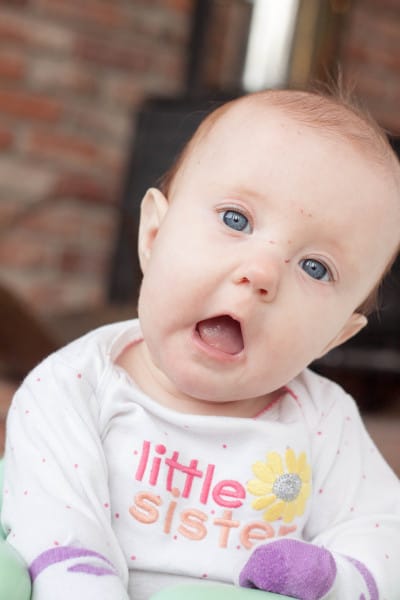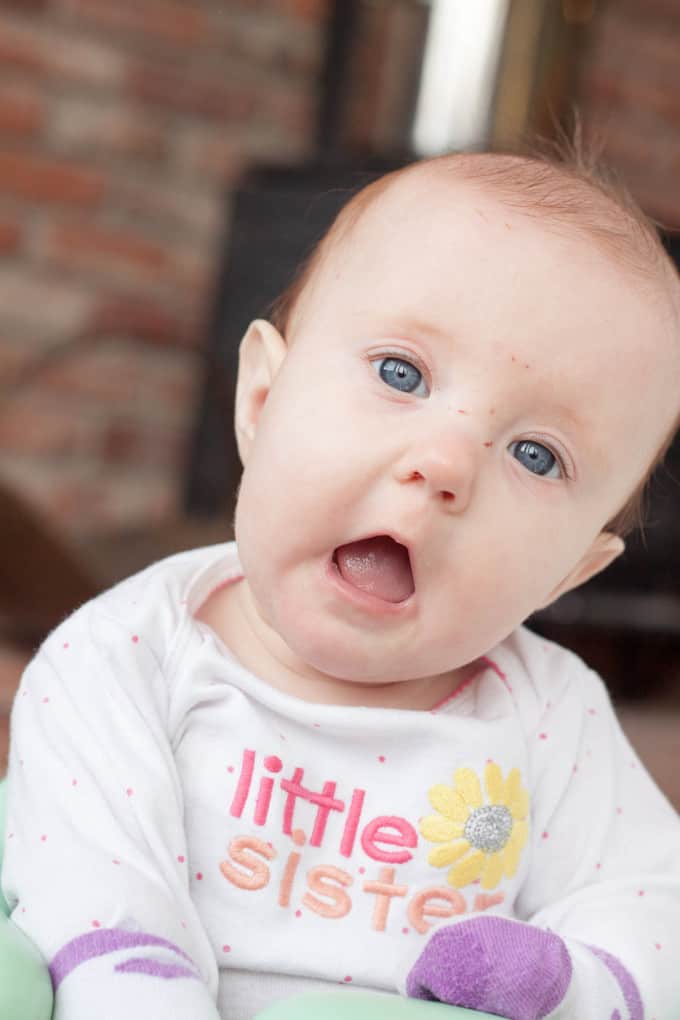 Just in case you ever think I'm getting full of myself and thinking I can take a picture or something…here's something to refer me back to. We got the CUTEST little pink tutu from my sweet cousin-in-law. I couldn't WAIT to put it on Amelia so I could take the CUTEST picture of her in it. Yeah. Didn't quite go as planned. We will try again, internet! Rest assured!
The boys are doing so well! Halloween was a ton of fun last week. I had a vampire, the Flash, a ghoul of some sort, and Spiderman!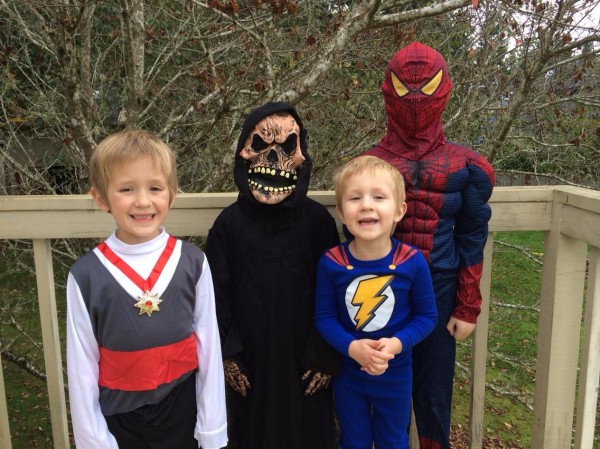 They are amazing and I love them all to bits. It is crazy to have your heart running around in 5 different directions. Crazy and scary and amazing.
Now…back to this chicken!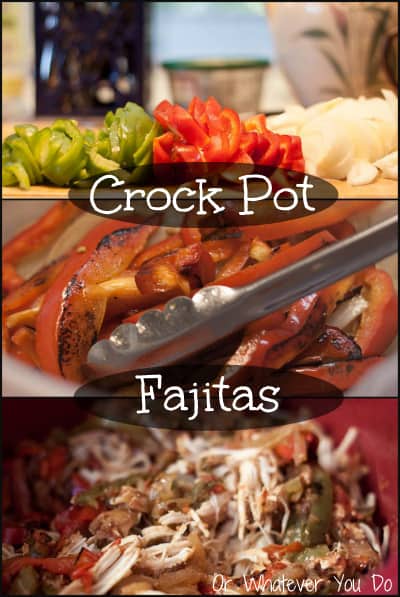 How to make easy crockpot chicken fajitas
This is easy crockpot chicken fajitas. They keep the fajita flavor, but you can do most of the work ahead of time and let the slow-cooker finish the job for you. I didn't get any good "after" shots because it ALL got eaten up! Yay!
Start by slicing your veggies.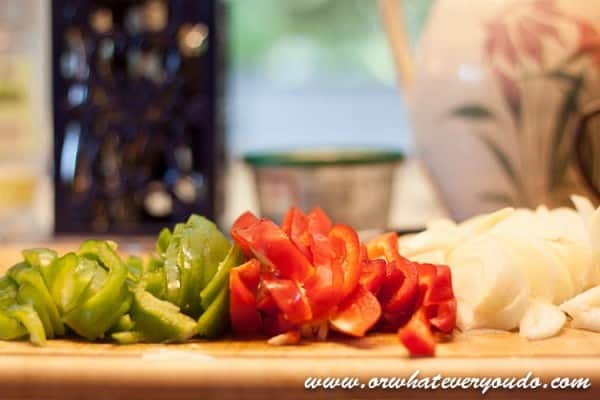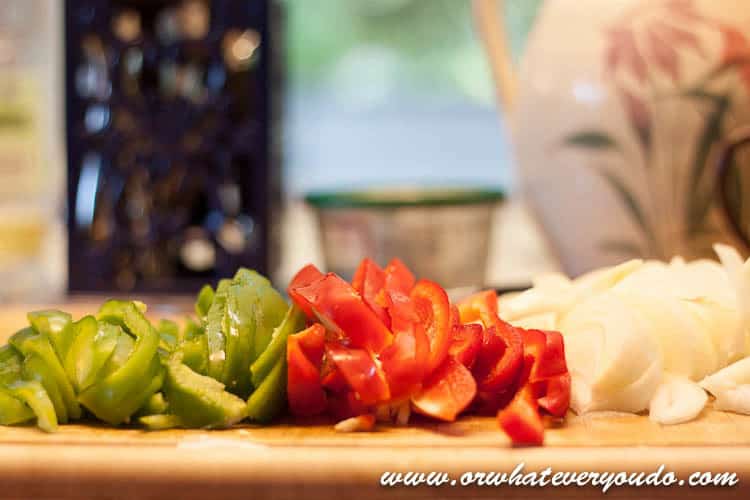 Next, preheat a cast iron skillet over high heat. If you don't have cast iron, any old pan will do. I just prefer the cast iron for this sort of thing. You want to give your veggies a little color and a little char. You need that slightly smoky flavor to make it more "fajita" and less veggie tacos.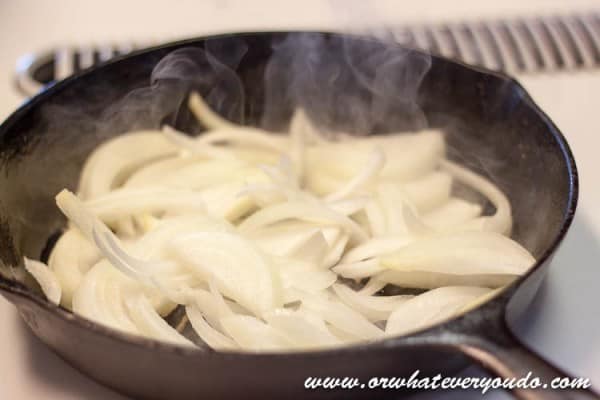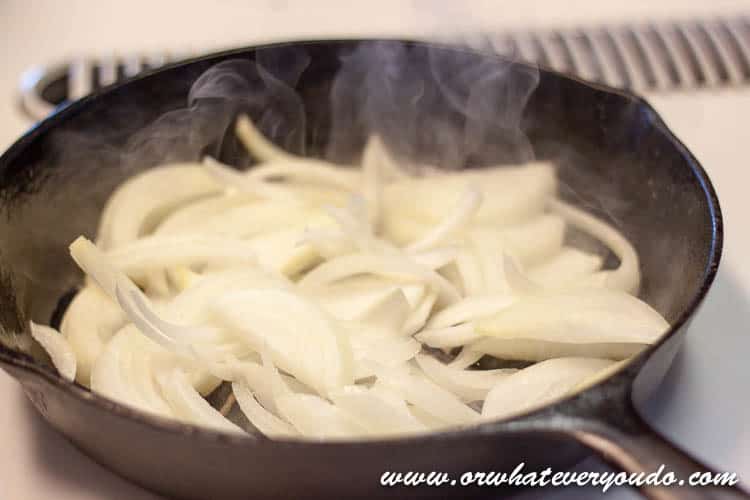 Need more easy recipes? I'd recommend my Instant Pot Roast with Gravy! If you are in the mood for more chicken, this Honey Garlic Ginger Chicken Stir Fry might just do the trick.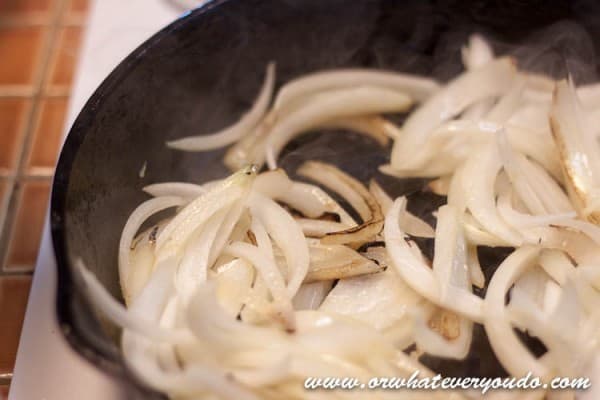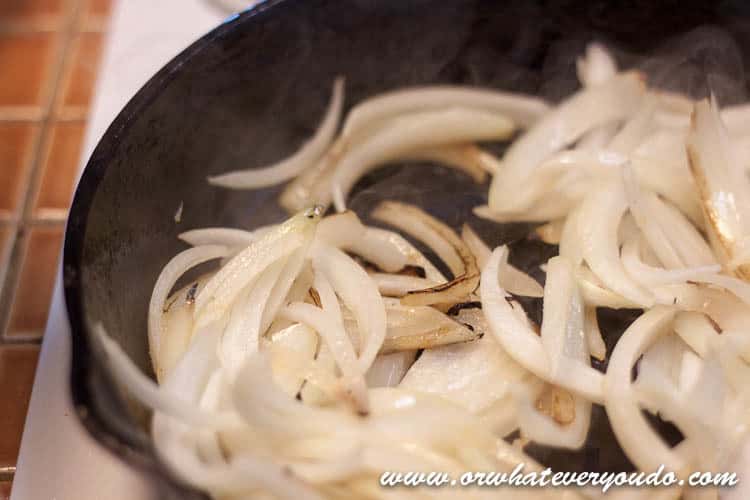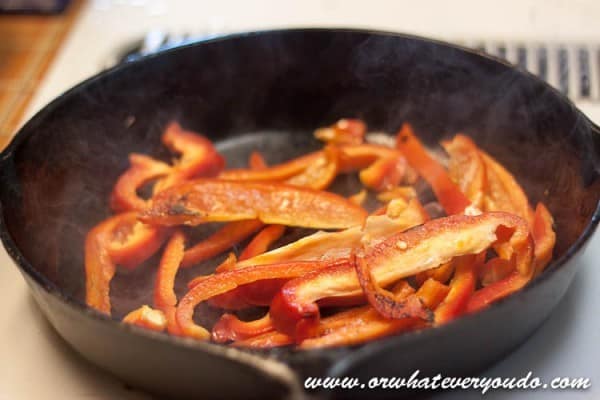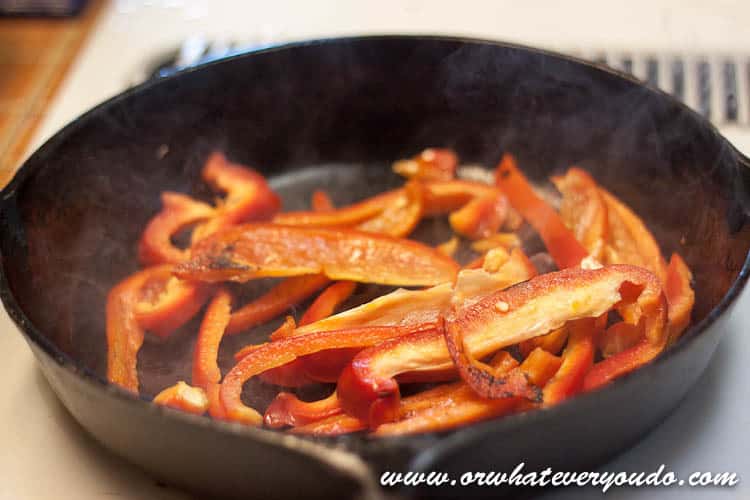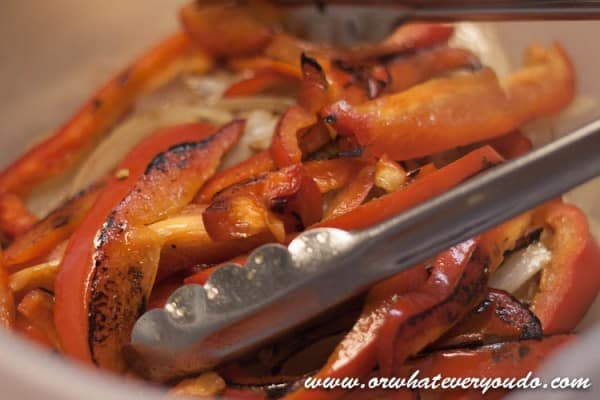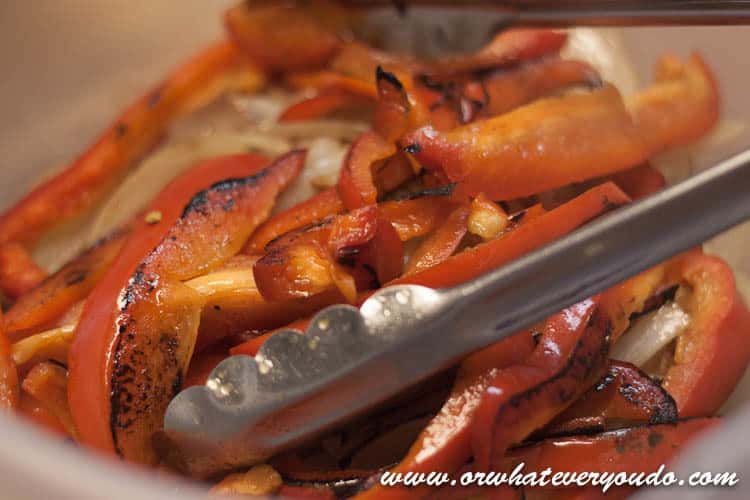 Take all those charred veggies and set them aside.
Now take your chicken and put it into the bottom of your crockpot (or SLOW COOKER, whatever you prefer, but when you come to my house you get a band-aid when you get hurt and some jello to make you feel better along with a kleenex to dry your tears. I can't help it.)
I have gone back to using the individually frozen breasts for this kind of thing. I prefer the fresh chicken breasts, but the price has been INSANE lately, so I'm cutting a few corners here and there where I don't think the end result will suffer too badly. Plus, you can toss them in frozen! Bonus!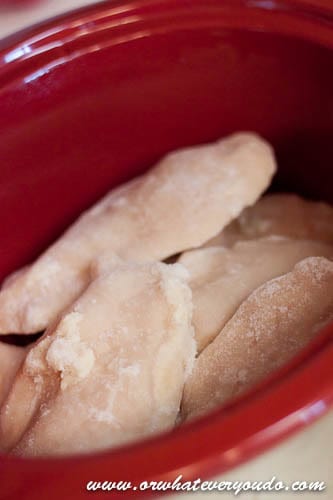 Shake some seasoning onto those chicken breasts. Liberally season with salt, pepper, cumin, onion powder, garlic powder, oregano, and chili powder. Technically you COULD just rip open a packet of taco or fajita seasoning and sprinkle that on top here instead of all the individual spices and herbs, but that's up to you. I didn't happen to have one on hand…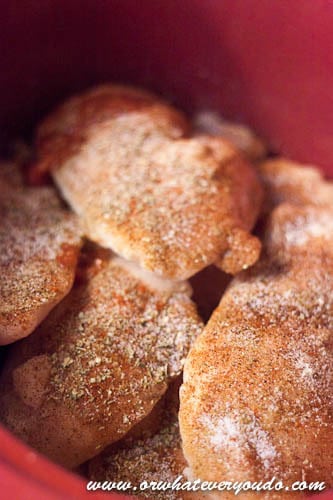 Cover that with about a cup to a cup and a half of your favorite salsa.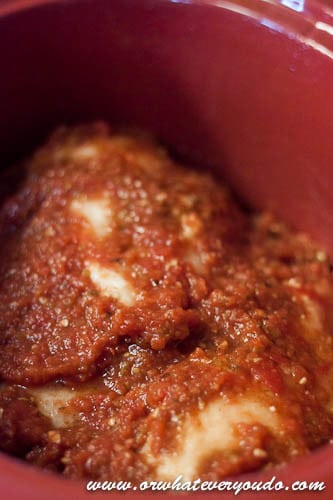 Now put the veggies on top of all that.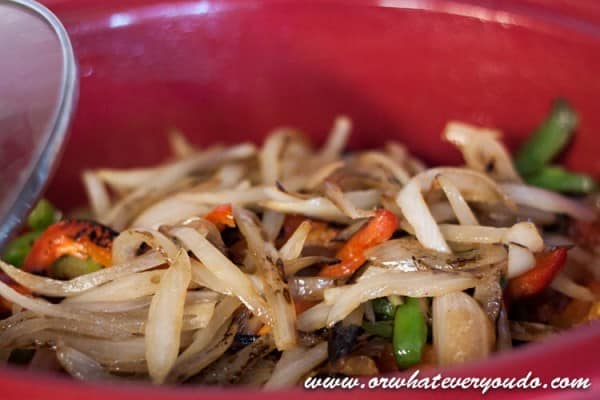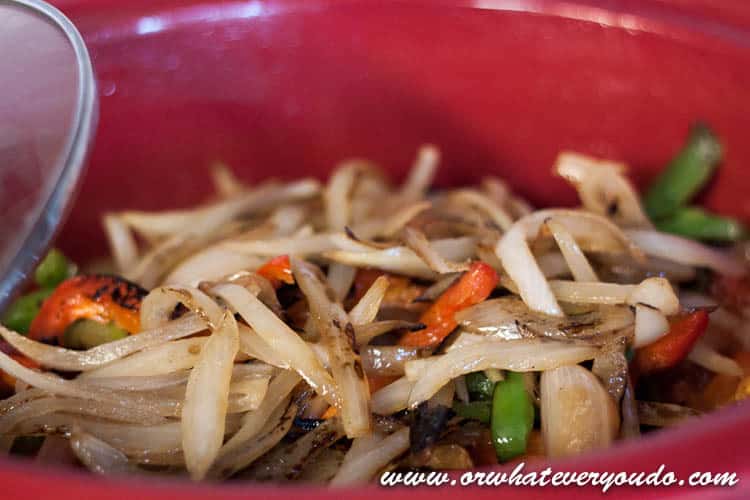 Cover, and cook for 6-7 hours on low, or 4-5 hours on high. Cooking time varies depending on your specific slow cooker. Start checking after 3ish hours until it is fully cooked. Shred your fully cooked chicken and serve these with some tortillas, limes, sour cream, and Cholula.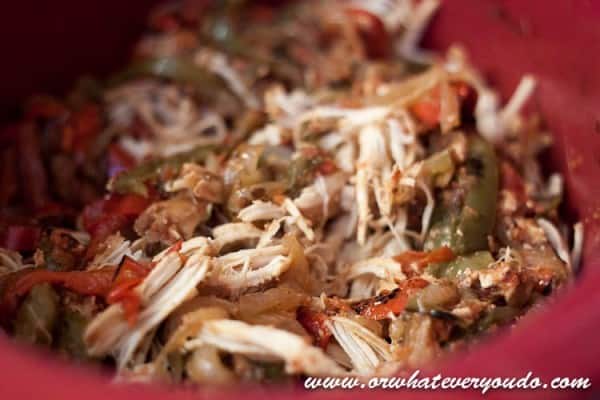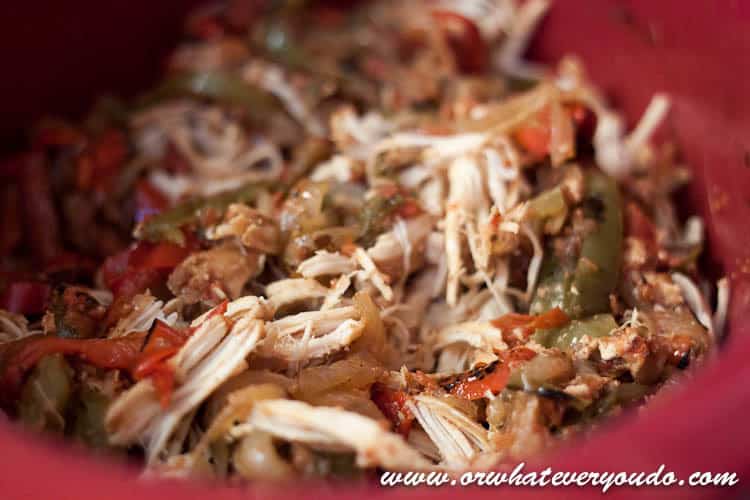 I also make Sheet Pan fajitas that you might just love! Give them a try and let me know what you think!
Yield: 8 servings
Easy Crockpot Chicken Fajitas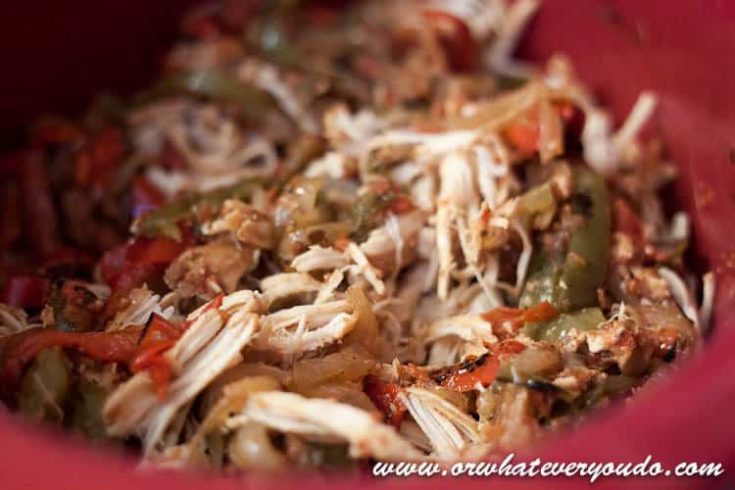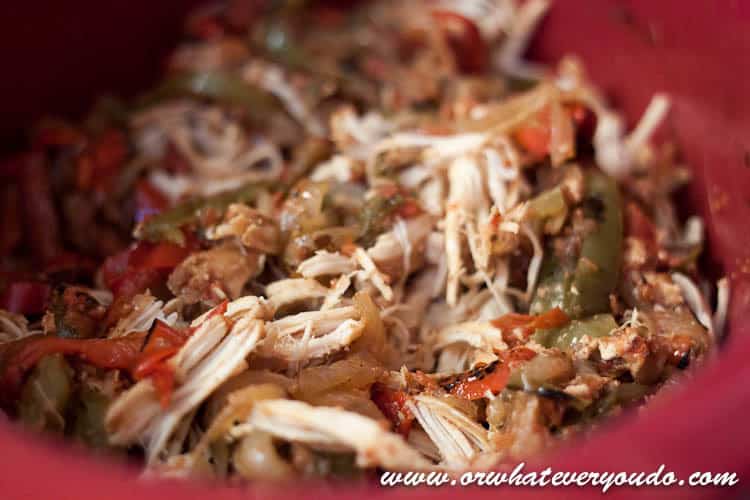 These fajitas get the crockpot treatment but aren't lacking in any of the flavor because you are making all of that happen by giving the peppers a quick char pre-slow-cooker.
Total Time
7 hours
15 minutes
Ingredients
1 onion
1 green pepper
1 red pepper
6 chicken breasts, frozen
liberal amounts of:
garlic powder
onion powder
salt
pepper
cumin
chili powder
oregano
1-2 cups salsa
Instructions
Slice veggies and char briefly over high heat in batches. Set aside.
Place frozen chicken into crock pot. Sprinkle liberally with seasoning and herbs.
Top chicken with salsa. Top salsa with veggies.
Cover and cook on low for 6-7 hours or on high for 5-6 hours.
Shred chicken and serve with tortillas and various Mexican garnishes!
Nutrition Information:
Yield:
8
Serving Size:
1
Amount Per Serving:
Calories:

186
Total Fat:

4g
Saturated Fat:

1g
Trans Fat:

0g
Unsaturated Fat:

2g
Cholesterol:

77mg
Sodium:

612mg
Carbohydrates:

9g
Fiber:

2g
Sugar:

4g
Protein:

30g
Nutrition data provided here is only an estimate. If you are tracking these things for medical purposes please consult an outside, trusted source. Thanks!