Old fashioned apple pie never goes out of style, and there's never a bad time of year to make it. I love it, summer, spring, winter, or fall. This recipe is nothing new, but it is my version of an old classic. I hope you enjoy!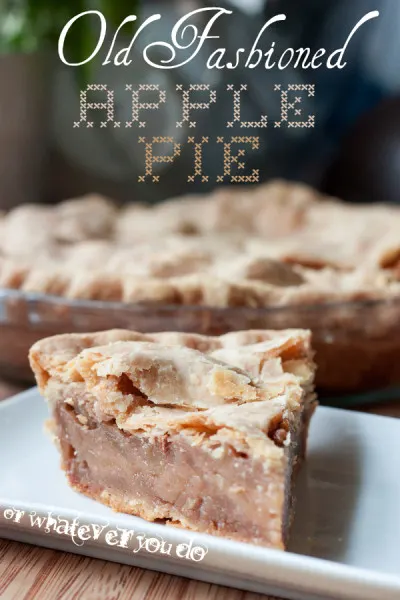 I think I'm destined to forever be a day late and a dollar short with these appropriately themed posts. Such is life with so many munchkins! I don't have time to pre-plan and pre-cook and pre-post everything at the moment. I sure wish I did though! Hopefully someday I'll be that organized, but it's not today, and it's not going to be tomorrow either.
We had a relatively mellow 4th of July here yesterday. We woke up and had a big breakfast made by my lovely husband with some AWESOME french toast that I'll have to snap him making next time. Then we all watched Jack the Giant Slayer together, (kind of scary for younger kids! Mine were fine with it, but Caleb was running off and playing during most of it. It definitely is rated PG13 for a reason! Yikes!) and then my husband took the boys swimming. We were planning on going to fireworks, but it rained most of the afternoon and I was ready to pass out by about 8pm. We're going to try again tonight.
Sometime during the afternoon yesterday I also had some time to do a little baking. I got the inkling for an apple pie, so I decided to whip one up. It wasn't actually ready to eat last night on the holiday, but we will eat the rest later. One of the benefits of being a food blogger though is that I got to sample a piece for breakfast this morning while I was taking some pictures! Lucky me!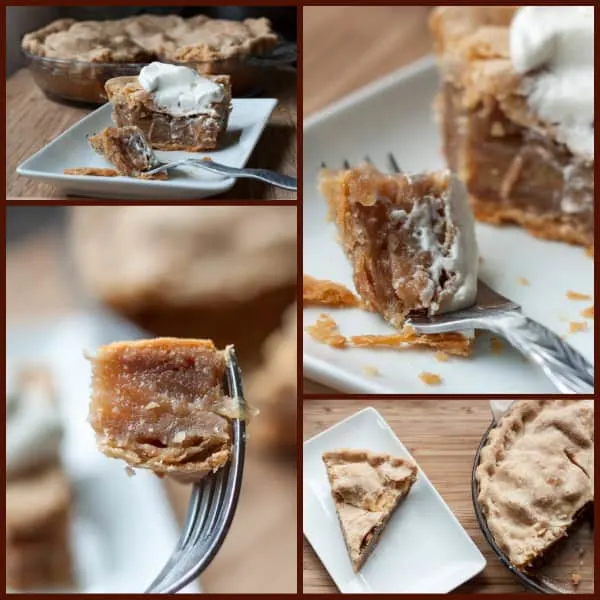 This starts with a simple scratch butter pie crust. If you are scared of pie crust, please don't be. It doesn't take long until you are making something that HIGHLY surpasses the ready-made variety. They only take about 5 minutes to whip up too.
The key to a good pie crust is working quickly, and keeping the ingredients as cold as possible. I use my hands now to mix up the butter and flour. Some people prefer not to because the heat from your hands can warm up the butter slightly, but I think it works a lot better than the fork method or the pastry blender method. It definitely works better than the food processor method, for me anyway. I tend to overmix when I try that, no matter how little I pulse it!
---
You need more pie in your life. I've got some for you.
No Bake Cherry Cheesecake Fluff Pie
Chicken Tamale Pie
Beef Tamale Pie
Meyer Lemon Orange Meringue Pie
Steak and Potato Pie
Chicken Pot Pie Soup
Mushroom Pot Pie
---
Anyway, mix up your butter and flour using whatever YOUR preferred method is until it looks something like this. I use the standard butter pie crust method. A great resource for this is on the Land-O-Lakes page.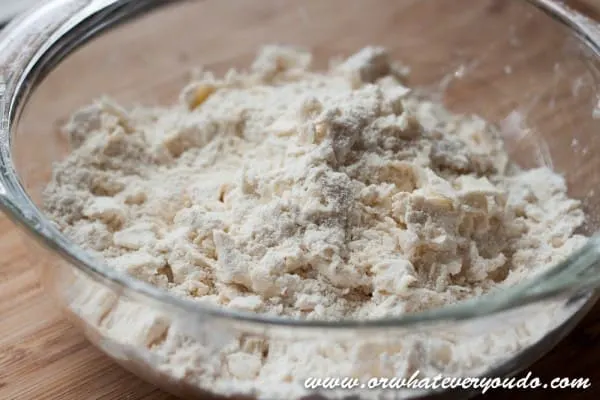 Next add your water, a few tablespoons at a time, until the dough will come together in a ball but still be SLIGHTLY crumbly. Split it in half, wrap in plastic wrap, and refrigerate for 30-60 minutes. If you don't have time for this, I have successfully rolled out the dough immediately many times. It is a bit easier to work with if you chill it for a while, but it is still manageable using immediately.
While your dough is chilling, slice up 8-9 small apples. In a separate bowl combine 1/2 cup of flour with 1 1/4 cups of packed brown sugar. Mix in 1/2 – 1 tsp of cinnamon and 1/4 tsp of nutmeg along with a few shakes of salt. Toss the apples in with this mixture until they are well coated.
Roll out your pie crust between two sheets of parchment paper, and place your pie crust into your pie plate. Fill with the apple mixture, and cut up 1/3 cup of butter and place on the top.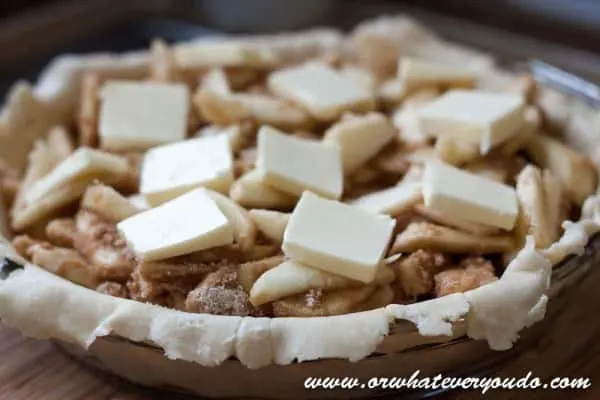 Top with the other crust and seal the edges. Don't forget to slice a few slits for steam to escape! Brush your crust with an egg wash (I forgot!!) before you pop it into the oven.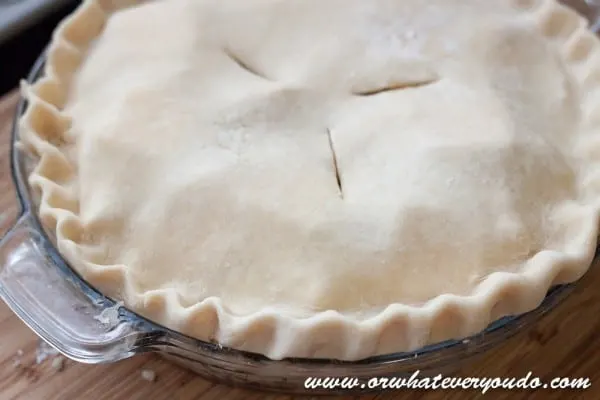 Place your pie plate onto a cookie sheet to catch any drips, and bake at 350 for 1.5-2 hours, or until the crust is golden brown and the filling is cooked through.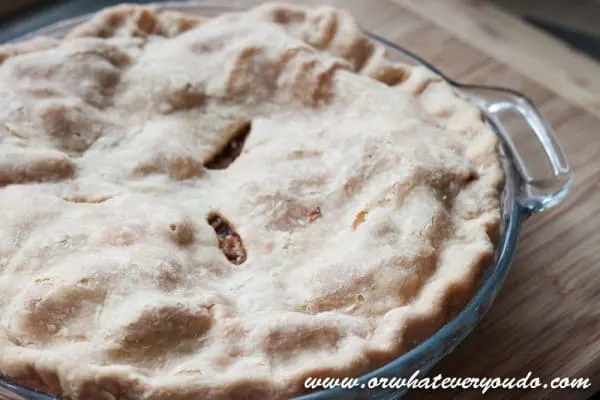 Enjoy!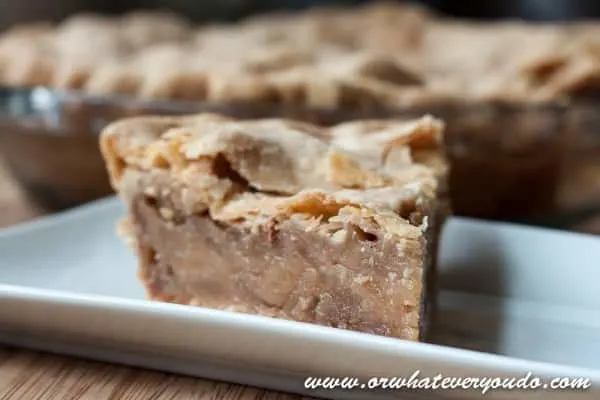 Yield: 8 servings
Old Fashioned Apple Pie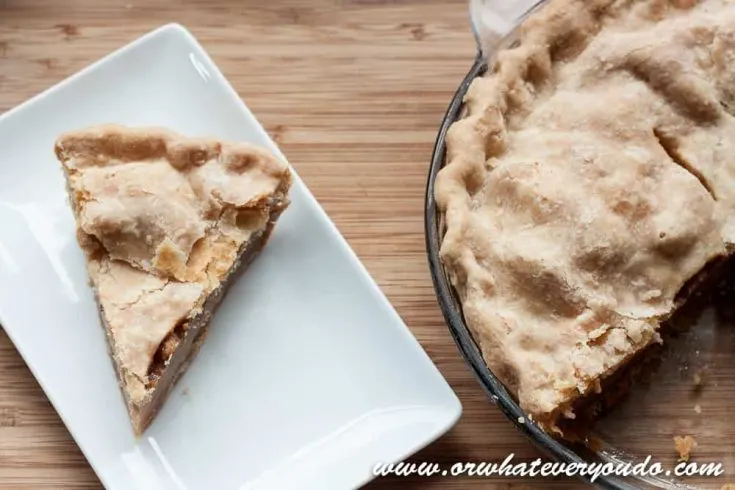 Classic apple pie is served with sweet whipped cream or vanilla ice cream for a dish so "American" it is tradition.
Ingredients
2 - 9 " pie crusts
8-9 small apples, sliced
1/3 cup flour
1 1/4 cup brown sugar, packed
1/2 tsp cinnamon
1/4 tsp nutmeg
1/3 cup butter
egg wash
Instructions
Prepare pie crust using your favorite recipe and method, or use a pre-made crust.
Combine brown sugar, flour, cinnamon, and nutmeg in a dish. Toss in sliced apples and coat well. Place apples in pie crust, place top crust on pie, and crimp to seal.
Brush top crust with egg wash. Bake for 60-90 minutes at 350.
Let rest for 30 minutes before slicing.
Nutrition Information:
Yield:
12
Serving Size:
1
Amount Per Serving:
Calories:

781
Total Fat:

39g
Saturated Fat:

14g
Trans Fat:

0g
Unsaturated Fat:

22g
Cholesterol:

29mg
Sodium:

592mg
Carbohydrates:

102g
Fiber:

7g
Sugar:

35g
Protein:

9g
Nutrition data provided here is only an estimate. If you are tracking these things for medical purposes please consult an outside, trusted source. Thanks!