Apple Cinnamon Streusel Coffee Cake is the perfect cake to sit and nibble on over a cup of coffee with friends. You are going to love it!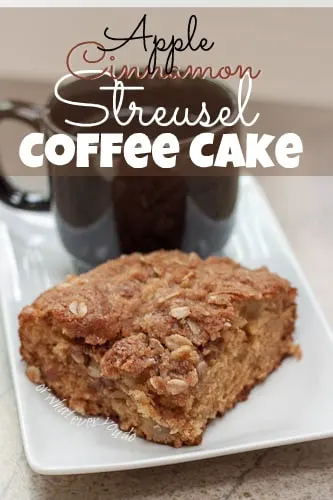 Apple Cinnamon Streusel Coffee Cake
I need to have company over more often. When I do, I always feel inspired to bake something, or try new things, or just come up with *something* treaty to have on hand. Today was no exception. This apple cinnamon streusel coffee cake was just what I was craving. My friend from church came over to visit and catch up and talk blogging a bit (yay! Someone whose eyes DON'T glaze over when I start out a sentence with "So on my blog…"), and before she got here I decided I'd whip up some coffee cake.
I just have to say how NICE it is to know people to actually INVITE over now?? I mean, I knew a couple of people in Michigan. They were awesome. But I didn't really do a lot of socializing there. I really missed having company over. God is so good! I now have a home I feel comfortable inviting people over to. Space for the kids to play that isn't right under-foot. I'm back home where my church family is, back where our relatives are, back to family holidays, Sunday dinners, church get-togethers, fellowship with the women in church, all of it.
I have a hard time getting to know people and making real friends as an adult. Its a skill that I think I lost somewhere in the last 10 years of babies upon babies upon babies. I became kind of shy, and withdrawn, and wasn't really comfortable putting myself out there in a way that welcomed and opened the door to new friendships.
I want to change that.
I need friends in my life. It is something that I have sorely missed as an adult. Other women who know if they drop by unannounced they might catch me in my PJ's with breakfast dishes still on the table, and not care. And who I don't feel like I have to apologize all over myself due to where I'm lacking. Which is a lot of different places. When you have 5 little lives to look after it doesn't leave a lot of time to look after yourself. It's a delicate balance that I haven't quite found yet.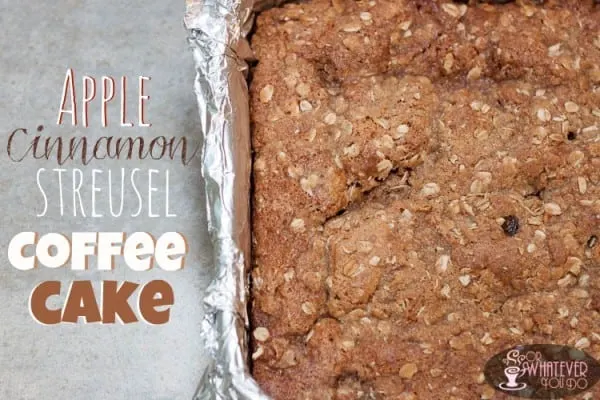 This was inspired by Pinch Of Yum's Cinnamon Sugar Apple Cake. I made several changes to the recipe, mostly because of what I happened to have on hand this morning, and because I will use any and all excuses to whip up a good oatmeal streusel. I could eat that stuff raw, plain, and on top of almost anything. Look out next week for streusel topped spaghetti. Okay, maybe combining my two favorites wouldn't be the greatest idea.
Anyway, stop by Pinch Of Yum and check out their version soon. I just love that blog.
I know a blog and I mesh well when I repeatedly end up on their site by accident.
I start my recipe search on Foodgawker. I search for something I feel like making. Say, coffee cake. Then I look through all the pictures and open up eleventy thousand tabs with the different versions that look appealing. Then I click through the tabs, read the posts, and exit out of the ones that won't work for me. I either don't have the ingredients, or it just isn't something I'm interested in after all.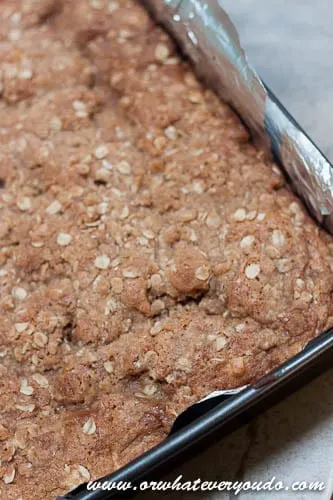 Sometimes if I want to save it for later I'll pin it. Then I get down to about 2 or 3 finalists. I will usually combine what I like from a few different sources. More vanilla here. Less oil there. Add in some butter too. Toss out those nuts. You get the drift.
What I usually ends up with looks similar to a few of them, but usually matches none. If I like the end result, it ends up here. If not, I make it again and sometimes even follow the ingredients and directions exactly. Crazy idea? Right?
It is RAINING today in the great Northwest! I have missed the Washington rains. So refreshing. And whoa did my brown brown grass need that.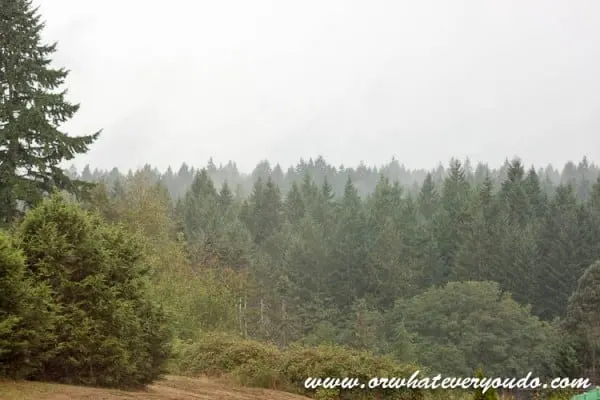 This version of this apple cinnamon streusel coffee cake will go down in the record books. This cake was really moist. The apples were well dispersed. The streusel turned out really well, I think. All, in all, definitely a keeper. I'll be making this one again, soon.
Once my recipe tester gets home from work, the final verdict will be entered, but I couldn't wait until then to post it. It's been so long! I miss you!
I've got all the usual excuses. Unpacking. Infant child who only wants to be held every second of her life. Cleaning. Four crazy boys to keep track of in this huge house and yard. More unpacking. More cleaning. More baby holding. Very very little cooking or baking. Some napping. Some prepping for SCHOOL next week. (Yay!! Back to school time!!) A little organizing. A little picture hanging.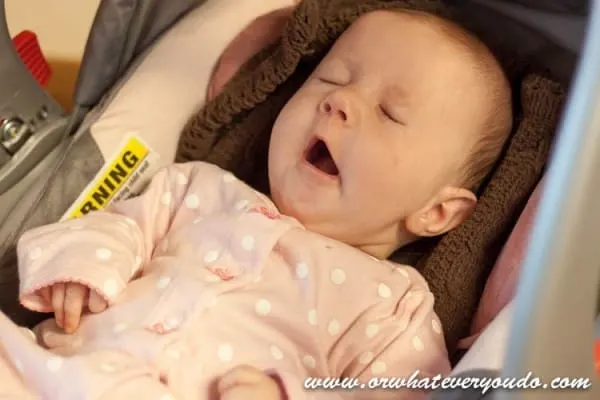 I WANT to be back at this though, and I'm going to do my best to get back into the swing of things as fast as I can.
Until then though, you at least have this cake to tide you over.
Start by putting the oil, brown sugar, egg, sour cream, baking soda, baking powder, vanilla, and flour into your mixing bowl. Mix on low speed until well combined. Make sure you scrape down the sides and bottom to get everything mixed up. Then fold in your diced apples.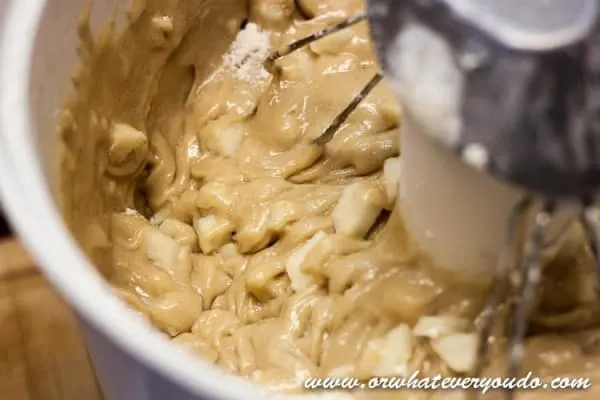 Spread the batter out into a prepared 9×13 inch pan. I was out of Pam Baking Spray, so I lined it with non-stick foil. I love that stuff. Thanks Dad!
Mix your streusel ingredients together by hand or with a pastry blender. I find it easiest to just get in there with your hands and crumble, squish, and go to town for a while. Your milage may vary. Sprinkle the streusel mixture over the cake batter evenly.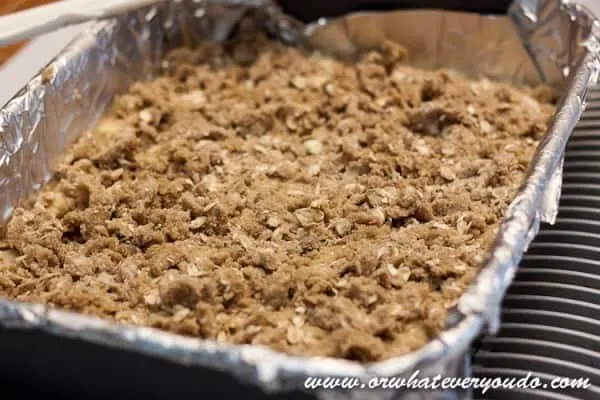 Bake at 350 for 35-45 minutes, or until a tester comes out with moist crumbs,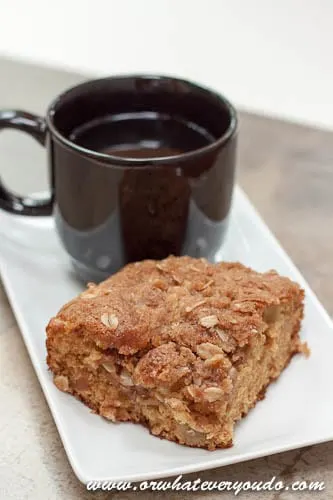 ---
I think you need some more sweets recipes while we're at it. Good thing I've got some!
Vanilla Bean Yellow Cake
Raspberry Angel Food Cake
Triple Berry Trifle
Easy Fluffy Cherry Cheesecake Dip
---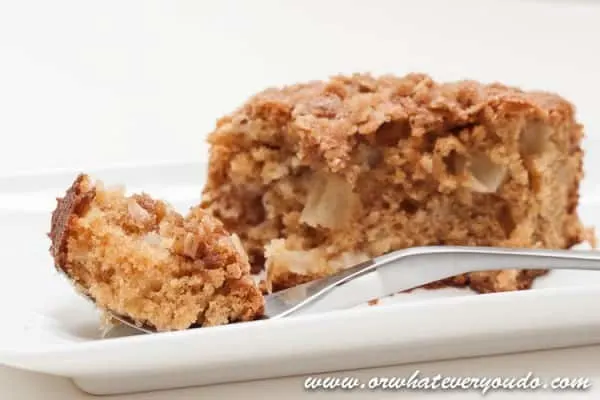 I am super excited to make this again, and for you guys to try this. It is really THAT good. I wouldn't hesitate to make this for a dessert either, served warm with a big scoop of vanilla ice cream on it. Oh, yeah.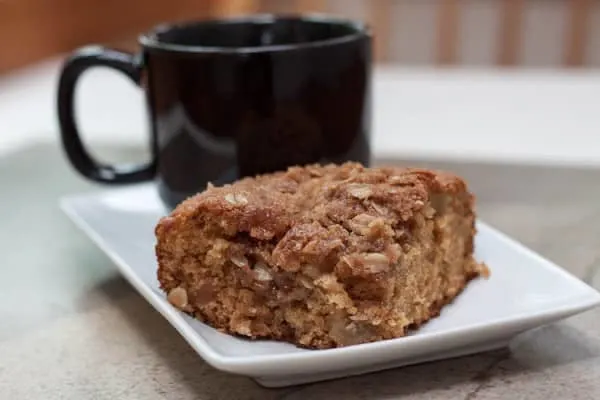 Yield: 12 servings
Apple Cinnamon Streusel Coffee Cake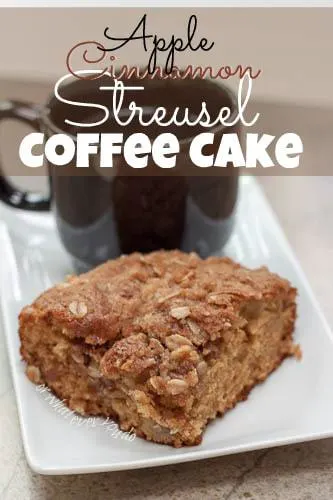 Moist, sweet, perfect brunch coffee cake. Make this easy coffee cake for the next time that you need to make a sweet treat for brunch!
Ingredients
Cake:
1/2 cup canola oil
1 1/2 cups brown sugar, firmly packed
1 egg
1 cup sour cream
1 tsp baking soda
1/2 tsp baking powder
1 1/2 tsp vanilla
2 1/2 cups flour
2 lg apples, finely diced
Streusel:
1 stick butter, softened and cut into cubes
1/2 cup brown sugar, packed
1/2 cup flour
1/2 cup oats
1/2 - 1 tsp cinnamon
Instructions
Mix together the oil, sugar, egg, sour cream, baking soda, baking powder, baking soda, vanilla, and flour in a mixer until well combined. Add in diced apples and fold in.
Spread batter into a prepared 9x13 baking pan. Mix together streusel ingredients by hand until crumbly, and sprinkle evenly over the top of the batter.
Bake in a preheated 350 degree oven for 35-45 minutes, or until a tester comes out with only moist crumbs.
Cool for 10 minutes, and serve warm if possible.
Nutrition Information:
Yield:
12
Serving Size:
1
Amount Per Serving:
Calories:

452
Total Fat:

21g
Saturated Fat:

8g
Trans Fat:

1g
Unsaturated Fat:

12g
Cholesterol:

47mg
Sodium:

207mg
Carbohydrates:

61g
Fiber:

2g
Sugar:

34g
Protein:

5g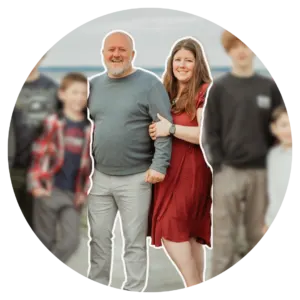 Nicole Johnson, a self-taught expert in grilling and outdoor cooking, launched Or Whatever You Do in 2010. Her blog, renowned for its comprehensive and creative outdoor cooking recipes, has garnered a vast audience of millions. Nicole's hands-on experience and passion for grilling shine through her work. Her husband, Jeremiah Johnson, also plays a pivotal role in recipe development, adding his culinary flair to the mix. Together, they form a dynamic duo, offering a rich and varied outdoor cooking experience to their followers.