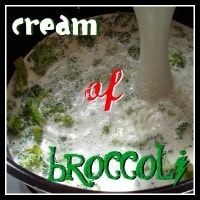 Its been a busy couple of weeks around here. I've been cooking up a storm, and mostly remembering to take pictures, but finding the time to actually sit down and post them has been a challenge. There is lots of big stuff going on around here, like Kindergarten apple day (whatever that is!), and turning almost 30. There have also been a few Spongebob marathons for the kids, a few Fringe, season 2, marathons for me and my husband, with a bunch of cleaning and wiping and yelling and crying in between.
In the midst of all of that I decided to make a batch of super easy, really yummy, cream of broccoli soup. Isaiah can't have the canned stuff anymore because of the soy allergy, so if we want cream-of-anything, we have to make it. Not that I'm complaining. I don't miss the chemicals-in-a-can variety at all. It always tastes good, but then I wash the dish and it soaps up and bubbles with no soap added and the whole idea of it begins to creep me out. Try it sometime. Its disgusting.
Back to the soup…Take a bunch of broccoli. I buy the pre-cut Costco variety. I use 6 cups or so. Toss it in a pan with some chicken stock (just enough to cover the broccoli), onions, and carrots.
Cover the pot 'o' broccoli and veggies and let it simmer for quite a while, until all the broccoli is tender. You aren't really going for mush here, but definitely cooked through.
When the broccoli is done stick an immersion blender in and buzz away until the broccoli is chopped up and incorporated. If you don't have a stick blender you could certainly use a regular one, it would just be more messy.
Now let his simmer on low for a bit and get a butter roux going. I showed you how to make it a while back. Click HERE for a refresher.
Get the soup up to a boil and then slowly incorporate the butter roux to thicken the soup. You want to over-thicken it a bit because you'll be adding some cream and half-n-half in a minute and that will thin it back out.
This picture was taken when I made this using a different method…
When it is thickened, pour in 3 cups of heavy cream, and 3 cups of half-n-half. This recipe is very easy to play with. You can adjust those to your liking, using more or less of one, and it'll still turn out great.
Add salt and pepper to taste, and serve hot.
The possibilities are endless with this soup. Sometimes I lightly steam some more broccoli and toss it in, then throw in a generous heap of sharp cheddar and eat it just like that. Other times, mostly the day after times, I'll saute some chicken breasts, chop them up, toss them in a baking pan, cover with noodles that are par-boiled, a ton of cheese, and pour copious amounts of this soup on the top then bake it, topped with more cheese. Its my version of one of my ultimate comfort foods, Chicken Divan. That's what my mom called it anyway. It stuck with me, much like this meal will stick to you.
Now though I'm off to enjoy the rest of the sunshine on this absolutely PERFECT fall day, and go get my 6 year old off the bus!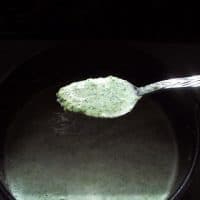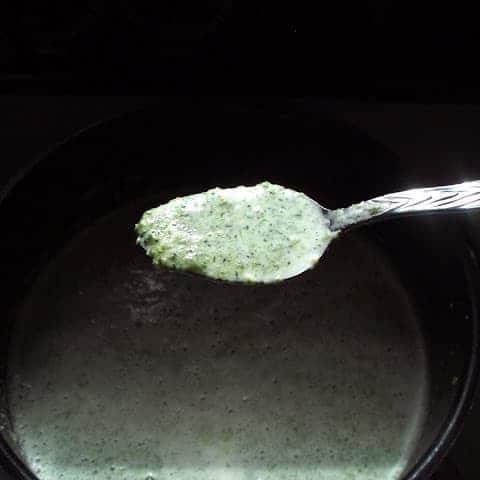 Cream of Broccoli Soup
Creamy homemade cream of broccoli soup! I love this all fall and winter long!
Ingredients
6 cups fresh broccoli florets
Chicken stock to cover broccoli (how much depends on how big your pot is!)
1 onion, diced
1/2 cup carrots, shredded or diced
Salt & Pepper
3 cups half-n-half
3 cups heavy cream
1/2 cup flour
1 cup butter
Instructions
Place broccoli, onion, carrot, and chicken stock in pan. Bring up to a simmer and cook until broccoli is cooked through. Puree with a stick blender. Melt butter in a small saucepan or small cast iron skillet. Add butter and let develop into a brown roux, stirring frequently. Bring soup up to a boil and slowly add roux until you achieve the thickness desired.
Add cream and half-n-half to soup, season with salt and pepper to taste, and serve hot.