Smoked Top Round Beef Jerky gets smoked and dried low and slow in a pellet grill, leaving you with the beefiest, best homemade jerky that you've ever had.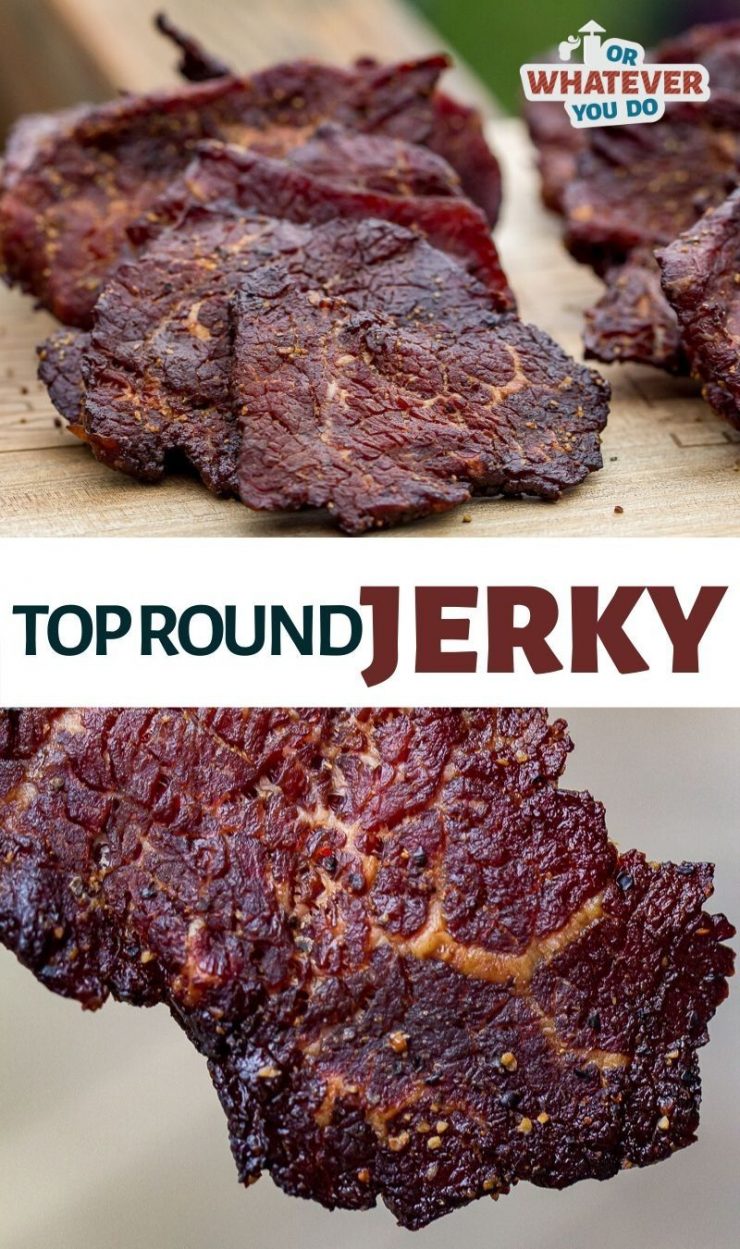 Homemade Smoked Top Round Beef Jerky
There is nothing like homemade smoked beef jerky. Most of the stuff you find on the shelves in the market tastes like cardboard seasoned with teriyaki and has a texture more like shoe leather. Smoke your own beef jerky to truly enjoy what jerky should be.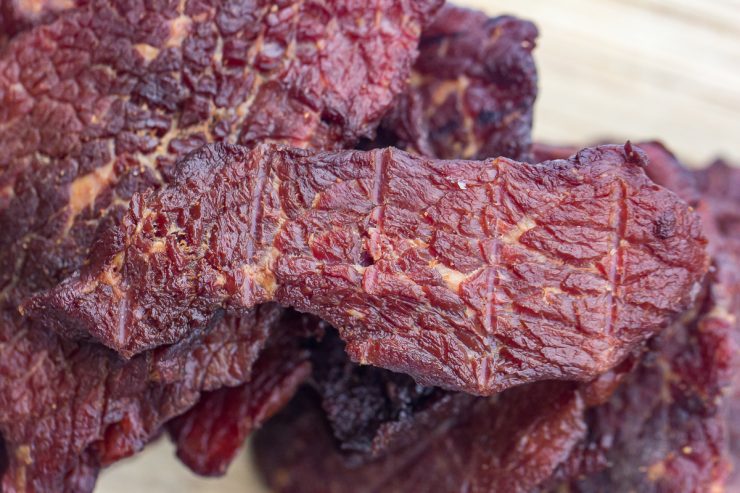 The best beef for beef jerky
There are a lot of different options for cuts of meat to make into jerky. We use top and bottom round roasts pretty often, but we've also used sirloin roasts as well with great success.
I recommend top round here for a couple of reasons. First, top round roasts are relatively lean, so when you dry it for jerky is doesn't get super greasy.
Next, top round has fairly long muscle fiber, so slicing it thinly for jerky provides a nice piece of jerky that isn't crumbly. Top round might be difficult to cook, but for beef jerky, it is perfect.
As a last plus, the cut is typically one of the cheaper cuts of beef too, making it more economical for jerky which is a fairly expensive thing to buy and to make.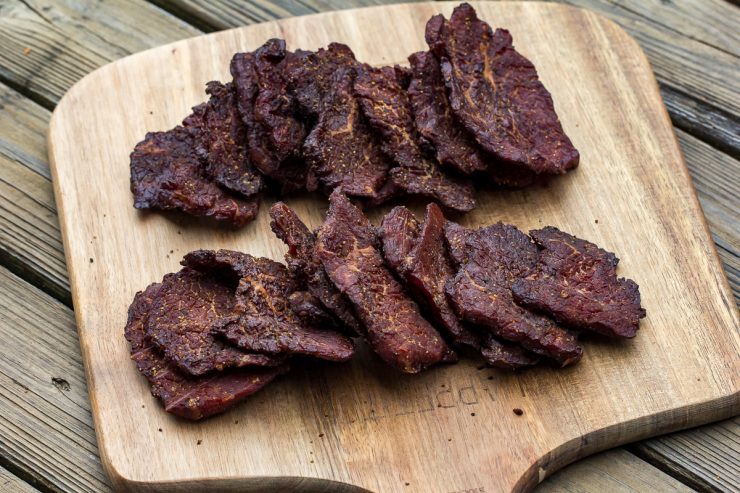 How to season beef jerky
The low and slow long smoke to dry the beef will add plenty of great smoke flavor, but if you do want to get creative with the seasoning there are plenty of ways to bring on some additional flavor.
In this recipe and many of my jerky recipes, we marinate the beef for a day or two in a teriyaki-like mixture. Teriyaki is a big and bold flavor that adds a bit of sweet along with salty and permeates the beef perfectly.
You can also go with a few red pepper flakes in a bit of olive oil to help adhere it to the meat while it dries.
More great BEEF recipes here!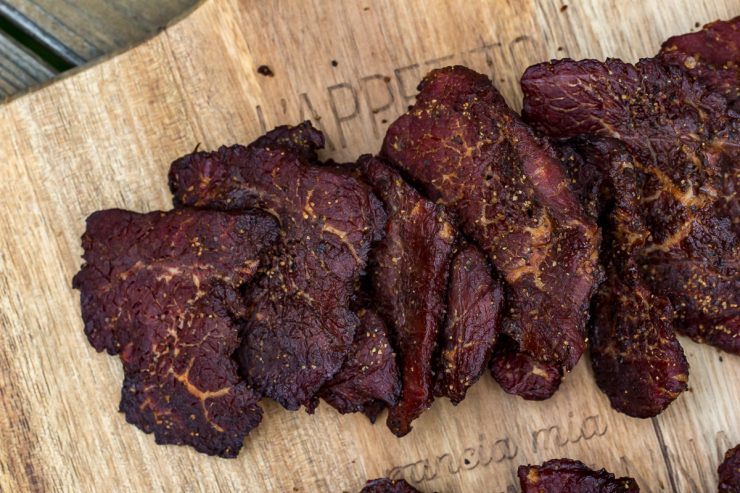 How long does it take to make jerky in a smoker?
The time it takes to make smoked jerky depends on how thick you slice your beef and what type of smoker you use.
For this jerky, I used our Louisana Vertical Pellet Smoker. It works great, is amazing for great big batches of smoked jerky or smoked salmon, but if you don't have this particular grill, any pellet grill will work. We make jerky on our Traeger and our Camp Chef as well.
Depending on the thickness, expect the time drying to be anywhere from 4-8+ hours. A thick slice of beef might even take 12-15 hours, in some cases. Patience is a virtue, and beef jerky is the reward for your patience.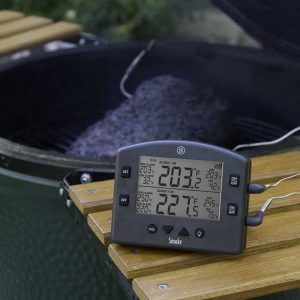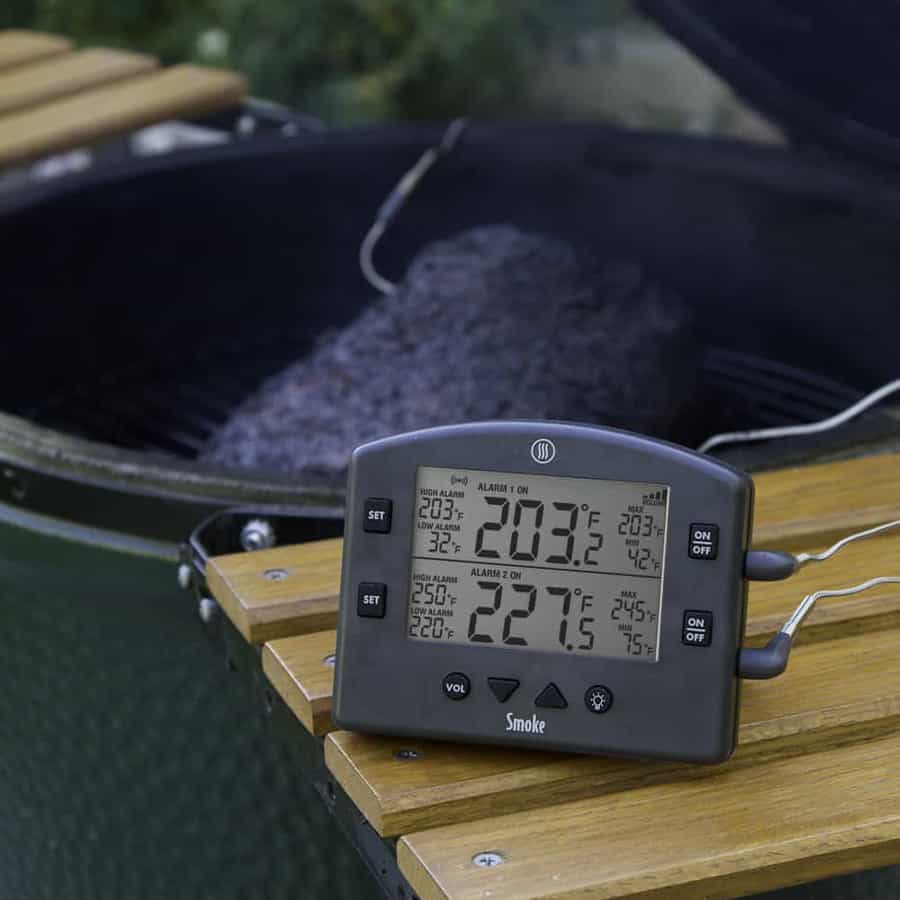 For all of your wireless grilling needs, the Smoke is the most reliable wireless thermometer I've ever used.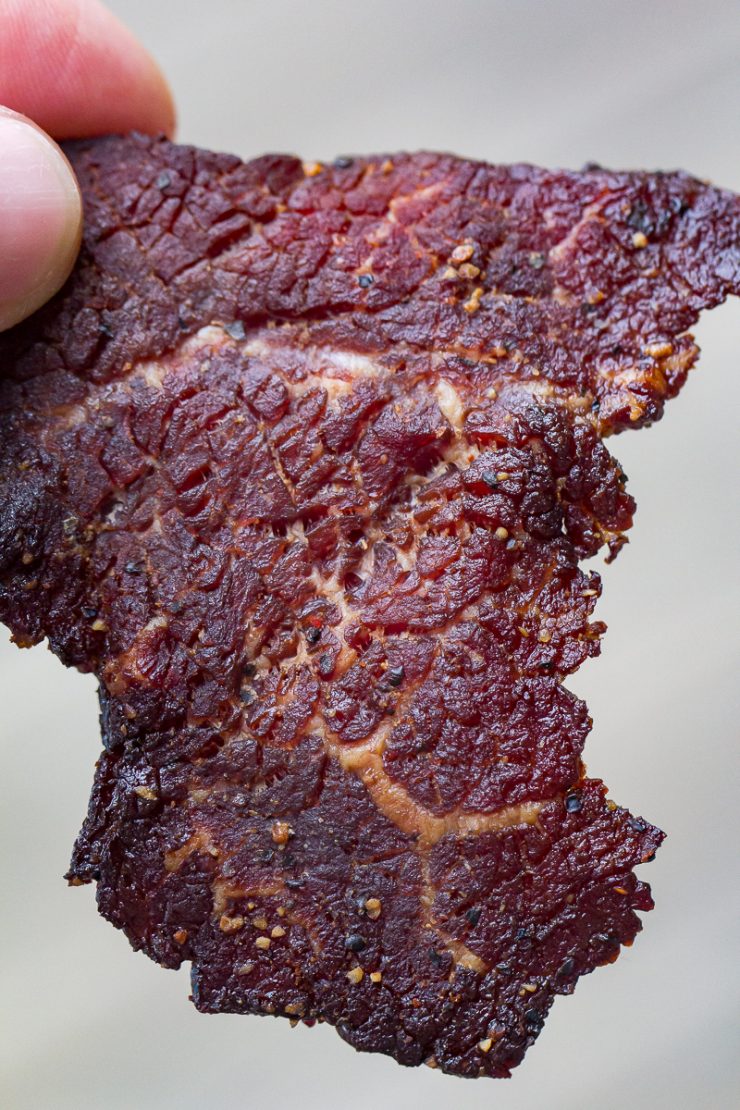 What type of pellet is best for jerky?
For smoked jerky, I recommend the sweet woods like apple, cherry, or alder. If you go with hickory or mesquite, they typically have a much stronger flavor, especially for really long smokes.
If you only have hickory or mesquite – smoke on. You'll still have better jerky than you can buy at the end.
Check out our OWYD shop!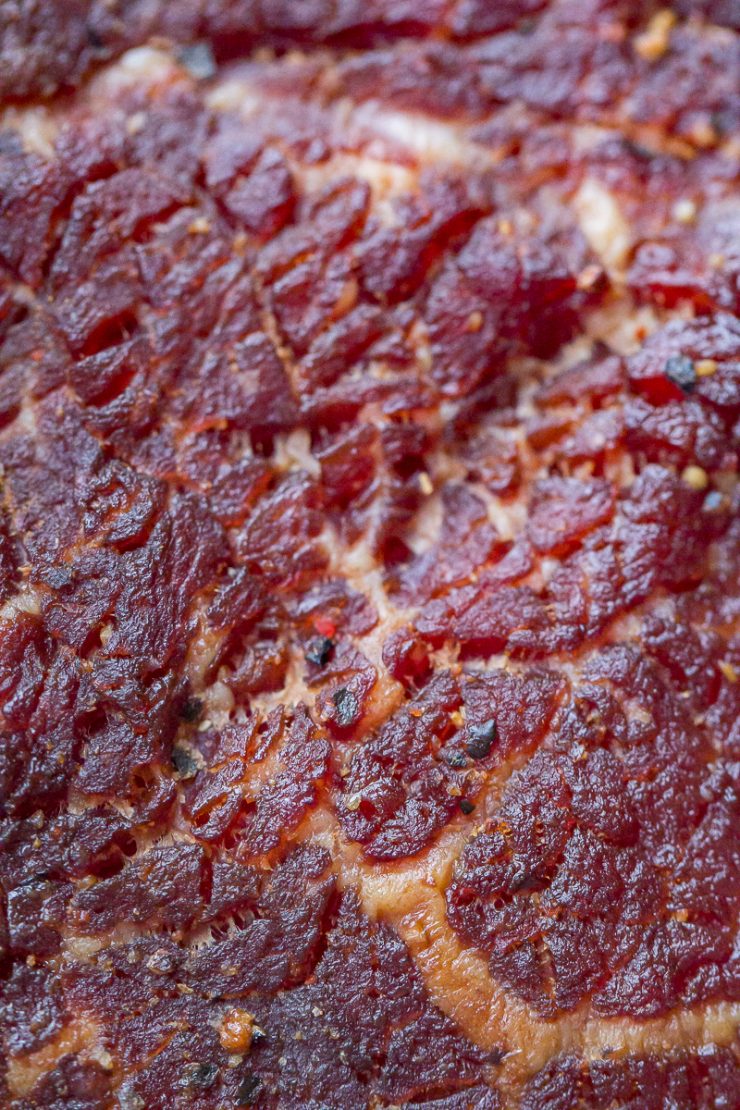 Can I smoke other types of meat for jerky?
Beef is by far the most popular meat for jerky. However, you can and should try other types of meats as well. Lamb, pork, turkey, or even fish all will work. Just keep in mind that they have different levels of moisture in the meat, so they will vary greatly in cook times.
In case you are wondering, yes, the meat is actually cooking during the drying process. It just cooks at a very low temperature.
Get more recipes for your cookout here!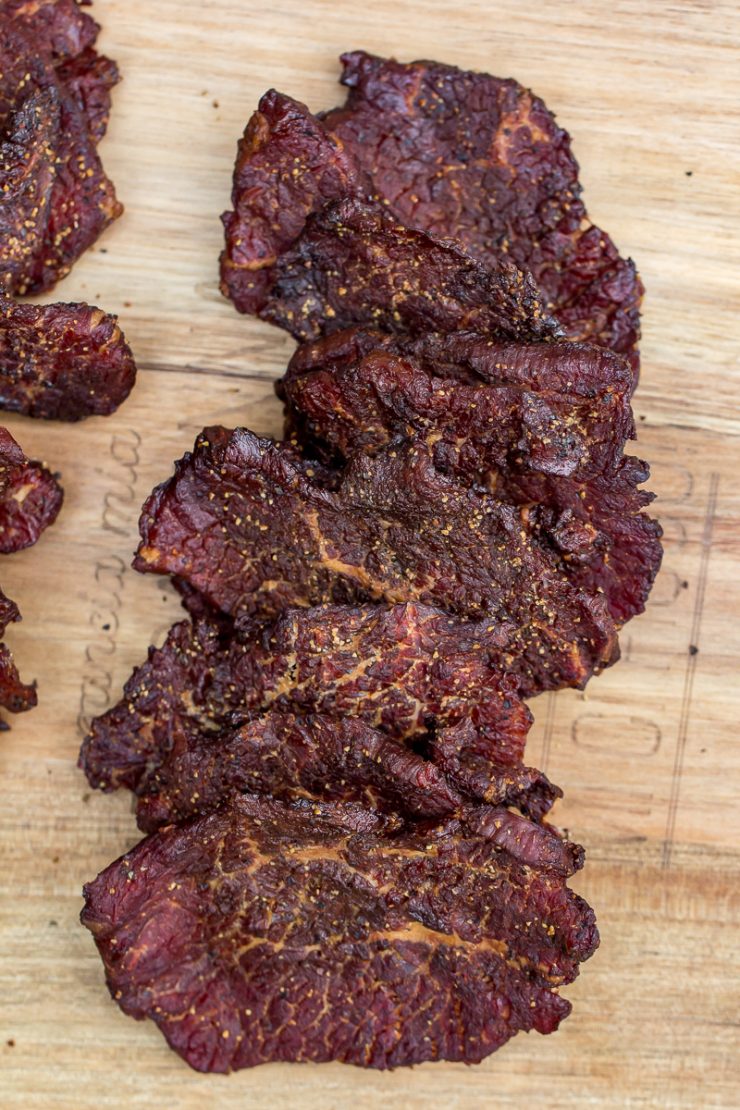 What is the best temperature for smoking meat?
We smoke our jerky at 180-190°. That's a bit higher than some, but I prefer it because I really like to keep some of the moisture in my jerky. But keep in mind that less-than-dehydrated jerky needs to be kept in the fridge, as the moisture is what can spoil the meat.
If you are looking for shelf-stable jerky, the process is a bit different.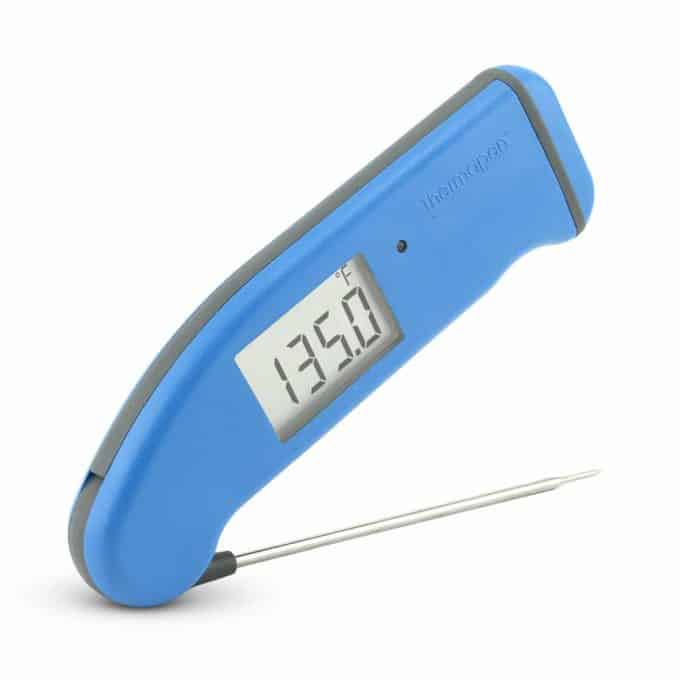 This is the best instant-read thermometer on the market, and I've tried a lot of them. Accurate and fast results, which is paramount when pellet grilling.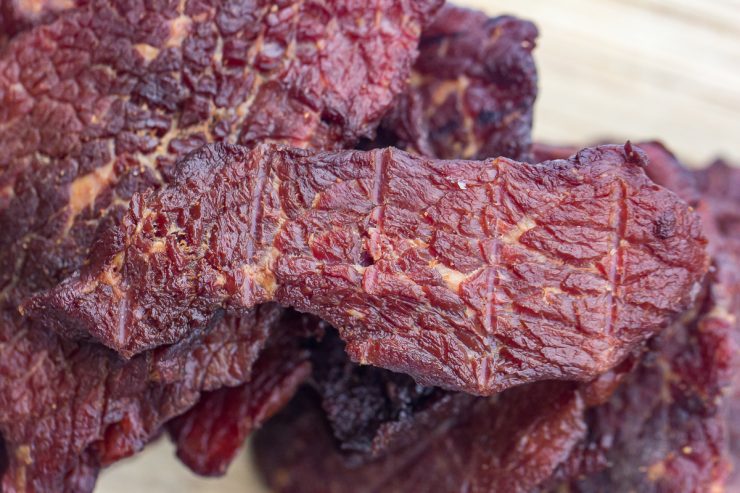 More jerky recipes to enjoy
I do have a few other recipes you can try if you want to get creative. My Bulgogi Jerky recipe puts a Korean spin on things. Similar to teriyaki, but great on its own terms.
Traeger Beef Jerky uses the Traeger instead of the vertical pellet smoker.
My Traeger Smoked Salmon can be adapted for longer smoking at lower heat no problem too.
Yield: 12 servings
Smoked Top Round Beef Jerky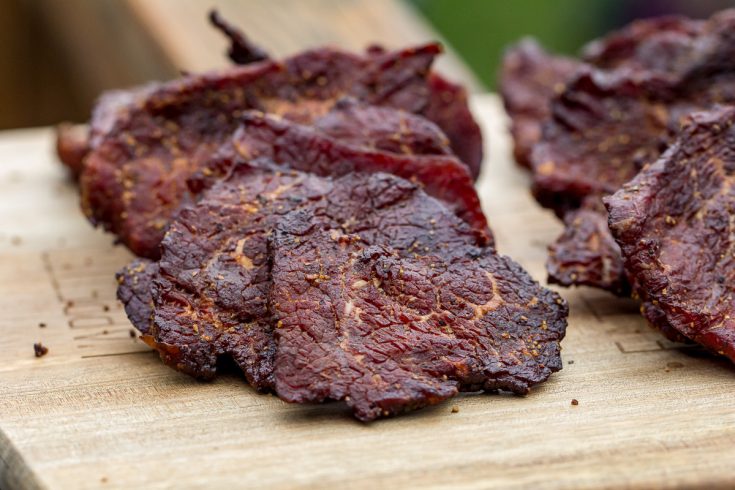 This homemade Smoked Top Round Beef Jerky is smoked low and slow on a pellet grill after being marinated overnight to make one of the best jerky recipes you'll ever have.
Total Time
5 hours
15 minutes
Ingredients
3 pounds top round roast, thinly sliced
2 cups soy sauce
1/2 cup brown sugar
1 cup pineapple juice
2 tablespoons sriracha *optional, add if you like it a little spicy
2 tablespoons red pepper flake *optional, add if you like it a little spicy
2 tablespoons hoisin
2 teaspoons onion powder
2 tablespoons rice wine vinegar
2 tablespoons minced garlic
Instructions
Mix all marinade ingredients into a one-gallon zip-lock bag along with the sliced beef. Seal the bag, making sure to get as much air out of the bag as possible. Put the bag into the refrigerator and let marinate for 6-24 hours before smoking.
Remove the bag from the fridge 1 hour prior to cooking.
Start up your grill according to factory directions. Preheat to 180-190°.
Thoroughly dry the meat by draining all of the marinade and then laying out on paper towels or clean kitchen towels.
Place your meat on the grill with at least a half-inch space between all the pieces. Leave on the grill for approximately 4-5 hours, turning once mid-cook. The length of time will depend on the thickness of your beef. You want almost all of the water to be evaporated, and for the meat to split if you bend it in half.
Remove from grill when finished, and let cool for thirty minutes to an hour before putting it into the refrigerator for storage. Make sure to get some for yourself before it's all gone.
Recommended Products
As an Amazon Associate and member of other affiliate programs, I earn from qualifying purchases.
Nutrition Information:
Yield:
12
Serving Size:
1
Amount Per Serving:
Calories:

328
Total Fat:

12g
Saturated Fat:

4g
Trans Fat:

0g
Unsaturated Fat:

6g
Cholesterol:

111mg
Sodium:

2500mg
Carbohydrates:

15g
Fiber:

1g
Sugar:

11g
Protein:

41g
Nutrition data provided here is only an estimate.