Beefy Mexican Casserole recipe is such an easy and delicious weeknight dinner! You're going to love this, and your family will too. I can't wait for you to try it!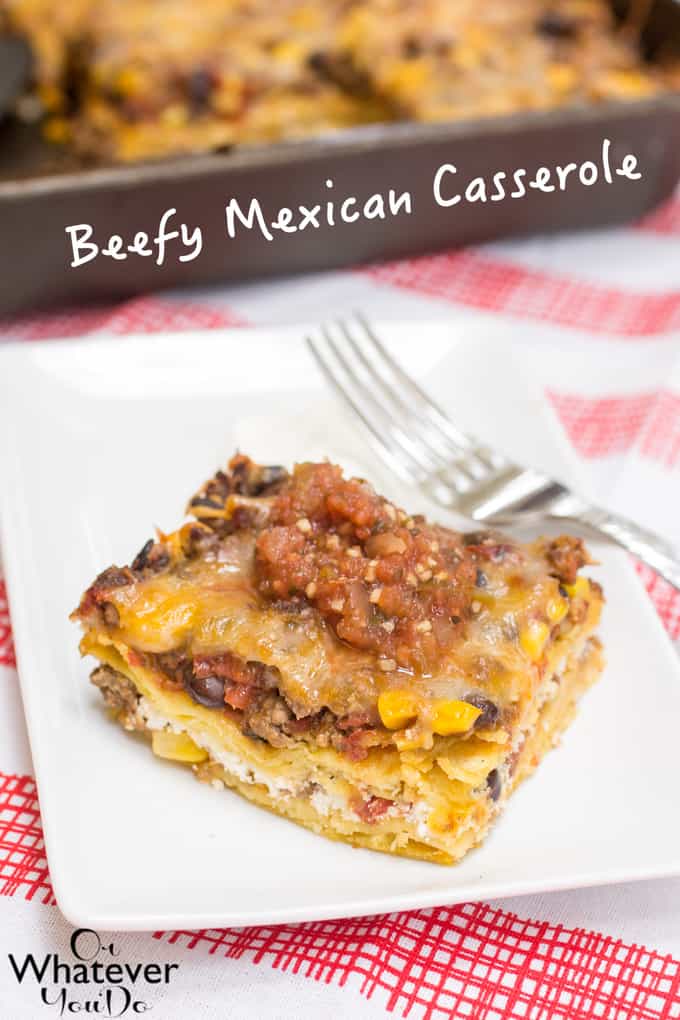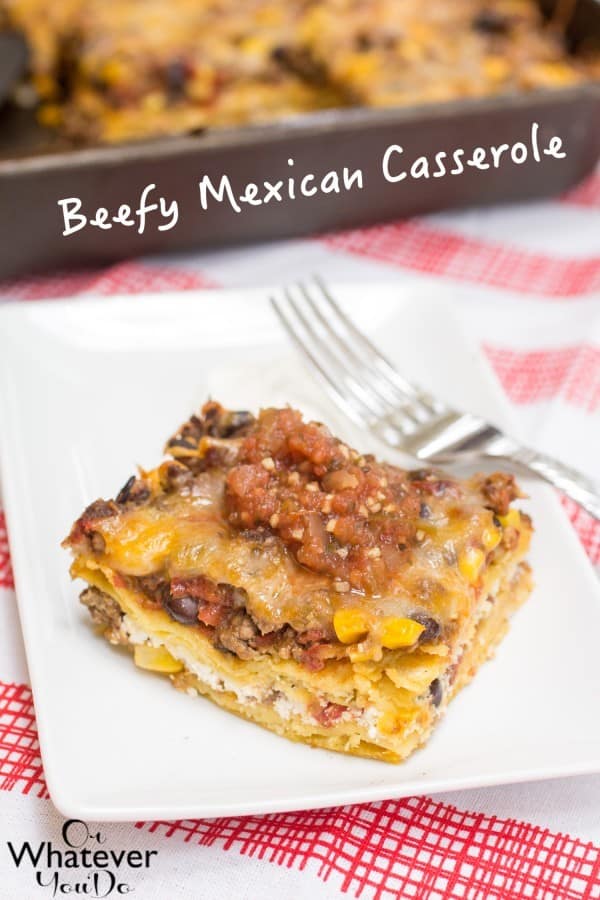 Beefy Mexican Casserole
My THIRD post in ONE week! Yay! I feel like I just got done running a marathon or something. Well, maybe not a marathon, but a 5k? Or half of a 5k? How about down to my mailbox and back. That would probably be just as hard at this point since the last time I ran there was a -teen at the end of my age.
It has been an awesome week around here. The kids have been outside a LOT enjoying our beautiful weather. I got some more things planted in my tiny little garden. This is my very first time gardening, so I'm hoping I at least get SOME usable vegetables and herbs for all of my hard work! So far I have three different varieties of pickling cucumbers planted, four different kinds of basil, thyme, parsley, and the latest…
All I can say is that even if half the cucumbers survive and produce, we should be good on pickles for quite a while. That's the plan anyway!
This one is not my doing, as these bushes were here when I moved in, but I am OBSESSED with this right now! It is so beautiful and vibrant!
Here's a shot of it pulled back a bit.
Did you all see that we got TWO new additions to the house? I picked up two baby ducklings to add to the flock. They've been living in the homemade brooder I fashioned, and are busy mucking it up and eating and drinking and being afraid of us. They are awfully cute though! They grow so fast! Here they were the day we brought them home at 2 days old.
And here at 11 days old.
2 days old.
11 days old. This was the best I could do. They are not big fans of being held still.

It's been really fun, but I can't say that I'm going to be very sad when they are big enough to go out with the hens. Hopefully it's a smooth transition. I think when the time comes I'll just put the lid on this dog carrier so they have a secure place to sleep at night. Our coop needs some work at the moment. I'd better get on that!
Today, baby girl had a checkup, which I didn't remember until it was 5 minutes before we were supposed to leave to bring the boys to school. Yikes. Amelia and I were both still in our jammies, so it was a rushed and hectic morning. Three shots and lots of tears later, we're back home and I get to finish my work on this computer for the day so I can start my work around the house. Never a dull moment!
This is from 4 days ago. Girl is starting to get into everything!
This Beefy Mexican Casserole came to me by way of my awesome sister-in-law. She made this for the boys when I was out visiting Minnesota, and they loved it! Any dish that all four of them eat, I am such a fan of because that's like finding a unicorn. In true boy fashion, it wasn't as big of a hit the second time around, but its still going right into my rotation. It is a super simple, quick, delicious weeknight meal that you can throw together in under an hour. Love.
---
Want more recipes from my amazing family? Check these out!
Creamy Chicken Wild Rice Soup
Better Than KFC Coleslaw
Garlic Fry Bread
Homemade Clam Chowder
Chicken Marsala
---
A small note though…the original recipe called for fat-free sour cream, which I don't ever buy. I used the real stuff, which curdled after I baked it. It tasted great still, but next time I make this I'm going to omit it. I'm also omitting it from the recipe I'm posting here. My sister-in-law said she had no issue with curdling either time that she's made it, so your milage may vary. Also, she says that putting some cubed cream cheese in makes it extra delicious!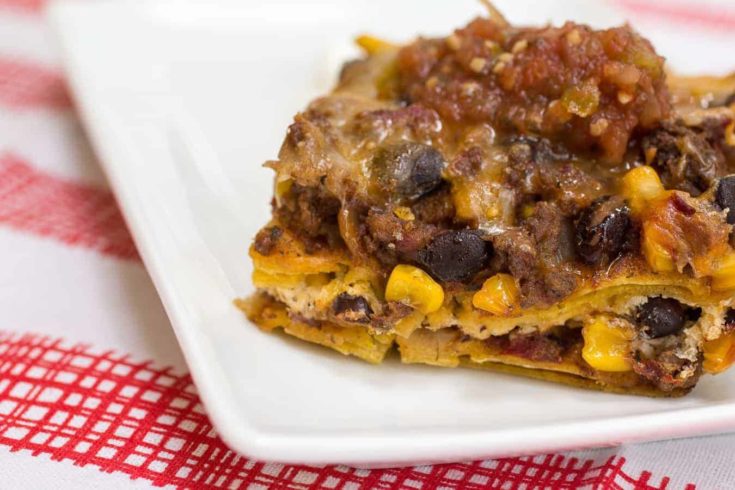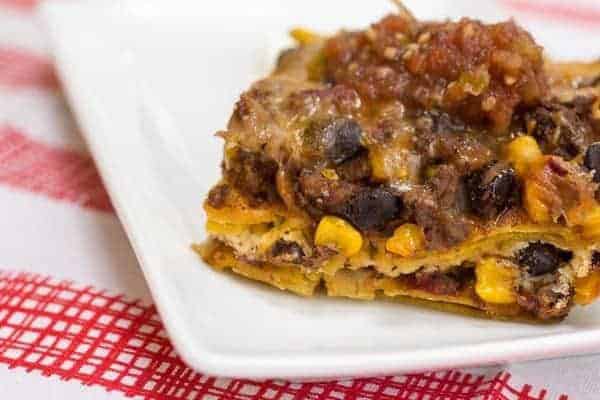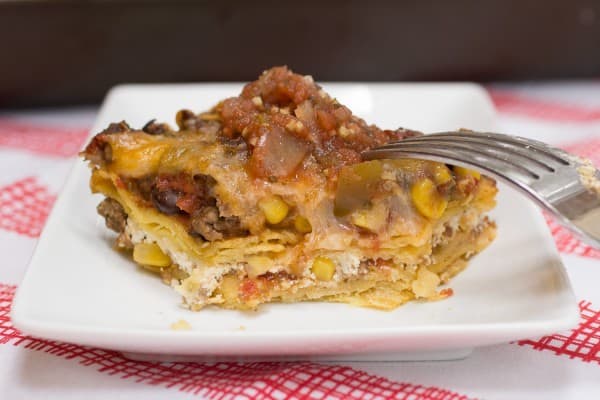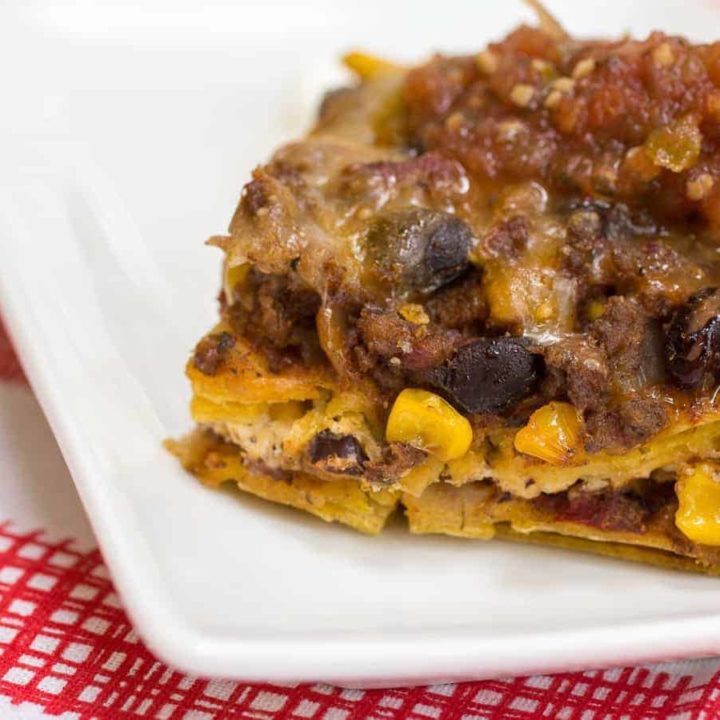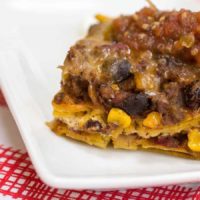 Beefy Mexican Casserole
Easy Mexican Casserole full of beef, beans, and cheese. You are going to love it!
Ingredients
Beef Mixture
1.5 lbs ground beef
1 medium onion, diced
1 can corn, drained
1 can black beans, rinsed and drained
1 package taco seasoning
8-12 corn tortillas
2 cans Rotel, whatever your favorite flavor is
2 cups shredded Mexican cheese
Garnish:
Cilantro
Salsa
Sour Cream
Tortilla chips
Instructions
Cook ground beef and diced onion. Drain off excess fat, and then add the taco seasoning, corn, beans, and rotel.
Put a layer of tortillas down in a 10x13 inch baking dish. Layer meat mixture on top. Sprinkle half of cheese on top. Layer more tortillas, then more meat, and finish with the remaining cheese.
Bake at 350 for 20-25 minutes, or until the entire mixture is hot and the cheese is melty. Remove from oven, let cool for 10 minutes, and then serve with garnishes.