Blueberry Lemon Poke Cake makes short work out of your dessert and starts with a simple boxed cake.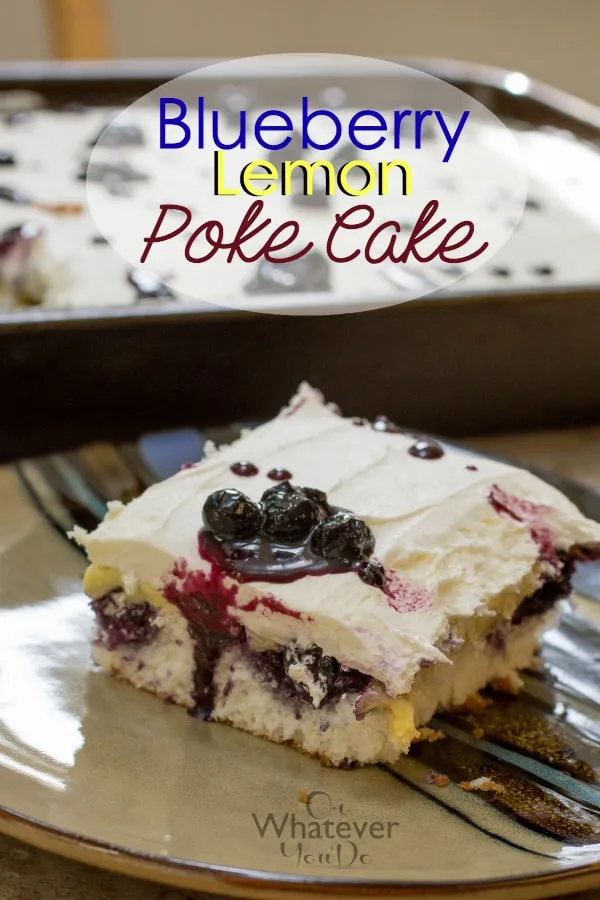 Blueberry Lemon Poke Cake
I whipped up this Blueberry Lemon Poke Cake today for you, and I broke almost ALL of my usual baking "rules" by busting out the boxed cake mix AND the boxed pudding mix. Sometimes you need a dessert that just comes together. Well, this isn't exactly dump and go with the blueberry sauce and the awesome white chocolate frosting, you can still have this on your table in less than an hour and a half, and that isn't too bad for a dessert!
Mix up your blueberry sauce in a medium saucepan, and simmer over medium heat until it is reduced and thickened. After it is done, stir in your lemon juice to taste.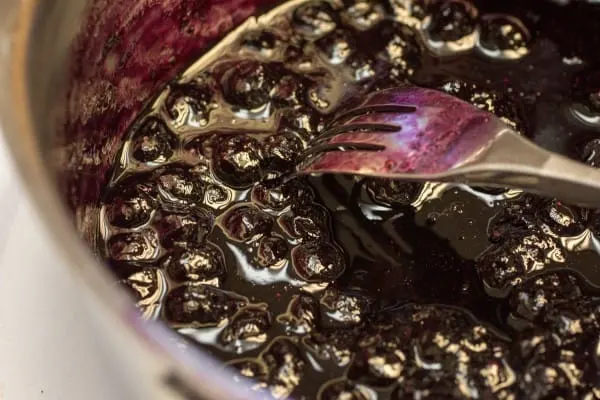 While your blueberry sauce is cooking, mix up your cake according to the package directions, add in the lemon zest and stir gently to combine.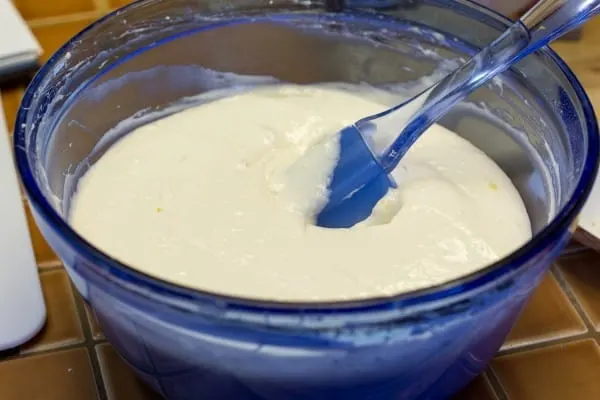 Bake it in a 9×13 pan that's been prepped with baking spray. While the cake it baking, make the pudding per my instructions below. Remove the cake from the oven, let cool for 3-5 minutes, and then poke holes all over it.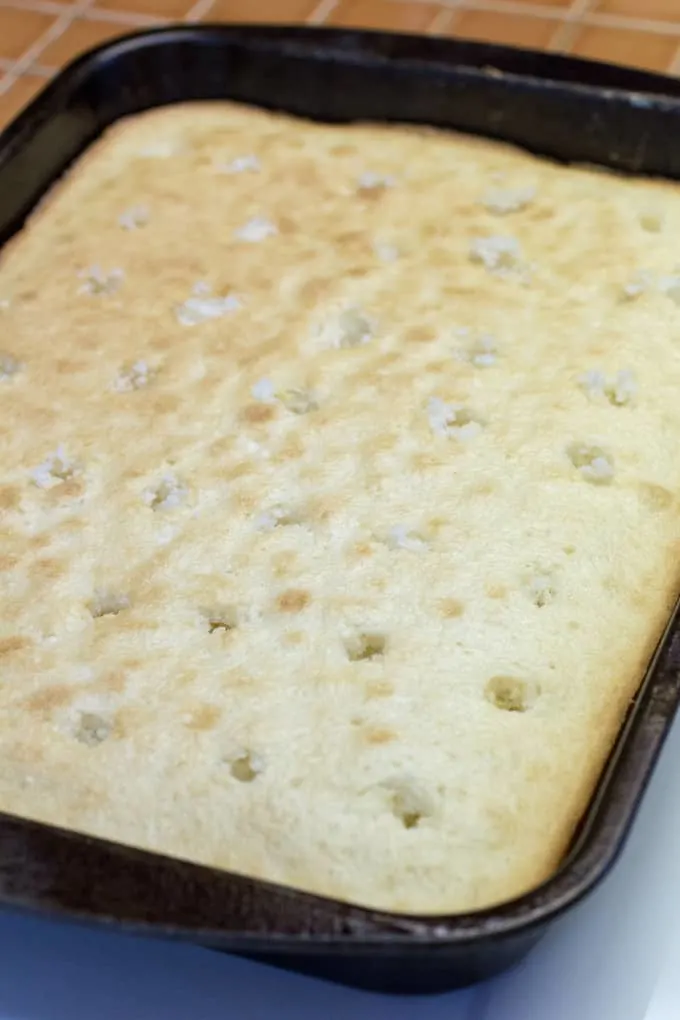 Spoon your blueberry sauce into about half of the holes. Make sure and get some of the blueberries down into the holes! Don't forget to save about 1/3 cup of the sauce for the top of your cake.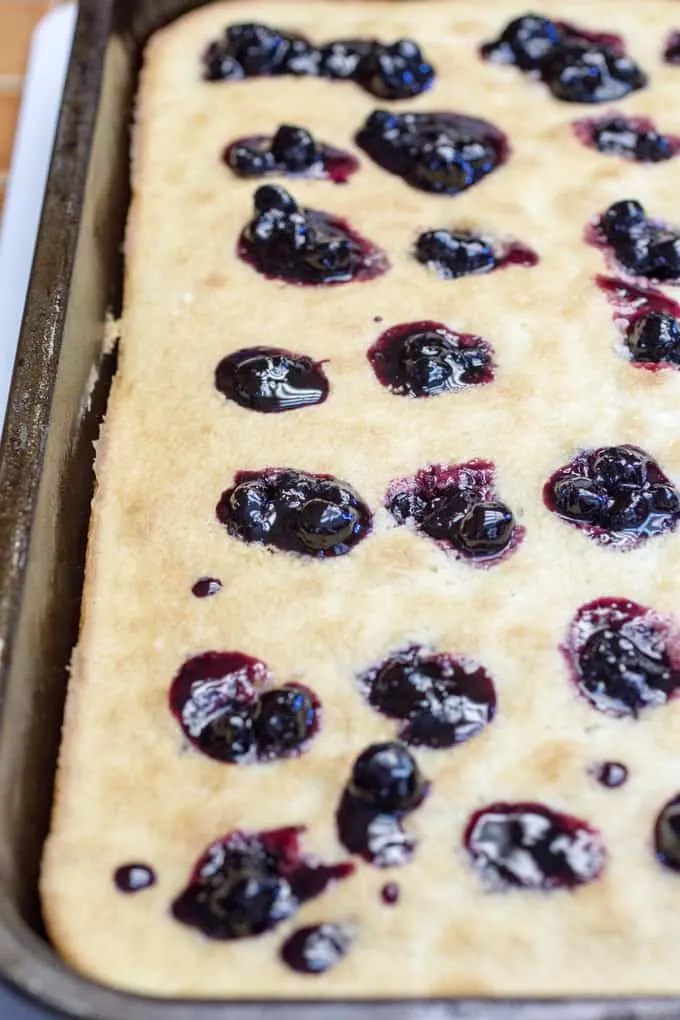 Spread the pudding over the top of the cake, and tap gently to get some down into the rest of the holes.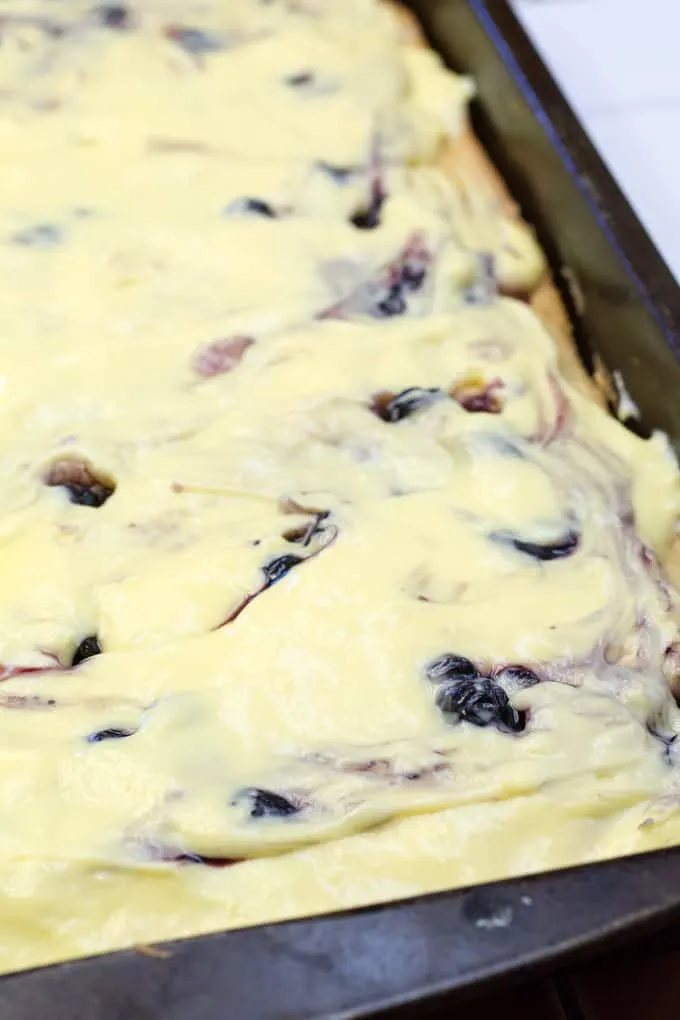 Chill for 30 minutes to an hour. While your cake is chilling, whip up your frosting.
This frosting is the easiest, most decadent frosting EVER. Take two cups of white chocolate, and one cup of butter. Melt in a double boiler. Stir to combine. Stick it in the fridge for about a half an hour until it solidifies. Whip Whip Whip Whip in your mixer, and you get THIS!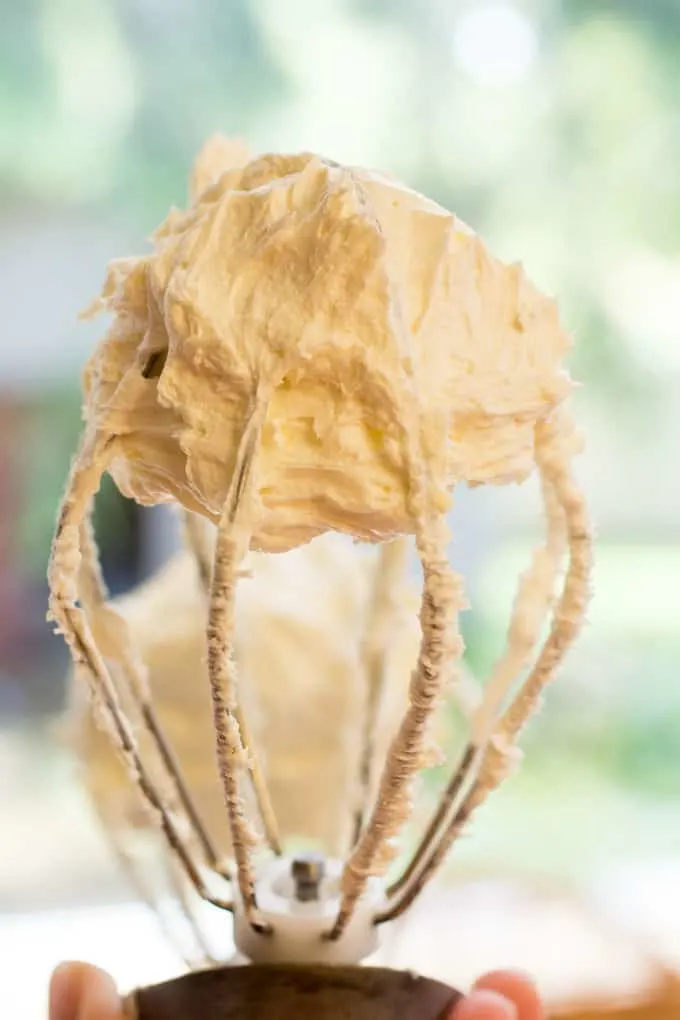 Super rich, super amazing, and SUPER easy. Thanks Cookies & Cups for introducing me to this little trick!
After the frosting is whipped and fluffy, place dollops of it all over your cake, and spread carefully and evenly using an offset spatula, and then garnish with the reserved blueberry sauce.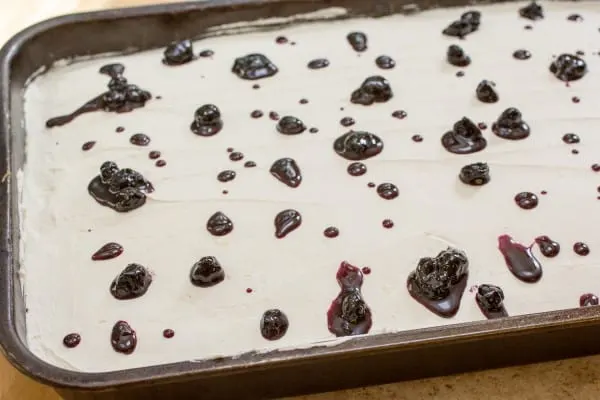 ---
More awesome cake recipes coming your way now!
Checkerboard Marble Cake
Homemade Marble Pound Cake
Toasted Coconut Cake
Blueberry Pudding Lemon Poke Cake
Super Chocolate Hot Fudge Brownie Cake
---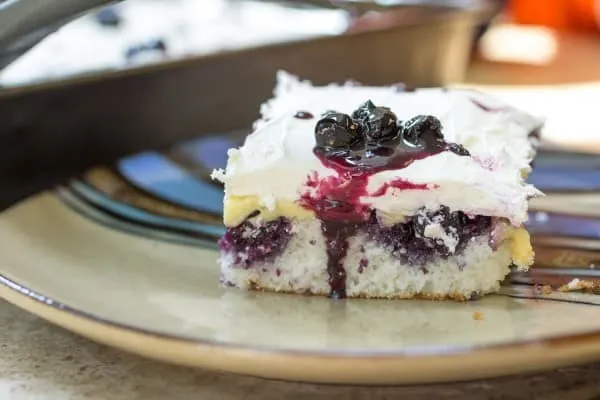 Yield: 12 servings
Blueberry Lemon Poke Cake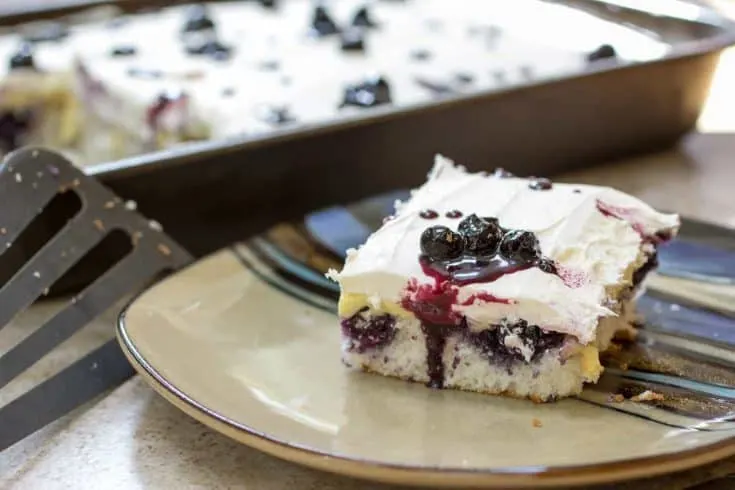 Blueberry Lemon Poke Cake starts with a simple boxed cake, but turns it into something much much better!
Total Time
1 hour
15 minutes
Ingredients
Blueberry Sauce:
2 cups frozen blueberries
1/2 cup water
3/4 cup sugar
1 - 2 tbsp lemon juice
Cake:
White Cake Mix made according to package directions
1 tsp lemon zest
Pudding:
1 large box cook and serve vanilla pudding
2 cups half and half
1/4 - 1/2 cup half and half, cold
Frosting:
2 cups white chocolate
1 cup butter, unsalted
Instructions
Preheat oven to 350. Start the blueberry sauce by combining blueberries, water, and sugar in a medium saucepan over medium heat. Bring to a simmer, stirring frequently, and cook until reduced and thickened. Add lemon juice to taste, and then set aside.
While the sauce is simmering, bake cake according to package directions, with the addition of 1 teaspoon of lemon zest into the batter. During last 10 minutes of baking, start the pudding mixture by combining the pudding mix with 2 cups of half and half. Cook, stirring constantly, until thickened. Remove from heat and set aside.
Remove cake from the oven, let cool for 3-5 minutes, and then take the end of a wooden spoon and poke holes all over it. Spoon blueberry sauce into half of the holes, and make sure that you press some of the berries down into the cake. Reserve 1/2 cup of berries and sauce for the top of the cake.
Pour the remaining 1/2 cup of half and half into the pudding, and stir well to combine. Pour over cake, and spread evenly over the entire thing being sure to get some down into the remaining holes.
Chill the cake for 30 minutes to an hour.
While the cake is chilling, mix up the frosting by melting the white chocolate and butter in a double boiler. Stir to combine, and place mixture into the fridge to solidify.
Remove the cake and frosting from the fridge, and whip the frosting until light and fluffy. Place dollops all over the cake, and spread carefully and evenly, to cover the pudding layer. Top with reserved blueberries, and serve immediately.
Nutrition Information:
Yield:
12
Serving Size:
1
Amount Per Serving:
Calories:

437
Total Fat:

30g
Saturated Fat:

18g
Trans Fat:

0g
Unsaturated Fat:

10g
Cholesterol:

62mg
Sodium:

88mg
Carbohydrates:

40g
Fiber:

1g
Sugar:

37g
Protein:

4g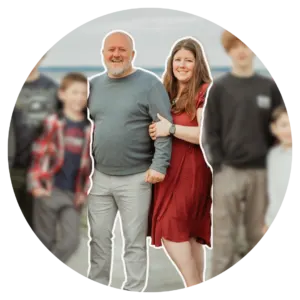 Nicole Johnson, a self-taught expert in grilling and outdoor cooking, launched Or Whatever You Do in 2010. Her blog, renowned for its comprehensive and creative outdoor cooking recipes, has garnered a vast audience of millions. Nicole's hands-on experience and passion for grilling shine through her work. Her husband, Jeremiah Johnson, also plays a pivotal role in recipe development, adding his culinary flair to the mix. Together, they form a dynamic duo, offering a rich and varied outdoor cooking experience to their followers.