Homemade Hostess Cupcakes are one of the most popular recipes on my site. They are also one of the biggest hits with my family as well. It is always a special treat when I make these little beauties!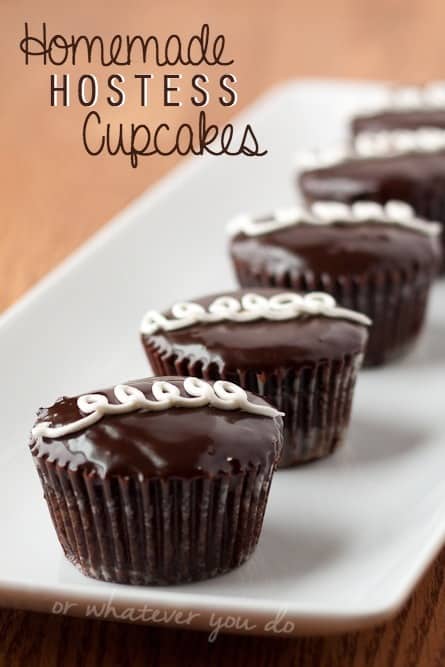 Homemade Hostess Cupcakes
Once upon a time, a few restaurants ago, I used to make some desserts for them when I wasn't busy waiting tables. It was so much fun, and I loved every minute of it.
The recipe for these scratch hostess cupcakes was one of my favorites to make there, but for some reason I stuck the recipe away in my folder and hadn't pulled it out since. In the restaurant I made it only in cake form. Here for you I will give you both!
The other day a blog reader was asking where the recipe had been posted, and I realized that it hadn't actually been posted at all! Since the kids had their winter carnival tonight that happened to include a cake walk, I figured that would be the perfect excuse to do some baking. Make sure you read the notes at the bottom after the recipe. Important information included there.
The cake portion of this comes together so easily. I LOVE this chocolate cake recipe. It is one of my very favorites. How can it not be? It includes coffee.
So start by sifting all the dry cake ingredients together.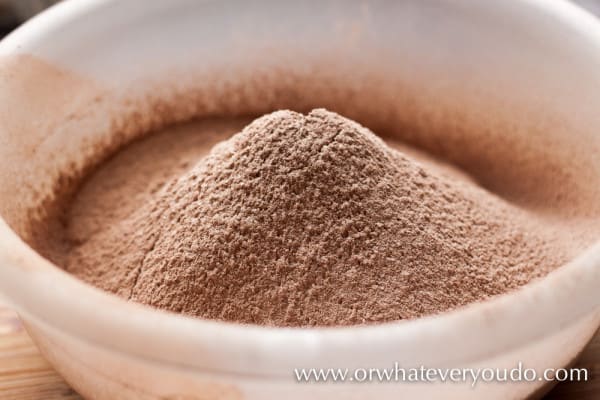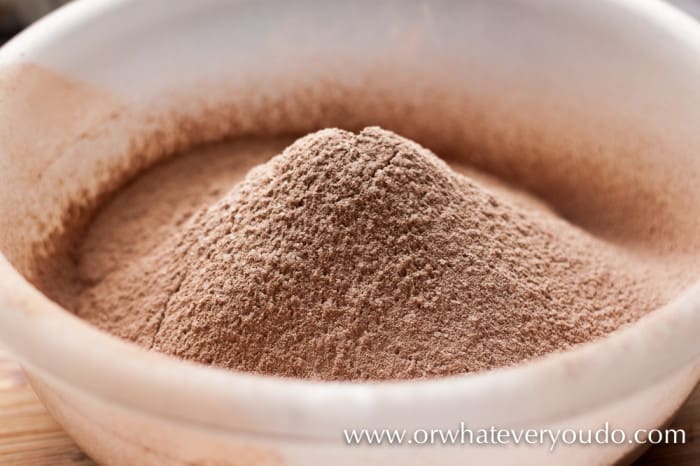 Next pour that into your mixer along with the canola oil, coffee, and milk. Mix it until it is fully combined. Next add the eggs and vanilla, and mix on medium speed for 3-5 minutes.
Prep your pans by lining your cupcake tins with liners and then spraying with cooking spray. Spray your 8 inch cake pan with cooking spray, and then line the bottom with a circle of parchment paper and spray that too.
That is the single best piece of cake baking advice I have ever read or received. Your cakes will come out of the pan EVERY time, none of that sticking to the bottom, half coming out half staying in business. Nope. Not for us.
Fill the cupcake tins (all 24!) about 2/3 of the way full.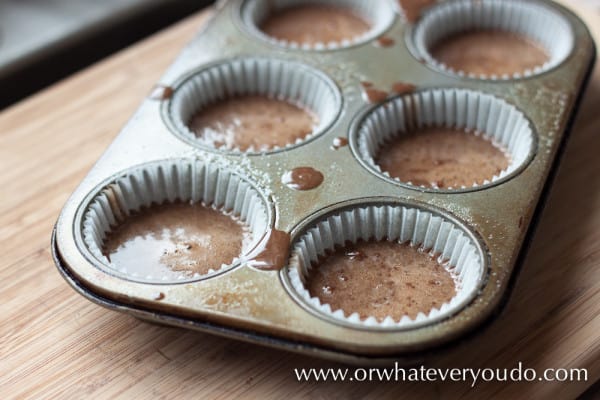 Pour the rest of the batter into the cake pan. Bake at 350 for 20 minutes (for the cupcakes), and about 25 minutes for the cake. Begin testing 5 minutes prior to the listed time with a toothpick, and remove the (cup)cakes from the oven when the tester comes out clean. Let them cool for 5 minutes in the pans, and then carefully remove from the pan and let cool completely on wire racks.
---
Need some more awesome cupcake ideas? I've got lots!
Blueberry Lemon Cupcakes
Strawberry Stuffed Cupcakes
Marble Cupcakes
Fresh Cherry Cupcakes
---
Start you filling next by creaming the soft butter in your mixer, and then adding 1/2 cup of powdered sugar.
Add in your vanilla and 1 TBSP of cream.
Mix this until well combined, and then add in the last 1/2 cup of powdered sugar and 2 TBSP of cream in batches, alternating each one.
Scrape down the sides of the mixer as necessary.
When this is fully mixed together beat in the marshmallow cream. Put the filling into a baggie or icing bag fitting with a filling tip.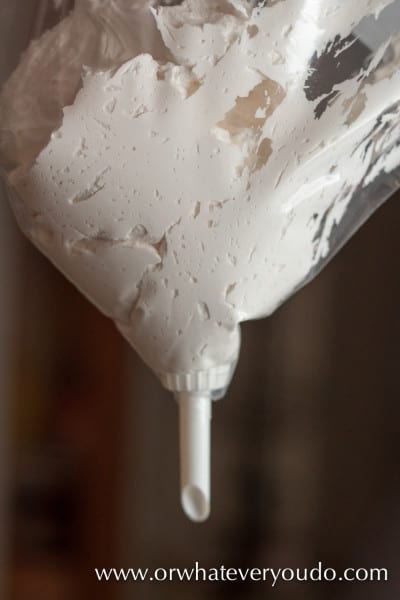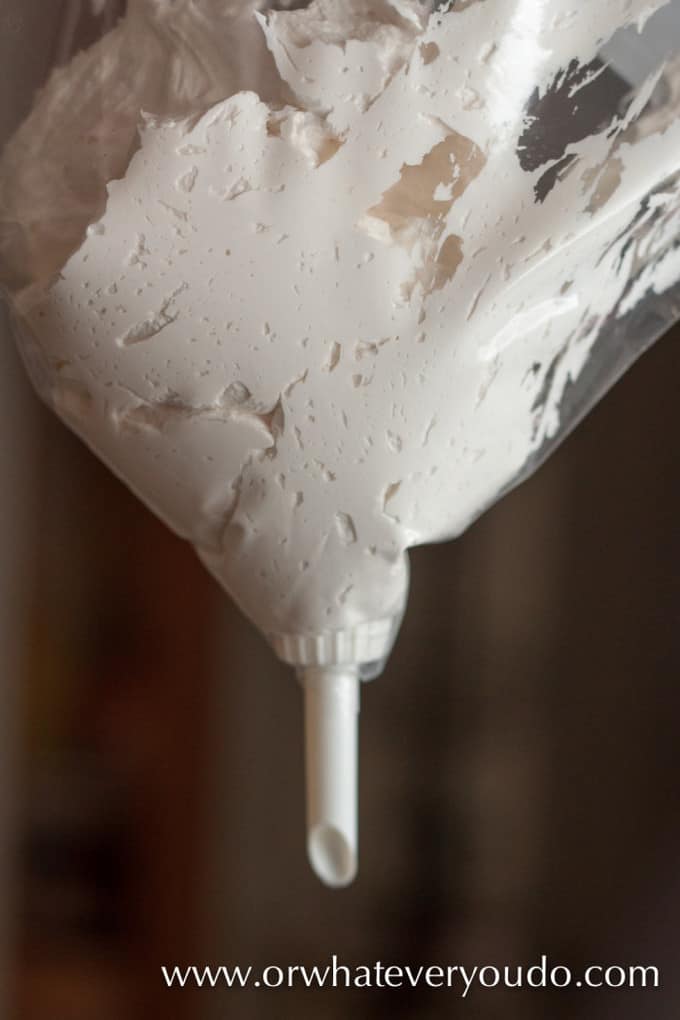 Poke the tip into the cupcakes and gently pipe some filling into them, moving up and down as you do it. You want about 2-3 tsp of filling to end up inside the cupcakes. If you can't quite get that much, don't worry. Every little bit is good!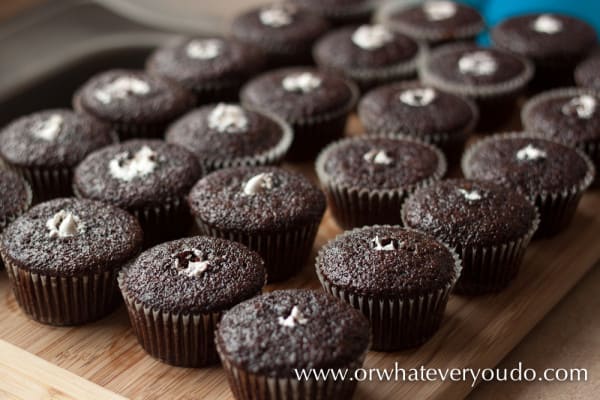 When all the cupcakes are filled, carefully slice your cake in half. I use a serrated bread knife, slowly slice about 1 inch into the cake all the way around in the middle, and the continue the cut while turning the cake. To remove the top, I use two bread knives and lift the top off carefully.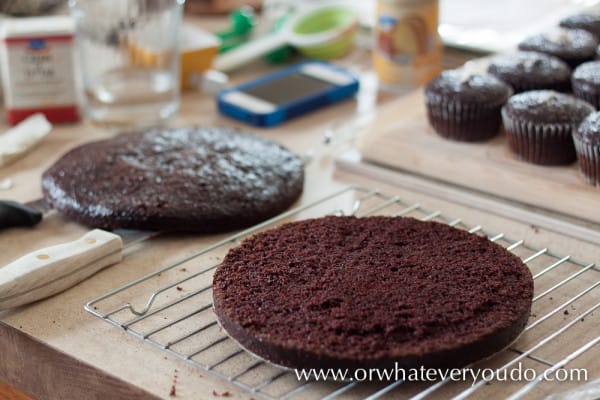 Pipe the remaining filling onto the cake, staring with the outer circle and working your way in.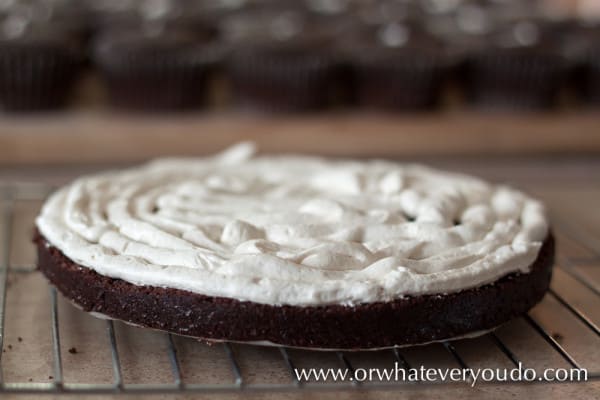 Reassemble the cake, and start putting together your ganache. To do that, heat your cream and butter to almost boiling, and then pour it over the chocolate. Stir until the chocolate is melted, and then mix in the vanilla.
---
Need some more awesome cupcake ideas? I've got lots!
Blueberry Lemon Cupcakes
Strawberry Stuffed Cupcakes
Marble Cupcakes
Fresh Cherry Cupcakes
---
Dip your cupcakes into the ganache, coating each one.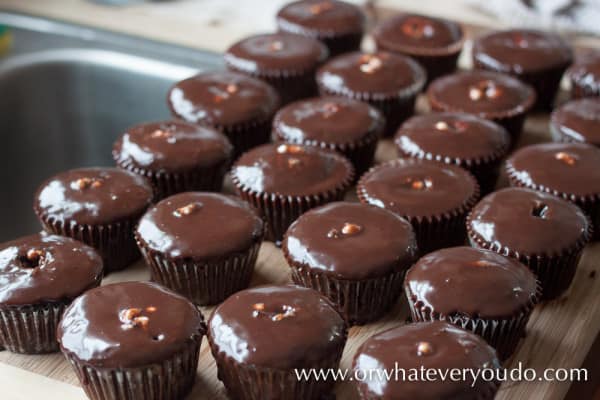 If there are any little holes in the middle from the filling tip, take a spoon and pour a small amount of ganache into it to make it even. Pour the remaining ganache over your cake and gently spread it evenly, letting a little bit fall over the sides.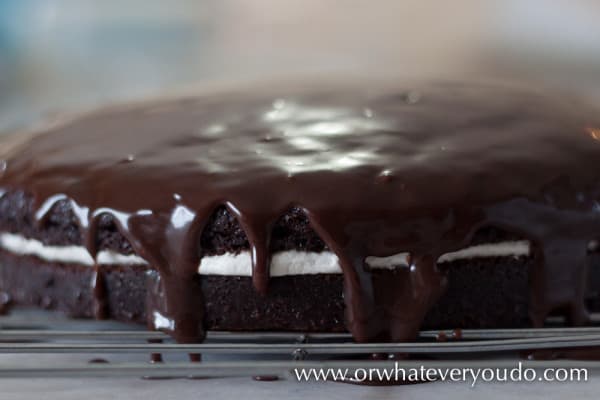 Refrigerate until the ganache sets. It took mine about 30 minutes.
While the ganache is setting, prepare your icing by placing the butter, milk, powdered sugar, and vanilla into a mixer and beating until it is smooth. Place that into another piping bag fitted with a small tip. When the ganache is fully set, pipe on the little hoop designs, or whatever design you want, onto each cupcake.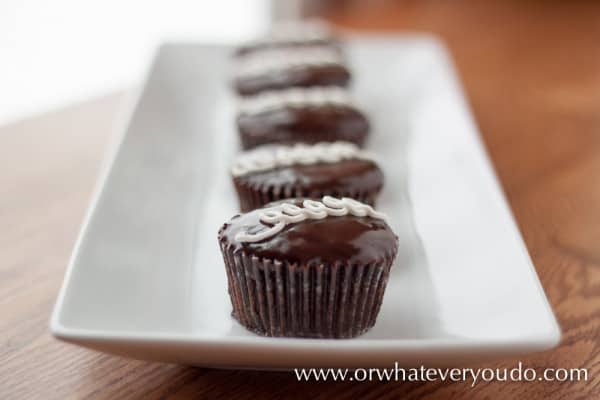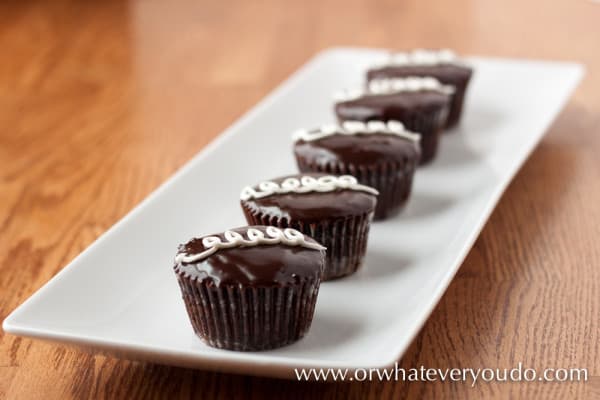 I am horrible at icing designs. If you could see the top of this cake, you would laugh. I need lessons from Julia!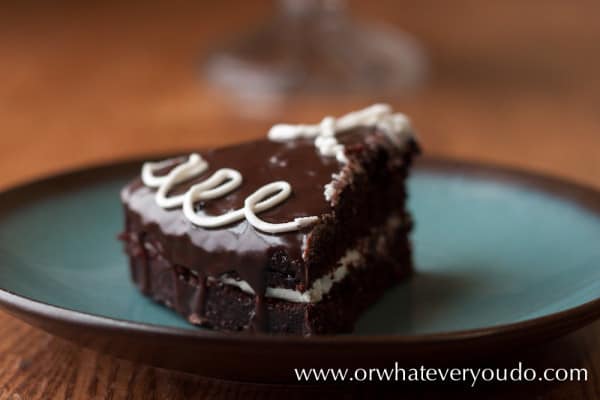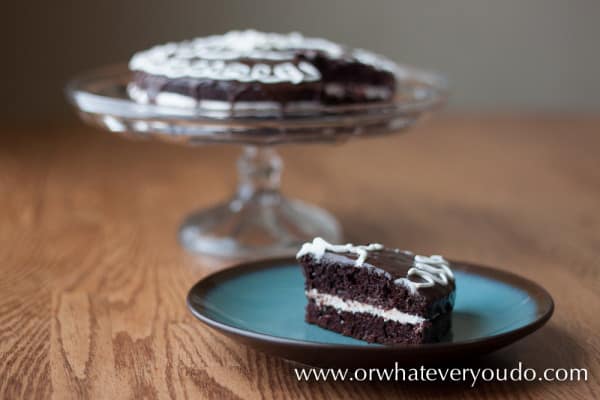 Yield: 24 servings
Hostess Cupcakes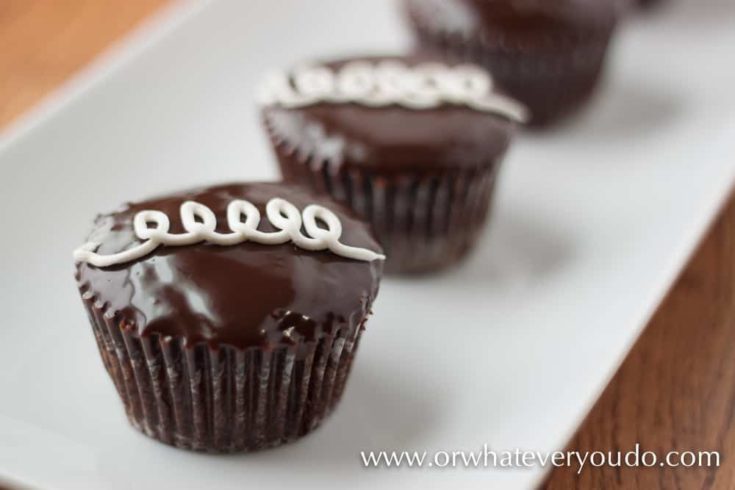 This is a scratch recipe for my version of the Hostess cupcakes and cake.
Total Time
1 hour
5 minutes
Ingredients
Cake:
2 cups cake flour
1 tsp salt
1 tsp baking powder
2 tsp baking soda
3/4 cup cocoa powder
2 cups sugar
1 cup canola oil
1 cup hot strong coffee
1 cup 2% or whole milk
2 lg eggs
2 tsp vanilla
Filling:
4 TBSP butter
1 cup powdered sugar
2 tsp vanilla
3 TBSP heavy cream
1 cup marshmallow cream
Ganache:
1 cup milk chocolate chips
1/2 cup heavy cream
1 TBSP butter
2 tsp vanilla
Icing:
1 stick butter, salted
2 TBSP milk
2 cups powdered sugar
1/4 tsp vanilla
Instructions
Preheat oven to 350 F. Prep your cupcake tins by lining with cupcake liners and spraying with cooking spray. Either baking spray or regular will work. Prep your 8" cake pan by spraying with cooking spray, lining the bottom with a circle of parchment paper, and then spraying again.
For the cake: Into a medium sized bowl sift together the flour, salt, baking powder, baking soda, cocoa, and sugar. Set aside. In the large bowl of a stand mixer, combine oil, coffee, and milk. Then slowly mix in the dry ingredients until fully combined. Then add eggs and vanilla and beat on medium speed for 3-5 minutes.
Fill liners 2/3 of the way full. Then put the remaining batter into the cake pan. The batter will be very thin. Bake at 350 F for 15-20 minutes for the cupcakes, or until a toothpick comes out clean. The cake will require an additional 5 minutes or so. Remove from oven and let cool for 5 minutes in the pans, and then remove cupcakes from the cupcake tins and let cool completely. Remove the cake from the pan as well by inverting onto a wire cooling rack.
Make the filling while your cakes cool by creaming the butter and adding 1/2 cup of the powdered sugar. Add vanilla and 1 TBSP of cream. Beat until well combined, scraping down the sides as necessary. Add last 1/2 cup of powdered sugar and remaining 2 TBSP of heavy cream alternating between the two and mixing well between each. Beat in the marshmallow cream last.
Place the filling in a piping bag with a filling tip, and poke into center of completely cooled cupcakes, moving up and down as you gently squeeze approximately 1/2 – 1 TBSP of filling into each cupcake. If you are making a cake as well, cut the cake in half after it is completely cooled, and pipe filling onto the middle of the cake and reassemble.
To make the ganache, heat your 1/2 cup of heavy cream and 1 TBSP butter until almost boiling. Pour over chocolate chips in a metal bowl and stir well until the chocolate is completely melted. Add the 2 tsp vanilla and stir to combine.
Dip the filled cupcakes into the ganache to coat. Pour the remaining ganache over the top of the cake and spread evenly, letting a little bit spill down the sides. Place the cupcakes/cakes in the refrigerator until the ganache is set, about 30 minutes.
To make the icing, beat the 1 stick of softened butter, 2 TBSP milk, 2 cups powdered sugar, and 1/4 tsp vanilla until smooth and fully combined. Place into a piping bag (or a baggie!) with a small tip attached, and pipe loops onto each upcake after the ganache is fully set.
Notes
This will make 2 dozen regular sized cupcakes plus one 8" cake. If you would like all cupcakes it will make 2.5-3 dozen depending on how full you fill your liners. All cake and it would make 4 - 8 inch rounds.
Nutrition Information:
Yield:
24
Serving Size:
1
Amount Per Serving:
Calories:

394
Total Fat:

21g
Saturated Fat:

8g
Trans Fat:

0g
Unsaturated Fat:

12g
Cholesterol:

42mg
Sodium:

294mg
Carbohydrates:

49g
Fiber:

1g
Sugar:

37g
Protein:

3g
Nutrition data provided here is only an estimate. If you are tracking these things for medical purposes please consult an outside, trusted source. Thanks!
NOTES:
As is, this recipe makes 24 cupcakes and 1 – 8 inch round.

You can make all cupcakes if you would rather. It will make approximately 3 dozen depending on how full you get the tins.
You can also make ALL cakes. It will make 3 or 4 – 8 inch rounds, also depending on how thick you make them. If you DO choose to make all cakes, I suggest doubling the filling recipe to account for the additional real estate you need to fill.
If you have any questions, please feel free to ask!