These rich chocolately Big-Batch Brownies are just what you need for your next big barbecue, potluck, or holiday party. They are a perfect middle-ground in the whole "cakey or fudgy" debate.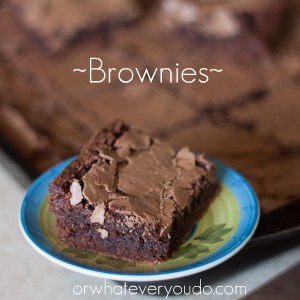 Big-Batch Brownies
I LOVE brownies. I don't even really like chocolate in the way that you are supposed to when you are…a woman, but ¯\_(ツ)_/¯. I've never been one that's been big on rules. Despite all of that, there is nothing much that I would rather have than a warm brownie with some chocolate sauce drizzled over, and a big scoop of really great vanilla ice cream alongside it.
When To Make A Million Brownies?
I spent much of Thursday in the kitchen making this gigantic batch of brownies for my 1st grader's Valentine's Day party. With brownies, I usually just buy myself a box of the Ghirardelli Triple Chocolate and call it good. Those things are hard to beat.
I think I may have found a scratch recipe that comes awfully close though. This recipe makes THREE 9×13 pans of chocolatey, chewy, cakey AND fudgy brownies.
Enough for a classroom, the teacher's lounge, and a pan for home. Or a large bake sale. Or your church's treat table on Sunday, plus some for the pastor to take home. You get the idea.
You Probably Need A Bigger Bowl
Fair warning, to make the big batch you need a LARGE mixing bowl. This taxed my Bosch to its very limits. It also stretched the limit of my largest mixing bowl. You definitely do not NEED a mixer for this recipe, so feel free to mix by hand if you need a good workout.
How To Make Big-Batch Brownies
Start by melting your chocolate and butter in a double boiler, or a fake double boiler like I use which is just a pyrex bowl over a saucepan of simmering water.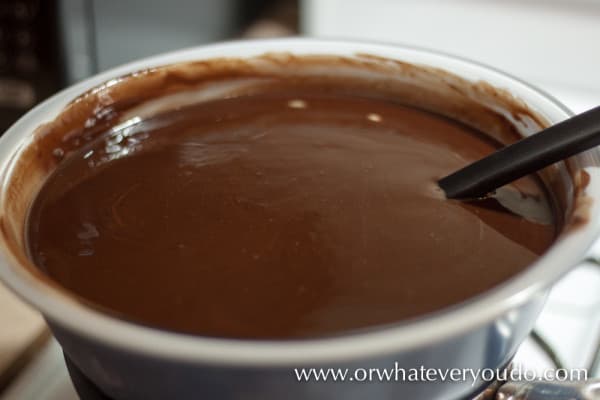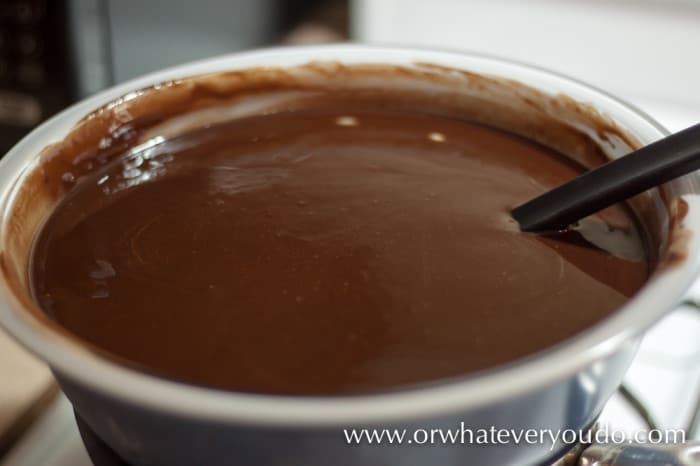 After that is melted, combine your sugar and vanilla in your mixer.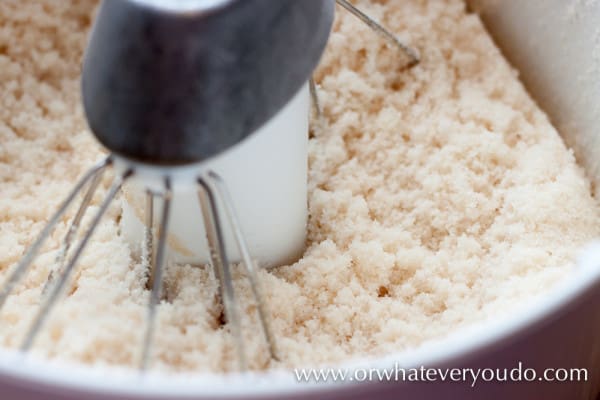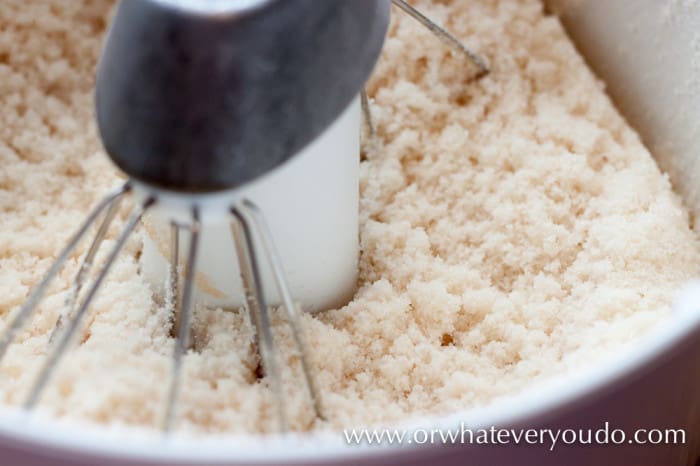 While the mixer is running, slowly pour the melted chocolate and butter into the sugar and vanilla mixture and mix until combined. See how full my mixer is getting already! Yikes!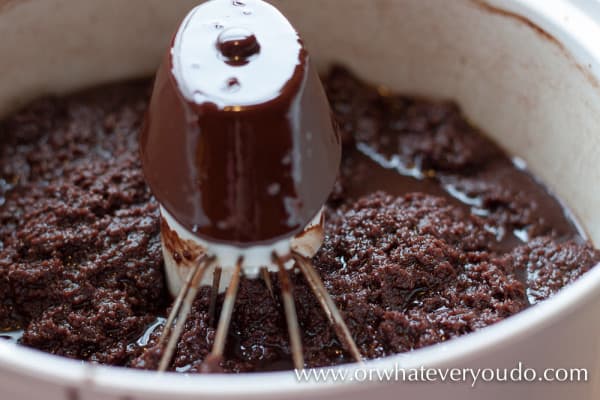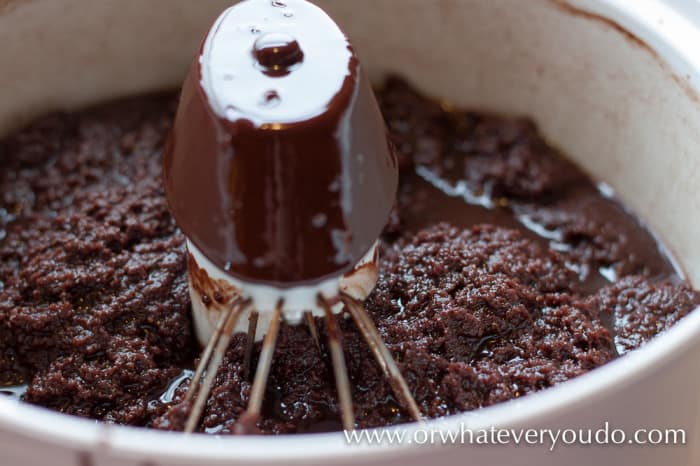 Next, start cracking those eggs.
I always crack into a separate bowl and then pour into whatever I am making. It will save you from accidentally getting the shell into your baked goods, and also just in case you get an egg that is "off".
Get more of my Dessert Recipes in my Dessert Category!
Pour the eggs in, one or two at a time, and mix until each is combined and the mixture is smooth and glossy. At this point, I had to switch from my mixer to the largest mixing bowl I had.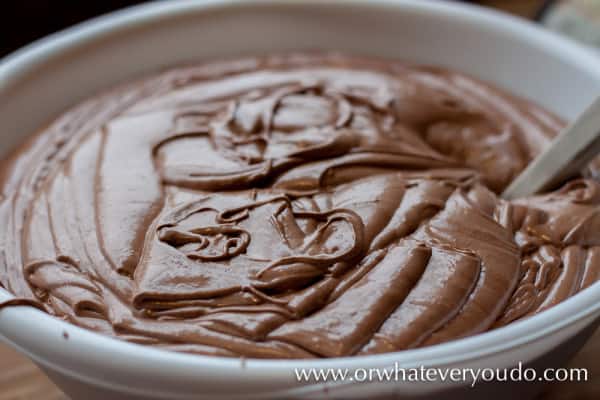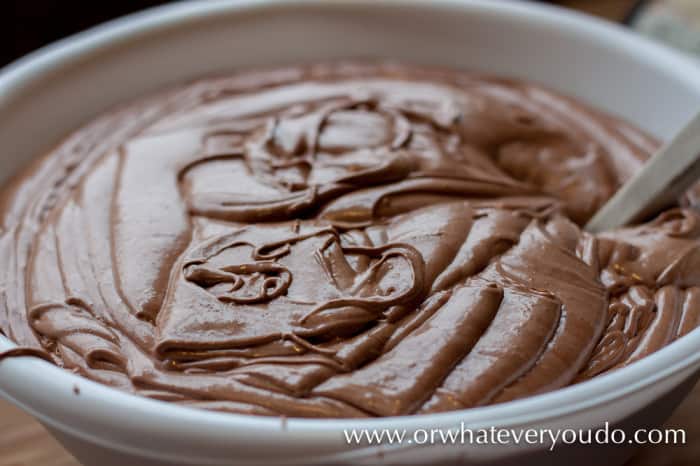 Now combine your flour, salt, and baking powder, and then pour into the batter. Mix with a wooden spoon.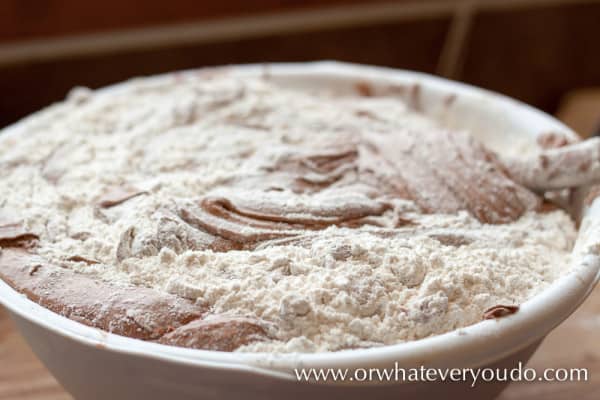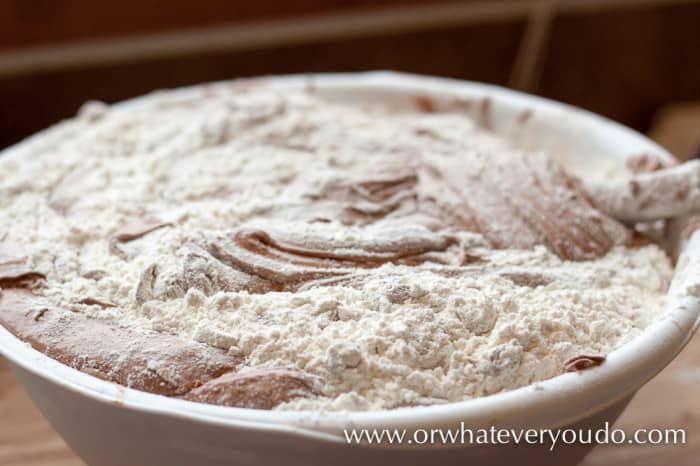 Keep stirring until it is combined. Don't over mix the batter!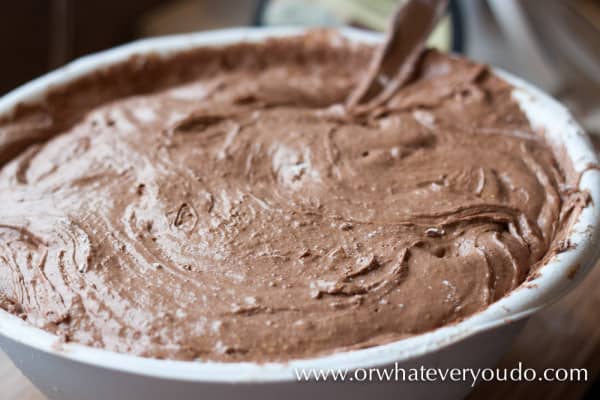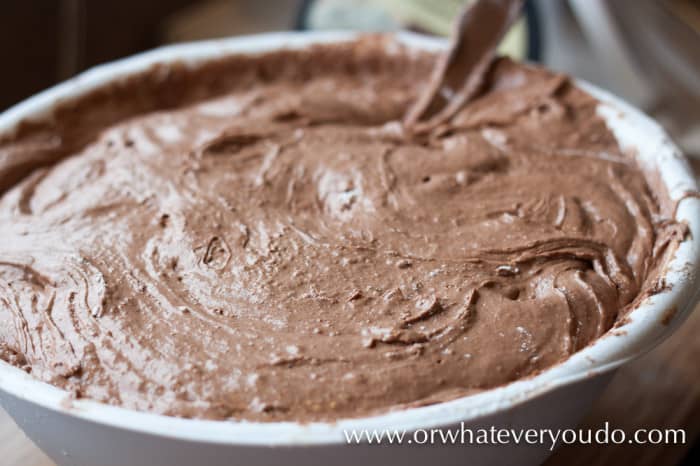 Prep a couple of pans with parchment and cooking spray. You want the edges to hang over the sides so you can lift out the brownies when they are done.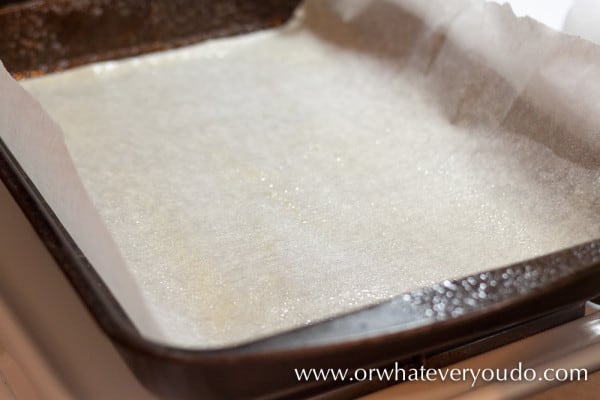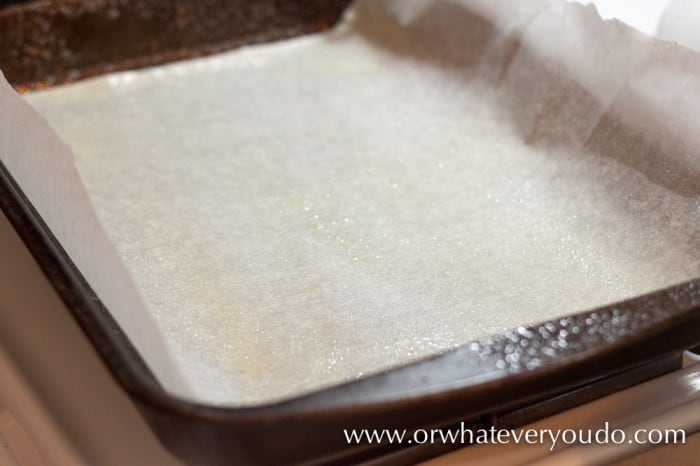 Pour the batter into the prepared pans and spread out evenly.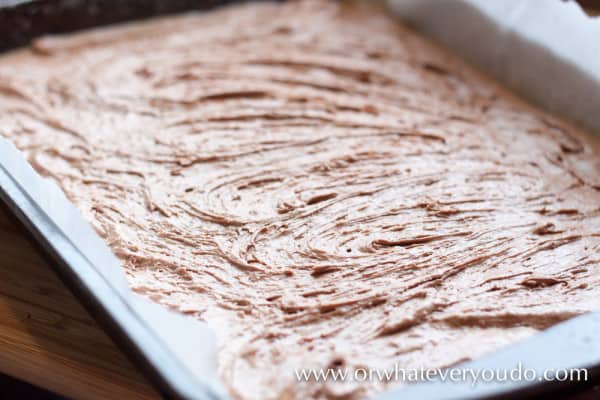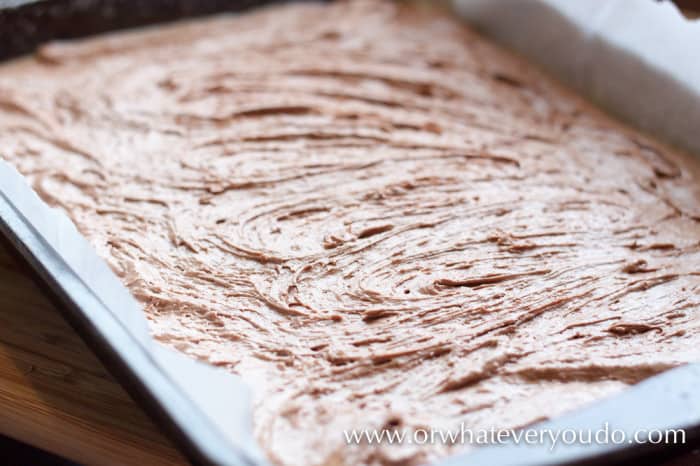 Bake at 375° for 35 – 40 minutes. Remove from oven, let cool in the pan for 10 minutes, and then remove from the pan using the overhang from the parchment paper.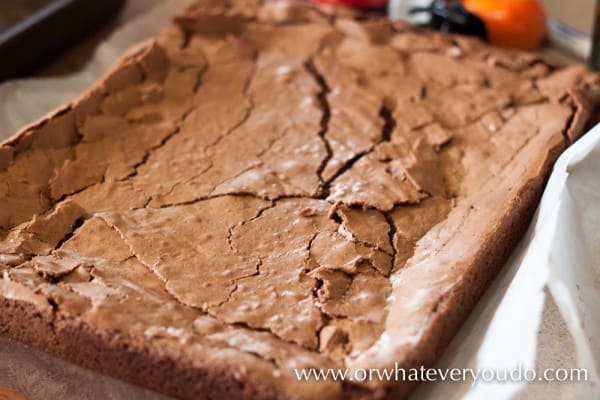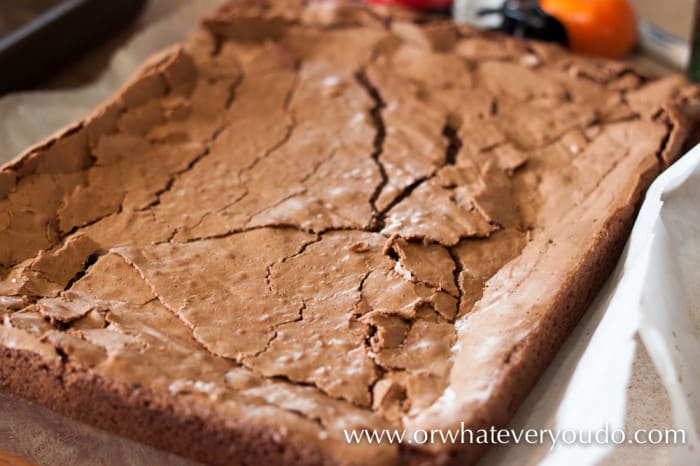 Let cool another 5 minutes and then cut and serve. I just love the shell that forms on the top of these. They were amazing as the base for brownie sundaes at the Valentine's Day party, and just as good plain too. No frosting needed!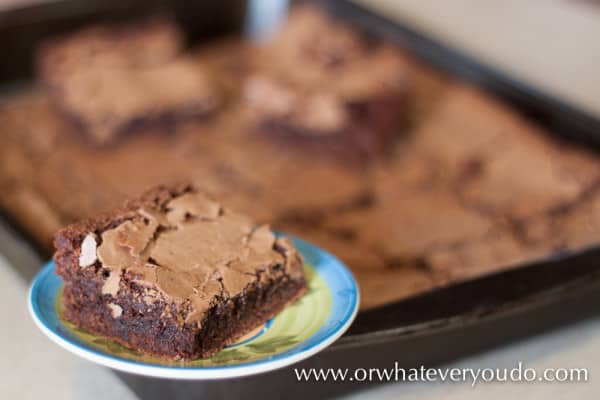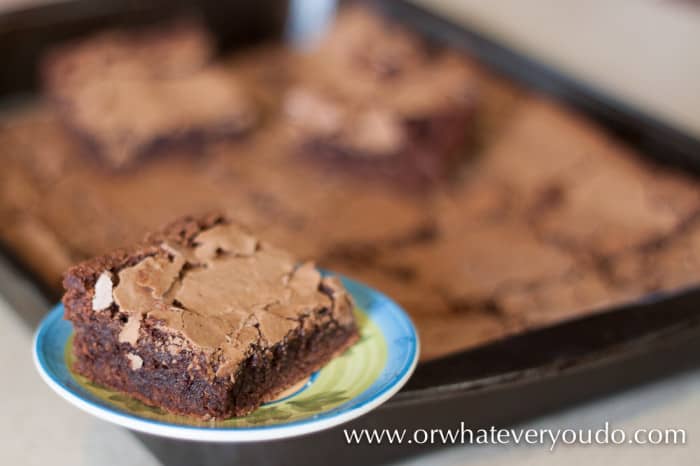 Need Something Savory for that Pot Luck Too?
Check out some of my recent favorites that are great for crowds!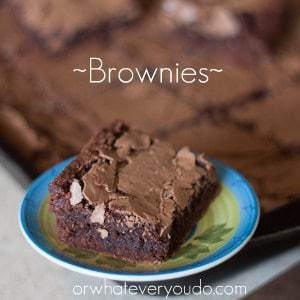 Yield:

60 brownies
Big-Batch Brownies
Make all the brownies with this amazing scratch-made recipe that makes 3 - 9x13 pans! A middle ground between the cakey and fudgy camps.
Ingredients
3 3/4 cups unsalted butter
4 ounces unsweetened chocolate
32 ounces semi-sweet chocolate (5 1/3 cups of chocolate chips, approximately)
7 cups sugar
1/8 cup pure vanilla extract
18 large eggs
4 cups flour
1 tablespoon salt
1 tablespoon baking powder
Instructions
Preheat oven to 375°.
Melt chocolate and butter in a double boiler, stirring frequently. Remove from heat when melted. Combine the sugar and vanilla in your mixer (or by hand), and then slowly pour in chocolate/butter and mix until well combined. Add eggs, one at a time, mixing well after each addition. Batter should be shiny and smooth.
Combine flour, salt, and baking powder in a separate bowl. Add to the wet ingredients and mix just until combined. Don't over mix!
Prep 3 - 9x13 pans by lining with parchment paper that over hangs the long sides, and then spraying well with cooking spray. Pour batter into pans and spread out evenly.
Bake for 35-40 minutes, or until a toothpick comes out with wet crumbs. Start checking them at 30 minutes as ovens differ so greatly. When done, remove from oven and let cool in the pan for 10 minutes. Remove from the pan using the parchment, and then let cool an additional 5 minutes before cutting. Serve immediately.
Nutrition Information:
Yield:
60
Serving Size:
1
Amount Per Serving:
Calories:

330
Total Fat:

19g
Saturated Fat:

11g
Trans Fat:

0g
Unsaturated Fat:

7g
Cholesterol:

86mg
Sodium:

156mg
Carbohydrates:

40g
Fiber:

1g
Sugar:

32g
Protein:

4g
Nutrition data provided here is only an estimate. If you are tracking these things for medical purposes please consult an outside, trusted source. Thanks!