Chocolate Cream Pie is a fantastic, made-from-scratch pie with no pudding mixes. The homemade custard is creamy and rich, and once you taste it you'll never go back to the other kind.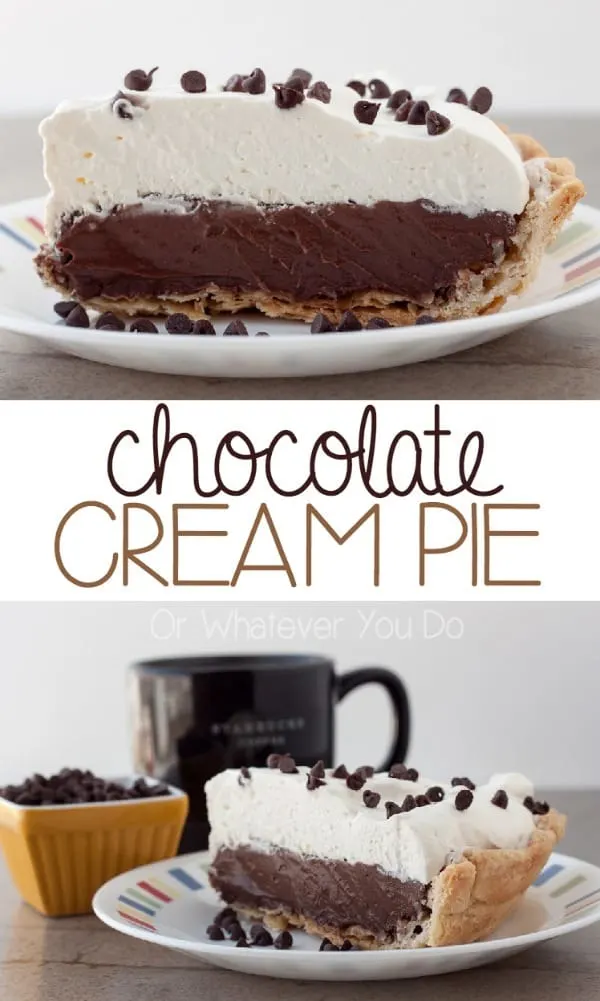 Chocolate Cream Pie Recipe
I was going to wait until tomorrow to share this chocolate cream pie recipe with you guys, but due to my horrible, no-good, very bad, hormone induced, tear-filled, insane morning – I wanted to share it now. You have GOT to love pregnancy hormones. Or you know, not.
Anyway, a piece of this is soon to be my breakfast, so I thought you should have the chance to start one of your own too.
First, a bit of a disclaimer. You can use ready-made pie crust for this, but I want to really really encourage you to branch out and try making one of your own. The difference is incredible.
Whatever you do though, it won't be worse than the prefab version in the grocery store. Those, in my opinion, are flavorless and gross. They serve their purpose, for sure. They are edible. But once you get a good scratch pie crust recipe down you will never go back. Just try it. LOOK at this crust. You can see the flaky layers. That is good stuff.
2016 Update: after adding 3 more kids to the family since this was written, I've again grown to love pre-made pie crusts. Hmmmm. Wonder why? 😀 You can see my newfound love of them here in my Apple Crumble Pie recipe, and you could totally use one with my Meyer Lemon Orange Meringue pie too.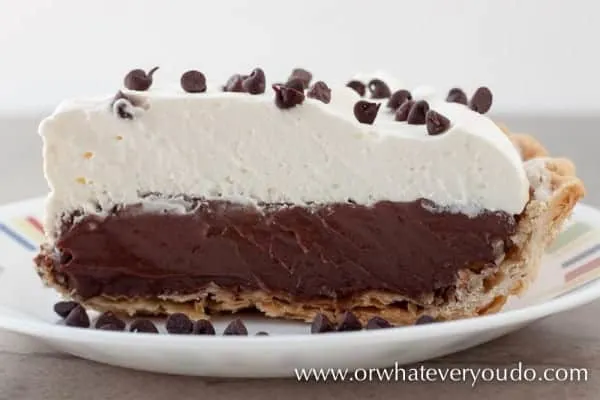 I saw this recipe on pinterest last week and knew immediately I had to try it. I mean, who doesn't love chocolate and whipped cream?
I was really excited too when I saw the lack of pudding mix in this, which usually go hand in hand with this kind of pie.
I have zero against pudding mixes, unlike ready-made pie crusts, but I really was excited to try this from scratch.
I love it when all of the ingredients in a recipe are pronounceable readily available, and don't require boxed items that I have to scour for allergens we are avoiding.
Alright, ready?
Here we go!
Start by putting 1 1/4 cups of flour into a bowl. Now cut up 1/4 cup of COLD butter, and 1/4 cup of COLD butter flavored shortening into dice sized chunks. I buy the sticks for this sort of thing. They also come in handy when you are deep frying things. YUM.
Toss these into the flour, and also toss in 1/4 tsp salt.
Now, using your fingers, squish the butter and shortening down into smaller pieces, until they are about marble sized chunks. You can flatten them out a bit too. What you want is smaller pieces of butter mixed into the flour, but not incorporated to the flour. The chunks of butter and shortening are what create the flaky layers.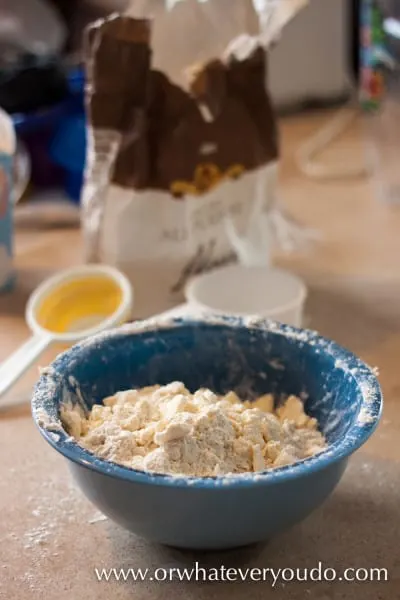 Now take 1/4 cup of water and toss some ice cubes in it. Let this sit for 10 minutes, and while it is sitting put your bowl of flour/butter/shortening right into the freezer to chill for a bit.
When the 10 minutes is up, remove the bowl from the freezer and slowly pour some of the water into the flour/fat mixture. Stir it around with a fork, continuing to slowly add water until the mixture starts coming together into a ball. You want it to be slightly crumbly, but able to stick together.
You might need slightly more, or slightly less water.
Now dump the content out onto a lightly floured counter, press into a disc, wrap in plastic wrap, and put in the fridge for 30 minutes to an hour. Longer is okay too.
Next you are going to unwrap the disc on a lightly floured surface, press down slightly, and then roll out into a large circle.
One thing that helps me is stopping after a couple of rolls and reshaping into a round shape. You can also seal any cracks that may form on the edges during the rolling process.
When the crust is about 1/4 inch thick, roll it up onto your rolling pin and then gently put it into the pie plate. For a single crust pie like this one, trim the edges to about 1/2 inch off the edge, and then fold under the sides and crimp.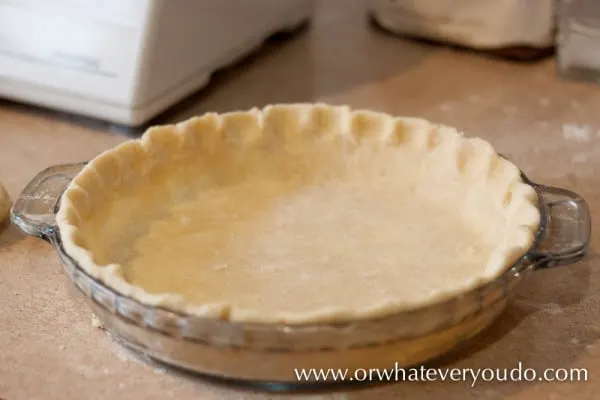 There are all sorts of fancy things you can buy to blind bake a pie crust, but here I just use some parchment paper and two pounds of dried beans. This keeps the bottom from bubbling up, and the sides from slouching down during the baking process.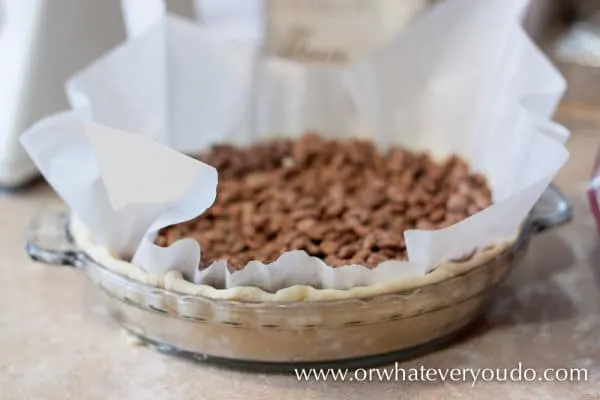 Put your crust into a preheated 425 degree oven for about 15-18 minutes, or until the sides begin to brown. (Individual oven vary wildly. Start checking all recipes you make about 5 minutes prior to the listed time just to be sure.)
Once the side begin to brown, carefully remove the crust from the oven and remove the parchment and beans from the crust. Put it back into the oven and reduce the heat to 375 and continue baking until golden brown.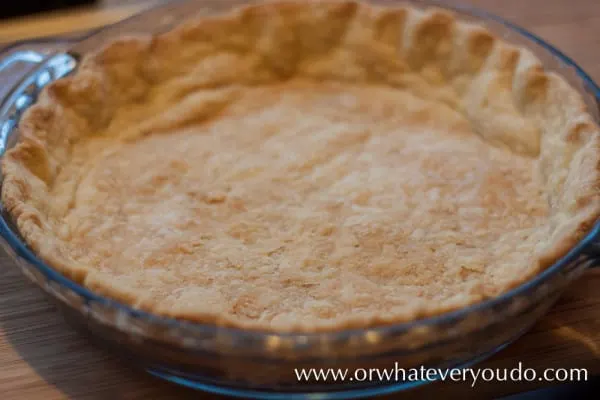 I actually made this crust a day in advance. You can too, or you can just proceed on with the recipe now.
If you are doing this all in one shot, start mixing up your custard while the pie crust bakes.
To make the custard, place the sugar, flour, cornstarch and salt into a medium sauce pan. Stir them up to combine them well. Place your egg yolks and milk into a bowl and whisk very well until the yolks are fully incorporated into the milk. Slowly pour the milk/eggs into the flour mixture, whisking to make sure no lumps form.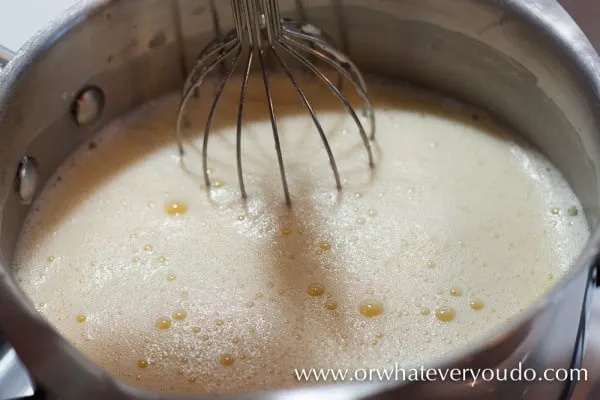 Next chop up your chocolate. Don't wait like me thinking I could chop it while the custard heated and ALMOST burn and wreck the custard because you are trying to chop chocolate AND stir custard. Not smart. Set the chocolate aside.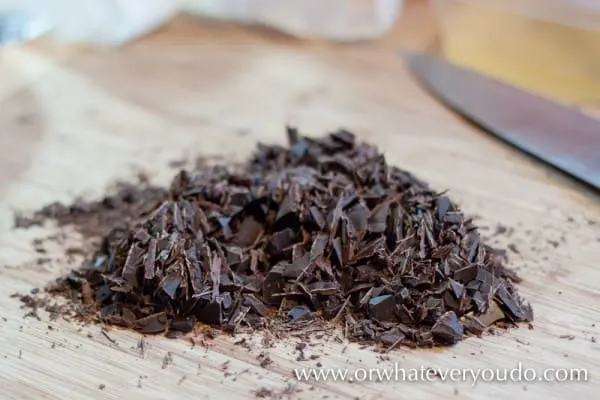 Heat your custard mixture over medium heat, stirring constantly. Once this gets heated up a bit it goes quite fast. Make sure you are stirring well and scraping the bottom. Once the mixture is thickened, remove from heat.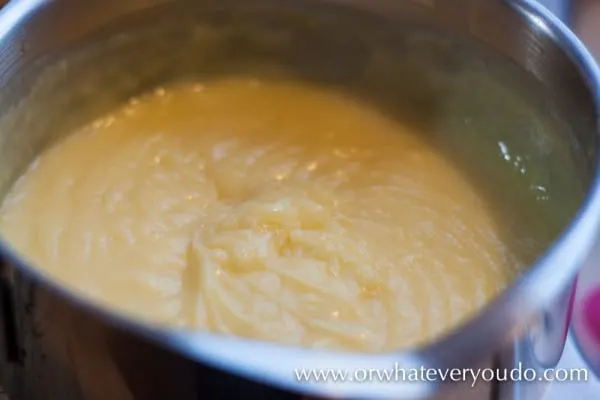 Now stir in your chocolate, butter, and vanilla. Mix well until the chocolate is melted fully. Pour the chocolate into your pie crust, cover, and put in the fridge to cool.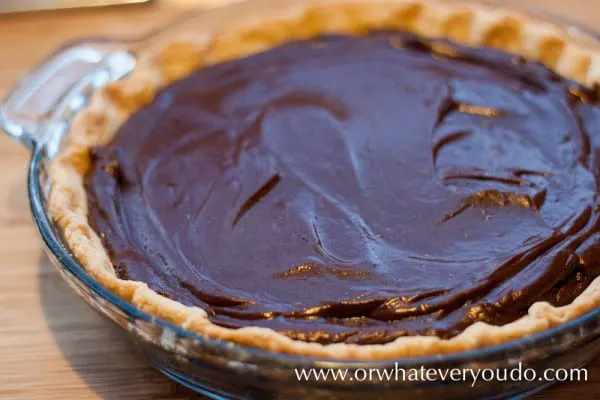 You are going to want to chill this overnight ideally. I made this the same day we served it, and I have to say that I preferred it the next day when it was FULLY chilled.
When I served it the chocolate was still about room temperature. It was good, but I like it cold better. I love chilled pies. This No Bake Cherry Cheesecake Fluff Pie is a great one to try too if you are wanting another option!
After it is chilled, whip up your cream and sugar until stiff peaks form and then spread it over the chocolate.
Toss on some mini chocolate chips, and chill until you are ready to serve it! You could serve it immediately at this point, but I am a stickler for consistency and preferred this to be all the same temperature.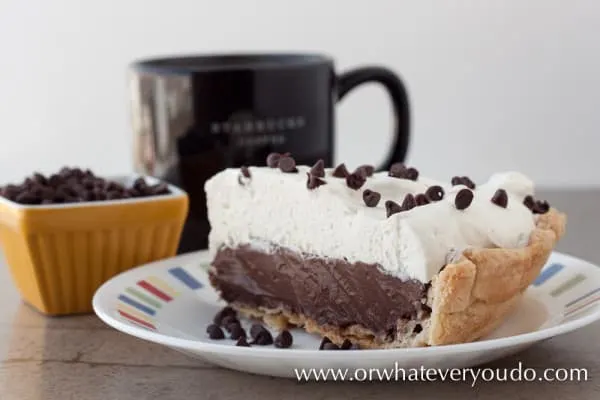 Creamy, chocolatey goodness here, folks. With a hot cup of coffee? Perfect.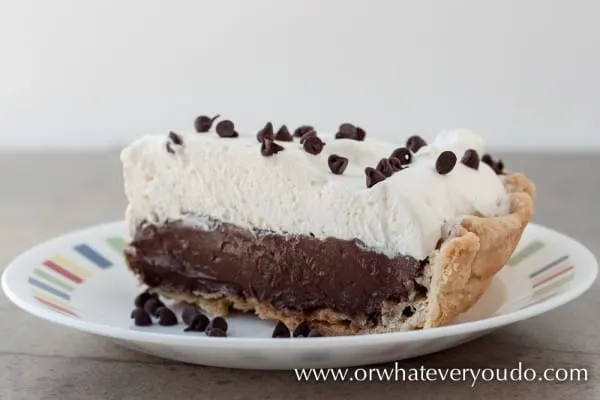 Yield: 8 servings
Chocolate Cream Pie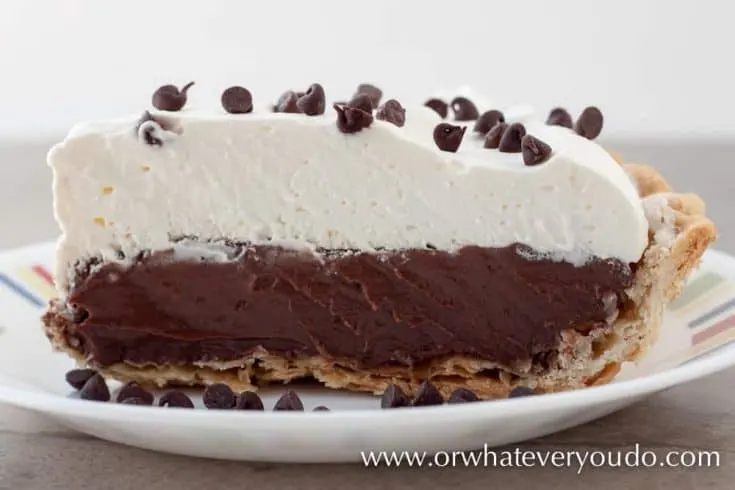 This homemade chocolate cream pie is rich, deliciously chocolatey, and topped with a sweet whipped cream topping that balances out the chocolate in a way that is a little dangerous. At least for me.
Total Time
3 hours
10 minutes
Ingredients
Crust:
1 1/4 cups all-purpose flour
1/4 tsp salt
1/4 cup cold butter, diced
1/4 cup cold butter flavored shortening, diced
1/4 cup ice water
Custard:
1 1/4 cups white sugar
2 TBSP all-purpose flour
3 TBSP cornstarch
1/4 tsp salt
2 cups 2% milk
4 egg yolks
4 oz unsweetened chocolate, chopped
2 TBSP butter
2 tsp pure vanilla
Whipped Cream:
1 1/2 cups heavy whipping cream
1/4 cup powdered sugar
1/2 tsp vanilla
Garnish:
Mini milk chocolate or semisweet chips
Instructions
Preheat oven to 425.
Place flour into a bowl with salt and diced butter and shortening. Using your hands, crumble and squish the fats into pea and marble sized pieces. Place into the freezer, and get 1/4 cup of water, place ice cubes in it, and set aside.
After 10-15 minutes, remove flour/fat mixture from freezer, and using a fork slowly stir in the ice water until the dough starts coming together. Target consistency is slightly crumbly but able to be pinched together and hold. Pour mixture out onto a lightly floured surface and form into a disc. Wrap in plastic wrap and chill for at least 30 minutes to an hour.
Roll out pie crust to 1/4 inch thick, place in pie pan, line with parchment and fill with pie weights and blind bake until edges are golden brown. Carefully remove pie weights and parchment and place back into oven, reduce heat to 375, and continue baking until entire crust is golden brown.
While the crust is baking, place the custard sugar, flour, cornstarch, and salt into a medium sized saucepan. Whisk together egg yolks and milk in a separate bowl until fully combined, and the slowly pour into flour mixture, whisking while pouring, until no lumps remain. Chop chocolate.
Turn stovetop heat to medium, and heat the custard mixture stirring constantly until it is thickened. Remove from heat and stir in chocolate, butter, and vanilla.
Pour into prepared pie crust and chill for 1-2 hours.
Prepare whipped cream by beating heavy cream, vanilla, and powdered sugar until stiff peaks form. Spread over chilled chocolate and top with mini chocolate chips. Best served after chilling prepared pie overnight, but will still taste amazing if served right after topped with the whipped cream.
Nutrition Information:
Yield:
8
Serving Size:
1
Amount Per Serving:
Calories:

718
Total Fat:

46g
Saturated Fat:

27g
Trans Fat:

1g
Unsaturated Fat:

16g
Cholesterol:

188mg
Sodium:

332mg
Carbohydrates:

68g
Fiber:

3g
Sugar:

42g
Protein:

10g
Nutrition data provided here is only an estimate. If you are tracking these things for medical purposes please consult an outside, trusted source. Thanks!