These easy homemade chicken nuggets are a snap to throw together, and so much better than anything you can get at a store. The breading is crunchy and has a secret ingredient that you have to try!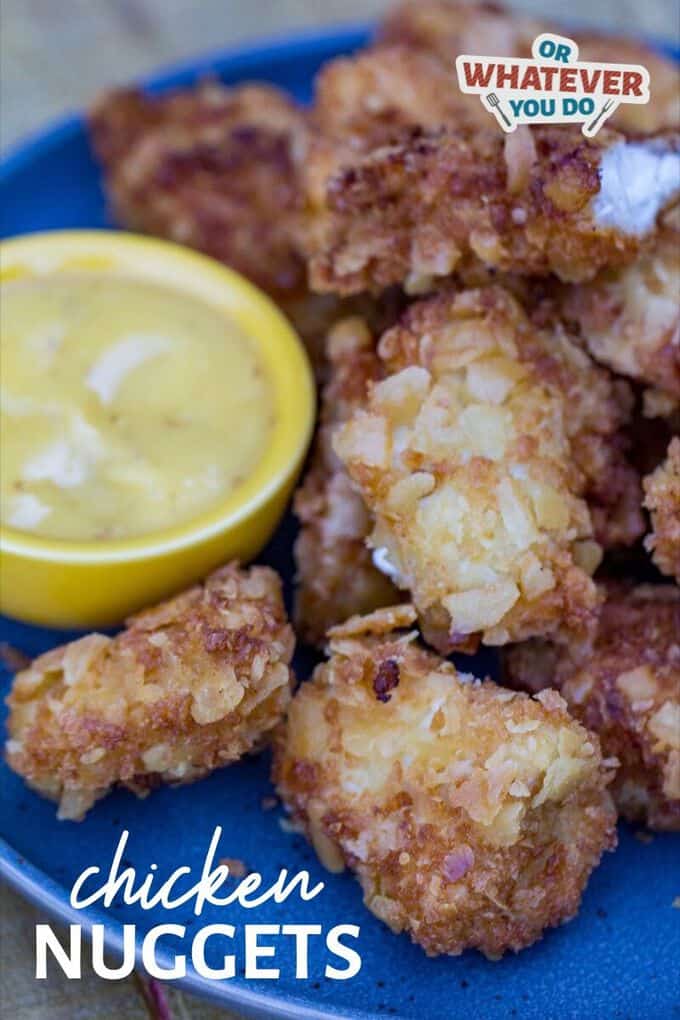 Homemade Chicken Nuggets
Making homemade chicken nuggets bestows on you a special power. The power to never have to go to a drive thru to order chicken nuggets, unless you feel like it.
Any parent can tell you, chicken nuggets have an almost mythical power to be the one meal on earth the kids will never say no to. Making homemade chicken nuggets puts the magic in your hands. Not only that, homemade chicken nuggets are way healthier.
You can avoid all the hormones and extra and unnecessary sugar and salt packed into your typical nugget. You can also avoid the chicken mush that they sometimes use to form the pre-made versions, and can use real chicken breast instead.
If you happen to prefer wings to nuggets, then check out my simple fried chicken wing recipe.
Easy and delicious homemade chicken nuggets
Getting the batter just right on homemade chicken nuggets unlocks the door to amazing nuggets. In this case, your breaded exterior combines flaky light panko crumbs and crumbled up saltine crackers.
The combination provides a way to fully coat the chicken, and it also makes for a nice flaky and crunchy bite.
Start by seasoning some all purpose flour. You can go light or heavy on the seasoning. The creativity in the seasoning will only be limited by whomever plans on eating the nuggets.
To keep it simple, then just add a bit of salt and pepper to the flour. If you want to get a bit fancier, then experiment with a bit of red pepper flakes, or cayenne powder if heat is your thing. Or try adding a bit of curry powder into the flour. Parmesan cheese works great too. I ALWAYS put onion powder and garlic powder in the mix as well, because that's my jam.
You can season the flour with herbs like a bit of dried parsley flakes or basil, even. Give it a Thanksgiving twist by using a combination of powdered sage, rosemary, and thyme, or some poultry seasoning. That seasoned flour presents an opportunity.
It gives you a chance to introduce more flavor into your homemade chicken nugget. Sometimes, as a parent, you have to be a bit stealthy to get your kids to try new flavors. A well seasoned nugget can be the vehicle for that, and even the pickiest of kids will be on board.
Or you can just keep it simple. There is always another day to get fancy and expand some horizons.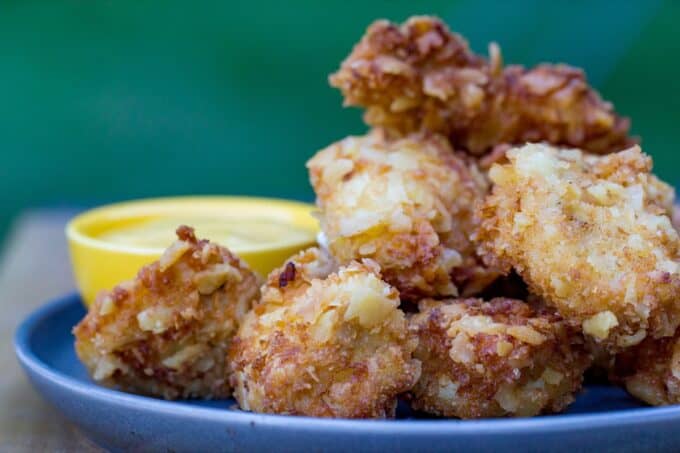 How to make chicken nuggets
Take chicken breast and slice it up into nugget sized strips. About two inches long and an inch and a half wide works. Try keeping the sizes of the nuggets uniform. This will help ensure that they all cook at relatively the same pace.
Take the cut pieces and toss them with the seasoned flour to get them well dusted. Actually massage the flour into the nuggets for a few minutes. The goal is to get the flour well coated onto the nuggets.
The seasoned flour on the chicken nuggets helps hold the egg wash on. Make sure to get them completely coated with the egg wash. Make sure you beat the egg pretty good before adding the chicken.
The better the yolk is blended with the white, the easier it will coat your nuggets. Let the chicken sit a couple minutes after you coat them with the wash. This will help make them even stickier when you add the final coat of crushed saltines and panko crumbs.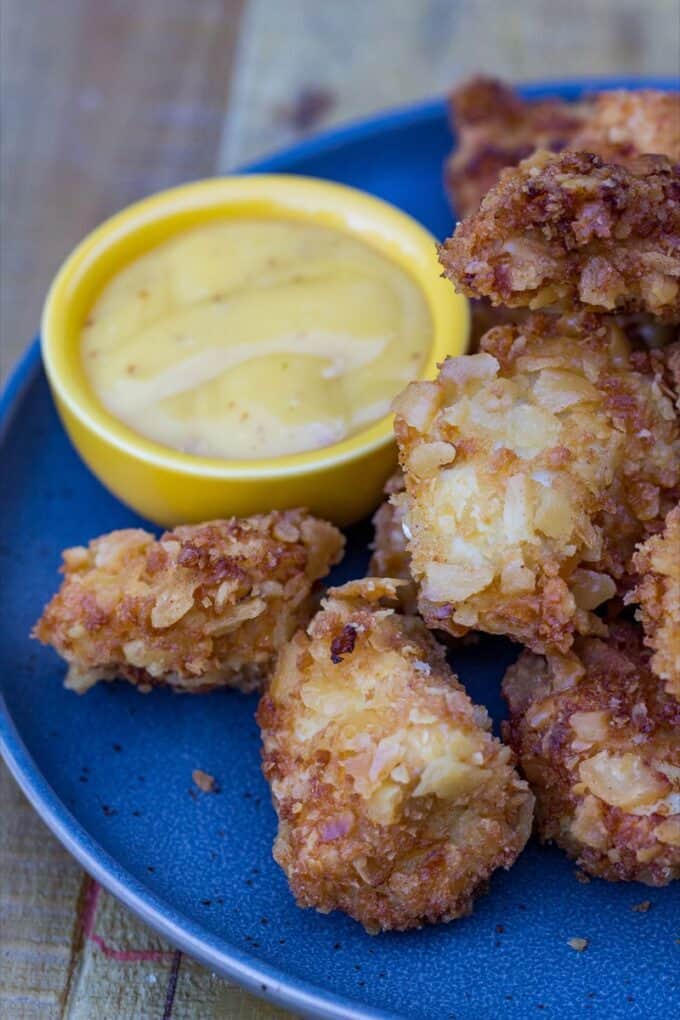 How to bread chicken so the breading stays on
Take a one gallon zip locking style plastic bag and add the saltines into it. Seal it up and start crushing the saltines. Get them pretty ground up. The panko gives you the more flaky crust and the saltines help "fill in" where the panko does not cover.
This way you get a well coated nugget ready for frying.
Add the panko crumbs to the bag, then the chicken, zip everything back up, and begin shaking. When everything is good and dusted with that final layer of breading then you have choices.
You can either go straight to the fryer and start cooking them. Or, you can lay them onto a cooking pan and put them in the freezer briefly then take them out and fry them up.
Either way works fine. The latter just gives you options for not having to cook them right away.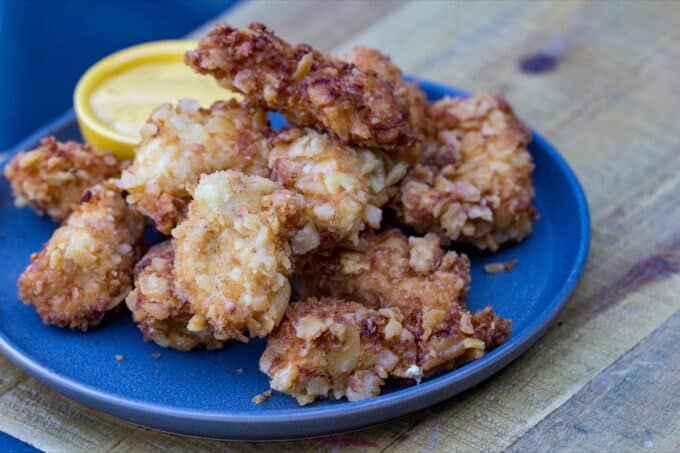 How do I store homemade chicken nuggets?
You can store cooked nuggets easily in the fridge for up to five days. Or you can store them in the freezer in a well sealed container up to 30 days.
Uncooked nuggets should be stored in the freezer until you are ready to fry them up. This will keep the panko crumbs more crusty. If you store them in the fridge, then the panko and saltines will get moist and become more like a paste.
Paste is not ideal for creating flaky and crunchy homemade chicken nuggets.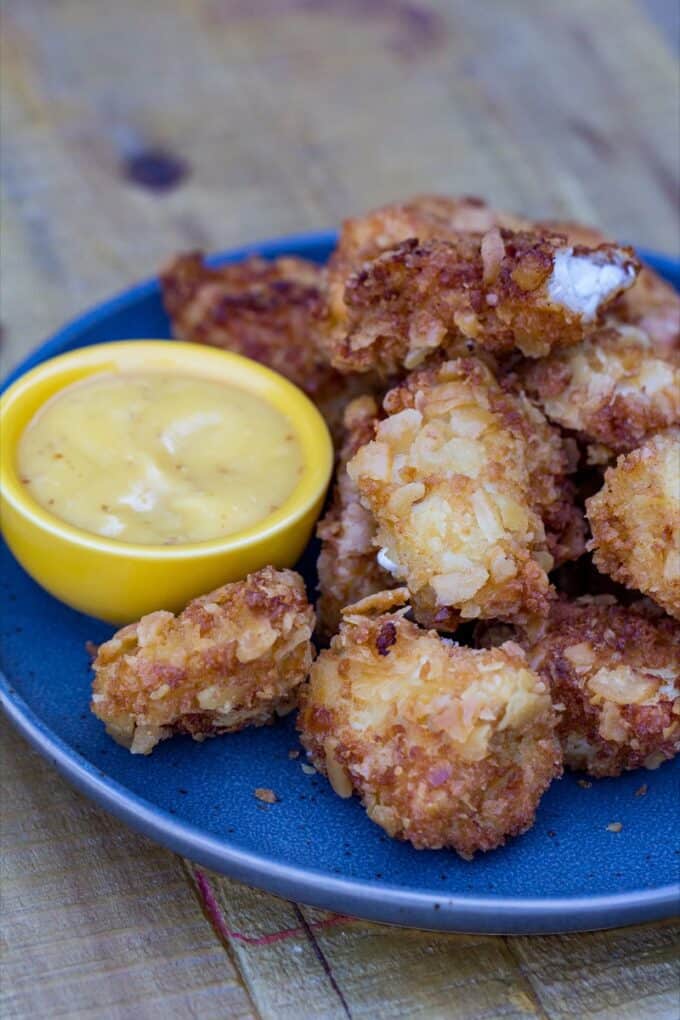 Are chicken nuggets an appetizer or main course?
Homemade chicken nuggets work as either a main course or an appetizer.
If you make them the main course, then I suggest serving them with a good dipping sauce like my cholula buffalo sauce.
As an appetizer, try serving them with a soup like tortillini soup (tortilliini are another kid favorite too).
They also go great with French Onion soup too.
Pin for later!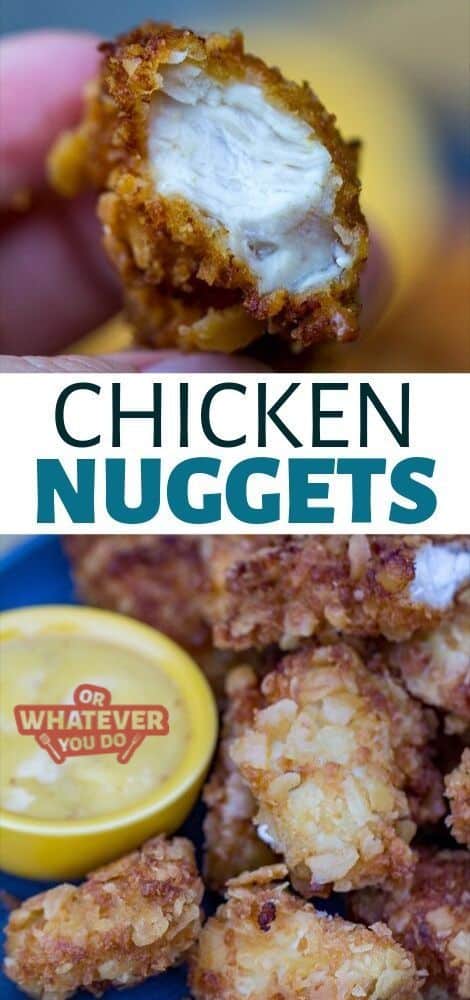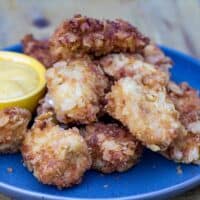 Homemade Chicken Nuggets
Homemade chicken nuggets are easy and contain a surprising and crispy ingredient in the breading that you have to check out!
Ingredients
Chicken
2 lbs boneless skinless chicken breasts or tenders, cut up into chunks (or however you like them!)
Breading:
1 sleeve saltine crackers
1/8 cup all-purpose flour
1 teaspoon onion powder
1/2 teaspoon garlic powder
1/2 teaspoon salt
1 teaspoon smoked paprika
1 teaspoon Johnny's Seasoning Salt
1 teaspoon ground mustard
1/4 teaspoon cayenne
1/4 teaspoon marjoram
1/4 teaspoon black pepper
1 teaspoon parsley
Flour Dredge:
1 cup flour
1/4 teaspoon salt
1/2 teaspoon garlic salt
1/2 teaspoon onion powder
Egg Wash:
3 large eggs
1/4 cup milk
For frying:
1 stick butter
3 cups canola oil
Instructions
Take your chicken breast and cut them into nugget-sized pieces that are relatively uniform in size. Set aside.
Crush the saltine crackers into little pieces, and mix together with the garlic powder, onion powder, salt, smoked paprika, seasoning salt, ground mustard, cayenne, marjoram, black pepper, and parsley (ALL THE SEASONINGS), and 1/8 cup flour and set aside.
Put eggs and milk into another container and whisk together until well combined.
Place 1 cup flour plus the rest of the dredge seasonings in another dish. Mix well.
Preheat the oil and butter over medium to medium-high heat to 350°.
Coat chicken chunks in flour, then egg wash and then roll in the cracker mixture. When the oil is hot, place chicken chunks in and let cook until brown on one side. Flip over and brown the other side and cook until all the way done. You want the meat to be at least 165°, and not pink.
Recommended Products
As an Amazon Associate and member of other affiliate programs, I earn from qualifying purchases.
Nutrition Information:
Yield:

12
Serving Size:

1
Amount Per Serving:
Calories:

751
Total Fat:

67g
Saturated Fat:

10g
Trans Fat:

1g
Unsaturated Fat:

55g
Cholesterol:

133mg
Sodium:

490mg
Carbohydrates:

11g
Fiber:

1g
Sugar:

0g
Protein:

27g
Nutrition data provided here is only an estimate. If you are tracking these things for medical purposes please consult an outside, trusted source. Thanks!