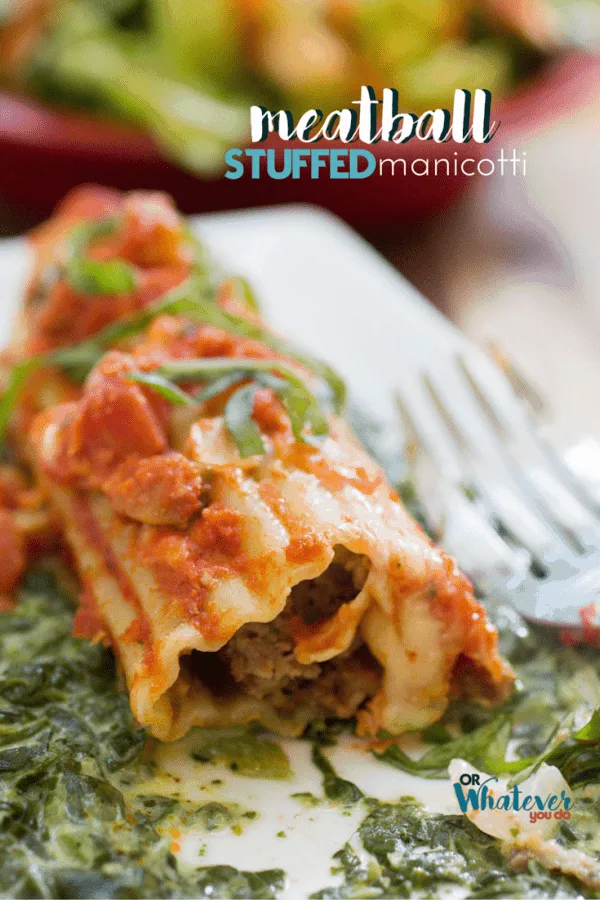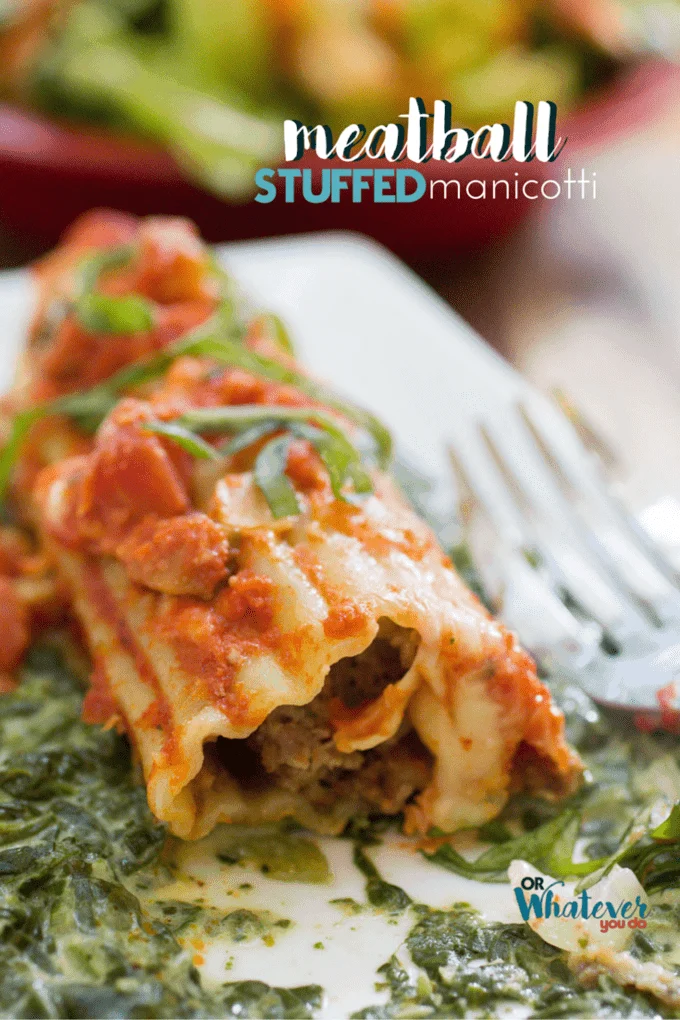 Meatball Stuffed Manicotti
Are you craving something a little different than the typical spaghetti and meatballs? I've got a great one for you today. This meatball stuffed manicotti doesn't even require a pot of boiling water. ALL of the cooking takes place in the oven, where it belongs.
Don't want to turn your oven on? Stick these in your crockpot for an awesome summer-friendly meal. Sometimes I don't want to go to the trouble of making a whole batch of homemade spaghetti sauce. Even if you used canned tomatoes, it is an ordeal that requires a lot of thought and effort to make a great batch.
I've been on a mission to find a fantastic jarred sauce that I can use for meals like this in place of my homemade version, and I just found one, Classico Riserva Pasta Sauce.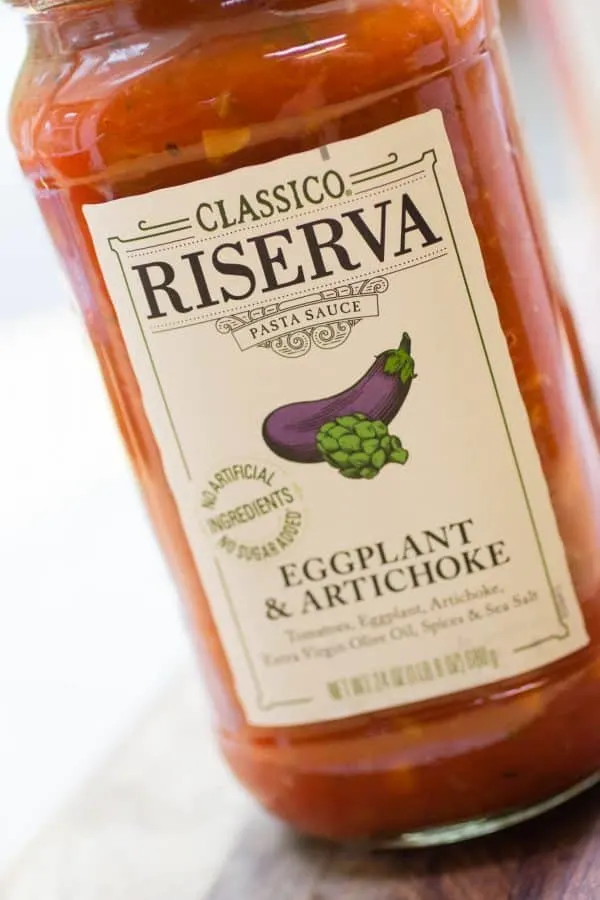 These sauces are made with no artificial ingredients or added sugar. They use vine-ripened tomatoes that are picked at the peak of sweetness.
This sauce is perfectly balanced with herbs and spices, extra virgin olive oil and a pinch of sea salt, then slowly simmered to perfection. They take all of the work out of pasta sauce, without sacrificing one iota of flavor.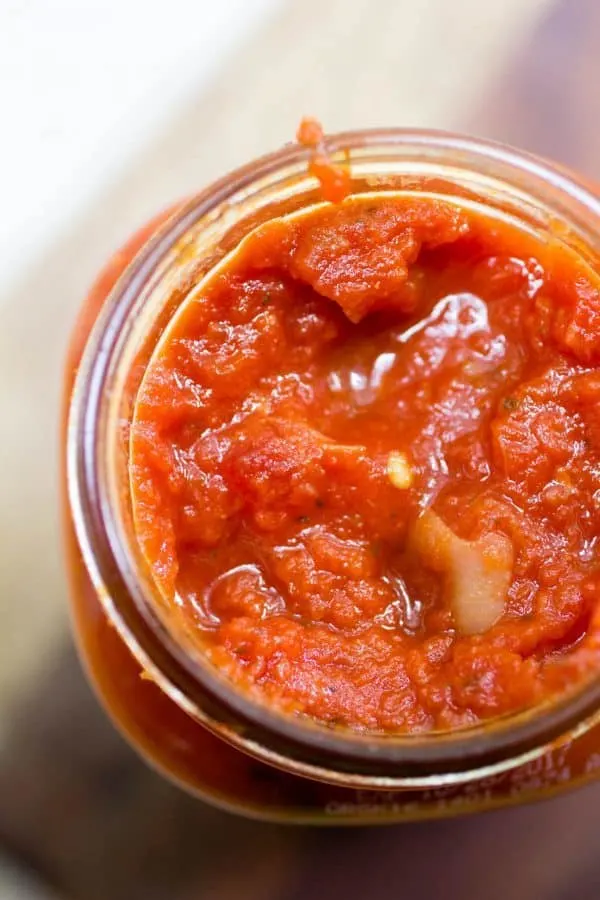 Open up a bottle of the good stuff, and hit the easy button on one part of your dinner.
Start this by mixing together all the meatball ingredients until they are evenly distributed.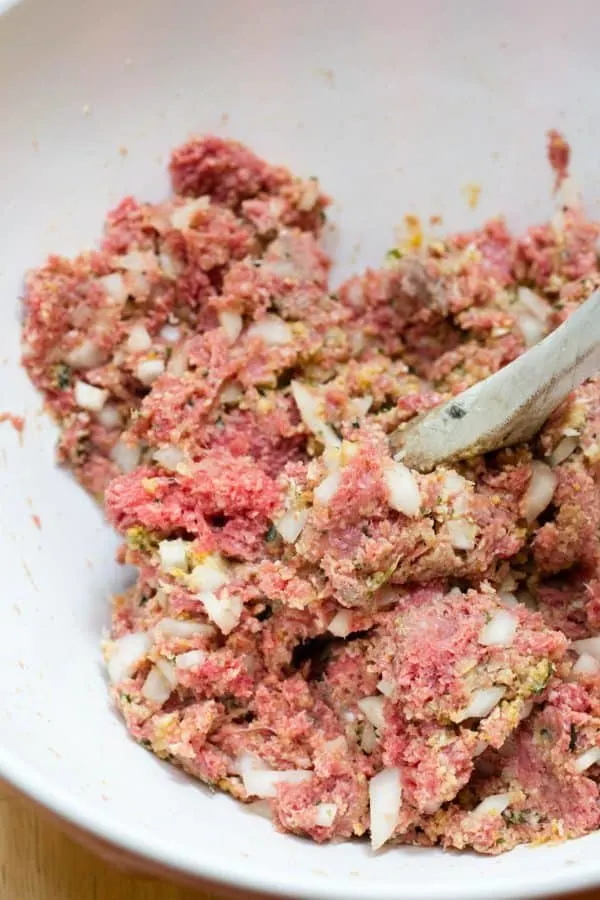 Next you are going to put it right into UNcooked manicotti. This will eliminate the boiling, and eventual, inevitable splitting of the noodles during the stuffing process.
Cover the noodles with the rest of the sauce. Don't be shy! We add some water to the sauce to make sure the manicotti noodles have lots of moisture to soak up during baking.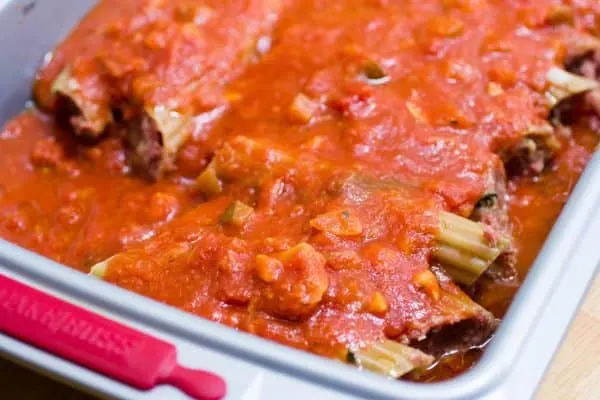 Look at those awesome chunks of artichoke and eggplant in this sauce! I love it!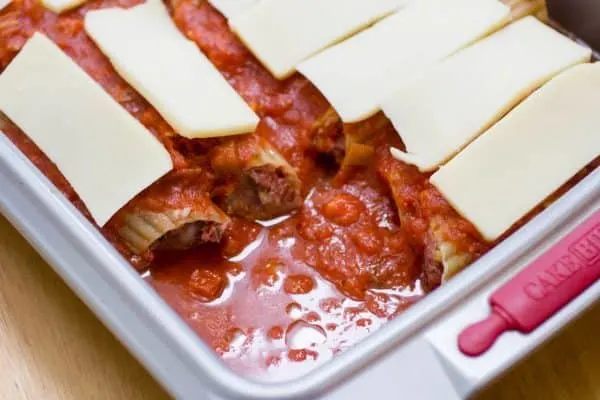 Cover with non-stick foil, or foil that's been sprayed really well with cooking spray, and cover the pan tightly. Bake on the bottom rack at 350 for 45 minutes to an hour.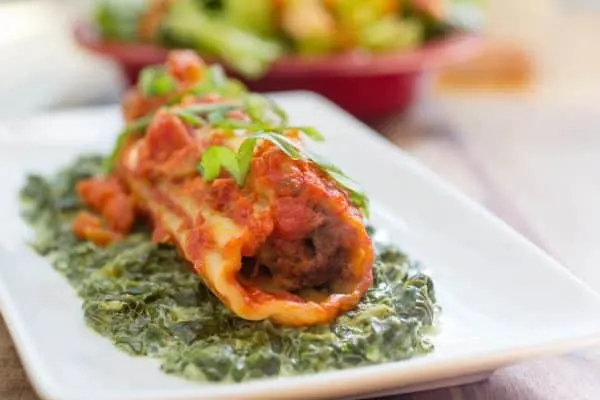 One of my favorite parts of this dish is the creamed spinach. I love the combination of the amazing pasta sauce, the tender and flavorful meatball, and the creamed spinach with a touch of nutmeg. I didn't discover the awesomeness of this combination until I was well into my 20's, and I so regret it!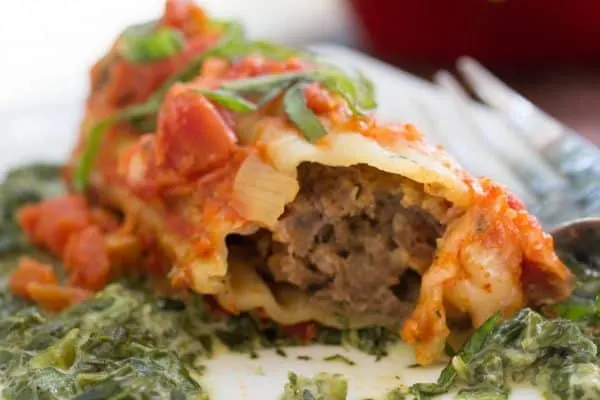 Yield: 6 servings
Meatball Stuffed Manicotti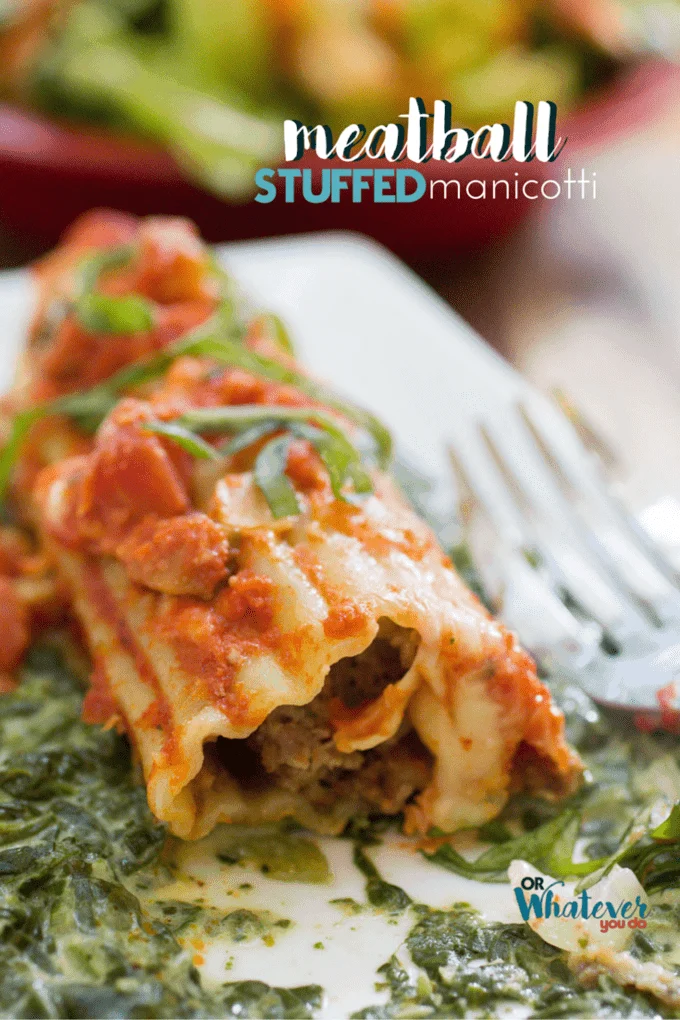 Easy manicotti noodles stuffed to the brim with meatball stuffing, and then placed on a bed of spinach and drenched in marinara. Your whole family will love this easy homemade pasta recipe!
Total Time
1 hour
15 minutes
Ingredients
1 package manicotti noodles
Meatball Stuffing
1 pound ground beef
1 cup Italian bread crumbs
1/2 cup finely diced vidalia onions
1/4 cup finely diced fresh parsley
2 cloves garlic, minced
1/2 cup shredded parmesan cheese
1 egg, lightly beaten
1/4 cup whole milk
Sauce
1 jar your favorite pasta sauce
3/4 cup water
8 ounces mozzarella cheese, sliced
Spinach
1 - 8 ounce package frozen chopped spinach
1 - 2 tablespoons olive oil
1 teaspoon minced garlic
1/3 cup heavy cream
1/8 cup chicken stock
1/4 teaspoon nutmeg
Instructions
Preheat oven to 350°.
Mix together the ground beef, bread crumbs, onions, parsley, garlic, parmesan, egg, and milk.
Pour half of the sauce into a 9x13 inch pan.
Gently stuff the beef mixture into the manicotti noodles, and place them into the pan. Repeat until all the shells are filled.
Pour 3/4 cup water into the jar of sauce with half remaining, shake the jar to mix it up, and top with the sauce, and slices of mozzarella cheese.
Cover the pan tightly with non-stick foil, or foil that's been sprayed well with cooking spray.
Bake at 350 for 45-55 minutes. For slow cooker, cook on high for 2 - 2 1/2 hours, depending on your model. Make sure the meat gets above 160 degrees.
When the manicotti has been in the oven for about 30 minutes, place your spinach into a saute pan with 1-2 tablespoons of olive oil and 1 teaspoon minced garlic over medium heat until it is completely thawed and any excess water has cooked off.
Add the cream, chicken stock, and nutmeg, and simmer for 5-10 minutes, or until reduced and slightly thickened.
Serve the manicotti on top of a bed of the creamed spinach with a good crusty garlic bread and a green salad.
Nutrition Information:
Yield:
8
Serving Size:
1
Amount Per Serving:
Calories:

424
Total Fat:

27g
Saturated Fat:

12g
Trans Fat:

1g
Unsaturated Fat:

12g
Cholesterol:

112mg
Sodium:

630mg
Carbohydrates:

17g
Fiber:

2g
Sugar:

3g
Protein:

29g
Nutrition data provided here is only an estimate. If you are tracking these things for medical purposes please consult an outside, trusted source. Thanks!
Hungry for more? Check out my awesome
garlic bread
, and
Greek Freak Salad Dressing
recipes that would go along with this perfectly!
This post brought to you by Classico Riserva. The content and opinions expressed below are that of Or Whatever You Do.