Baked tortellini is a super easy dish to whip together, and is loaded with veggies and cheese. Some call it "lazy-man's lasagna", some call it "Italian Meatloaf", I call it DELICIOUS.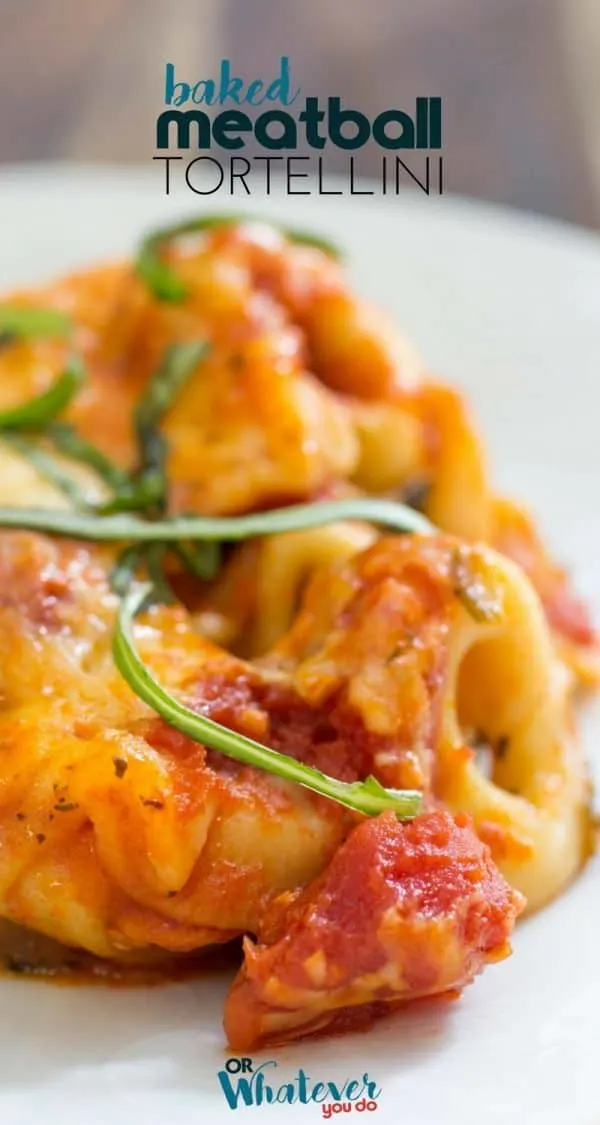 Baked Tortellini
Anytime I can come up with another easy pasta recipe, I'm alllll about it. My kids love pasta, as do I, so when I can change it up a bit I jump at that opportunity.
This baked tortellini has an awesome meatball layer on the bottom, is topped with a creamed spinach mixture, and the tortellini, and then copious amounts of sauce and cheese. It uses the same basic recipe as my Meatball Stuffed Manicotti.
Start by whipping together a super simple herbed marinara sauce. This one comes together in about 15 minutes. It is tomato sauce, herbs, a little sugar, and some really good parmesan. Super simple, but really delicious. If you really want to and have a favorite jarred variety, feel free to use that instead.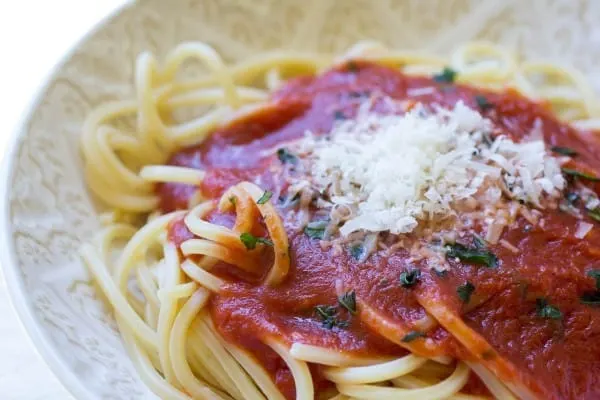 Once your sauce is cooking, you can start putting together the meat"ball" layer. It is more like a little Italian Meatloaf layer since it isn't actually rolled into balls.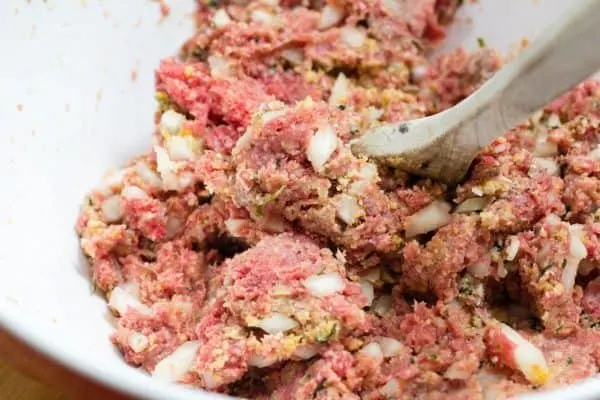 Fresh herbs are best, but you can also substitute almost any iteration of that as well. The tubed kind. The dried kind. Fresh cuttings from your garden. Whatever. It'll be great so toss some in.
Once you have your meat layer mixed and in your 9×9 pan, start on your spinach layer.
Make sure and use bagged frozen spinach for this one. It is easier to break apart before you put it in the pan. You can sub fresh spinach for this if you'd rather. Just simmer it in the pan with the sauce for a few minutes until it is wilted.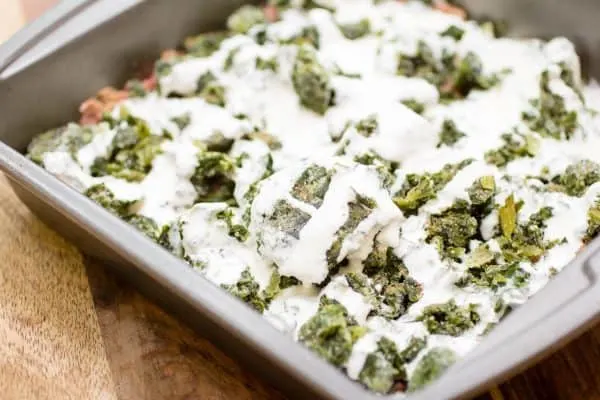 After the spinach mixture, dump on those tortellinis!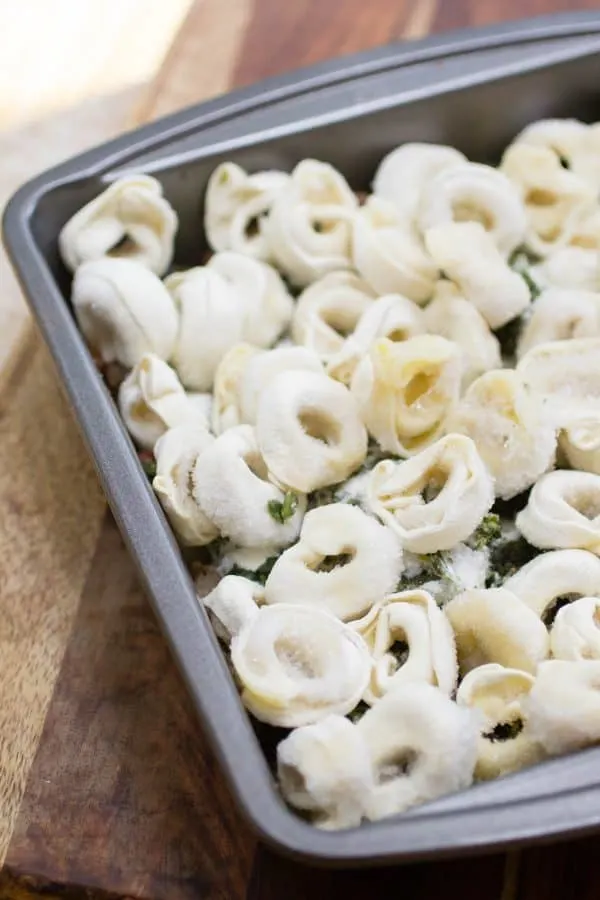 Top the pasta with a bunch of sauce, and then cover that with the mozzarella cheese.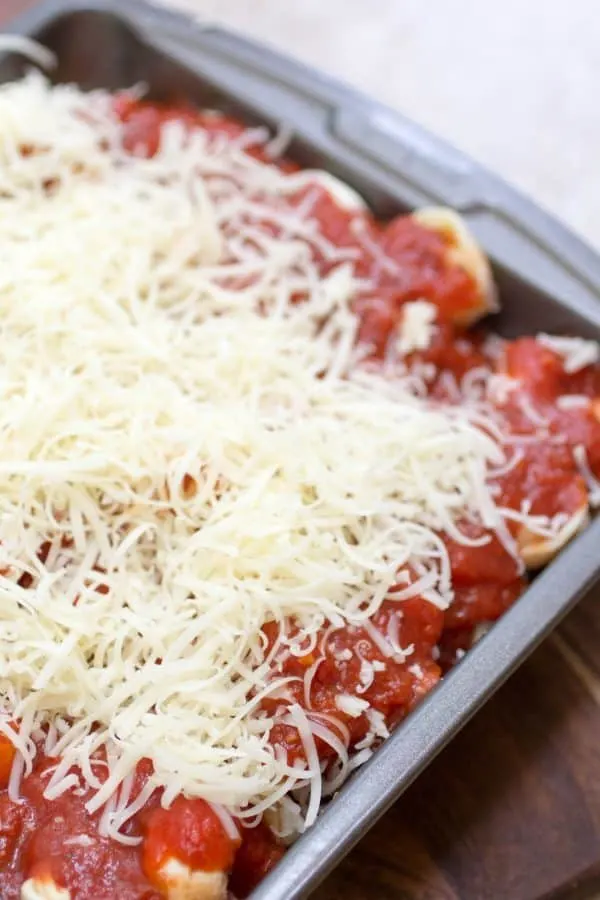 Bake that for 40-50 minutes, or until the cheese is bubbly and the meat is fully cooked to at least 160 degrees.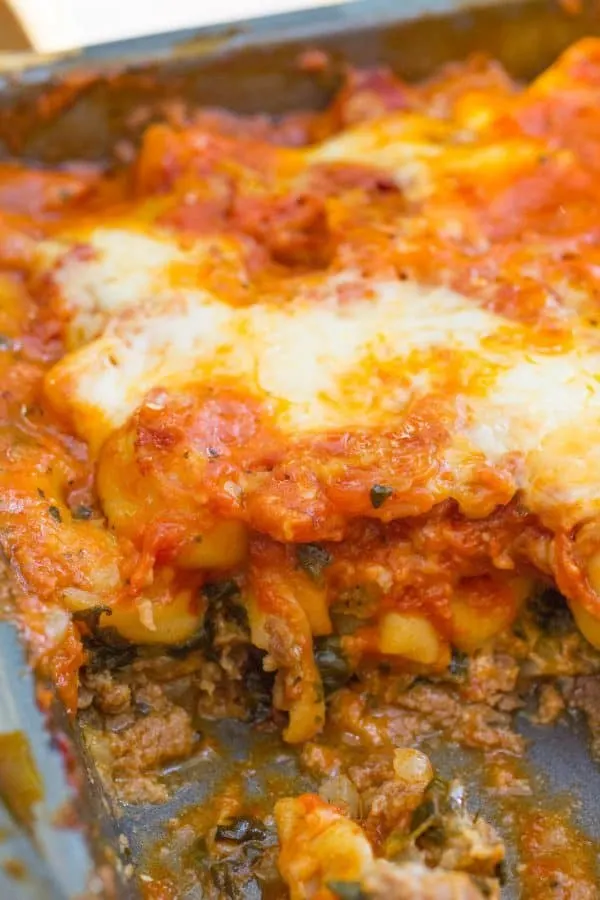 If the cheese starts to brown before this happens, cover it with non-stick foil (or foil that's been sprayed liberally with non-stick spray).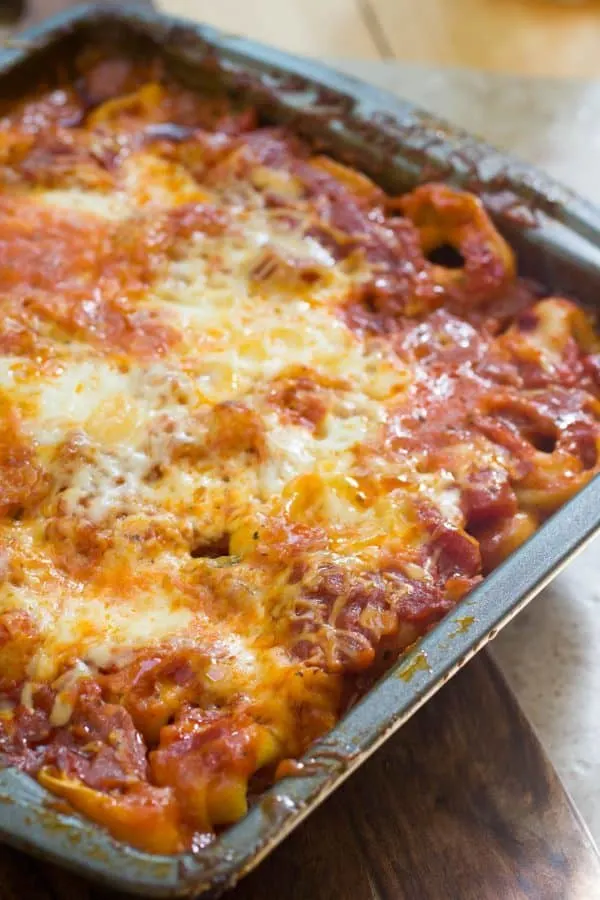 If you want to get super fancy, I highly suggest making this garlic fry bread to serve with these. They are AH-mazing.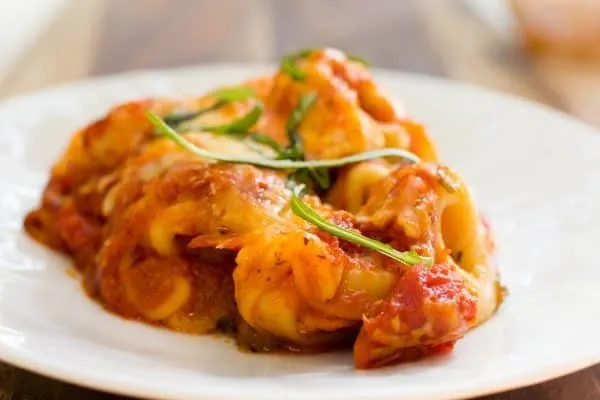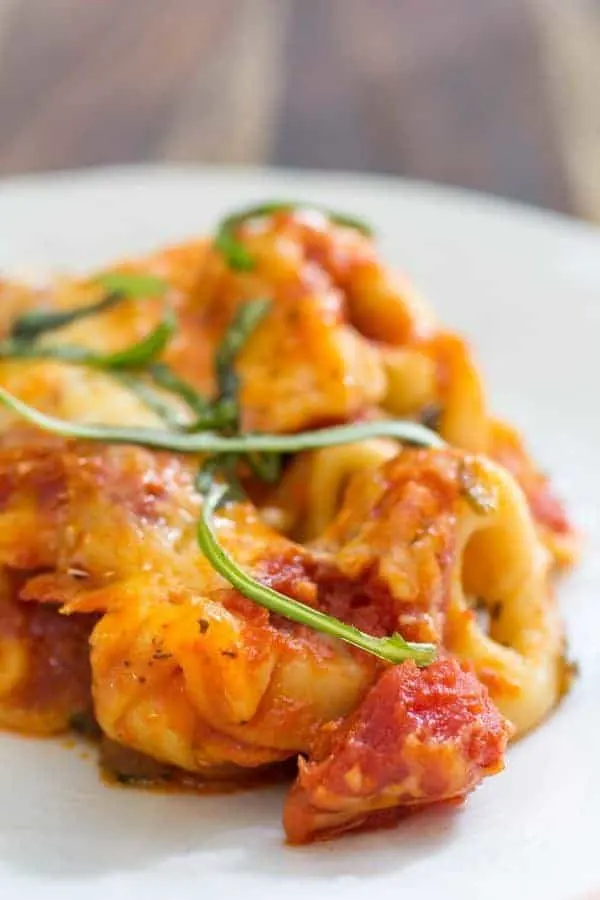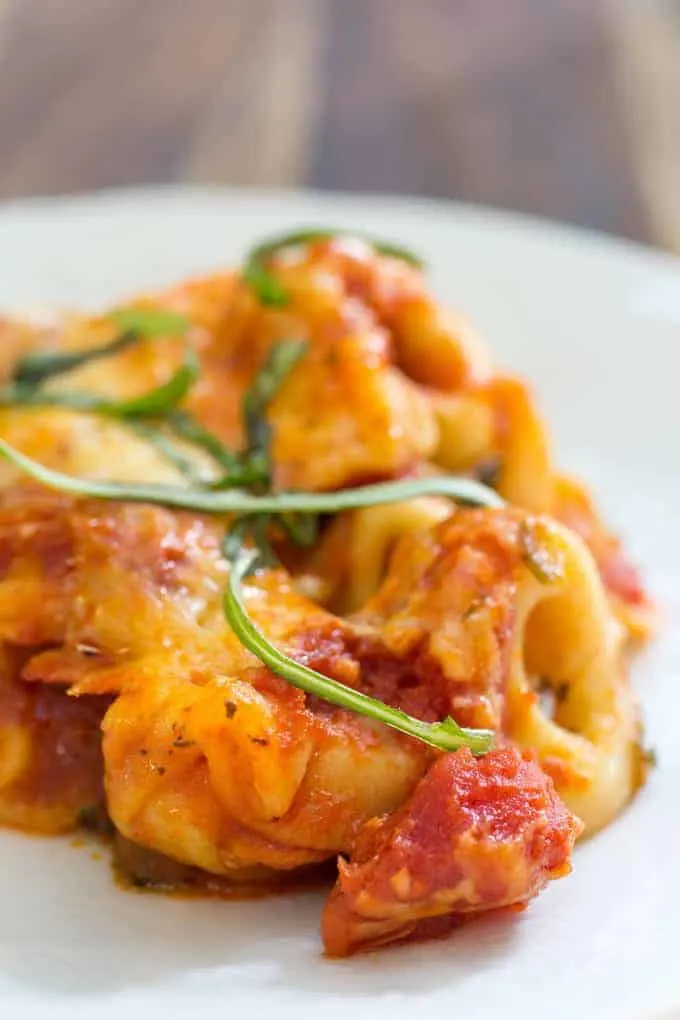 Yield: 6 servings
Baked Tortellini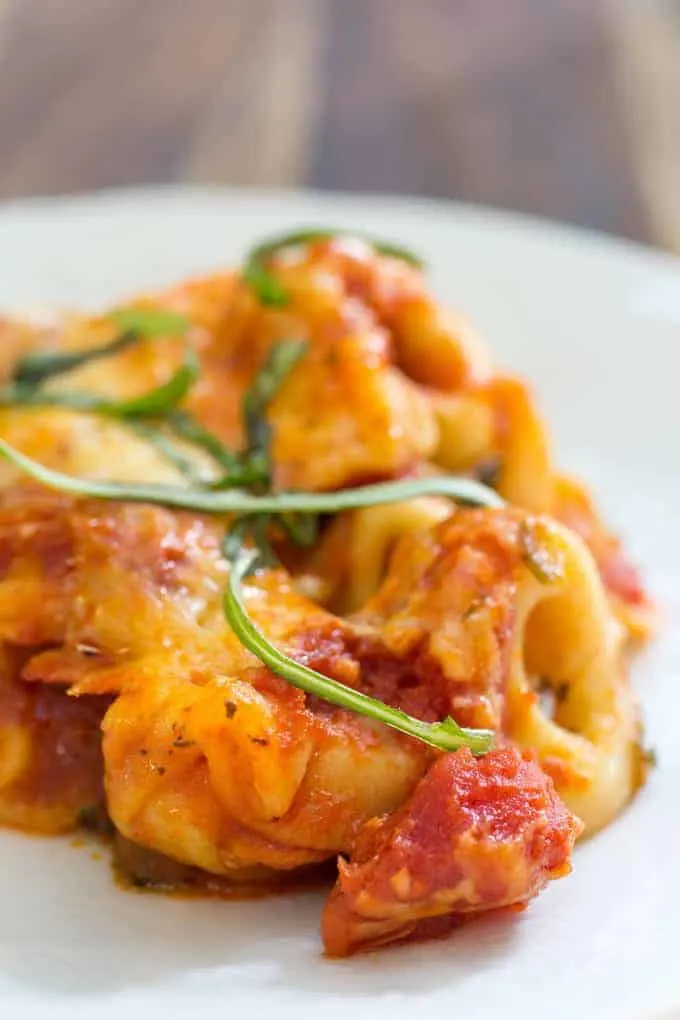 Deliciously baked tortellini is a perfect, quick, weeknight dinner that is full of flavor!
Total Time
1 hour
15 minutes
Ingredients
1 19 ounce bag frozen cheese tortellini
8 ounces mozzarella cheese, sliced
Sauce
1/4 cup olive oil
2 teaspoon Gourmet Garden chunky garlic paste or 2 teaspoons fresh chopped garlic
1 28 ounce can Hunt's tomato sauce (you can sub a different type, but the end result will be different. Different tomato sauce brands contain drastically different amounts of sugar, salt, and other seasonings and make a huge difference.)
1 tablespoon sugar
1 tablespoon Gourmet Garden Italian Herbs paste or 1 teaspoon dried Italian Herb blend
2 teaspoons Gourmet Garden Basil or 3/4 teaspoon dried basil
1/2 cup fresh grated Parmigianno Reggiano, or grated parmesan if you are in a pinch!
Garnish with Gourmet Garden Lightly Dried Basil
Meat Layer
1 pound ground beef
1 cup Italian bread crumbs
1/2 cup finely diced vidalia onions
1/4 cup finely diced fresh parsley
2 cloves garlic, minced
1/2 cup shredded parmesan cheese
1 egg, lightly beaten
1/4 cup whole milk
Spinach
1 - 8 ounce bag frozen chopped spinach
1 - 2 tablespoons olive oil
1 teaspoon minced garlic
1/3 cup heavy cream
1/8 cup chicken stock
pinch nutmeg
Instructions
Preheat oven to 350.
For the sauce, heat olive oil over medium low heat and add the garlic paste or fresh garlic to the oil. Stir frequently and cook for 1 minute. Add in tomato sauce, sugar, and the rest of the herbs. Reduce heat to low, and simmer for 15 minutes. Add in the parmigiano during the last 5 minutes, stir to combine.
Mix together the meat ingredients, and place into a greased 9x9 pan.
In a medium skillet combine the olive oil, garlic, cream, chicken stock, and nutmeg. Simmer for 2-3 minutes. Break up the frozen chopped spinach in the bag by banging it against the counter a few times.
Place the spinach over the top of the meat mixture in the pan. Drizzle the spinach sauce over the spinach.
Place the frozen tortellini on top of the spinach mixture. You may not be able to fit the entire bag on the pan.
Top with as much of the sauce as you can fit into the pan, and cover with cheese.
Bake at 350 for 40-50 minutes. Remove from oven, let sit for 10 minutes. slice and serve.
Notes
* You can substitute 2 large jars of your favorite ready-made spaghetti sauce in this if you'd like.
Nutrition Information:
Amount Per Serving:
Calories:

571
Saturated Fat:

17g
Cholesterol:

136mg
Sodium:

717mg
Carbohydrates:

19g
Sugar:

4g
Protein:

29g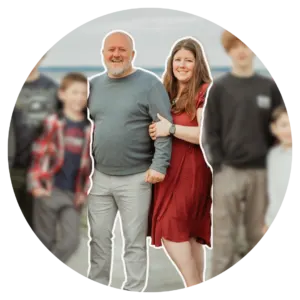 Nicole Johnson, a self-taught expert in grilling and outdoor cooking, launched Or Whatever You Do in 2010. Her blog, renowned for its comprehensive and creative outdoor cooking recipes, has garnered a vast audience of millions. Nicole's hands-on experience and passion for grilling shine through her work. Her husband, Jeremiah Johnson, also plays a pivotal role in recipe development, adding his culinary flair to the mix. Together, they form a dynamic duo, offering a rich and varied outdoor cooking experience to their followers.