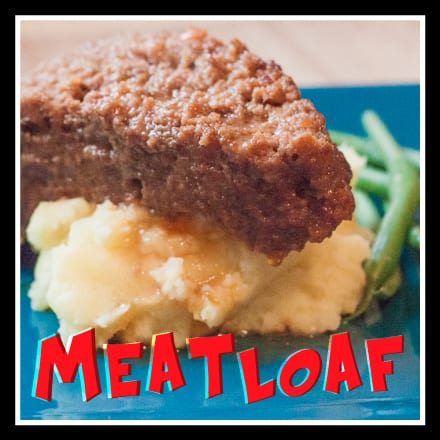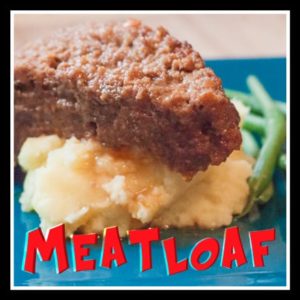 This is the only meatloaf I will eat. I never liked meatloaf until I tried this, my favorite meatloaf. Now, I am hooked. This originated from a super secret family recipe, but I have adapted and changed several things along the way so I feel comfortable sharing my version of it here with you today.
Begin by pouring your glaze mixture of ketchup, yellow mustard, brown sugar, and apple cider vinegar into a sauce pan. Stir frequently until it starts to simmer. Let simmer while you are mixing up the meat, keeping a close eye on it and stirring it frequently.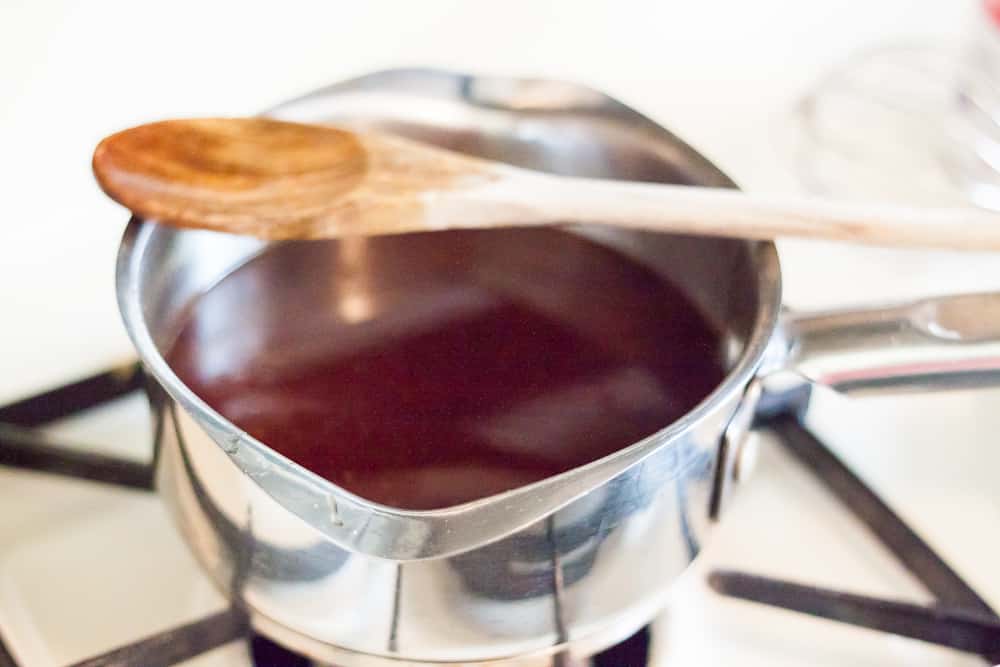 Finely chop one small to medium sized onion. I use my mini food processor so I can get the pieces as small as humanly possible. I don't know, but if your kids are anything like my kids, the meer sight of a piece of onion can send them into dinner hysterics. I firmly believe this is my punishment for torturing my mother for so many years over the CHUNKS!!! Oh My GOSH there are CHUNKS IN THIS FOOD!Sometimes they just have to deal with it and pick them out, because as you guys well know, there are onions of some sort in about 80% of the food I cook. I have too many kids to be a short order cook. Over here, you eat what is served or you get to be hungry. Bummer!
After your onion is finely chopped, dump it into a large bowl and mix in the eggs, milk, ketchup, A-1, salt, pepper, dry mustard, onion powder, garlic powder, parsley, garlic, panko bread crumbs, and crushed up saltines. Mix this all together well, and then dumb in 2.5 pounds of 80/20 ground beef. Stir this until the mixture is fully incorporated with the ground beef. You can get in there with your hands if you want, but I usually use a heavy wooden spoon.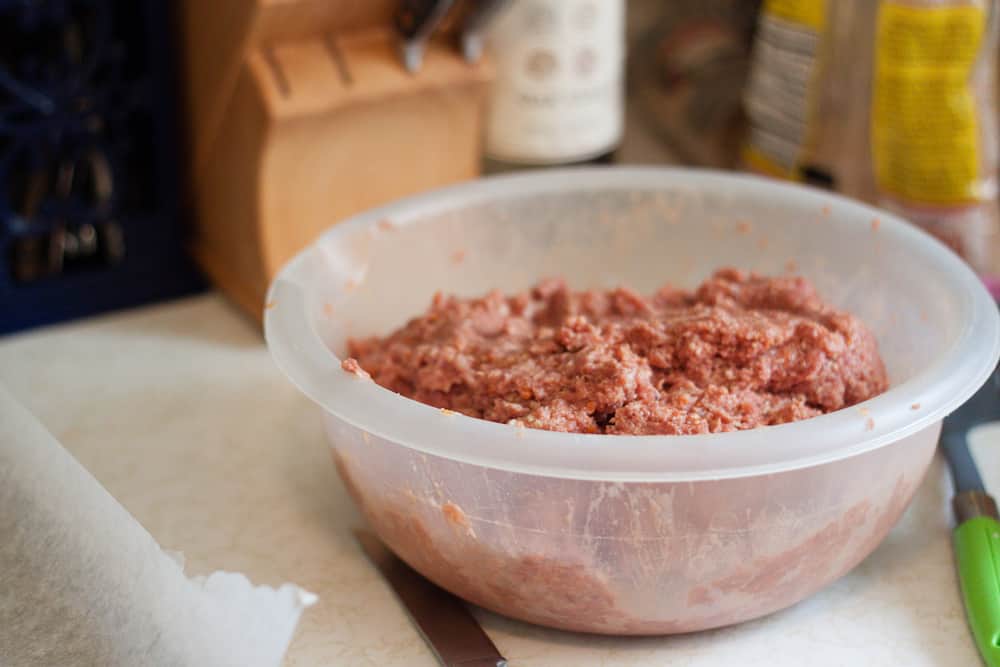 Place into a large oven proof dish that will fit all the meat, and have some room for the glaze mixture left over as well. I press it down into the pan as much as I can, then I take my hands and form a gap between the loaf and the sides of the dish to make room for the glaze and juices from the meat.
Pour about as much of the glaze mixture over the meat as you can, making sure to leave enough room for the extra fat/meat juices that will be coming from the loaf when it bakes. You should have some excess. Keep it warm in the saucepan on the stove while the loaf cooks.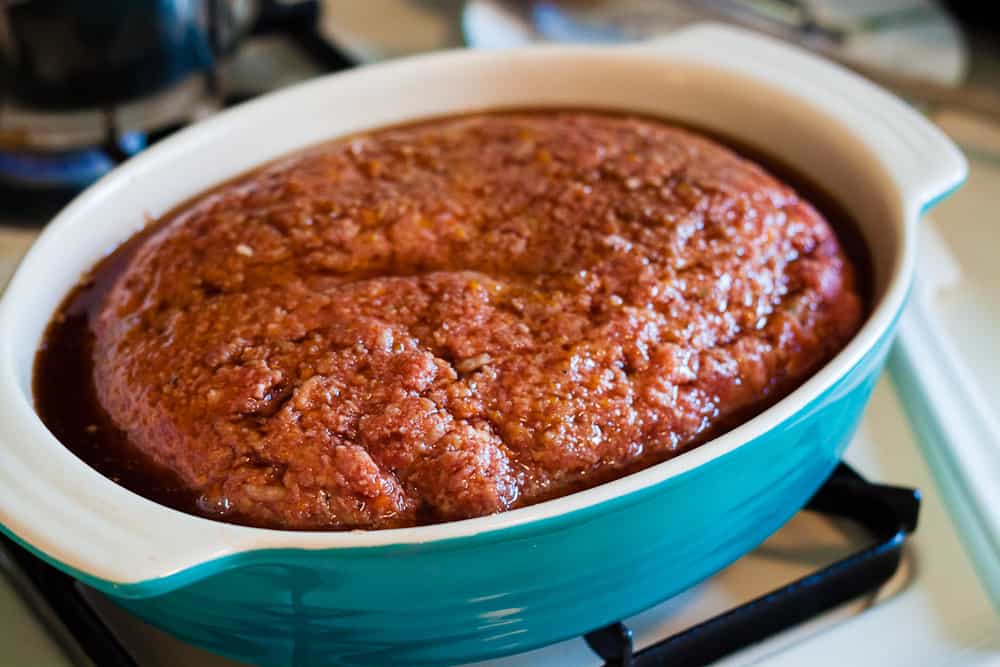 Bake the meatloaf at 375 for about an hour, or until the internal temperature reaches 160 degrees. Test in several different spots and depths of the loaf to make sure it is fully cooked.
Remove from the oven, and pour out the glaze/juices from the loaf pan into the sauce pan. Stir well to combine. (The fat from the loaf really makes the sauce taste a lot better!) Serve with mashed potatoes and a vegetable of your choice. Ladle some of the glaze/sauce mixture over the individual pieces and potatoes. Enjoy!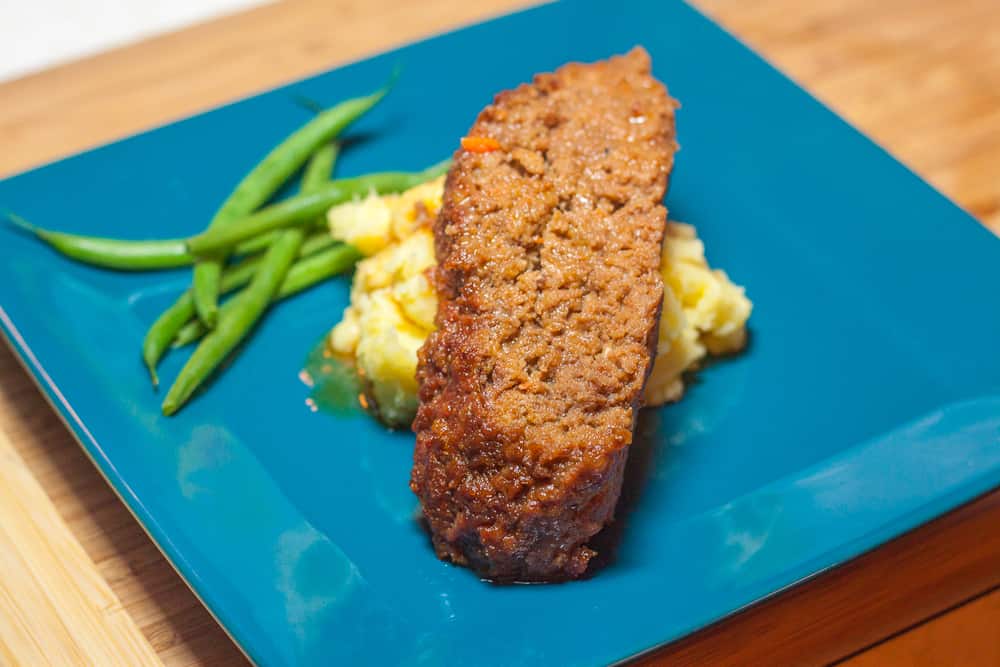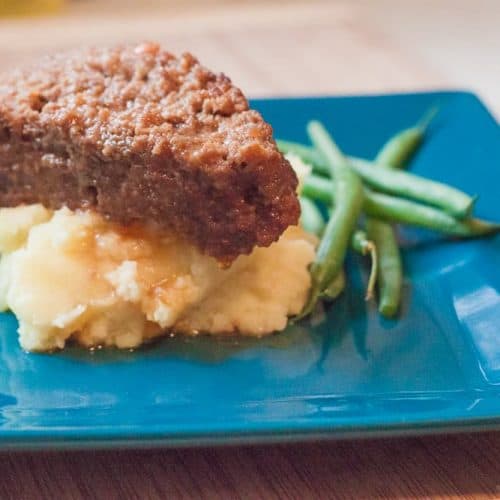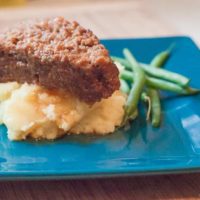 Homemade Meatloaf with Sauce
Yield: 10 servings

Prep Time: 20 minutes

Cook Time: 1 hour

Total Time: 1 hour 20 minutes

Moist, juicy, delicious meatloaf with some surprising sauce ingredients that might just make you reconsider your opinion of meatloaf in general!
Ingredients
Glaze
1 1/2 cups apple cider vinegar
1 1/2 cups light brown sugar
1 tablespoon yellow mustard
1/4 cup ketchup
Meatloaf
1 small onion, finely diced
2 whole large eggs
1 egg yolk
1/4 cup milk
1/2 cup ketchup
2 tablespoons A-1 steak sauce
1/2 teaspoon salt
1/4 teaspoon ground black pepper
1/2 teaspoon dry mustard
1/2 teaspoon onion powder
1/4 teaspoon garlic powder
1 tablespoon dried parsley
1 tablespoon minced garlic
1/4 cup panko bread crumbs
1 sleeve crushed saltine crackers
2 1/2 lbs 80/20 ground beef
Instructions
Place glaze ingredients in a sauce pan and mix well. Heat to simmering, and stir frequently while you mix up the loaf ingredients.
Finely chop the onion and mix in all of the other loaf ingredients except the ground beef. Stir until well combined, and then add ground beef and mix until fully incorporated.
Press down into large oven-safe pan, and make space between the edge of the loaf and the pan.
Pour glaze over the loaf, leaving room for the glaze to mix with the fat and juices from the beef. Keep the remaining glaze warm on the stove until the loaf is done cooking.
Bake the meatloaf at 375 for approximately 1 hour, or until the internal temperature reaches 160 degrees. Remove from oven, and carefully pour the glaze/sauce mixture from the baking dish into the sauce pan. Whisk together well.
Slice the loaf and serve with mashed potatoes and a vegetable, spooning some of the sauce/glaze mixture over the individual slices of meatloaf and on the potatoes as well.
Nutrition Information:
Yield: 10 Serving Size: 1
Amount Per Serving:Calories: 205 Total Fat: 4g Saturated Fat: 1g Trans Fat: 0g Unsaturated Fat: 2g Cholesterol: 66mg Sodium: 404mg Carbohydrates: 37g Fiber: 0g Sugar: 31g Protein: 6g

Nutrition data provided here is only an estimate. If you are tracking these things for medical purposes please consult an outside, trusted source. Thanks!