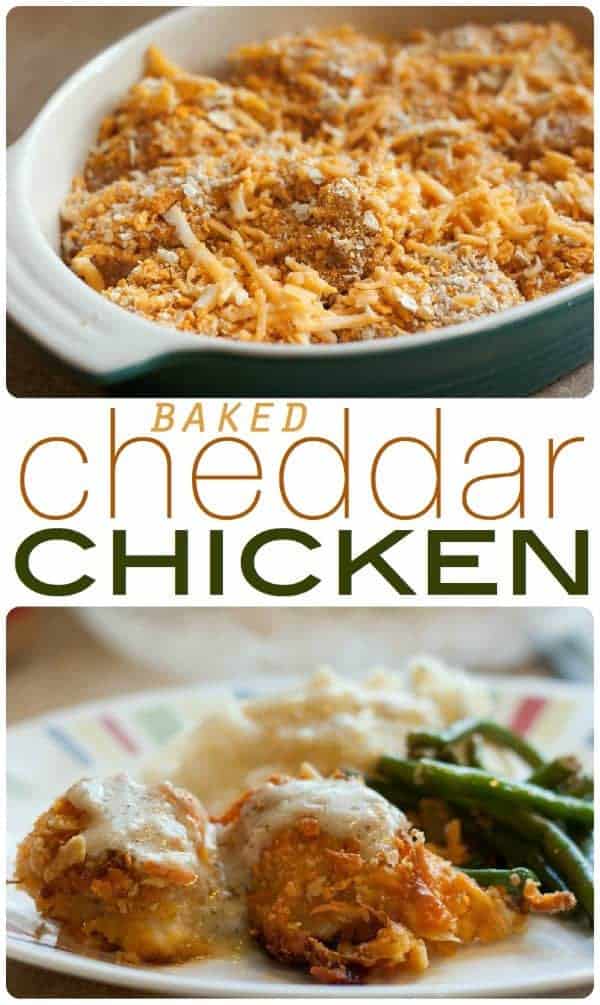 Baked Cheddar Chicken
I have been drooling over THIS baked cheddar chicken pin for quite a while.
What is not to drool over? Crispy, delicious-looking chicken. A creamy sauce. Plus, that photo is amazing. I don't even really like looking at mine so close to hers, because they just do not compare! Make sure and check out the original post over at Jamie Cooks It Up when you get the chance.
It has taken me so long to post about it because the original recipe has a cream of chicken soup as the main ingredient in the gravy. Because of Isaiah's allergies, we don't really do any cream-of soups in our house. Also, like most of my pins on my "Food to Make" board, I forgot.
Tonight when I asked my lovely husband what he wanted for dinner, ground beef or chicken, he didn't take long to answer, "CHICKEN!" Then I had to figure out just WHAT to make with chicken that we haven't already had 1000 times in the last few months (I get stuck on menu repeat a lot.) That is when I went to my trusty pinterest board where I save all the things I find that I might like to make.
I didn't have any cream of chicken soup though. I also didn't have any Ritz crackers. Like I usually do with a recipe, I had to improvise a bit.
Start by taking 3-4 chicken breasts and cutting them up into large chunks. Crush your crackers/panko mixture and put it in a shallow dish. Mix up an egg with 1/2 cup of milk and set it in another dish. Shred your cheese (or dump it out of the bag!) and put it in another shallow dish. Prep your baking pans with cooking spray, and lay them all out next to each other, assembly-line style.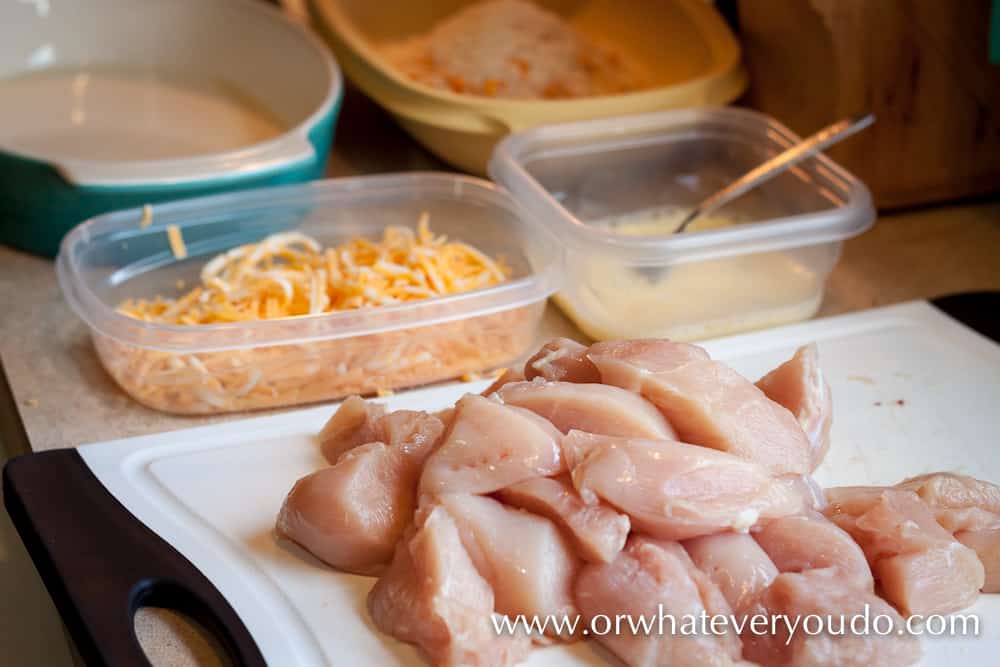 Dunk the chicken in the egg/milk mixture, and then coat it in the cheese. You will have to kind of press the cheese on, and hold it on the chicken. Carefully place the cheesed chicken into the crushed cracker/bread crumb mixture and press some onto both side of the chicken. Place the chicken into your prepped baking dish. Repeat until all the chicken is coated.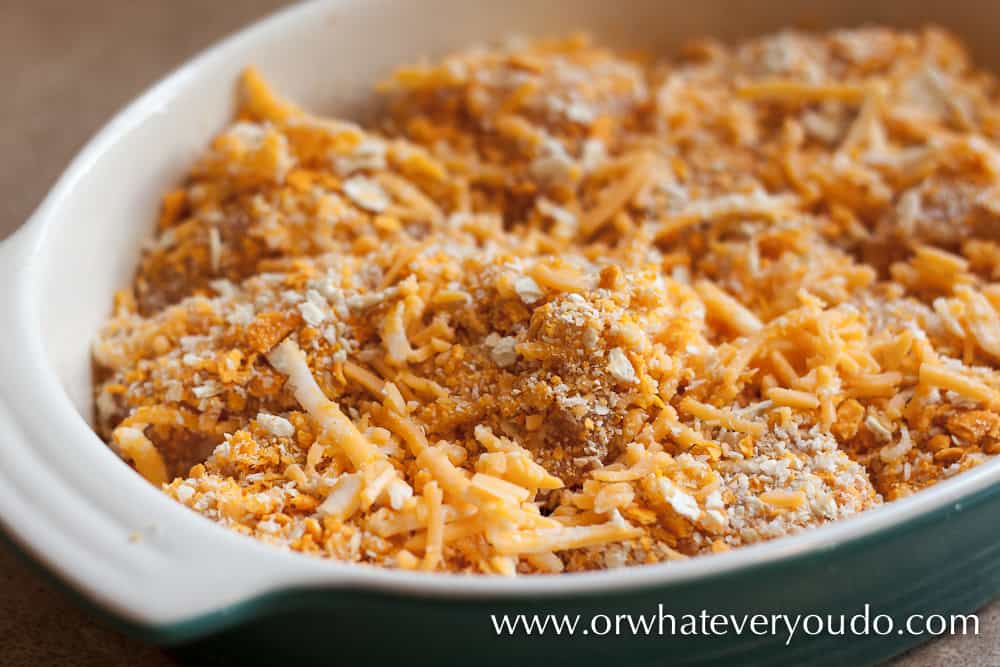 Drizzle the chicken with a bit of olive oil, and place into a 400 degree oven. Bake for 30-40 minutes, or until the chicken is cooked through and no longer pink. The amount of baking time will depend on how big you cut your chicken chunks. When you take it out of the oven, slice the biggest one in half. If that one is done, you can be fairly sure that the rest are too.
While the chicken is baking, melt 4 TBSP of butter in a non-stick pan and heat until melted. Add 3 TBSP of flour to the melted butter, and whisk until all the lumps are gone. Cook over medium-low heat for 2-3 minutes.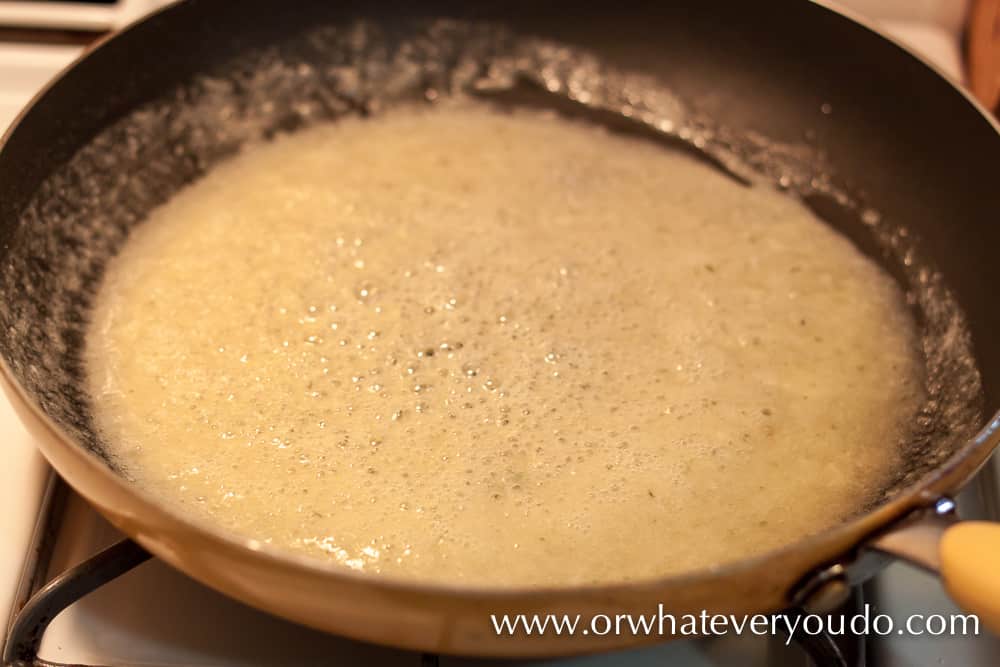 Season with salt, pepper, and garlic powder. Add 2 tsp of parsley and 1/4 tsp sage. Next add 2 cups of hot water, and 2 tsp of condensed chicken base. I LOVE the Better Than Bouillon brand. The organic chicken base works in our soy-free cooking for my food-allergy afflicted son, and it tastes amazing. Also add 2-3 TBSP of Marsala wine. (If you don't have Marsala, a dry white Chardonnay would work, as well as Sherry in a pinch.)
Cook this mixture until it is thickened, and then add approximately 1/2 cup of heavy cream, and 1/4 cup of sour cream. Stir until mixed, and reduce heat to low. If you need to add more water because the gravy is too thick, don't be afraid to do so. These kinds of sauces are very forgiving. If it is not thick enough. Make a cold water + flour roux, and add a little bit at a time while the mixture is simmering until it is thickened to your liking.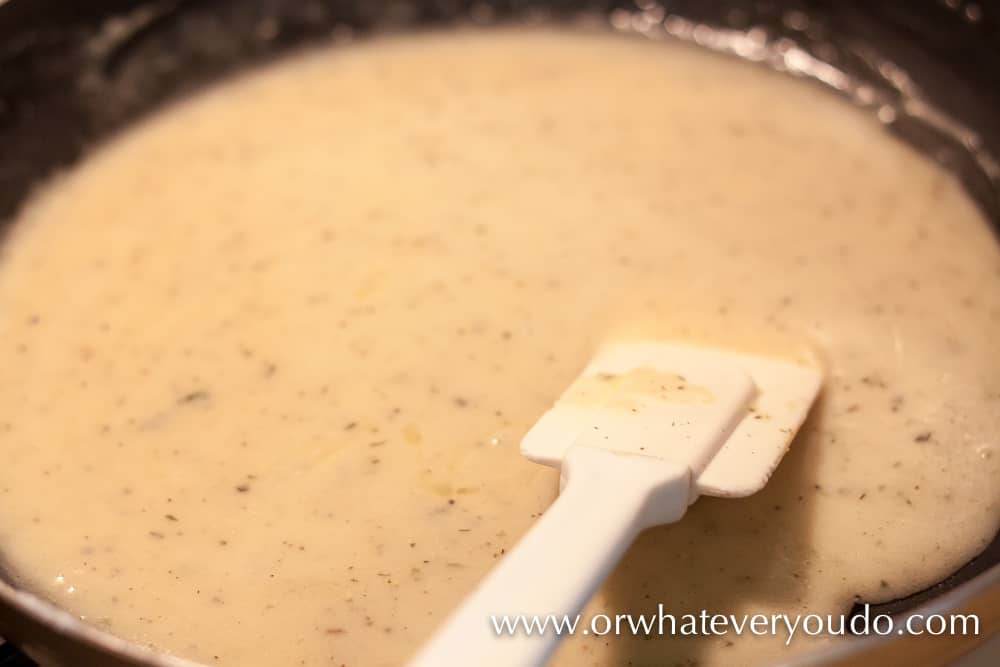 Keep the sauce warm until your chicken is done. Drizzle sauce over chicken, and serve with your favorite sides. We made garlic mashed potatoes and creamy balsamic green beans.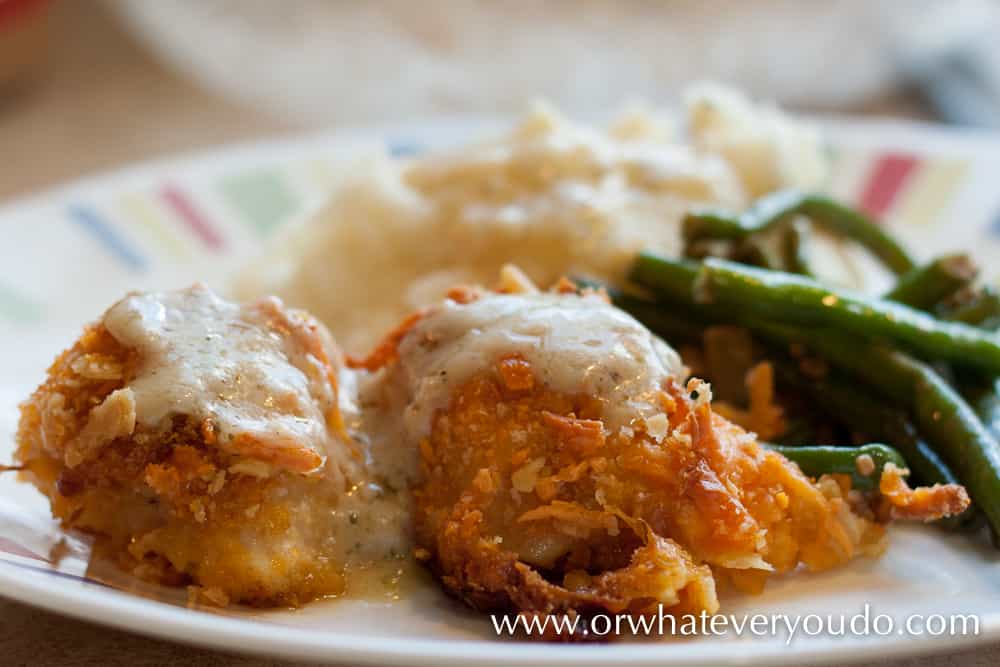 My kids went NUTS over this dinner. 3 of them declared it the BEST DINNER EVER!!!!!!!! That is a win in my book. No arguing. No sitting there staring at it. Even my 5 year old liked it, minus the sauce. He is a hater of sauces these days.
They were completely tickled that there were CHEESE-ITS in the chicken. I think if I would have used the goldfish we have in the house I would have been declared the COOLEST MOM ever. Maybe next time!
Yield: 8 people
Baked Cheddar Chicken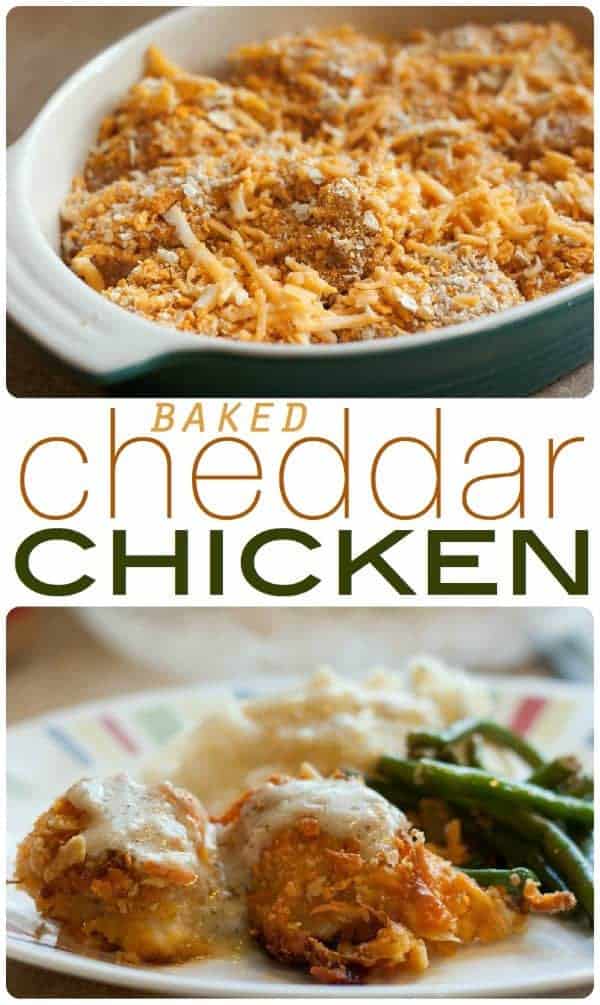 Crunchy, delicious, baked cheddar chicken.
Ingredients
4 large chicken breasts, cut into large chunks
1 cup of crushed cheese-its
1 cup of crushed saltines
1/2 cup panko bread crumbs
1 large egg
1/2 cup milk
2 cups shredded cheddar cheese
1/4 cup olive oil
4 TBSP salted butter
3 TBSP flour
salt, pepper, and garlic powder, to taste.
1 tsp parsley
1/4 tsp sage
2 cups hot water
2 tsp condensed chicken base
2-3 TBSP Marsala wine
1/2 cup heavy cream
1/4 cup sour cream
Instructions
Coat chicken in egg wash, dip into cheese and press cheese onto chicken. Move carefully to the bread crumb/cracker mixture and coat with crumbs. Place in prepared baking pan. Repeat until all chicken is coated.
Drizzle lightly with olive oil. Bake at 400 degrees for 30-40 minutes, or until chicken is cooked through and no longer pink.
While chicken is baking, prepare sauce by melted butter in a large pan. Add the flour and whisk to eliminate any lumps. Cook over medium-low heat for 2-3 minutes.
Add salt, pepper, and garlic salt to taste. Add 1 tsp dried parsley and 1/4 tsp sage.
Add hot water, condensed chicken base, and Marsala to the sauce pan and cook until mixture is thickened. Add the heavy cream and sour cream and stir to combine.
Nutrition Information:
Yield:
8
Serving Size:
1
Amount Per Serving:
Calories:

626
Total Fat:

40g
Saturated Fat:

17g
Trans Fat:

1g
Unsaturated Fat:

20g
Cholesterol:

141mg
Sodium:

773mg
Carbohydrates:

32g
Fiber:

1g
Sugar:

2g
Protein:

32g
Nutrition data provided here is only an estimate. If you are tracking these things for medical purposes please consult an outside, trusted source. Thanks!