Quadruple Chocolate Birthday Cake is going to satisfy all of your chocolate cravings, without going too crazy overboard on the sweet scale. This is one of the most requested birthday cakes in my house!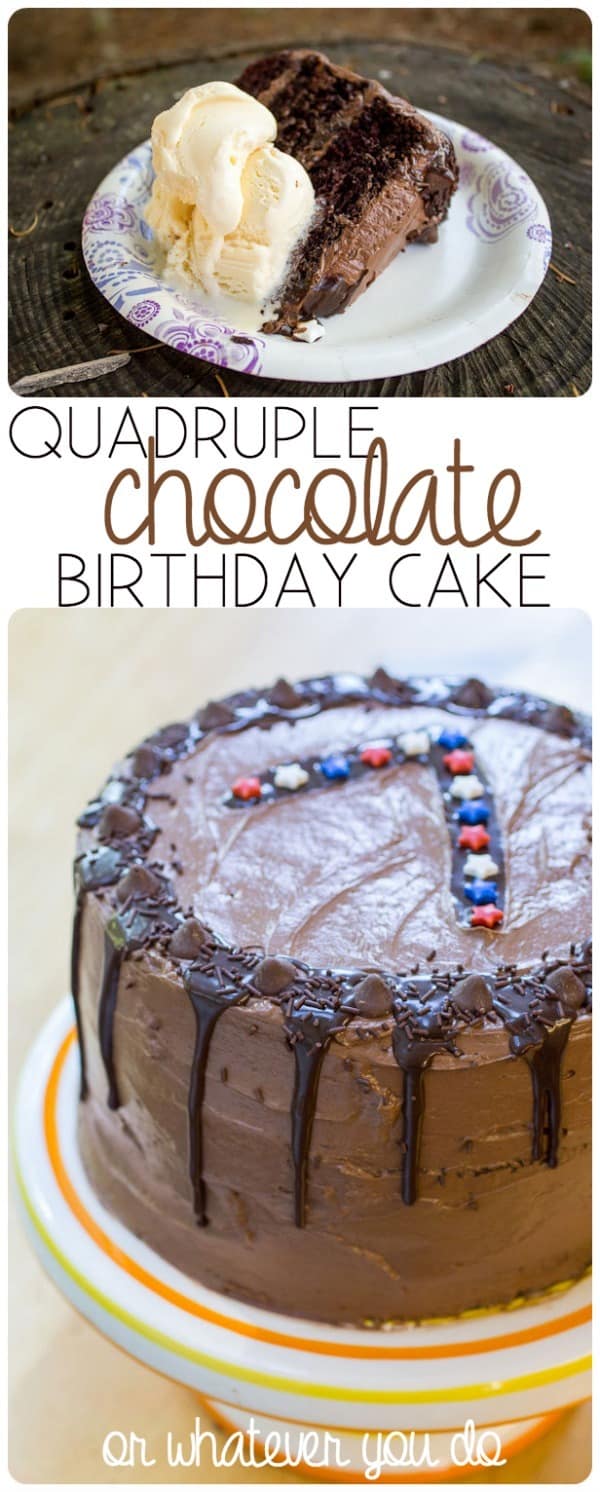 Quadruple Chocolate Birthday Cake
We had our 4th and final birthday party of the summer to last week. Last week also marked the start of a new school year. We officially now have a 4th, 3rd, 2nd, and a Kindergartner!
It was SO quiet here with all four of the boys in school all day.
Weirdly quiet after a summer full of playing and general boy noise and chaos.
Amelia took TWO uninterrupted naps. I got a TON of work done, all without having to pause every 13 seconds to break up an argument or solve a problem. It was pretty neat to be able to actually complete a thought without having to stop and restart 4 times. But whoa. It was quiet. I may have had the tv on as background "noise" for most of the day.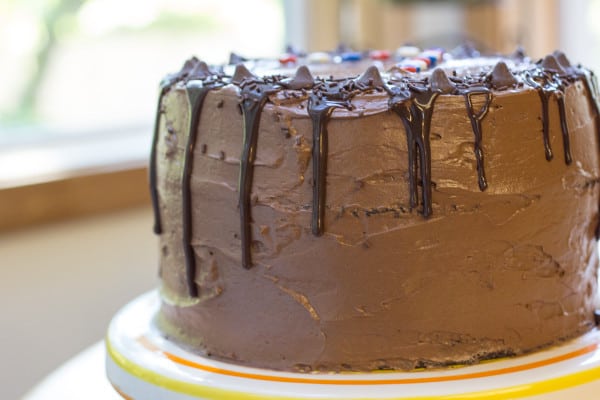 This quadruple chocolate birthday cake recipe makes a TON of cake. It made a three layer cake, two dozen regular cupcakes, and 6 jumbo muffin sized cupcakes. This is a perfect for a large party, or for a party plus school or office treats! Just be forewarned. It makes a LOT of chocolate cake. Of course, when it is THIS chocolate cake you are going to want leftovers, so the more the merrier.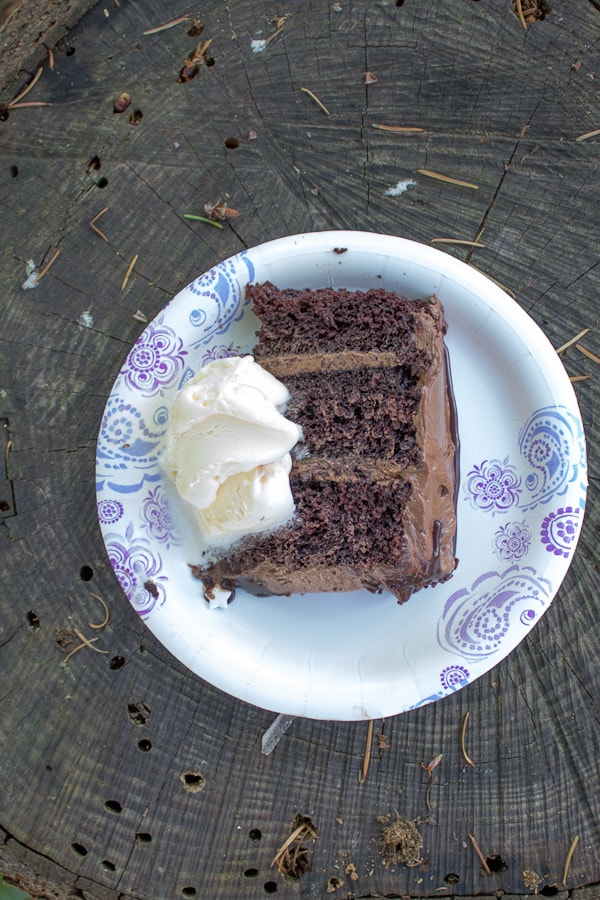 I went super simple with the decoration on this cake because I'm a terrible cake decorator. Seriously horrible Ask me to pipe anything? Forget it! This cake is super simple to throw together, bu looks fancy enough to serve to guests.
It is chocolate ovaltine cake, with whipped dark chocolate ganache filling, covered with chocolate ovaltine frosting, carmael filled chocolate chips, and more ganache. Then there's some chocolate sprinkles too.
You can make any number you want on top. I used a butter knife to make a depression in the frosting the shape of the number, then I chilled the cake for about 30 minutes to set the frosting, and drizzled ganache into the indentation. Top that with some more sprinkles, and you are set! Truth be told I didn't even do a crumb coat on this cake, but use your best judgement on that one.
I normally always crumb coat my layer cakes, but this one is not very crumby, and went together really nicely. Your mileage may vary, and you might find yourself in need of a good crumb coat.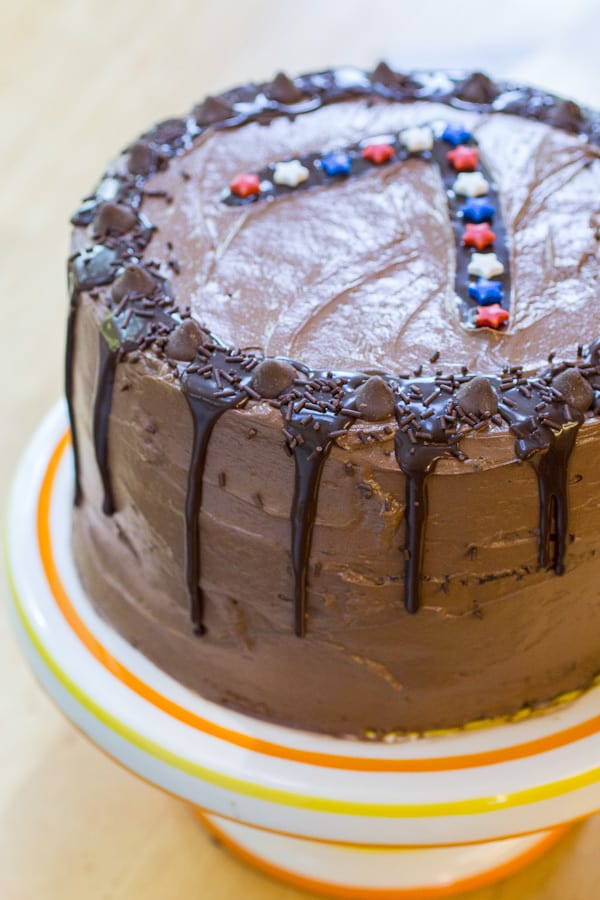 For the cupcakes, I used a large star tip and piped on the frosting thick, then I drizzled on some ganache and adding some sprinkles.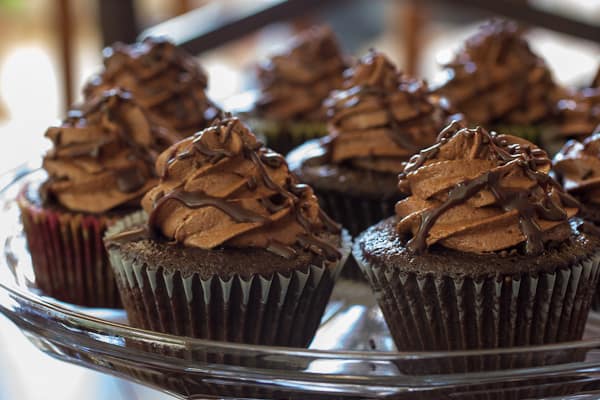 As far as birthday cakes go, this one was super easy, and the perfect cake for my chocolate loving guy. (Flash sure does no favors to food, does it! Makes that little face look adorable, but that cake…ack!)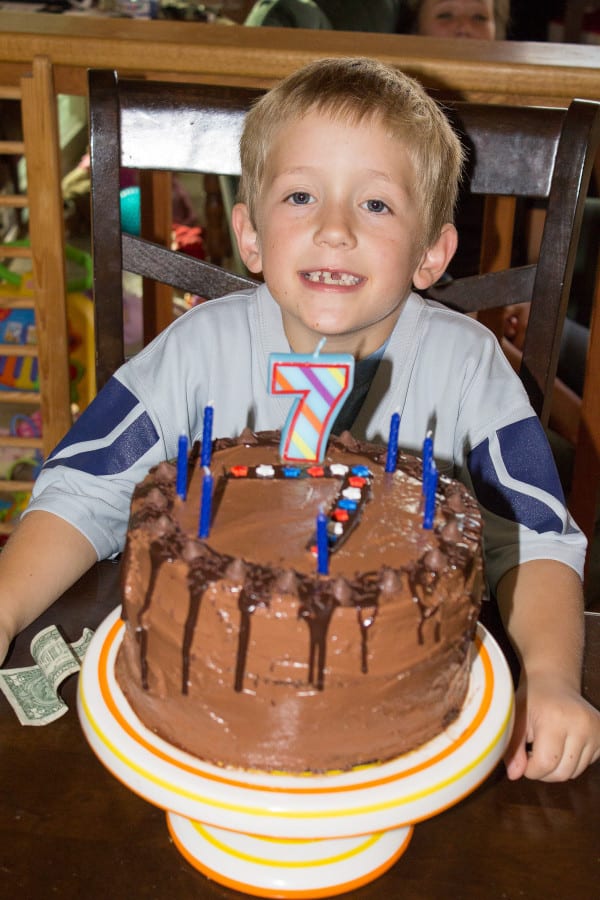 I love this age. Seven is such a special year. It is right on the cusp of little and bigger, and there's so much discovery and learning going on.
Every birthday party the family always has a friendly birthday present competition. We all want to buy the "winner". I think Grandpa and Grandma won this year with this Seahawks jersey! All the boys in this house have been begging for these all year long.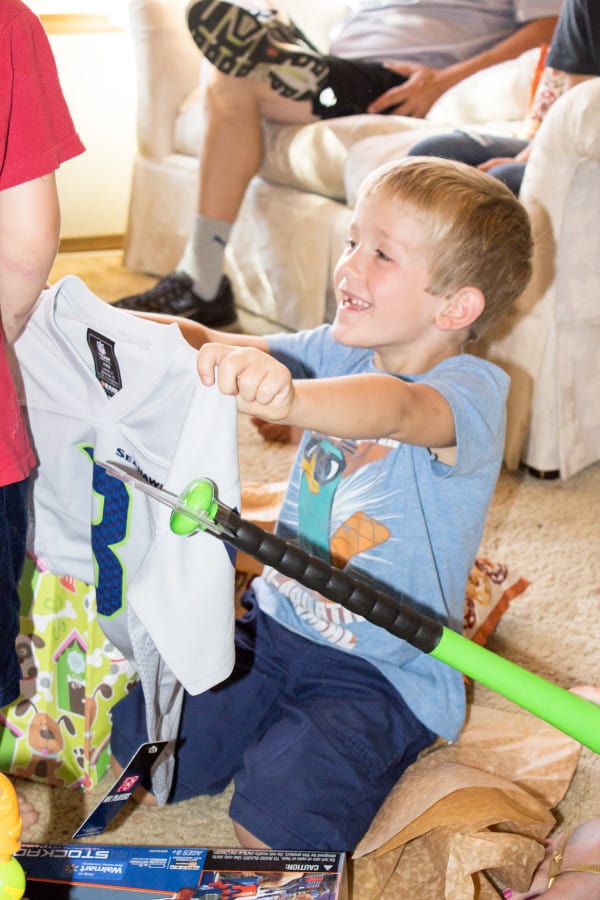 He even got to match Grandpa, and there's not much better than that for a 7 year old guy.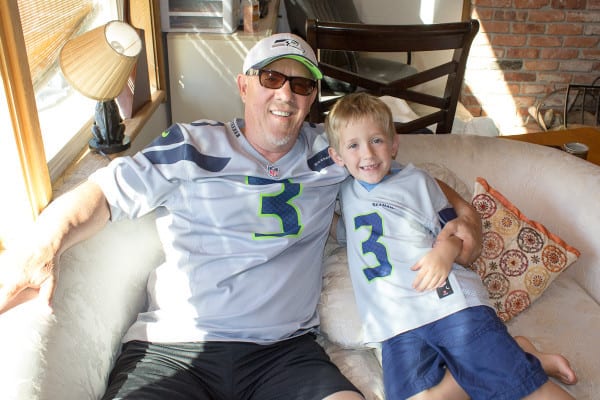 Another winner, and one that ALL of the boys have been having such a blast with. Thanks Auntie! I foresee lots of batting practice in our future.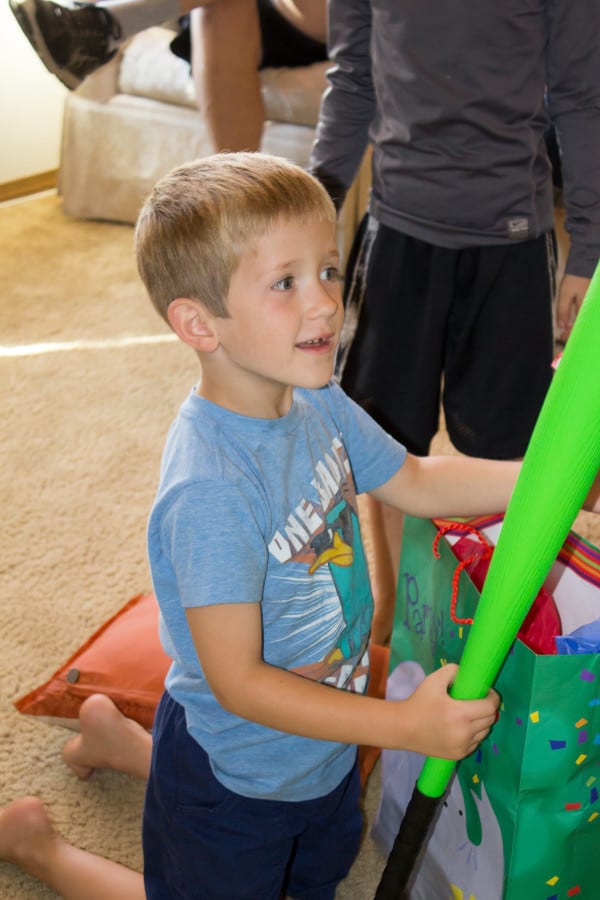 Happy birthday to my 3rd son. May the next year be full of learning and love! Stay on the little side of big for just a while longer, will ya please?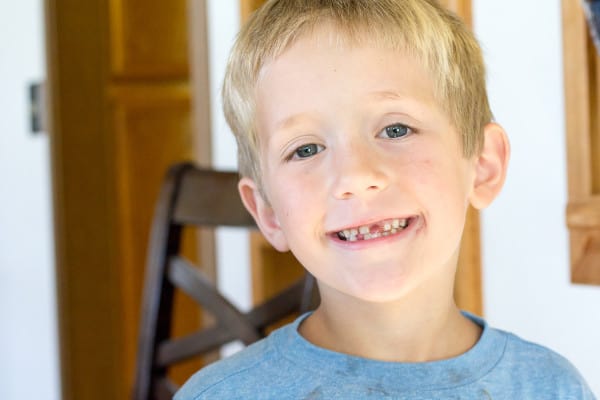 Yield: 12 servings
Quadruple Chocolate Birthday Cake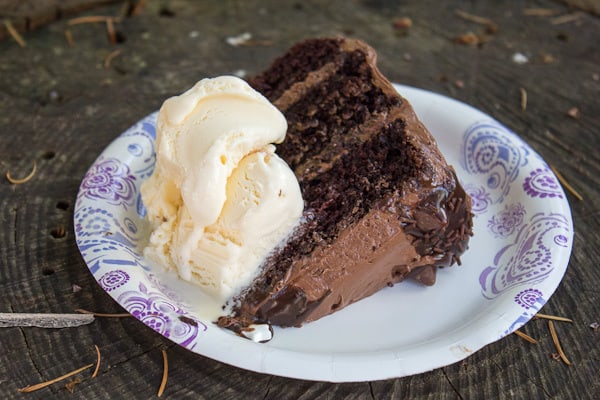 Delicious homemade chocolate cake is packed with four different kinds of chocolate. One of my favorite birthday cakes that I've made for this crew!
Total Time
1 hour
10 minutes
Ingredients
Cake:
4 cups all-purpose flour
2 teaspoons salt
2 teaspoons baking powder
4 teaspoons baking soda
1 1/2 cups unsweetened cocoa powder
2/3 cup rich chocolate Ovaltine
4 cups sugar
2 cups canola oil
2 cups strong, hot, good-quality coffee
1 cup sour cream
1 cup half-n-half
4 large eggs
2 tablespoons vanilla
Icing:
2 1/4 cups unsalted butter
1 1/2 cups cocoa powder
1 teaspoon salt (or NONE if you ran out of unsalted and had to use regular, salted butter!)
6 cups powdered sugar
1 1/2 tablespoons vanilla, 1/2 tablesppon equals 1 1/2 teaspoons
1 1/2 cups heavy cream
1 cup Ovaltine
Ganache:
2 cups milk chocolate chips
1 cup heavy cream
2 tablespoons butter
1 tablespoons + 1 teaspoon vanilla
Decorations:
Sprinkles
Caramel Filled Chocolate Chips
Instructions
Cake:
Sift together dry ingredients and set aside. In mixer, combine canola oil, coffee, half-n-half, and sour cream. Mix on low 30 seconds. Slowly add in dry mixture and mix on low until incorporated. Add in vanilla and mix. Add in eggs, one at a time, and mix just until combined.
Prepare 3 - 8 inch cake pans by spraying with baking spray, lining the bottom with a parchment circle, and the lightly spraying the circle with baking spray. Line cupcake tins with paper liners, and lightly spray with regular cooking/baking spray.
Pour batter into cake pans and lined cupcake tins 2/3 of the way full.
Bake at 350 for 13-15 minutes for cupcakes, or until a toothpick comes out clean. Let cakes bake for about 25 - 30 minutes. Use your best judgement and the toothpick test as your guide. Oven times and temperatures vary!
Let cakes and cupcakes cool for 15 minutes, and then remove to wire racks. Let cool completely before frosting.
Frosting:
Put room temperature butter in a mixing bowl and beat until smooth.
Sift in cocoa powder and powdered sugar, mixing and taking care not to leave lumps. Add vanilla, and mix.
In a different bowl, mix together Ovaltine and heavy cream until the ovaltine is completely dissolved. Slowly add to butter mixture. Beat on high for 1-2 minutes, or until frosting slightly lightens in color. Scrape down the sides of the bowl when necessary.
Ganache:
Heat your heavy cream and butter until almost boiling. Pour over chocolate chips in a metal bowl and stir well until the chocolate is completely melted. Add the 2 tsp vanilla and stir to combine.
Cool and whip 2/3 of the ganche. Leave the remaining 1/3 at room temperature.
For Decorating:
Spread whipped ganache between cake layers. Ice cake evenly with frosting. Make a depression in the top of the cake if you will be doing a number on top. Space chocolate chips evenly around the edge of the cake. Chill cake for 30-40 minutes in the fridge. Pipe frosting using a large star tip onto cupcakes.
Drizzle ganache around the edges, letting the excess fall down the sides. Fill the depression on the cake top with ganache. Use a toothpick or the tine of a fork to fill all the gaps without overflowing the form. Drizzle ganache over cupcakes. Decorate both cake and cupcakes with chocolate sprinkles
Nutrition Information:
Yield:
24
Serving Size:
1
Amount Per Serving:
Calories:

936
Total Fat:

57g
Saturated Fat:

25g
Trans Fat:

1g
Unsaturated Fat:

29g
Cholesterol:

123mg
Sodium:

589mg
Carbohydrates:

100g
Fiber:

3g
Sugar:

75g
Protein:

9g
Nutrition data provided here is only an estimate. If you are tracking these things for medical purposes please consult an outside, trusted source. Thanks!