Today I'm going to show you how to make easy baked onion rings. My panko onion rings are simple, delicious, and the perfect healthier alternative to traditional crispy onion rings!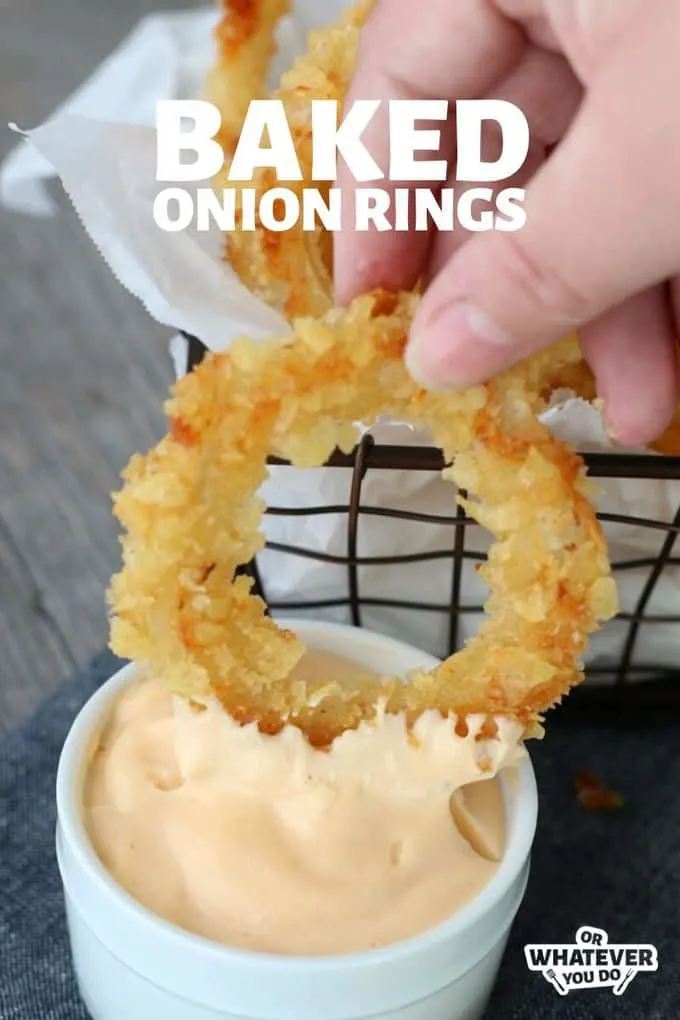 Baked Onion Rings
Are you looking for a side that is light, crispy, and delicious? How about a side dish that feels indulgent and conjures up feelings of nostalgia. Onion rings are typically a deep fried diner staple, but you can make these treats at home. It is even possible to create a healthier version as opposed to the deep-fried traditional variety.
I've made traditional onion rings before, and it was no joke. Deep frying is a lot of trouble for one little batch of onion rings, so I don't make them often.
I could just go and buy a fry daddy, but having one of those actually in my house would not be good for my waistline, which is already struggling.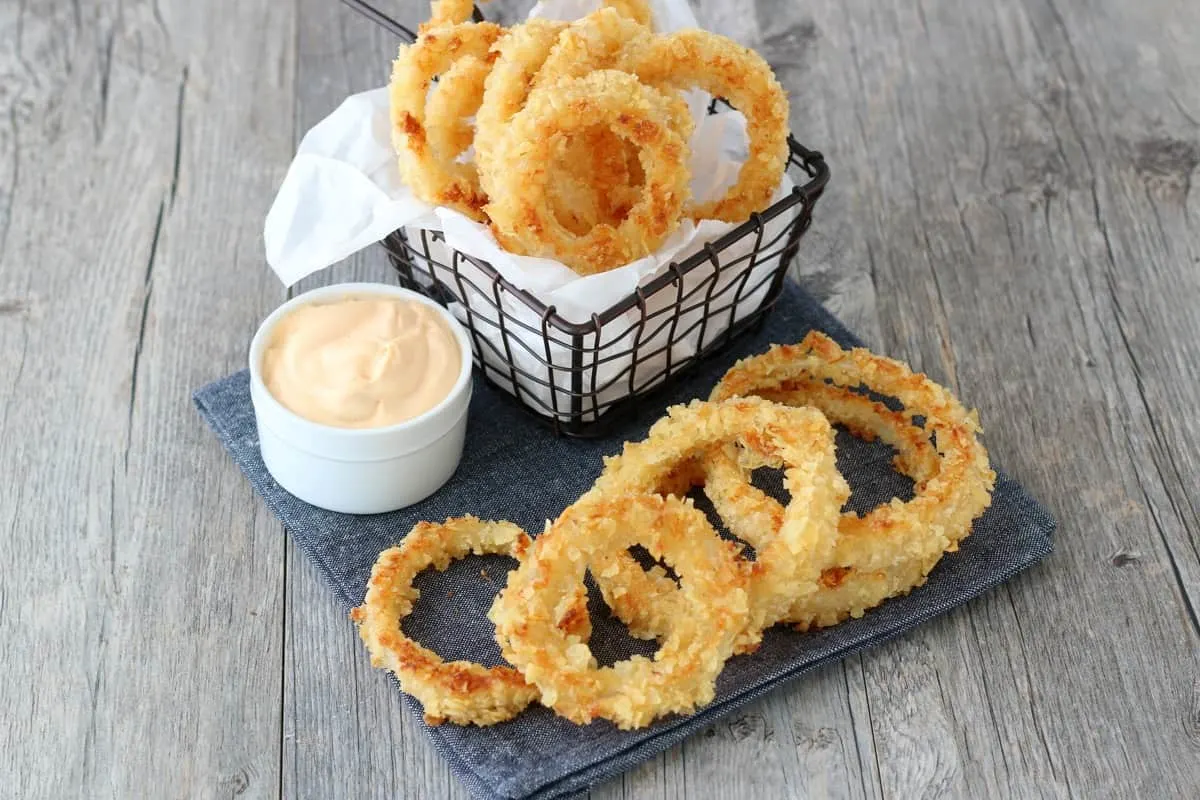 Why bake instead of fry?
Baking or roasting vegetables is an excellent way to bring out the natural sugars within. You will find that this is especially true in these oven baked onion rings. Do you want to know the best part? These are so easy to prepare you won't miss the frying!
Another reason we are making baked onion rings versus fried ones is for a crispy texture. When we fry things they get crispy, sure, but they also get soggy when they are submerged in oil.
For crispy onion rings, baking is a great option for flavor, texture, and of course they are a little more healthy as well!
These rings DO use oil for cooking and I mean, they have potato chips in the crust. This isn't health food, nor is it meant to be. But not deep frying does shave a few calories off the top, if that's a thing that means something to you. Beyond that though, this method just makes a REALLY great ring and you don't have to worry about the mess and inconvenience of deep frying.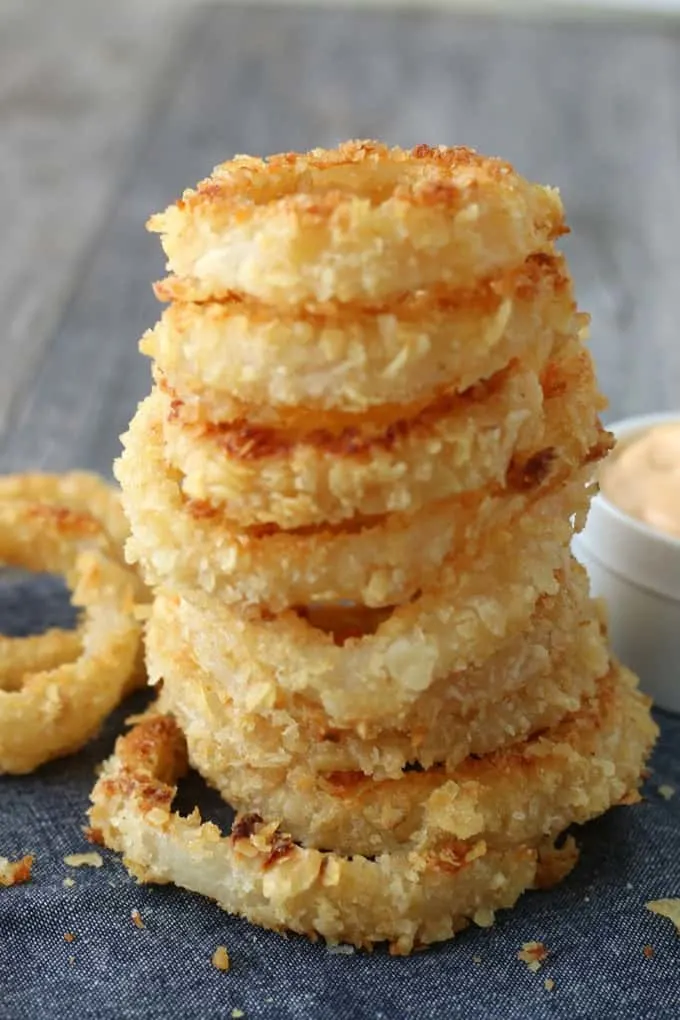 Baked Onion Rings Shopping List
You will need a variety of ingredients for these baked onion rings. Most of them are obvious but the seasonings you won't want to miss out on!
Panko onion rings are a little different in that they're lighter and crispier, but the bread crumbs themselves are usually not seasoned. We will fix that problem with a variety of seasonings.
2 large sweet onions (Such as Vidalias or Walla Walla)
2 cups buttermilk
2 egg whites
flour
2 cups panko crumbs
salt
white pepper (or black pepper in a pinch)
smoked paprika
garlic powder
cooking spray
avocado or vegetable oil
How to bread onion rings
Soak the rings
Begin by slicing up a large Vidalia or Walla Walla Sweet Onion into ⅓ – ½ inch rings. Remove the tiny middle pieces and set aside for a different use. Put them into a large freezer bag and pour 2-3 cups of buttermilk over them as well as ½ tsp salt, ⅛ tsp cayenne pepper, and ½ tsp seasoned salt.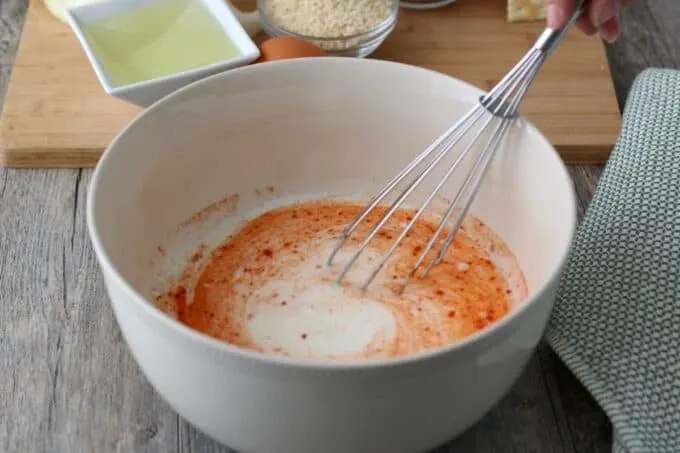 Let those soak for several hours, or overnight in the fridge. Strain the onions, reserving the buttermilk mixture.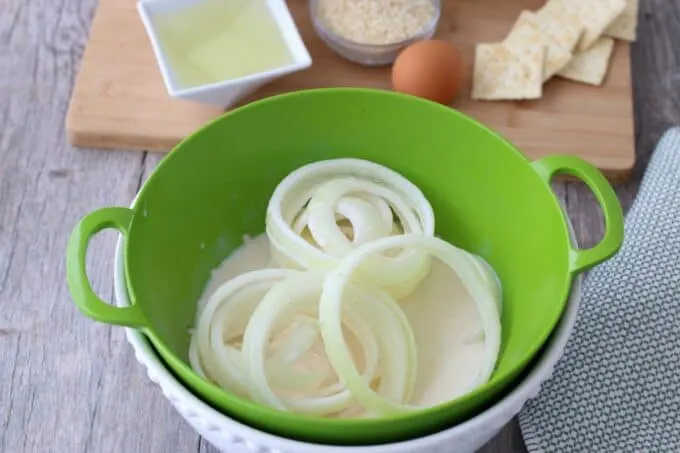 Mix up the breading
Next put 10 saltines and 3 large hand fulls of kettle cooked potato chips into a food processor or blender. Pulse these until they are finely crushed. You can also use a large ziploc for this and just smash and bash them until they are adequately crushed. Combine this mixture with ½ cup of panko bread crumbs.
Now combine the reserved buttermilk and mix well with one beaten egg. Set aside.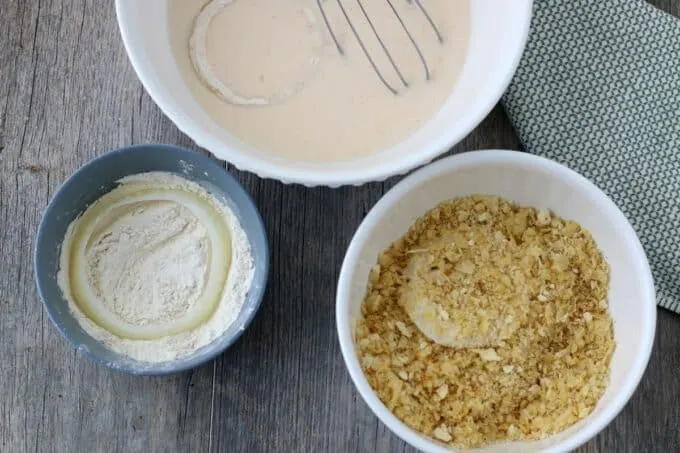 How to make crispy baked onion rings
ONIONS MATTER – Select sweet onions such as Vidalia and cut them into ½ inch rings. Any bigger and they'll take too long to cook, and any smaller and they won't hold their shape well enough.
DON'T SKIP THE SOAK – Soak the slices in buttermilk for a few hours or overnight. There's no substitution for this soak and it really impacts the end result.
PREHEAT THE OIL – Preheat your oven to 425 degrees, and then place your oiled cookie sheet inside to preheat as well. Don't skip this step or you'll end up with mushy rings!
DON'T DOUBLE UP! – Place a single layer of the coated onions on a baking sheet. You cannot put more than one layer on the sheet. Just in general and in life, SINGLE LAYER on the baking sheets, you guys.
DON'T FORGET THE FLIP – Bake each batch of onion rings for approximately 15 minutes then turn over each onion ring and bake for another 15 minutes for a total of 30 minutes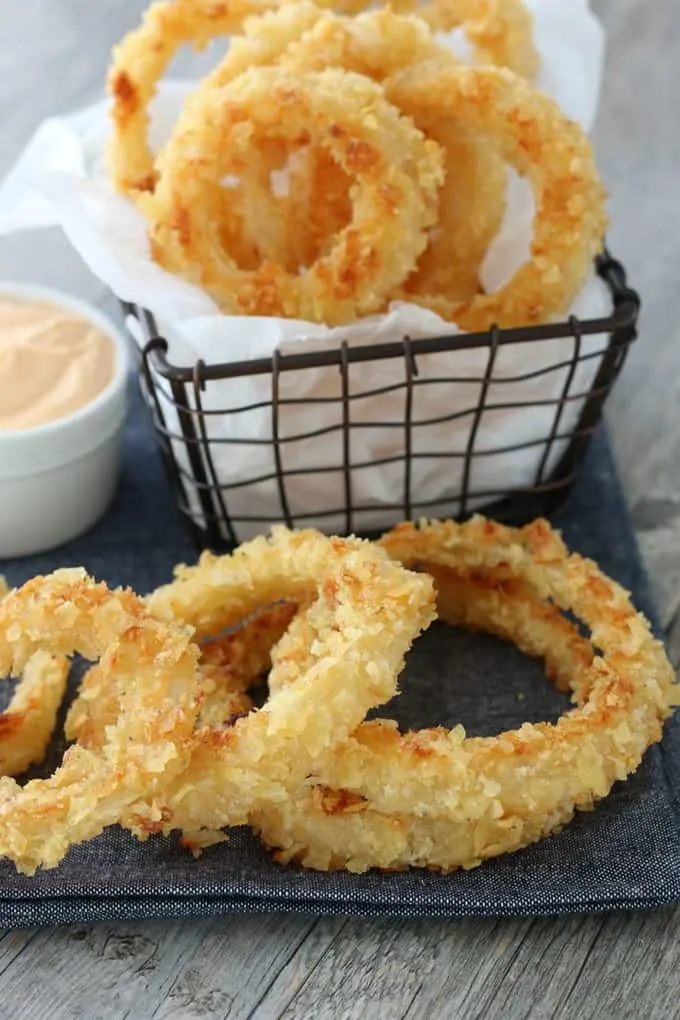 How to store and reheat any leftovers
For best results, eat your onion rings fresh. If you can't eat them all in one sitting, store them in a plastic container lined with paper towels. When you reheat them, do it in your oven or air fryer for the best results. 400° for 5 minutes should do it.
You could also freeze these after they are breaded on a cookie sheet, and then bake them as you want them. This is great if you just want to cook one to go on top of a burger on occasion.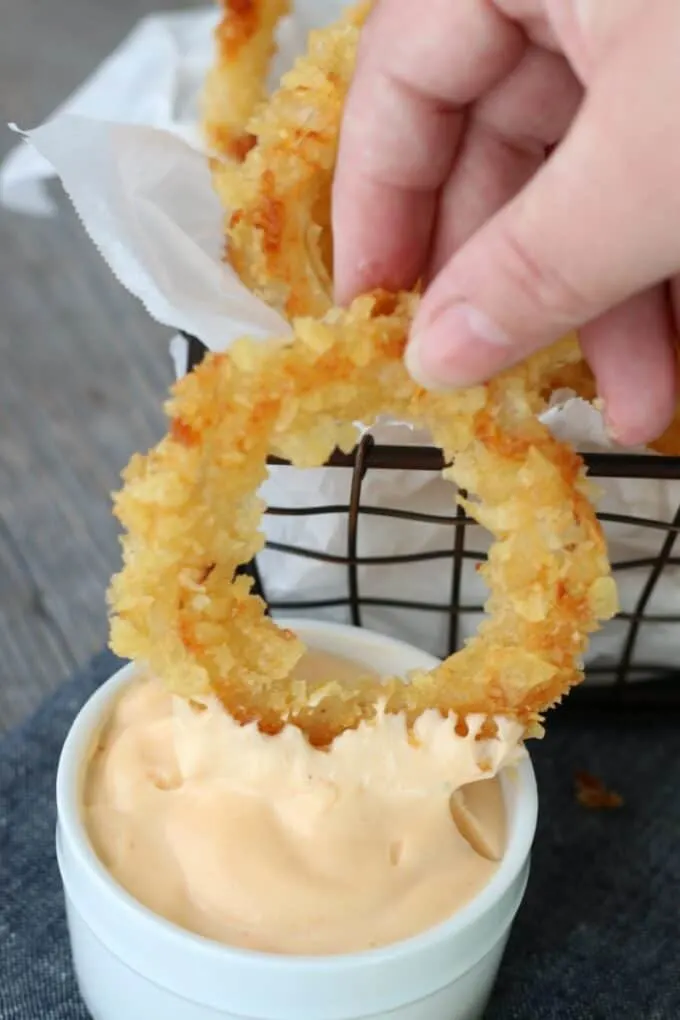 Are oven-baked onion rings healthy?
Not really. These aren't DEEP fried, so there's that, but they are not health food either. There's panko, potato chips, and oil frying these in the oven. So a great treat if you are craving something crunchy and salty, but definitely don't try and call it a vegetable.
More great recipes to love!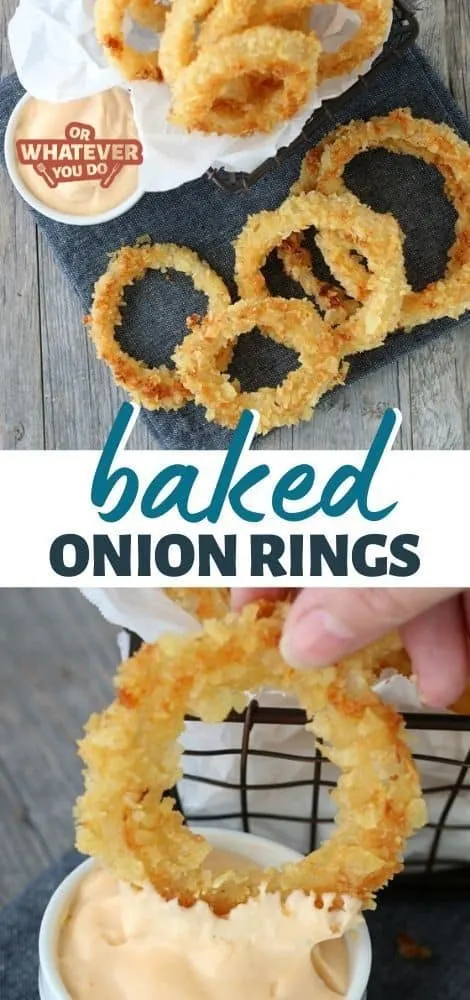 Yield: 6 servings
Oven Baked Onion Rings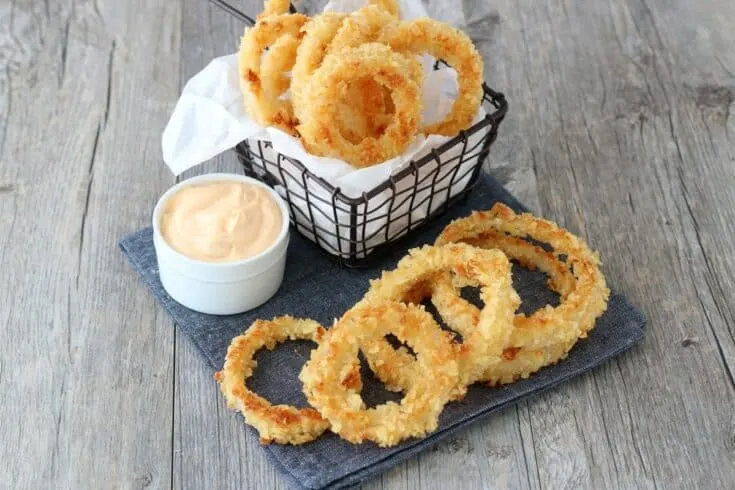 These onion rings are baked and not fried, but you won't lose out on any of the signature crunch that you are used to with onion rings because they are coated in kettle-cooked potato chips.
Ingredients
1 large Vidalia Onion, sliced into 1/2 inch rings
3 cups buttermilk
1/2 tsp salt
1/2 tsp seasoned salt
1/8 tsp cayenne pepper
1 egg
10 saltines
3 large hand fulls kettle cooked potato chips
1/2 cup panko bread crumbs
3/4 cup flour
1/2 cup oil
Instructions
Soak the sliced onions in buttermilk, salt, cayenne pepper, and seasoned salt for at least 2 hours.
Drain onions, reserving buttermilk. Mix one egg with the buttermilk. In a separate bowl, place flour and set aside. Crush the saltines and potato chips into a medium crumb. Combine with panko in a separate bowl.
Preheat oven to 375° and add oil into a cookie sheet with sides. Place cookie sheet into oven to let the oil heat.
Bread rings by first placing into flour, then into buttermilk/egg mixture, then into crumb mixture. Set onto a clean platter.
When all rings are breaded, place into hot cookie sheet and bake for 5-7 minutes, or until golden brown. Check frequently as the cooking time will depend on your particular oven.
Flip over and cook on the other side until browned.
Remove and serve immediately.
Recommended Products
As an Amazon Associate and member of other affiliate programs, I earn from qualifying purchases.
Nutrition Information:
Yield:
6
Serving Size:
1
Amount Per Serving:
Calories:

382
Total Fat:

23g
Saturated Fat:

3g
Trans Fat:

0g
Unsaturated Fat:

19g
Cholesterol:

36mg
Sodium:

707mg
Carbohydrates:

35g
Fiber:

2g
Sugar:

9g
Protein:

9g
Nutrition data provided here is only an estimate. If you are tracking these things for medical purposes please consult an outside, trusted source. Thanks!