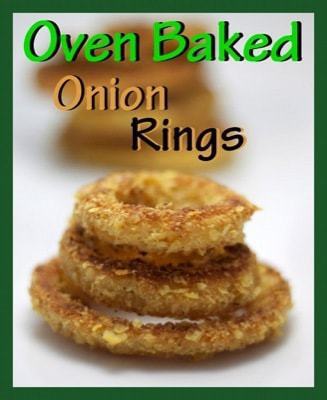 Welcome to the first post on the new, redesigned Or Whatever You Do! I hope you like the new home I've found. Look around a bit, and if you happen to see any broken links, feel free to send me a note. orwhateveryoudo@gmail.com
I've made traditional onion rings before, and it was no joke. Deep frying is a lot of trouble for one little batch of onion rings, so I don't make them often. I could just go and buy a fry daddy, but having one of those actually in my house would not be good for my waistline, which is already struggling.
I decided to search out an oven baked onion ring that still had all the flavor of a deep fried onion ring, and this is the combination of several different methods and recipes I came across. This may be oven baked, but it is not low-fat or calorie.
Begin my slicing up a large Vidalia into ⅓ – ½ inch rings. Remove the tiny middle pieces and set aside for a different use. Put them into a large freezer bag and pour 2-3 cups of buttermilk over them as well as ½ tsp salt, ⅛ tsp cayenne pepper, and ½ tsp seasoned salt.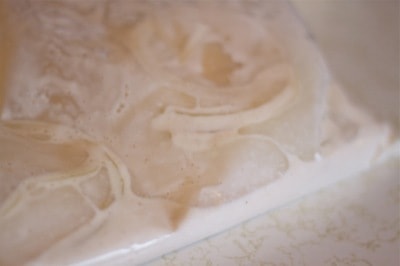 Let those soak for several hours, or overnight in the fridge. Strain the onions, reserving the buttermilk mixture.
Next put 10 saltines and 3 large hand fulls of kettle cooked potato chips into a food processor or blender. Pulse these until they are finely crushed. You can also use a large ziploc for this and just smash and bash them until they are adequately crushed. Combine this mixture with ½ cup of panko bread crumbs.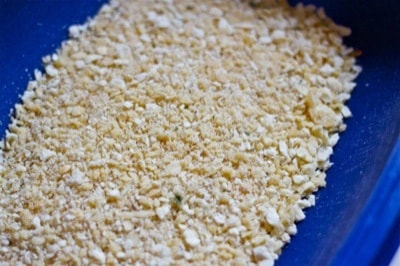 Now combine the reserved buttermilk and mix well with one beaten egg. Set aside.
Place ¾ cup of flour into another bowl and set that aside also.
While you are in the process of breading your onion rings, preheat your oven to 375 and place a large cookie sheet with sides on it along with ½ cup of cooking oil into the oven and let it heat up.
To coat the onion rings, first place them into the flour and coat lightly.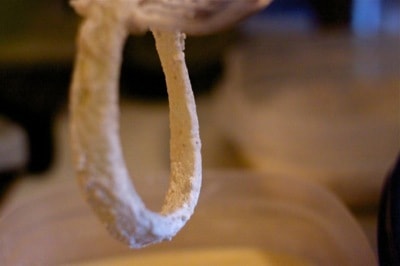 Next place into the buttermilk/egg mixture. Make sure you fully coat all areas of the onion ring or the breading won't stick.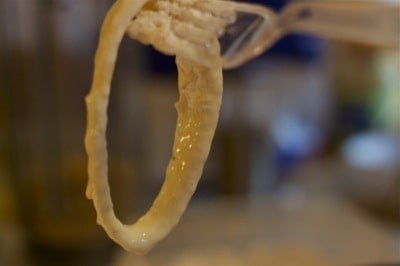 Now lightly coat in the crumb mixture.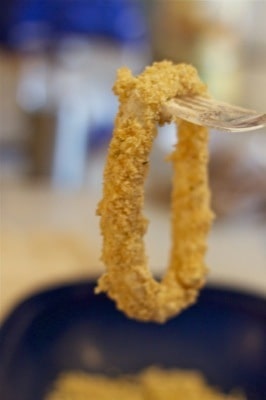 Set on a clean platter and continue breading all of the onion rings.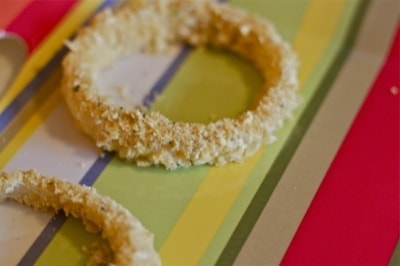 After they are all coated and the oven is heated, add them into the hot pan. Cook for 5-7 minutes per side, or until they have browned on the bottom side. Flip over and cook an additional 5-7 minutes, or just until the other side has browned.
Remove from oven and serve immediately.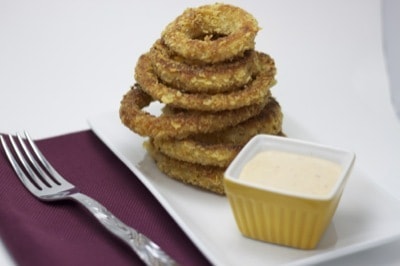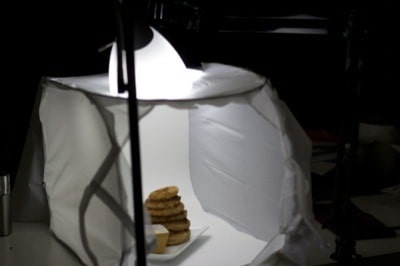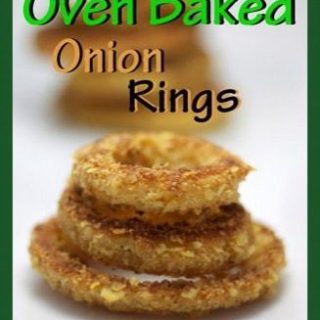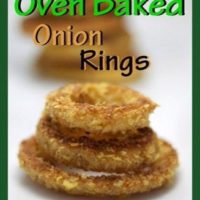 Oven Baked Onion Rings
These onion rings are baked and not fried, which makes them super unique. Coated in kettle-cooked potato chips.
Ingredients
1 large Vidalia Onion, sliced into 1/2 inch rings
3 cups buttermilk
1/2 tsp salt
1/2 tsp seasoned salt
1/8 tsp cayenne pepper
1 egg
10 saltines
3 large hand fulls kettle cooked potato chips
1/2 cup panko bread crumbs
3/4 cup flour
1/2 cup oil
Instructions
Soak the sliced onions in buttermilk, salt, cayenne pepper, and seasoned salt for at least 2 hours.
Drain onions, reserving buttermilk. Mix one beaten egg with the buttermilk. In a separate bowl, place flour and set aside. Crush the saltines and potato chips into a medium crumb. Combine with panko in a separate bowl.
Preheat oven to 375 and add oil into a cookie sheet with sides. Place cookie sheet into oven to let oil heat.
Bread rings by first placing into flour, then into buttermilk/egg mixture, then into crumb mixture. Set onto a clean platter.When all rings are breaded, place into hot cookie sheet and bake for 5-7 minutes, or until golden brown. Check frequently as the cooking time will depend on your particular oven.Flip over and cook on other side until browned.Remove and serve immediately.