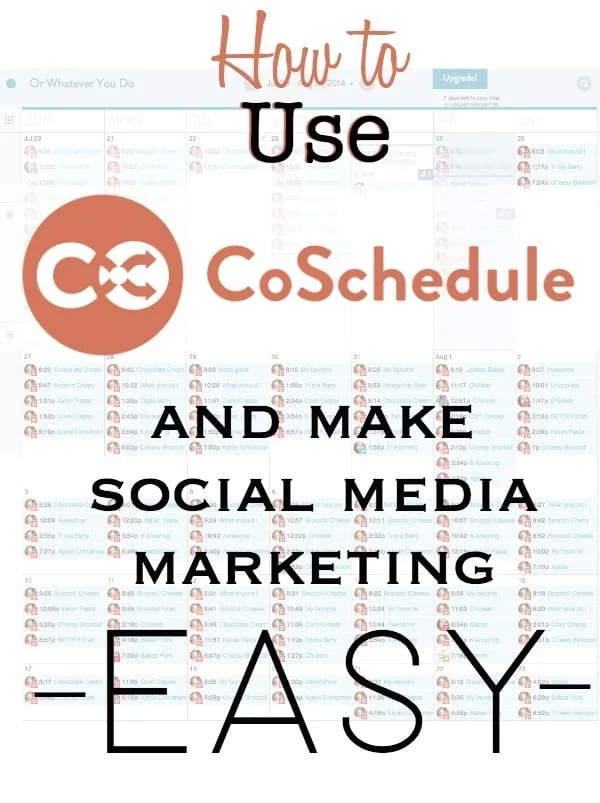 I've got to get this out in the open right now, before I go ANY further. I love this app like bees love honey. I LOVE this app like my kids love spaghetti. This app has completely revolutionized the way I "do" social media.
When I started blogging, it was a hobby. Just something to do to pass the time. As it grew, and I grew, it turned into a passion. Now, I'm working very hard to make it my job, and in order to do that you have to be serious about promotion. Getting your content out there and noticed is HARD!
I don't know about you, but I can't be glued to my computer all day long. I have a lot of things going on in my life, and I have to be able to be online without actually BEING online. CoSchedule has finally allowed me to do that.
Now when I write and publish a post I can schedule my entire social media campaign right then. I can schedule the post to publish on Facebook to both my personal (Hi Mom!) page and my blog's page. I can schedule a different tailored message to go to Twitter, and another image post to go out to Google+.
My absolute FAVORITE feature? The one that makes this an app I will use as long as I am a blogger? CALENDAR VIEW WITH DRAG AND DROP, everyone. DRAG.AND.DROP. It is like the holy grail of social media marketing! I know I sound like a way over the top commercial for this, because I totally am. Only I'm not being paid, I just LOVE it this much and I want all of you to have the "Hallelujah!!" moment that I did when this slid right into place and I realized the potential that I now had right in my hands.
(Update: I AM being paid now. 🙂 The wonderful guys at CoSchedule listened to my pleas, and are actually letting me WORK for them now! This review was written before any of that was even a possibility, but I'm all about 100% honesty here, and didn't want to leave this up without updating. I still LOVE this app just as much, if not more. I could not do blogging without it.)
What about all those posts you have already published?? Oh those? Those are in your calendar as soon as it is installed, just WAITING for you to schedule out into the world and bring back into life.
Here's what I did. First, I downloaded CoSchedule and signed up for their free trial. Then I linked up all of my social networks to the app.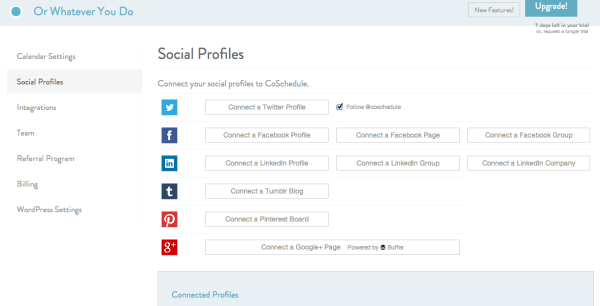 It was completely painless. Just a couple clicks, and you are set.
Next, head over to your calendar view. From here you can see everything you have scheduled, and all of your blog posts! When you first start, it'll look pretty bare. See here? Those are just my blog posts being very lonely.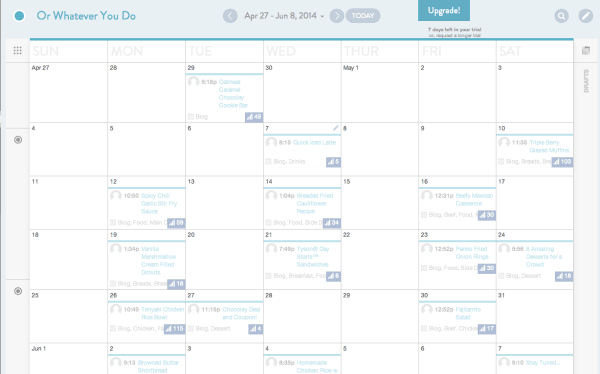 But now you can go in to each of those posts, just by clicking on them (or you can also use the search in the upper right corner, it is awesome!) and schedule away. Pretty soon YOUR CoSchedule calendar will look more like this.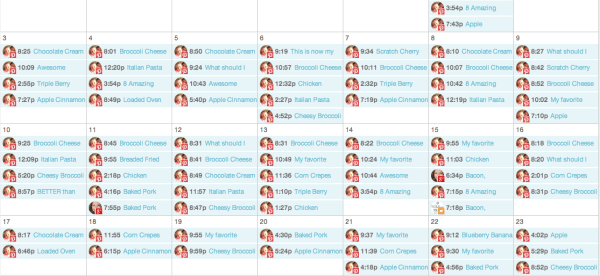 Plus now as an added bonus if you contact CoSchedule and have any questions or concerns, chances are good you will be emailing/chatting/messaging with me. 🙂 I'm also around on CoSchedule's Twitter account, so feel free to reach out and say hello! I'd love to hear from you.