What's Smokin' Weekends are the weekly contest where members of our Easy Traeger Recipes Facebook group get to show off their weekend cooking skills!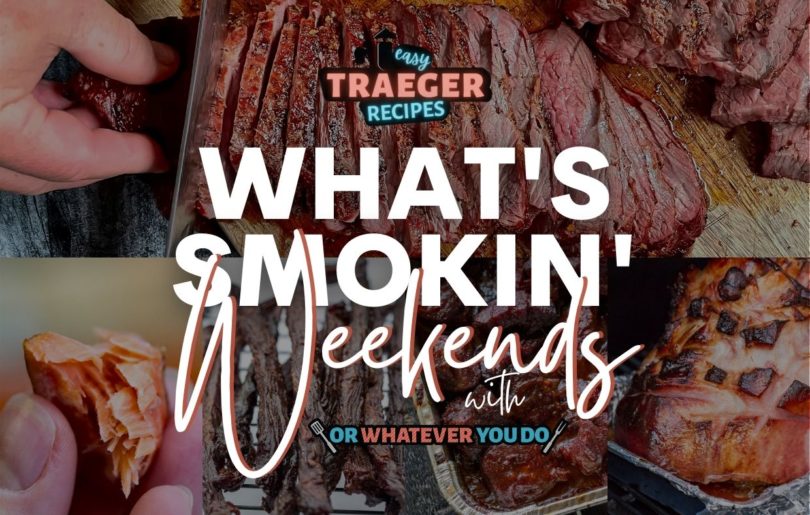 Welcome to the What's Smokin' Weekends Photo Contest!
How to participate
Join the Easy Traeger Recipes group on Facebook
Smoke something over the weekend
Take some pics of your creation
Put them up as a NEW POST over the weekend
(don't post it as a comment on the announcement post or anyone else's post)
Use the #whatssmokinweekends hashtag
(check your spelling!)
Your new post must include the RECIPE (if it is your own creation) or a LINK to the recipe you used
(Do not post a screenshot of a website. That's not nice.)
Please only one submission per person per week.
You can include photos of multiple dishes in one entry, though!
How do you win?
Our judge(s) will evaluate the submissions based on many factors including but not limited to the following:
Photo quality
These do not need to be professional photographs, but try to make them look appetizing! Want to improve your food photography? Here are some tips for using an cell phone to take amazing food photos!
Creativity
Did you really step outside the box and create something unique? Or did you take a classic dish and make it the BEST version it could be? BONUS.
Recipe included
This group is around to share recipes, ideas, and inspire each other! Including a link to the recipe you used or sharing your own recipe is how we all learn and grow.
Engagement
Share your post with your friends or in other grilling groups! The more comments, likes, and shares your post get, the better your chances of winning!
How to collect your prize
If you participate in the contest, you'll need to fill out the form here so I can mail you your prize. You'll get a little something just for participating, so make sure to fill out the form completely!
Want to be a judge?
Message me on Facebook if you'd like to be a judge!
Do you want to sponsor a prize?
Does your company want to sponsor one of our prize packs for the winner? Please contact nicole @ orwhateveryoudo . com for information on sponsorships!
Winners Circle
Every week we have participants vying for the big prize, and the #WhatsSmokinWeekends bragging rights! This is our winner's circle where we'll be sharing the winners, their winning recipes and the photos that won the contest.
Week 1
Dave McDaniel shared this amazing Prime Brisket and a Smoked Deep Dish Apple Pie!
Week 2
Adam Lancaster and his smoked ice won everyone over for week 2, and he took home the main prize pack!
Week 3
This week we had a sponsor AND started to request that everyone share their recipes with us, so we can all cook along with the winning recipe!
Thanks to Inkbird for sponsoring our prize pack, and congrats to Brandon Hansen, who took home the main prize with his Dr. Pepper "Beer" Can Chicken.
Smoked Dr. Pepper Beer Can Chicken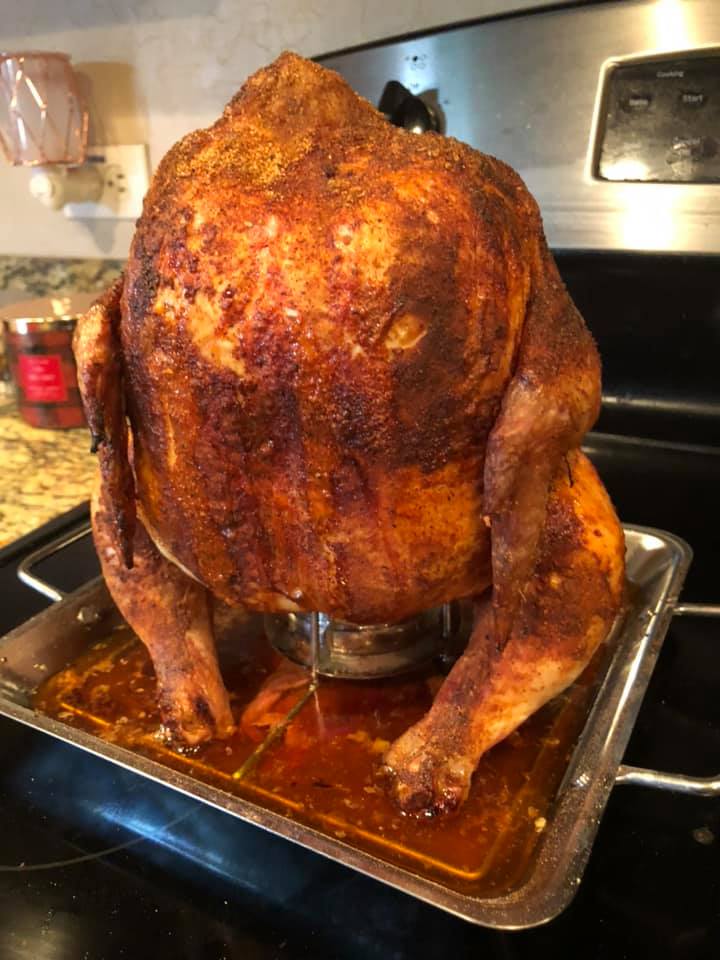 Total Time
2 hours
10 minutes
Ingredients
1 whole chicken
Killer Hogs "The BBQ" Rub
10 ounces Dr. Pepper
4 potatoes
Instructions
Preheat your grill to 350°.
Add a generous amount of Killer Hogs "The BBQ Rub" to the entire chicken, including the cavity.
Pour 10oz of Dr. Pepper in the can for the chicken stand and then put the chicken on the stand.
Add 4 potatoes coated with olive oil, sea salt, and freshly ground black pepper to the stand. Remove potatoes after 1 hour.
Cook chicken and potatoes on the Traeger at 350 degrees until the internal temp of the chicken is 165 degrees.
Remove chicken and then let rest for 10 to 15 minutes.
Notes
Recipe courtesy of Brandon Hansen.
Recommended Products
As an Amazon Associate and member of other affiliate programs, I earn from qualifying purchases.
Nutrition Information:
Yield:
4
Serving Size:
1
Amount Per Serving:
Calories:

654
Total Fat:

23g
Saturated Fat:

7g
Trans Fat:

0g
Unsaturated Fat:

14g
Cholesterol:

153mg
Sodium:

562mg
Carbohydrates:

56g
Fiber:

5g
Sugar:

12g
Protein:

53g
Nutrition data provided here is only an estimate.
Week 4
Aaron K White took home this week's trophy with these delicious wings!
Yield: 6 servings
Smoked Chicken Wings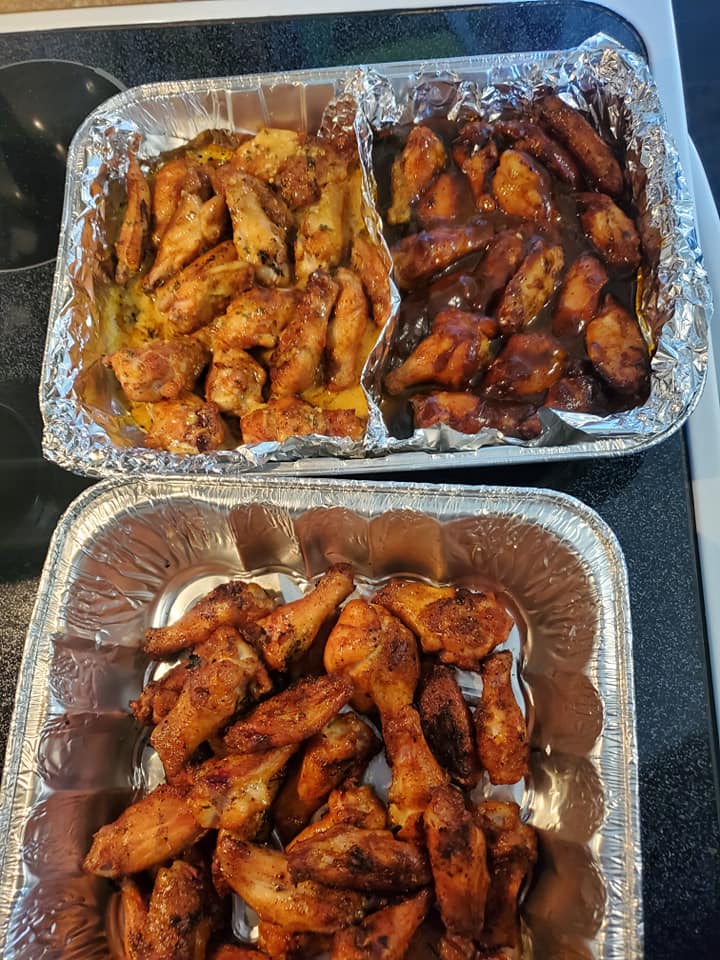 Ingredients
10 pounds chicken wings, patted dry
Pinzinos Dry Rub (or your favorite dry rub)
Sweet Baby Ray's Garlic Parmesan Wing Sauce
Jerk Wing Sauce
Instructions
Preheat your smoked to 180°.
Smoke for one hour.
Turn up the heat to 400°. Cook wings for an additional 30 minutes.
Sauce and serve!
Week 5
The Spice Guy kindly sponsored the prize pack this week, and Sarah Richmond is the big winner! She made Smoked Lasagna and Beer Can Chicken for us!
Beer Can Chicken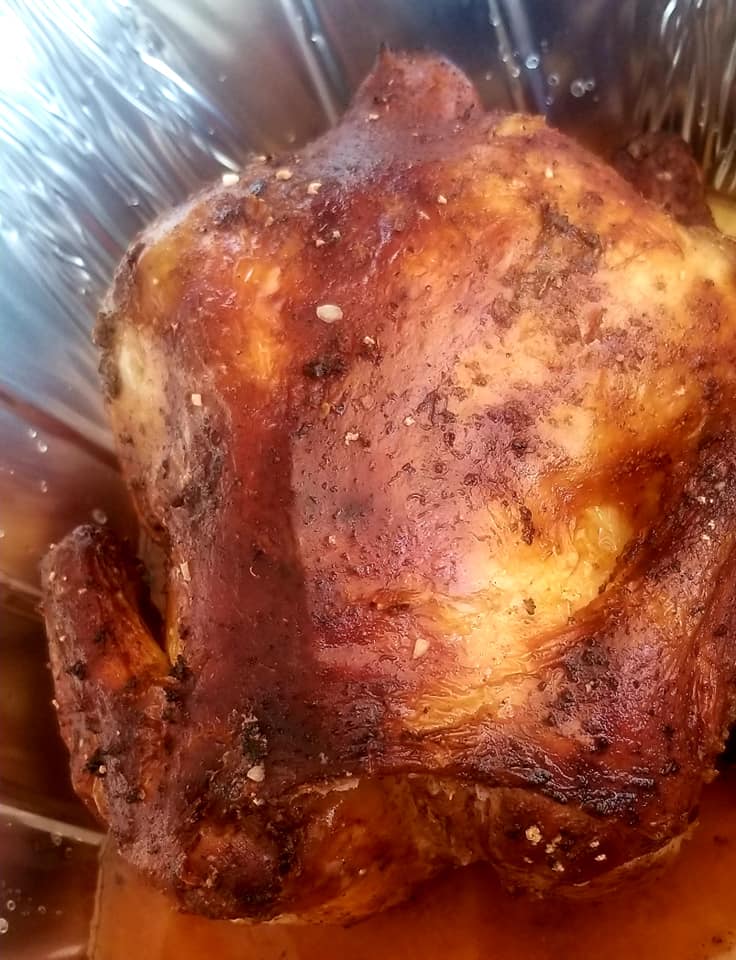 Ingredients
Whole chicken 4-6 lb.
Butter
Garlic paste
Cajun seasoning or any other chicken seasoning you prefer
1/2 can of beer
Instructions
Pat chicken dry with paper towels and place on a sheet pan.
Melt butter and garlic paste together...using an injection syringe inject the chicken with the garlic butter mixture. After that I use either what's left of the garlic butter or just some softened regular butter and rub it all over the chicken. Try to get under the chicken skin with the butter where you can.
Season chicken with your preferred chicken seasoning all over, both sides, and under the skin.
Open a can of beer and pour about 1/2 a cup into a glass.
Pour about a teaspoon of dry rub into the beer. Hold the chicken above the can of beer and slide the chicken over the can. Place on a cookie sheet and let sit for about 20 minutes.
Set your smoker to 350 degrees and preheat, lid closed, for about ten minutes.
Place the chicken in the smoker and cook for about 60 minutes or until the internal temperature reaches 165 degrees in the thickest part of the breast.
Remove from the grill and let rest for about ten minutes. Enjoy!
Notes
This recipe was provided by the contest winner and has not been tested by OWYD.
Yield: 12 servings
Smoked Lasagna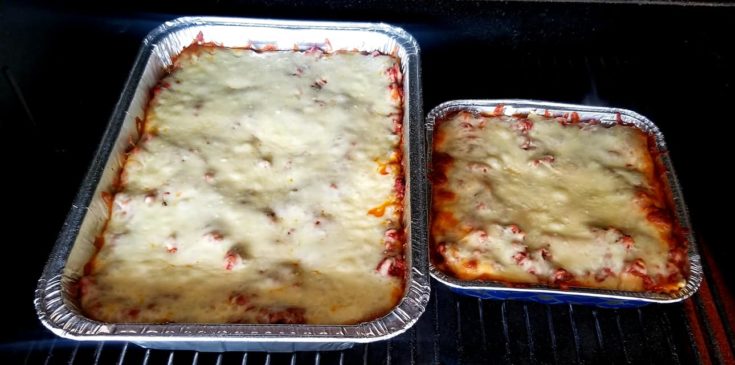 Ingredients
2 pounds ground beef
1 onion
1 green pepper
2 cups sliced mushrooms
15 ounces ricotta cheese
6 Swiss cheese slices
6 Provolone slices
6 cups shredded mozzarella
Lasagna noodles
2 - 8 ounce cans tomato paste
1 package of McCormick thick and zesty spaghetti sauce mix
Garlic
garlic salt
pepper
onion powder
garlic powder
Italian seasoning
Instructions
Boil lasagna noodles in a large pot of water. I add a little olive oil and kosher salt to my water before I put it on the stove. Boil noodles as directed on pkg, drain, do not rinse.
While noodles are cooking, brown ground beef over medium heat, drain. Add ground beef back to skillet and add your onion, green pepper, and mushrooms. Add tomato paste, approx. 3/4 cup water and spaghetti sauce mix...add slowly and then add additional water if too thick. Stir it all together and add any spices or seasonings. Heat on medium for 15 minutes. Remove from heat.
To assemble lasagna grease a 9x13 foil pan with cooking spray. Put half the meat sauce mixture spread over the bottom of the pan. Then swiss slices, a layer of noodles, spread ricotta cheese over noodles, provolone slices, another layer of noodles. Then spread the remainder of the meat sauce and put shredded mozzarella on top.
Preheat your smoker to 350 and cook uncovered for about 45 minutes to an hour. Remove when the cheese starts browning on the edges and it's bubbling.
Enjoy!
Notes
This recipe was provided by the contest winner, and has not been tested by OWYD.
Week 6
This week's winner was Zachary Johnstone with this incredible corn on the cob!