Print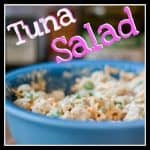 Tuna Salad
Easy side dish for all of your summer get-togethers!
Boil noodles until al dente. Drain and rinse in cold water.

Mix together the mayo, mustard, onion, garlic, garlic salt, parsley, onion powder, salt, and pepper. Stir until combined.

Mix the tuna, noodles, and sauce together, then add frozen peas, cheese, and pickles. Stir and enjoy!