I received a complimentary Venta Airwasher in exchange for my honest review. All opinions are my own. My newest contributor, Brad Hagmann, wrote this review and received this Airwasher.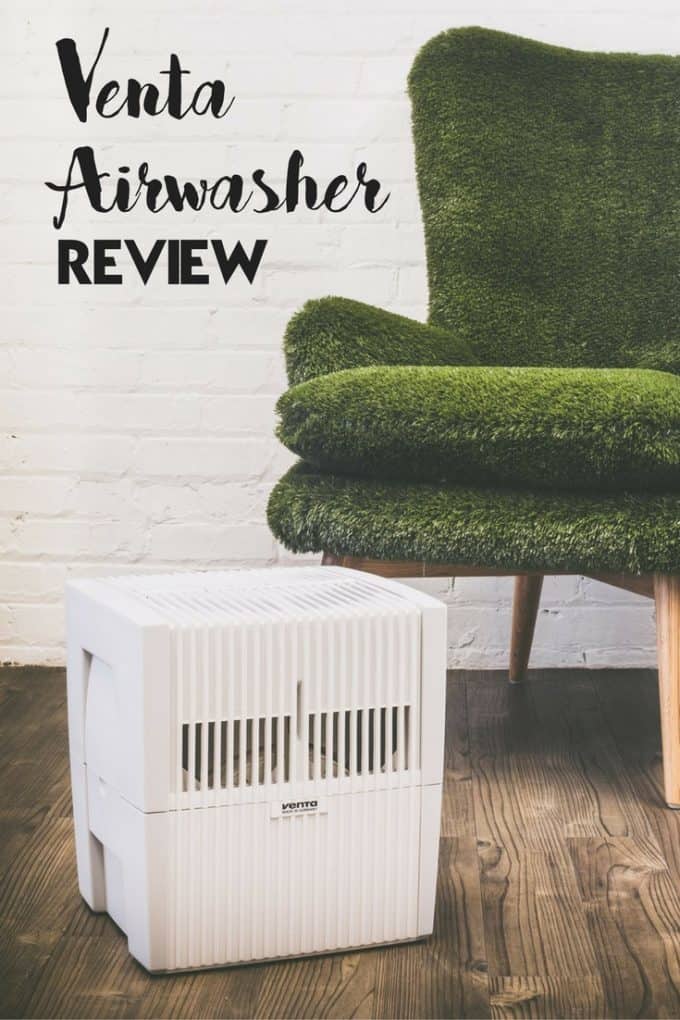 Venta Airwasher Review
Living in Wisconsin and having four true seasons is amazing, but this also means that we have four different seasons of allergies and several months of cold, dry, air to deal with.
We tried a combination of "big box store" humidifiers, air cleaners, and expensive furnace filters, but none of them has worked as well as the Venta Airwasher.
The Venta Airwasher is the most powerful 2-in-1 humidifier and purifier on the market. Developed in Germany, it literally washes the air in your home using only water. It works together with your seasonal heating and cooling to properly rehydrate and wash your air, removing dust, allergens and bacteria. The best part is…no filters to replace.
The Benefits of the Venta Airwasher
Removes dust, allergens, and bacteria from the air in your home

Properly humidifies your home, no matter the season

Quiet Operation, 24/7

Easy to fill and clean, with most parts being dishwasher safe!

Love essential oils? Venta offers a line of oils specially made for your Venta.

10 Year Warranty

No filter to replace…ever!
I met the Venta Airwasher team at a conference and was instantly intrigued and a little skeptical.
How could this one device remove allergens and dust from the air, and also use that same water to properly humidify my home? When they offered to send me one to try I could not pass up on the opportunity.
After unboxing the Venta LW45 it didn't take long to get it up and running. It was simply a matter of removing the upper housing, filling the bottom reservoir with water, adding the water treatment additive (included), finding a spot in the middle of our living room, and turning it on to one of the three speeds.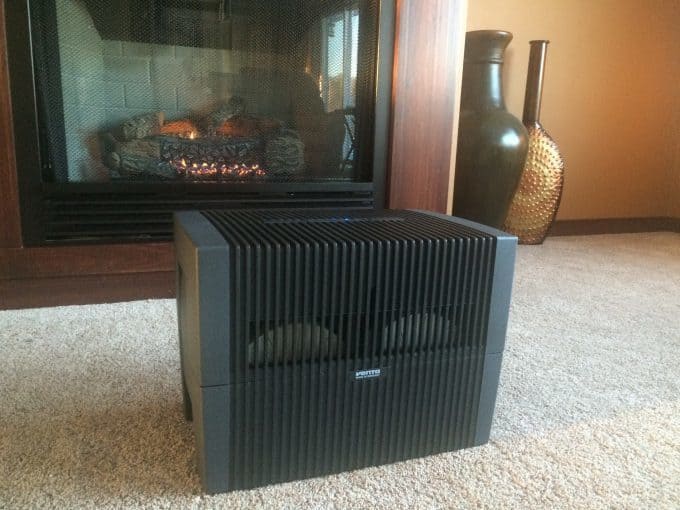 Next, it was up to the engineer in me to try to figure out how this works, and instantly could see the genius of the design.
Inside the reservoir of the Venta Airwasher are two plastic wheels with several discs, making for a ton of surface area.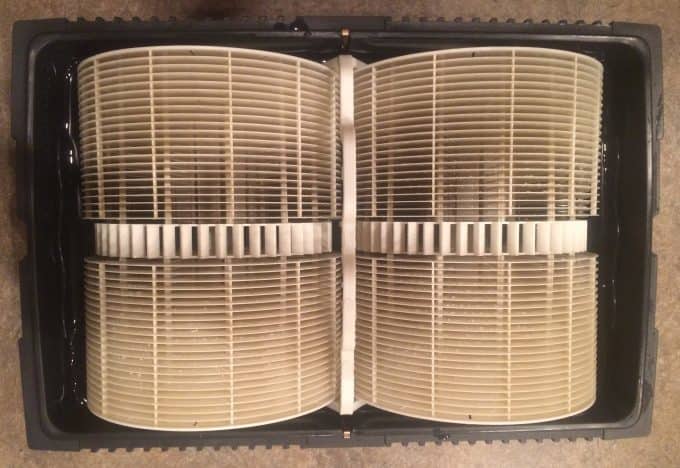 These two wheels spin around inside of the pool of water inside of the reservoir, and the quiet fan of the Venta Airwasher draws your home's air over these discs allowing the gross dust and allergens to cling to the water on the discs. As the wheels inside spin, that nasty dust and bacteria is deposited in the water.
At the same time the fan is blowing your dry air over the plates, picking up moisture, and allowing it to exit out of the Venta Airwasher to help to correct any dryness in your home's air. Because the dust and bacteria are heavier than the air, it can't be evaporated, and won't be able to exit the Venta Airwasher.
When the water runs out, the unit automatically shuts itself and an orange light indicates that the unit needs to be refilled. What you are left with is a small amount of dust and allergen filled water that you simply dump down the drain. You simply refill the Venta Airwasher, place the upper housing back on, and turn the unit back on with the press of a button.
Now, to show you how well the Venta Airwasher works at pulling nasty airborne particles out of the air, I dumped what was left of the water into a glass. What was once fresh tap water now look like this. Look at the nasty stuff the Venta pulled out of the air! To think before the Venta my family was breathing this stuff in. Yuck!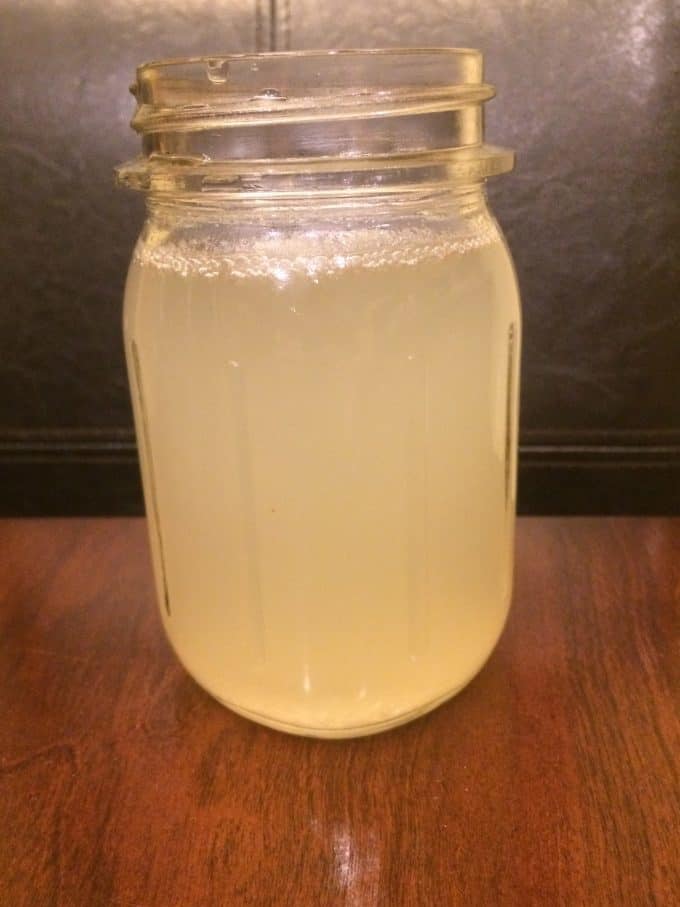 The Venta Airwasher is extremely cost effective to run.  Since water is your filter, it will need to be filled up.
I noticed that during the coldest, driest winter months I had to refill the Venta Airwasher about once a day. I simply carry the bottom reservoir to my kitchen counter, fill it up, and carry it back to my living room. If you wanted you could certainly carry a couple of pitchers of water to the unit.
Venta suggests replacing the water treatment additive about every 2 weeks, which would cost you about $50 – $60 per year. This can be purchased from amazon.com or directly from Venta.
Watch this video to see how the Venta Airwasher works.
We've been using the Airwasher in our home for several months now and we are in love with it! We've noticed an improvement in our air quality. We have dark wood trim in our house, and immediately after using the Venta Airwasher daily we noticed that we did not have to dust nearly as often as before. This alone was enough for me to give the Venta Airwasher a thumbs up!
My daughter has always had a nighttime cough during allergy season or when she would get a cold. We noticed that this has helped to alleviate that cough and helped her (and us) sleep better. The air is noticeably more moist in our home, and we no longer wake up with a dry scratchy throat each morning.
If you suffer from dry winter air in your home, and the cough, dry throat, sniffling and sneezing of  cold and allergy season, I would definitely recommend you give the Venta Airwasher a try!