These Traeger Butter Swim Biscuits are going to become a weekend staple in your breakfast routine. They are simple to throw together and begging for a giant heap of raspberry jam or to be turned into the most epic of breakfast sandwiches.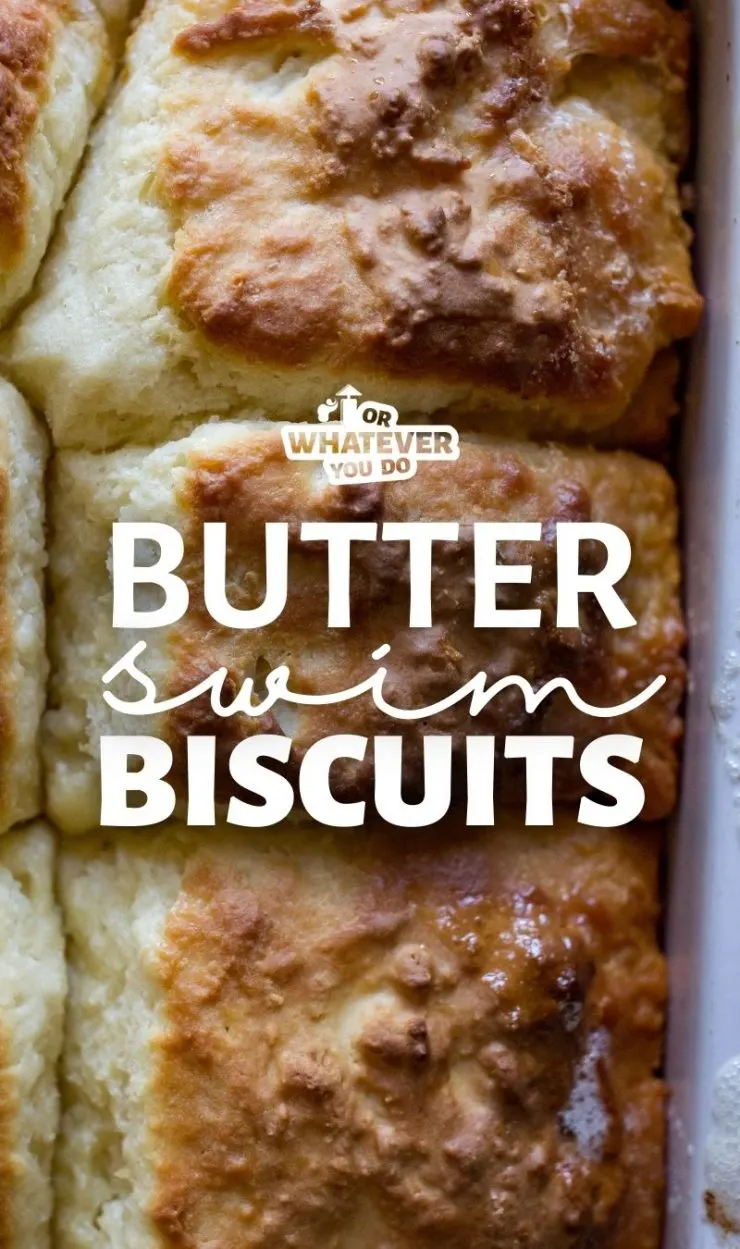 Traeger Butter Swim Biscuits Recipe
As soon as these biscuits came across my FB newsfeed, I knew I had to make them. I don't know about you guys, but I'm in a BUNCH of grilling groups. I just love seeing what people are making, what kind of troubles they are having and questions they are asking, and getting to share some of my cooks with fellow bbq nuts like me.
I have my own group, in fact, called Easy Traeger Recipes that I love spending time in and sharing all of the latest pellet grill recipes that are coming out of our kitchens.
That's NOT the group that I first encountered these Butter Swim Biscuits, however. These were hiding in a group I'm fairly new to, but am now totally obsessed with, Off the Chain Cooking.
It is a more general-purpose cooking group, and has some of the most creative, amazing dishes I've seen in a long time, and all in ONE group.
It is an inspiring bunch to be hanging with, that's for sure, and I highly recommend it if you are bored, need to figure out what's for dinner, or just want to be inspired by some amazing home cooks. I'll be over here making stuff like this and telling all of those rockstars to start food blogs already.
All of this to say – this recipe certainly didn't originate with me. I can't actually figure out who did make the first published version of this, but legend says it was possibly on All Recipes or a family recipe posted on one of the GINORMOUS Facebook Recipe Groups. It got 125k shares. In a group. That's bananas. There are tons of these around the web, and this one is mine.
My Traeger Butter Swim Biscuits utilize some of that dry buttermilk that I stocked up on back in March (coming in handy again, in November, in another 2020 surprise that no one is surprised by.)
It was reconstituted and worked perfectly for these biscuits. That makes these a fantastic choice for pantry cooking, especially if you keep a lot of butter around.
That might just be me. We have at least 5 pounds of it in the house at all times (or strive to).
More Easy Traeger Recipes here!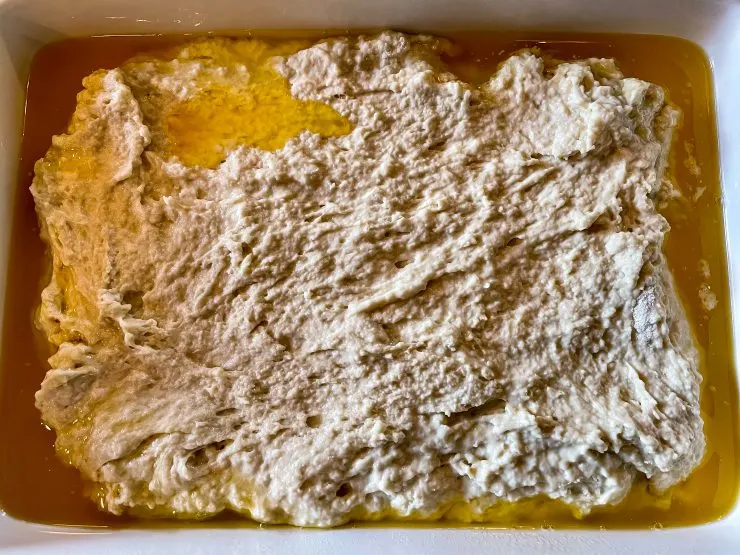 What if you are terrible at making biscuits?
I (used to) suck making biscuits too, but guess what?
You don't have to be a biscuit master to make these biscuits.
You can be the WORST at making biscuits, and these will still be amazing.
Also, you're in good company. Fellow (soon-to-be-former) biscuit failures, don't forget to say "hi" in the comments and let us know how easy these were and how much you loved them wholeheartedly, k?
Get my easy Side Dish recipes!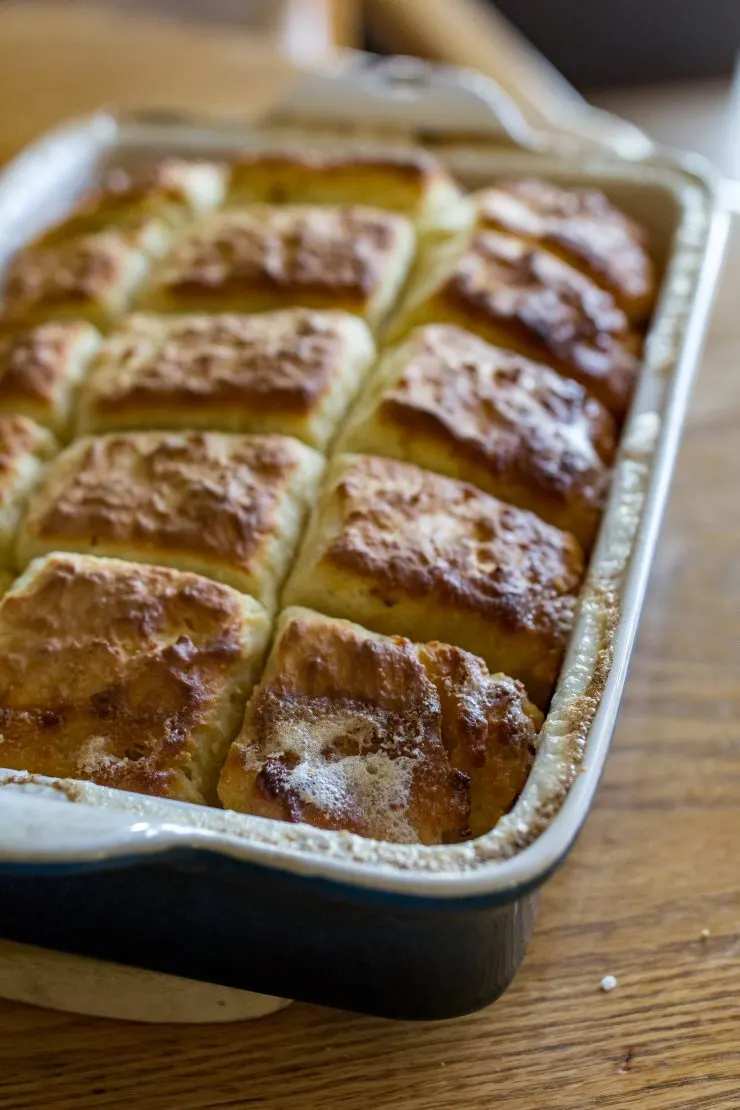 Butter Swim Biscuits Shopping List
Follow me on Instagram!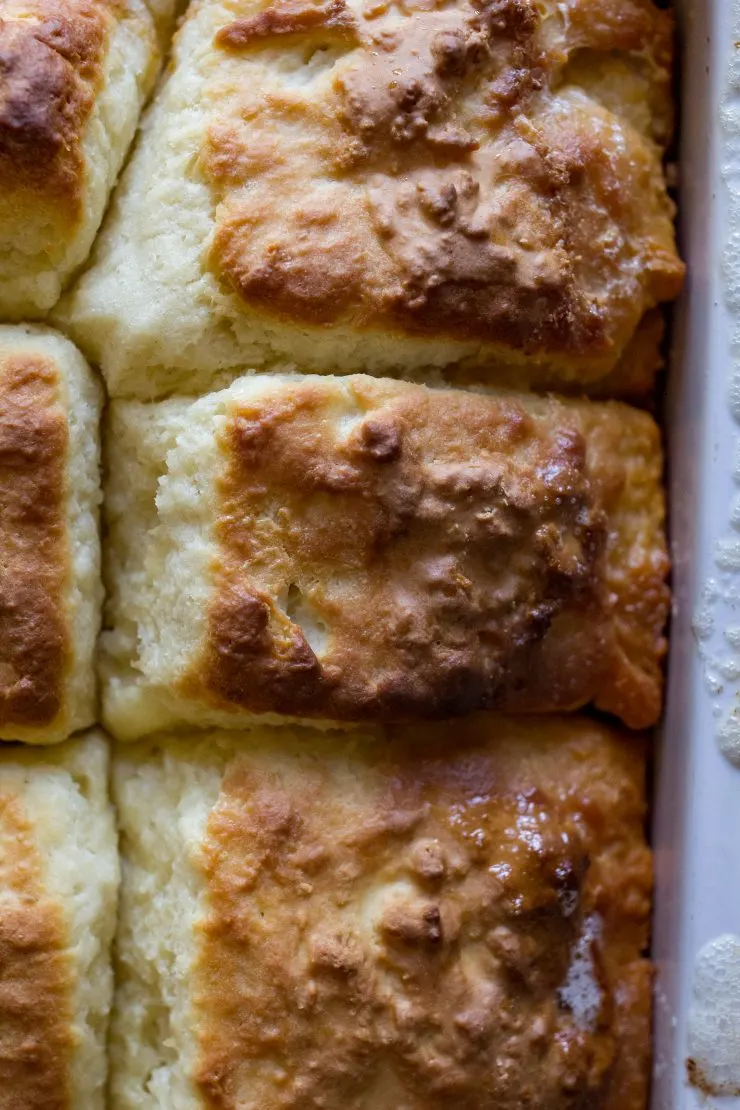 How to make butter swim biscuits
Like I said above, these are simple.
Mix the dry.
Dump in the wet. Stir a little.
Pour melted butter into a big rectangular pan.
Dump biscuit dough on top.
Spread it. Cut it. Bake it. Eat it.
More great BREAKFAST RECIPES here!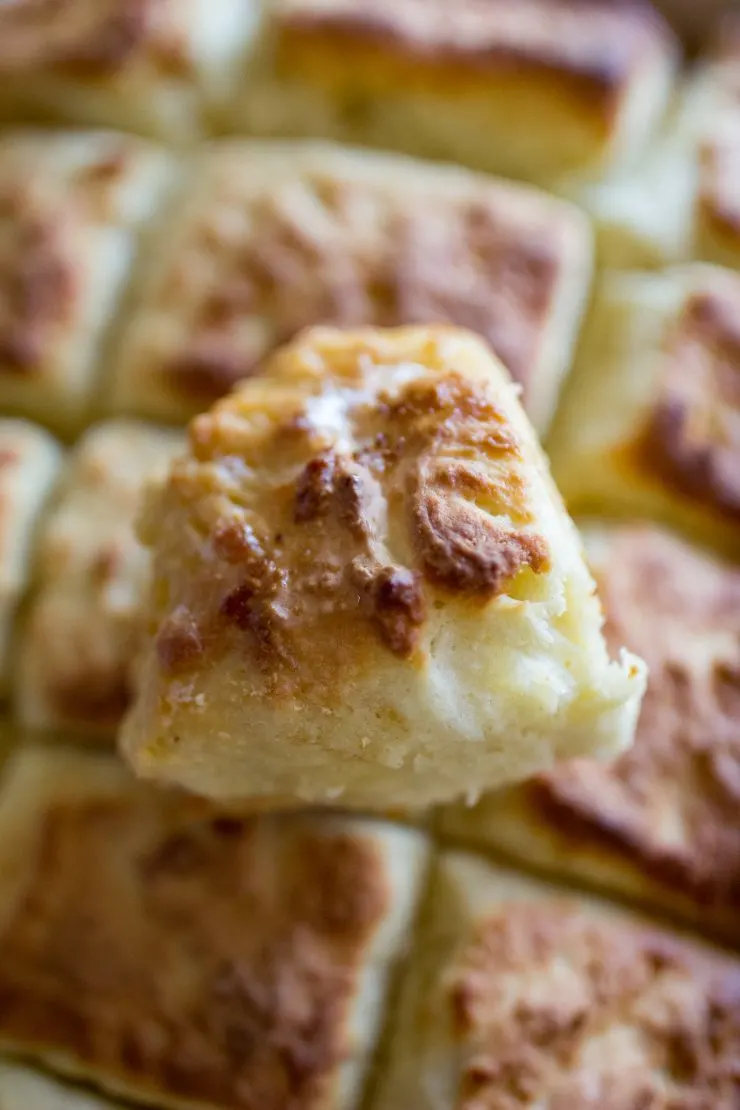 What if you don't have a pellet grill?
This recipe was initially made in a traditional oven. You can follow the same temp guides for your range if you'd rather cook them there.
You can also cook these on other types of grills, just make sure you have a feel for the temperature control and hot spots, and turn the pan as needed so that they do not burn.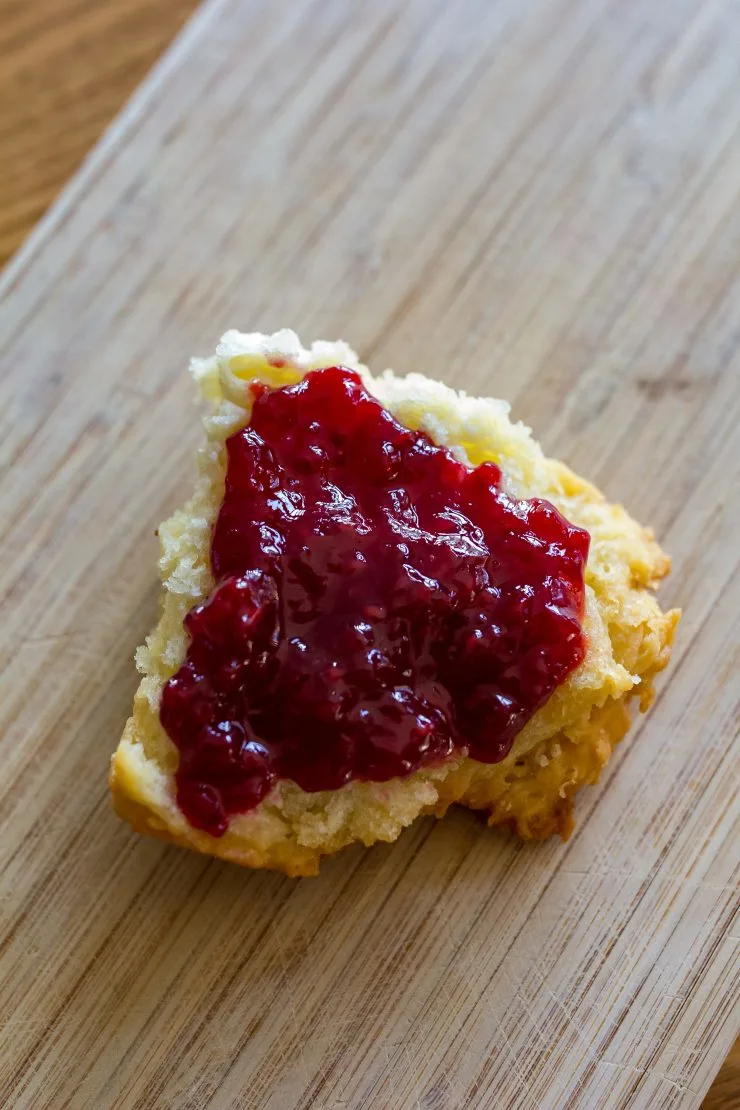 Tips for making the BEST Butter Swim Biscuits
Don't overmix
Biscuits are ALL about the texture, and the texture is all about NOT OVERMIXING THE DOUGH. So stir it as little as you have to, to make sure all the dry ingredients are no longer dry at the end.
Use butter or go home
No margarine allowed, people. Just say no.
Measure accurately
To do that you have to do the old, flour fluff + gentle scoop into measuring cup + level off the measuring cup as they taught you back in HomeEc if you are old enough (like me) to have had Home Ec.
Split them with a fork
Just like with an English Muffin, you're going to want to split these with a fork by sticking a fork into them all the way around the biscuit before splitting it in two.
Join our Easy Traeger Recipes Facebook Group!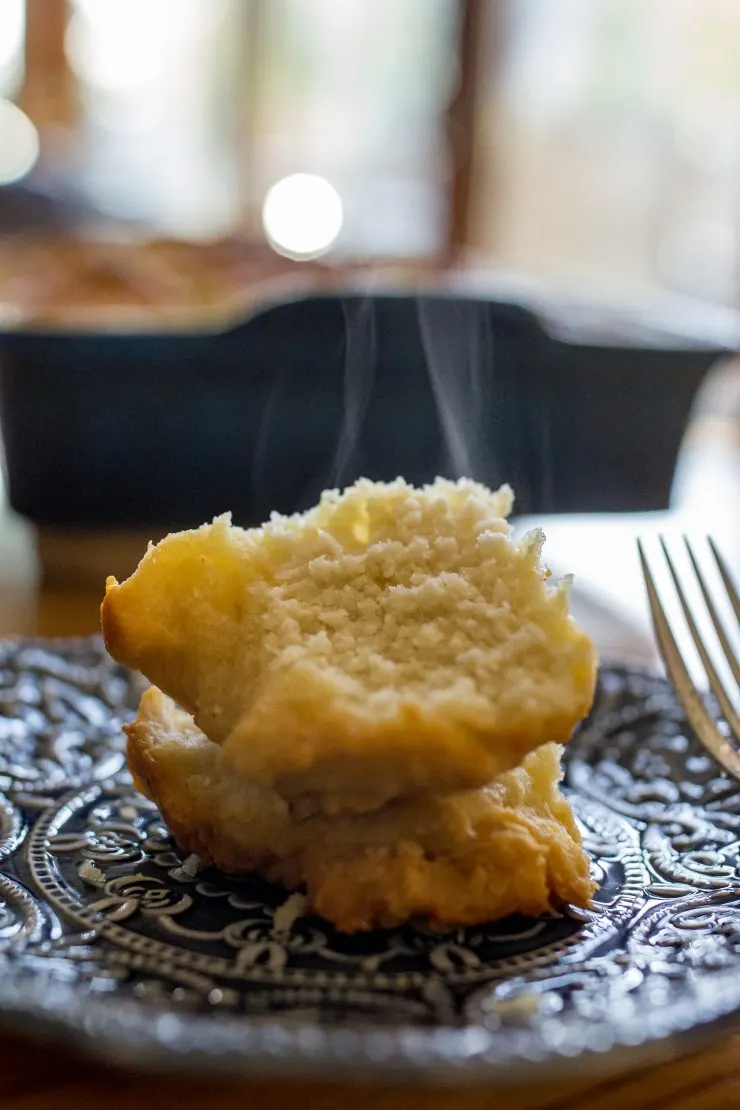 How to store butter swim biscuits
Butter Swim Biscuits should be stored in an air-tight container to prevent them from drying out or getting stale. If you have leftovers, they'll taste better the 2nd time around if you give them a little re-heat prior to eating.
The air fryer or oven is the best spot for reheating biscuits, but I wouldn't turn down one that did a couple of circles around the microwave either.
Serving suggestions
Personally, these biscuits are perfect served up with some butter and a generous scoop of Raspberry Jam. It is pretty fantastic, and I'm a fan.
These also make GREAT breakfast sandwiches too, so fire up that Blackstone, make some omelets, and whip up some Traeger Bacon too.
Or, make an epic Smoked Breakfast Fatty, fry up an egg, and make the BEST breakfast sandwich, EVER.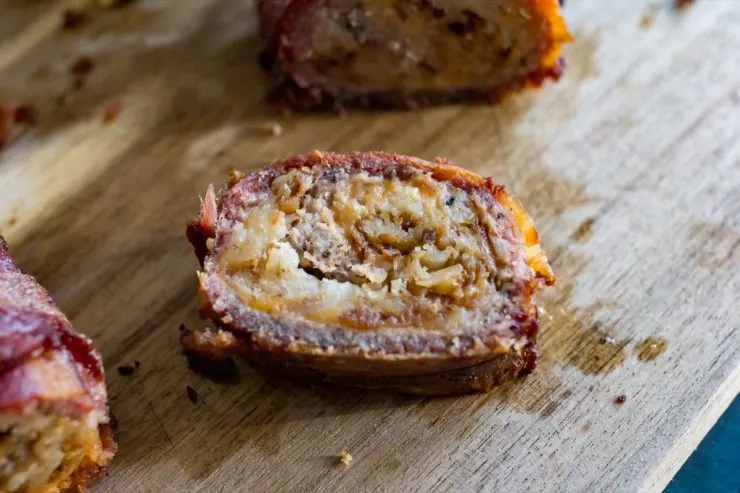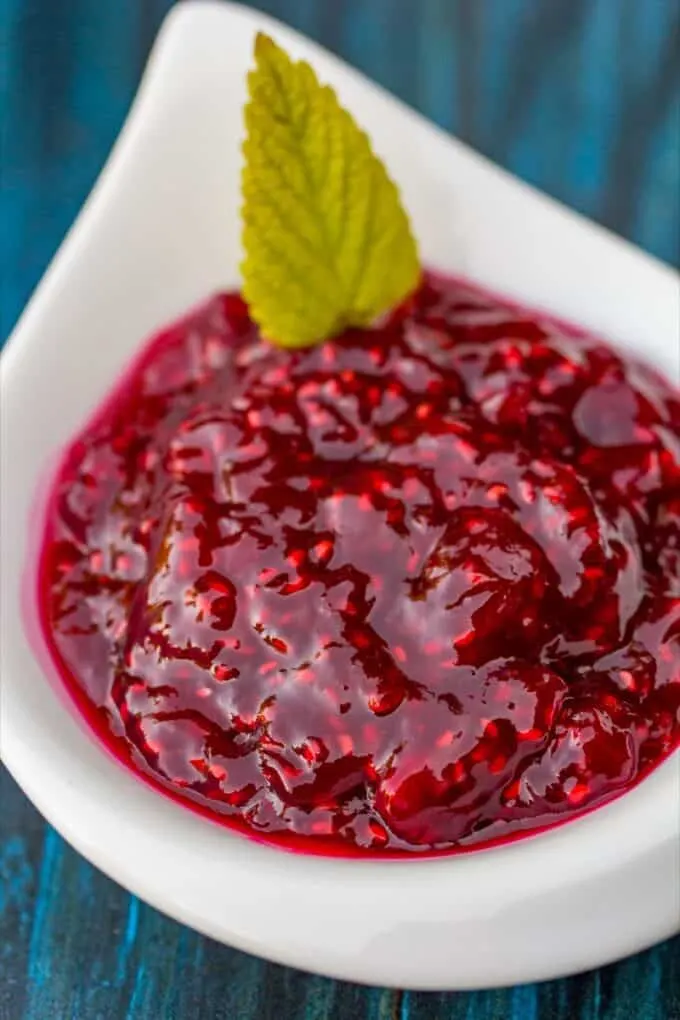 More carbs to love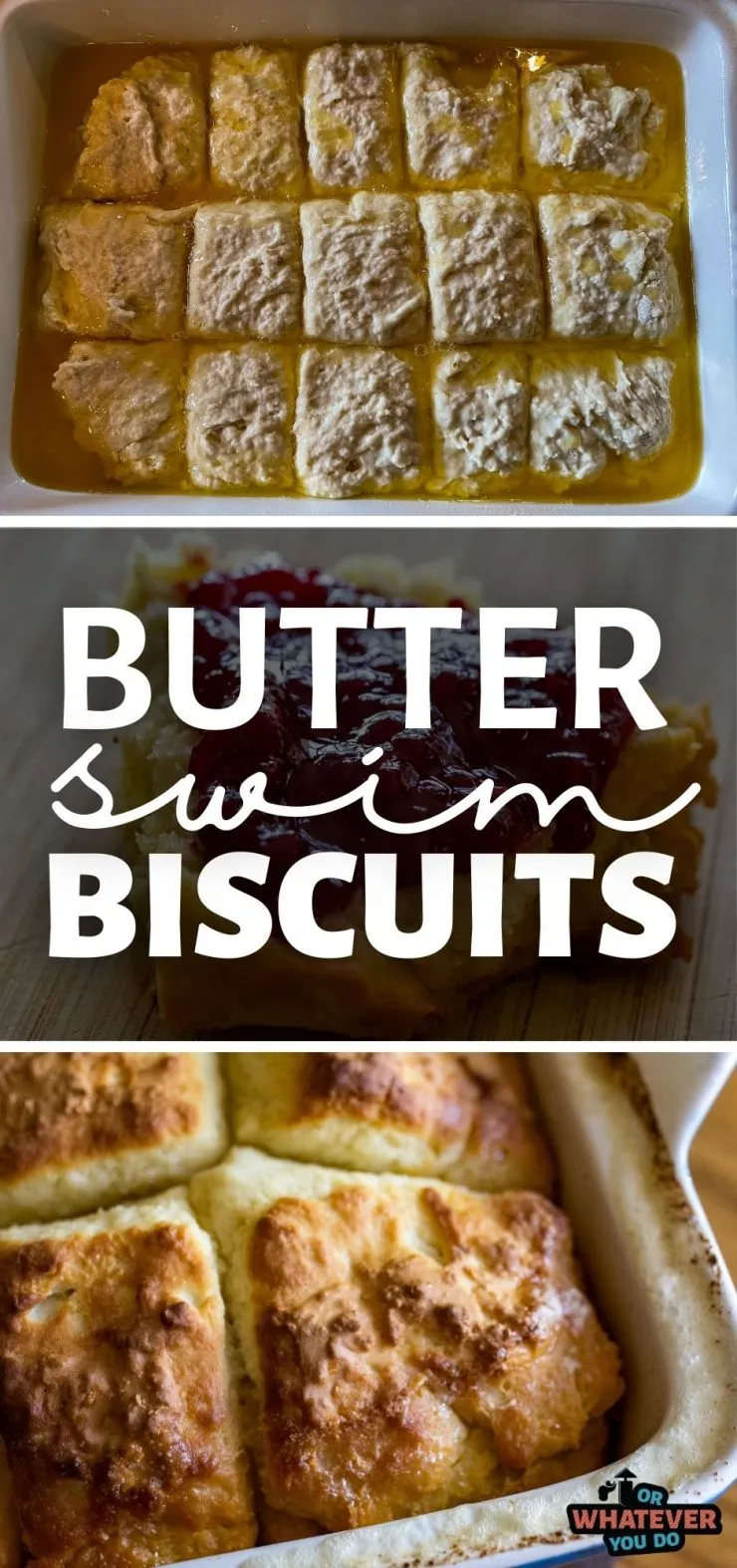 Yield: 15 biscuits
Big Batch Traeger Butter Swim Biscuits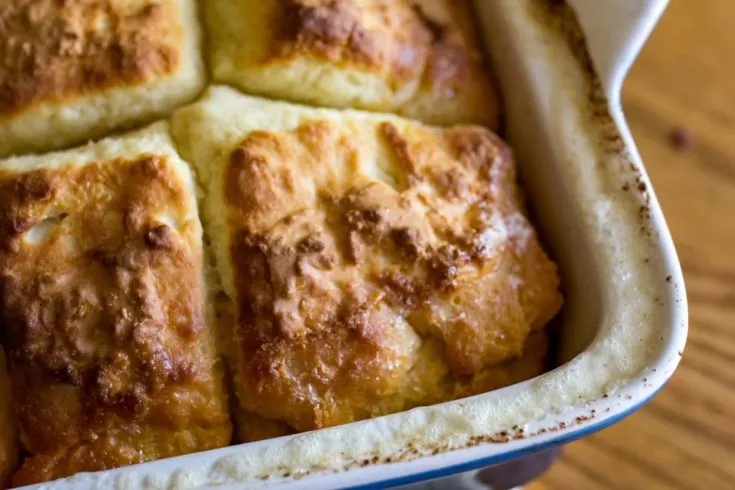 These tender biscuits are cooked in a bath of butter right on our pellet grill! A big batch to share with a neighbor or friend, or to re-heat and enjoy later on.
Ingredients
6 cups flour
4 cups buttermilk (reconstituted is fine for these)
2 sticks salted butter
3 tablespoons baking powder
3 tablespoons brown sugar
1 1/2 tablespoons salt
Instructions
Preheat your Traeger to high. Ideally, you want it to get as close to 450° as you can. Melt your butter and set aside.
Mix together the dry ingredients. Pour in the buttermilk and stir until a dough forms and all of the dry mix is moistened. Don't overmix!
Spray a high-sided 10x13 inch grill-safe pan with cooking spray. Pour in the butter.
Pour in the biscuit batter and spread gently and evenly across the pan.
Using a bench scraper or metal spatula that's been coated in butter, cut the biscuits into 12-15 squares, letting a little melted butter run down into the cuts in between the separate biscuits.
If you have a top rack, place the pan on the top rack of the grill. If you don't have a top rack, create some additional space between the fire and the bottom of your biscuits by inverting a large rectangular cake pan on the grill grates and then placing your biscuits on top of that.
Bake for 25-30 minutes, or until the biscuits are raised and the tops are golden brown. Rotate the pan halfway through cooking for best results.
Let sit for 5 minutes before serving.
Nutrition Information:
Yield:
15
Serving Size:
1
Amount Per Serving:
Calories:

326
Total Fat:

13g
Saturated Fat:

8g
Trans Fat:

0g
Unsaturated Fat:

4g
Cholesterol:

35mg
Sodium:

1150mg
Carbohydrates:

44g
Fiber:

1g
Sugar:

5g
Protein:

7g
Nutrition data provided here is only an estimate.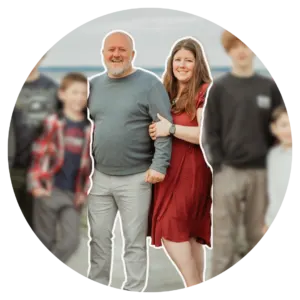 Nicole Johnson, a self-taught expert in grilling and outdoor cooking, launched Or Whatever You Do in 2010. Her blog, renowned for its comprehensive and creative outdoor cooking recipes, has garnered a vast audience of millions. Nicole's hands-on experience and passion for grilling shine through her work. Her husband, Jeremiah Johnson, also plays a pivotal role in recipe development, adding his culinary flair to the mix. Together, they form a dynamic duo, offering a rich and varied outdoor cooking experience to their followers.