Blackstone Shrimp Fajitas have all the great flavors of the best fajitas you have ever enjoyed in a restaurant, but all at home.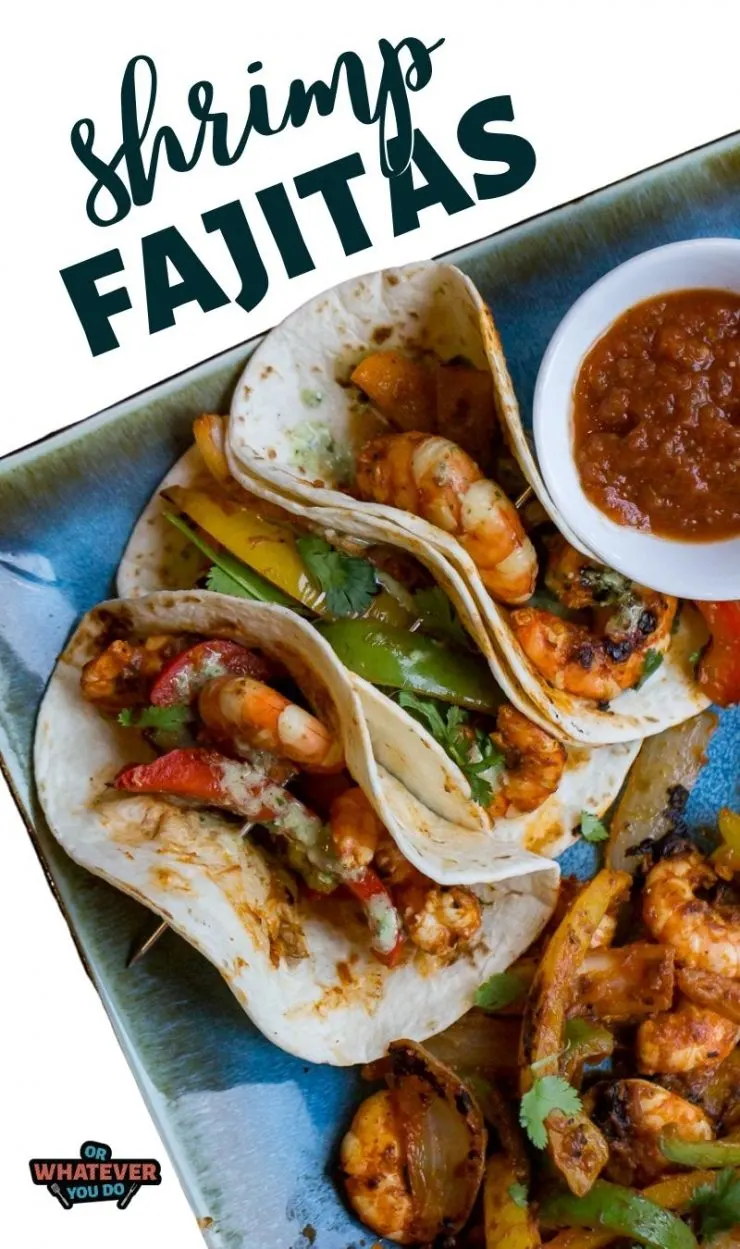 Blackstone Shrimp Fajitas Recipe
In any Mexican restaurant, anytime the fajitas come out of the kitchen, then everyone stops and stares and sniffs the air. The sound of the sizzling shrimp, the smell of the peppers and onions, the steam billowing out. Your mouth can't help but start watering.
Whenever we go out to eat at a Mexican place, that's the first thing I ask. Do your fajitas sizzle? If not – I'll pass.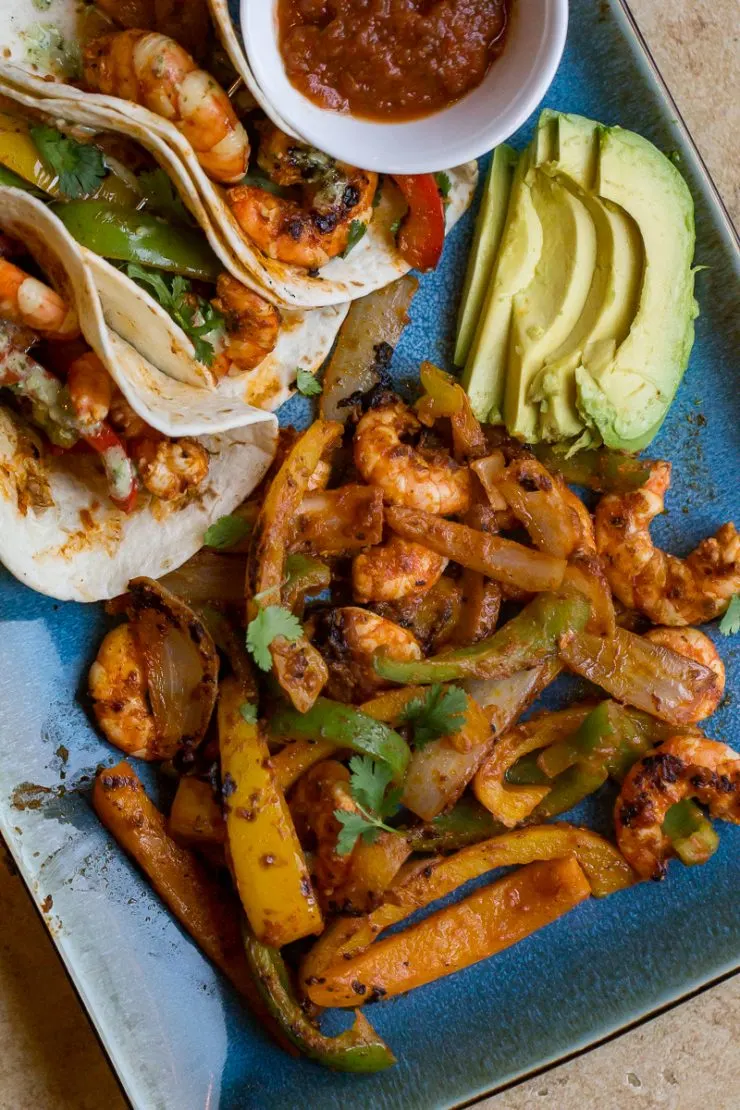 Blackstone Shrimp Fajitas Recipe
If you don't have a Blackstone, you can use any flat top grill. If you don't have a flat top, then a nice hot big cast iron skillet can do the trick on a grill or in the house. This recipe is very versatile.
Blackstone grills are ideal because the heat is easy to control, there's a large cooking surface that stays blazing hot, and they are easy to clean.
You can cook so many different things on it, but it is seriously perfect for fajitas. Shrimp fajitas cook really fast, so this is a perfect weeknight dinner too.
The trick to perfect fajitas is super high heat and getting a quick sear. Prep the ingredients well and you'll just need a few minutes to get the heat up on the grill surface and your dinner will be ready in minutes.
More Blackstone Recipes here!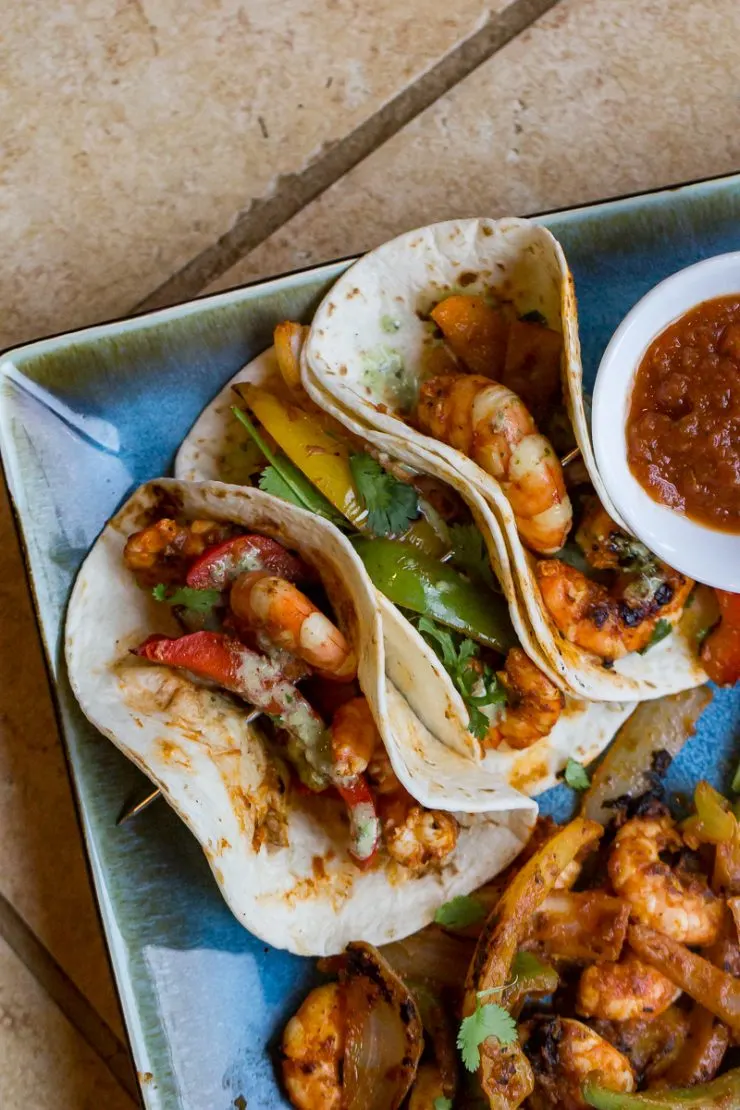 What are fajitas?
Fajitas are a popular Tex-Mex dish and originally featured slices of skirt steak. The term "fajitas" has broadened to include other types of meats and all-veg versions as well. The term roughly translates to "little strips".
At the most basic level, fajitas are grilled on cast iron and the base ingredients include the protein (steak, chicken, shrimp, etc.) and grilled onions and bell peppers.
Typically, fajitas are served with either corn or flour tortillas. Those are used for wrapping up the meat and veggies. No silverware needed from there on in!
Steak Fajitas are always popular, but shrimp fajitas are every bit as delicious.
See all of my SHRIMP RECIPES here!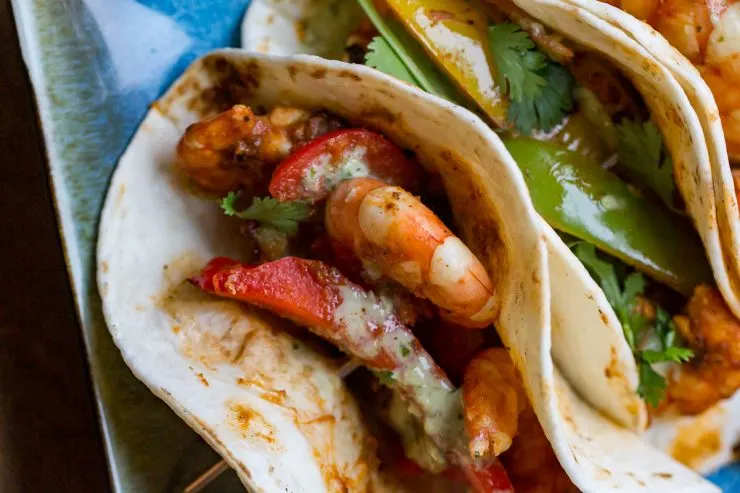 How to season shrimp fajitas
With this recipe, I recommend using the Chile Lime seasoning from Spiceology to season the shrimp. Spiceology does some wonderful spices, and chile-lime is one of the most versatile. If you don't have Spiceology, then you can use a couple of wedges of lime and a sprinkle or three of cayenne pepper or your favorite fajita seasoning blend.
You can also add a bit of salt and pepper, but the chili and lime really stand front and center for fajitas.
More South-of-the-Border Inspired Recipes here!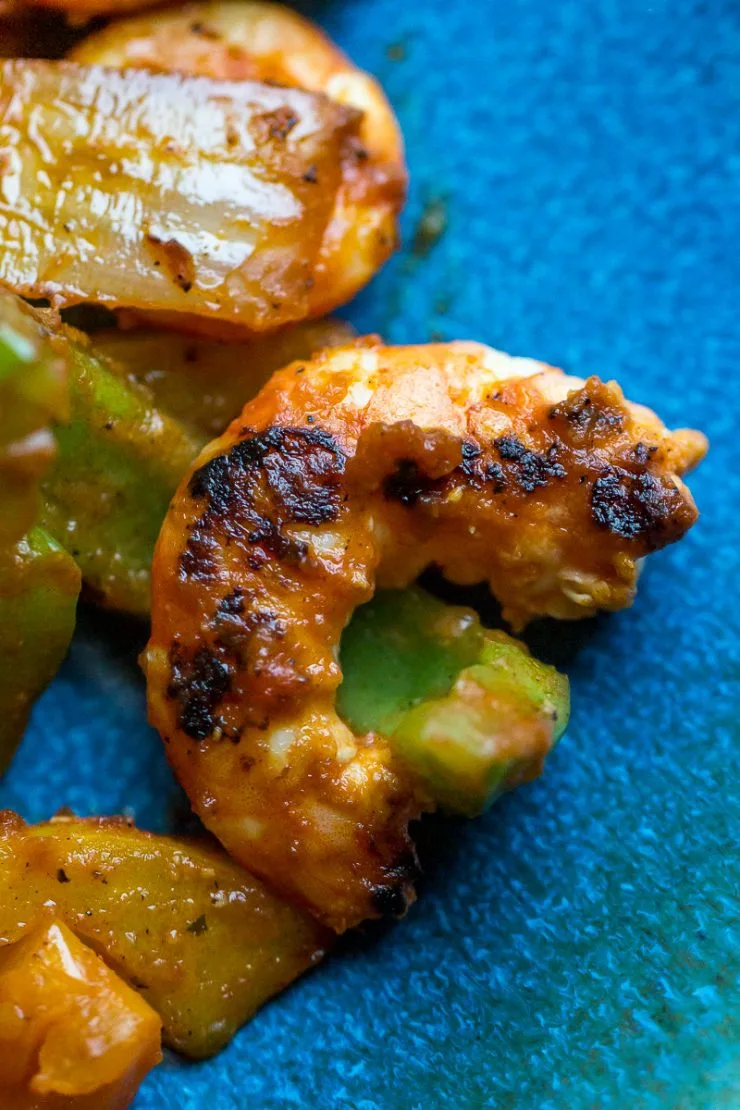 The best shrimp for fajitas
Large shrimp are best for fajitas. You can use the smaller sizes if you want though since everything is getting wrapped up in a tortilla blanket anyway. I just prefer the big ones and I think they are slightly more forgiving than the tiny versions when it comes to overcooking. I recommend anywhere from a 20-24 count to a 12-16 count size. (Count refers to how many shrimp average in a pound).
The medium and larger shrimp have enough meat on them to keep them from getting lost in the onions and peppers too.
Raw shrimp is ideal anytime you'll be doing additional cooking, so saved the pre-cooked shrimp for shrimp cocktail or shrimp salad.
You should remove the shells, tails, and devein them if necessary. To devein them, just run a slim bladed knife or a scissor up the back of the shrimp, digging it in just enough to go under the black "vein" that runs the length of their back.
It isn't actually a vein but it is the intestine, so losing that is a good idea. When you get used to cleaning them then it goes quickly. Put it this way, don't let it stop you from enjoying fresh shrimp!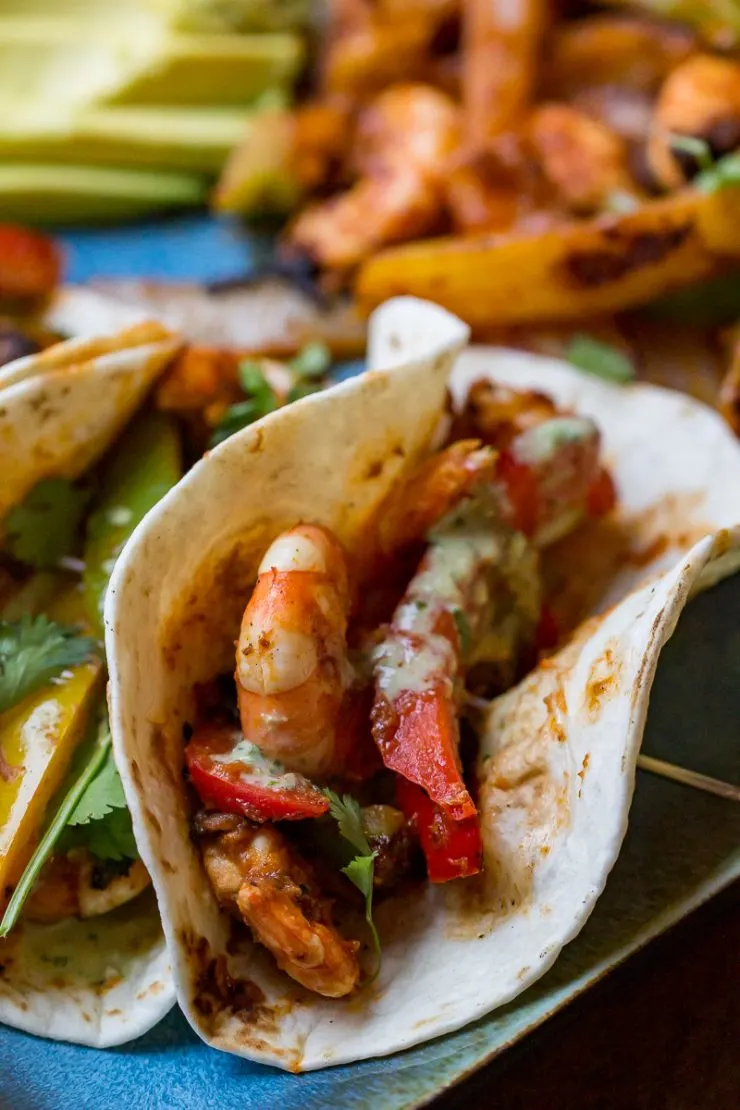 More fajitas recipes
Fajitas are a wonderfully easy meal that pleases even the pickiest eaters. The smell and the sizzle pretty much sell it before the fajitas even make it to the tortilla. I have some other fajita recipes, and all of them are even better if you have a Blackstone or similar flat top grill handy.
Steak fajitas naturally go without saying. This recipe involves a Traeger grill, but you won't have any issue doing it on the Blackstone instead.
Sheet Pan Chicken Fajitas make a great option for those that don't eat steak or seafood. This recipe uses a pan in the oven, but will be even better on a flat top! You can also compare it to my other chicken fajita recipe to see which you like better.
Have a Cocktail with dinner!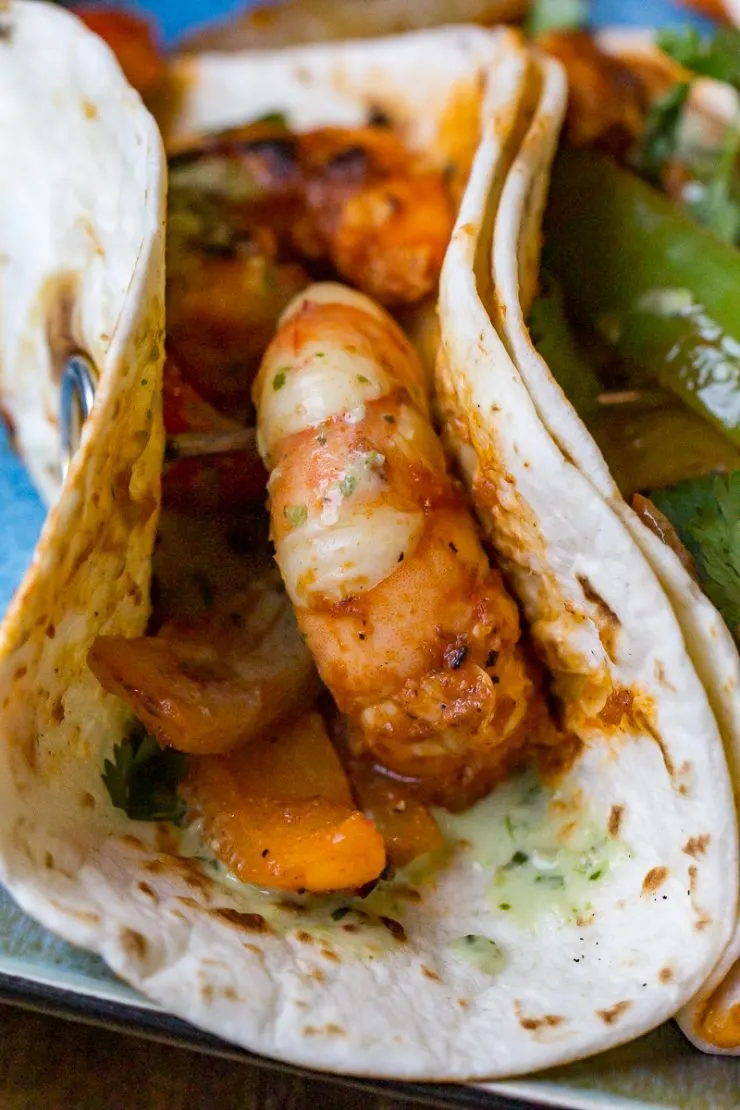 What to serve with fajitas
Try some easy homemade salsa, some guacamole, and a little bean dip too. Sour cream is essential. I'd also recommend my Mexican Rice! If you really want to get crazy, throw down some Traeger Elote and no one will be sad about it, I promise.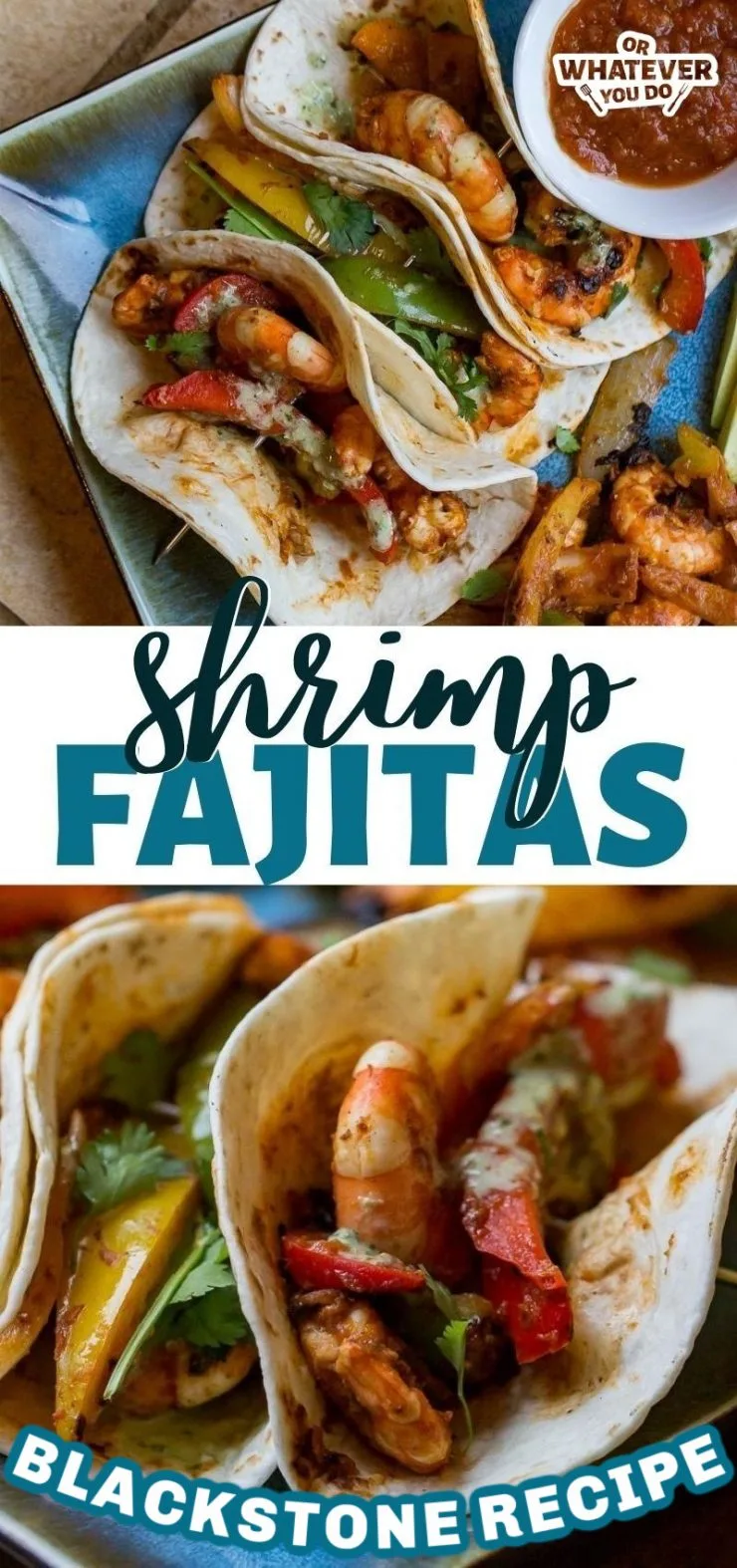 Yield: 6 servings
Blackstone Shrimp Fajitas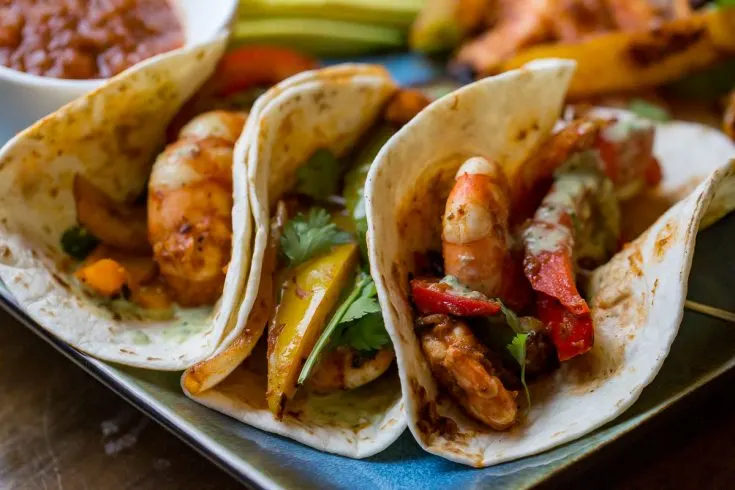 Simple shrimp fajitas are cooked on the Blackstone Griddle in minutes for a dinner that is short on time but big on flavor.
Ingredients
avocado oil
1 green pepper
1 yellow pepper
1 red pepper
1 medium yellow onion
3 pounds large raw shrimp (washed, peeled, and deveined)
Pre-made seasoning
OR USE THIS HOMEMADE SEASONING
1 teaspoon chili powder
1/2 teaspoon garlic powder
1/2 teaspoon onion powder
1/2 teaspoon salt
1/4 teaspoon cumin
Instructions
Mix the seasoning mix together and sprinkle evenly over the shrimp and vegetables.
Preheat your griddle over medium-high heat and lay down a bit of avocado oil.
Pour the shrimp and vegetables on the griddle and let sizzle for about 1-2 minutes.
Flip everything over with giant spatulas and cook until the shrimp is pink and the vegetables are crisp-tender.
Serve with your favorite fixings and warm tortillas.
Recommended Products
As an Amazon Associate and member of other affiliate programs, I earn from qualifying purchases.
Nutrition Information:
Yield:
6
Serving Size:
1
Amount Per Serving:
Calories:

212
Total Fat:

5g
Saturated Fat:

1g
Trans Fat:

0g
Unsaturated Fat:

3g
Cholesterol:

286mg
Sodium:

1475mg
Carbohydrates:

9g
Fiber:

1g
Sugar:

2g
Protein:

32g
Nutrition data provided here is only an estimate.