November is upon us, and once again I'm surprised! Halloween has been here and gone, and I'm now in FULL ON THANKSGIVING mode. We host, almost every year, and it is my FAVORITE holiday.
The last few years though I've been so frazzled when it actually comes that I don't think I've really given it my BEST effort, so I'm on a quest.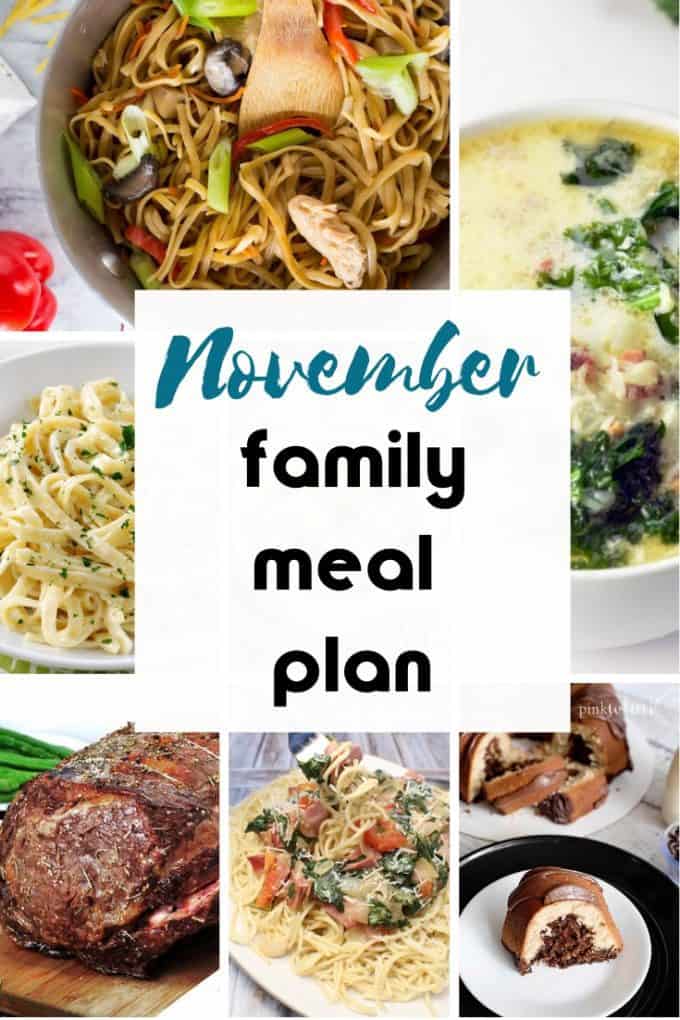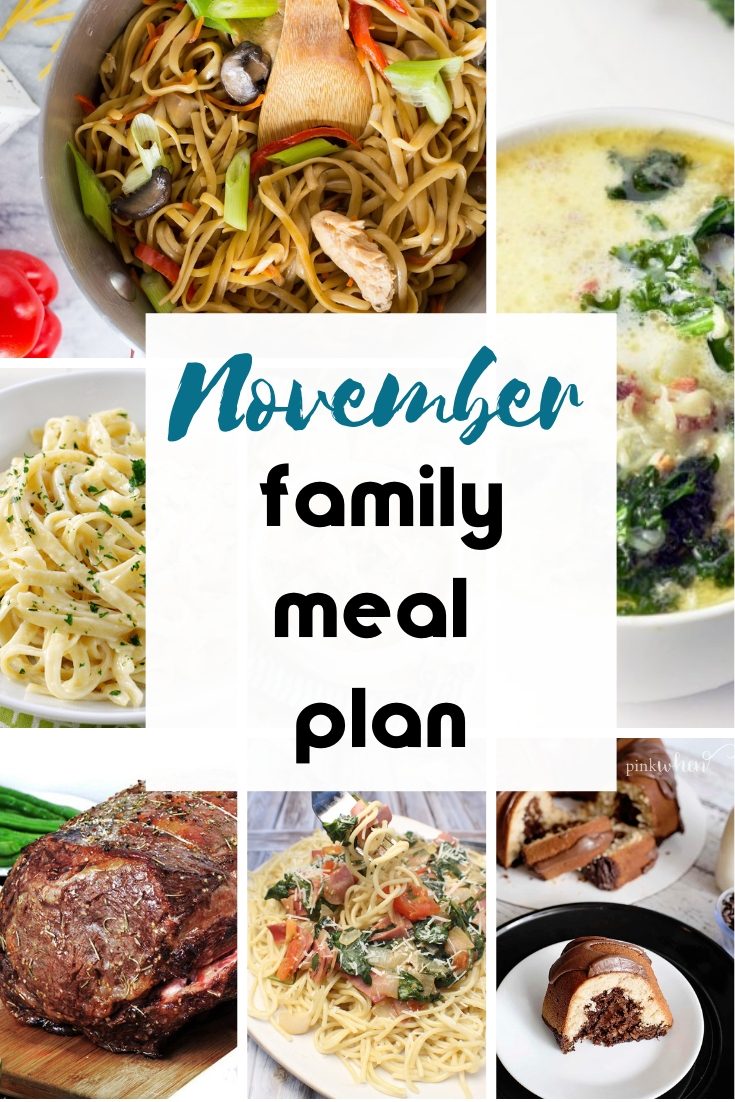 November Family Meal Plan
This month is going to be allllll about those fall flavors, and perfecting what is going to end up on my Thanksgiving table. It may not be decorated like I see in the magazines, but I'm going to make sure the food being eaten on it could live in magazine land should it be given the proper lighting, camera, and vision.
I can't wait for you guys to try some of these recipes from my favorite blogging friends! Let me know what you love, and what you want to see for next month as well.
November – Week 1 Menu
The first week of November is always frazzled around here. We've all got Halloween hangovers. SO MANY CANDY WRAPPERS. Where is the bottom of my sink? Or, maybe is this the cleanest my kitchen has ever been since we've been feasting on leftovers or take-out for the last several days? Who knows.
We're going to dive into some fall and winter classics this week. Find something you can't live without!
There is nothing like a REALLY good alfredo. This awesome dish, below, is going into my regular rotation – stat.
Later on this week we're hitting the pasta train again with the easy Baked Chicken Parm pictured below! I love fall cooking and all the casseroles, hot-dishes, and baked goods that come out of my oven.
November – Week 2 Menu
Fire up some fancy in your life and make this awesome Prime Rib roast. I can almost smell it through my screen!
November – Week 3 Menu
Thanksgiving week! Here are some Thanksgiving recipes you can make as well as the awesome options below. Including a normal Thursday even though it'll be turkey-central for most of us.
If you want an Instant Pot version of Beef Stew, try this one from Meatloaf and Mellowdrama!
November – Week 4 Menu
This Zuppa Toscana from Foodie and Wine is going to be my new winter "go-to" soup. It looks so creamy and delicious, and since taking 9 people out to a restaurant costs approximately 18 zillion dollars – it also might be the only way my children are trying this until they are adults and can take their own selves out to a restaurant.
Obviously, we don't do a homemade dessert every day of the week, or a cocktail with dinner either, but I wanted to give you all some options if the mood happens to strike!
If you enjoy this meal plan, let me know in the comments below, and share with your friends! This is a new series for me and I want to make sure it is as useful as possible for you all!
Thanksgiving Leftovers Here We Come!
Want some other ideas? Check out these other awesome dinners:
And these side dishes:
Eat Keto? Here are some great options for you!
Paleo?
There you have it! Another month of awesome recipes and dinner ideas from some of my favorite bloggers. I hope you find something awesome, and let me know what you think!