October is here, and today I was legit thinking to myself that I'm not sure when summer ended, but I'm pretty positive it should still be July.
The leaves and the rain and the falling temperatures are telling me that though I made a fair effort to come out of my computer cave while the weather was warm, like every year I immediately regret not spending twice as much time soaking up the sunshine and the heat while it was so readily available.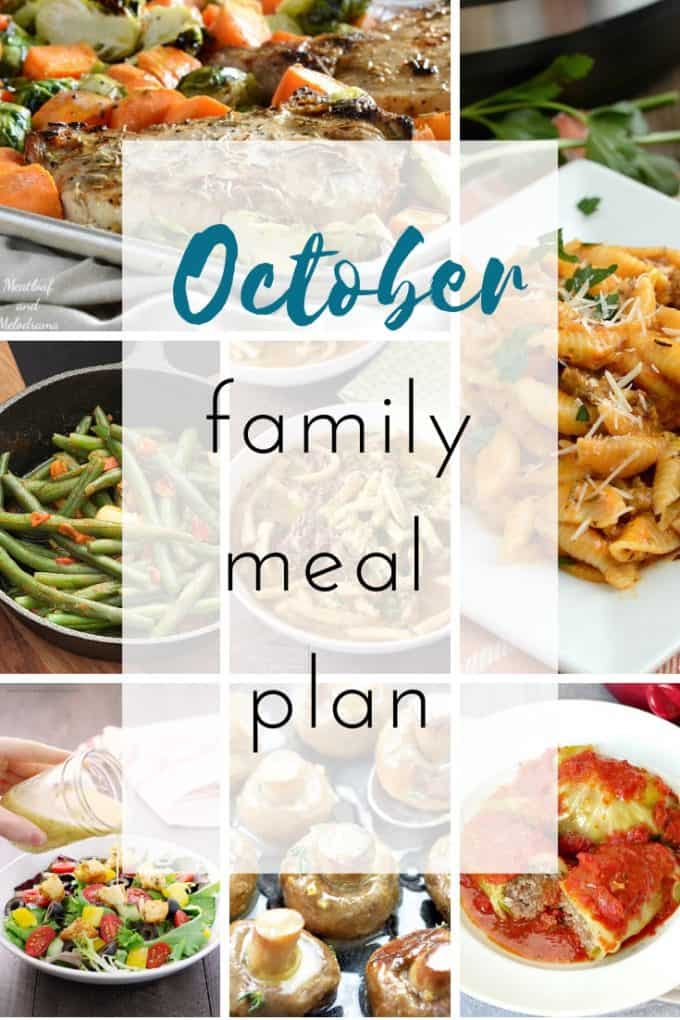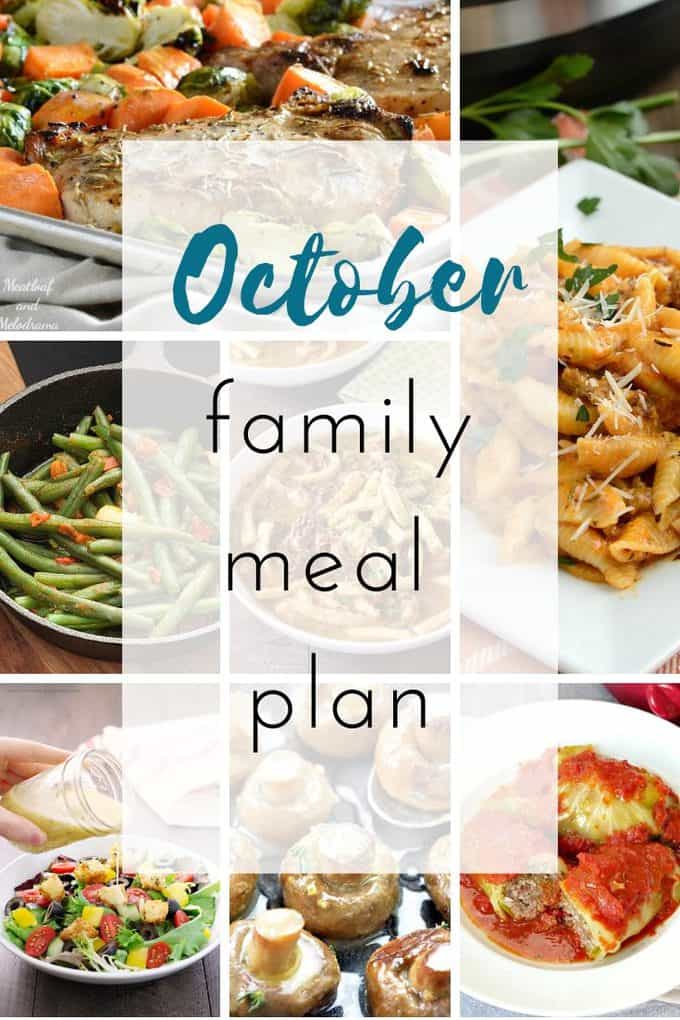 October Family Meal Plan
Menu planning has not been on my agenda for quite a while now, but I'm managed to even over-spaghetti my most flexible and least picky child, so that is saying something.
When Kelley floated the idea of a blogger menu planning group by me, not only was I like, "OMGosh YES I NEED THIS." I think I moved more towards the "Hellz yes" response stage. That's how much I need a menu plan.
All of these recipes are blogger tested and approved, so I hope you enjoy as much as I am going to when the answer to my NEVER-ENDING "What's for dinner" chorus on the nightly now actually has an answer.
October – Week 1 Menu
I think I'm most excited for the Instant Pot Salmon to try this week! I have SO MUCH SALMON right now, so I'm going to be on the hunt for new ways to use it. That Honey Bourbon Chicken from Persnickety Plates is another one I think that your whole family will love. Plus – so easy!
The Instant Pot Strawberry Cheesecake recipe you see pictured below is one of the favorite things I made this year. The texture of cheesecake when it is cooked under pressure is not something you can replicate in a water bath.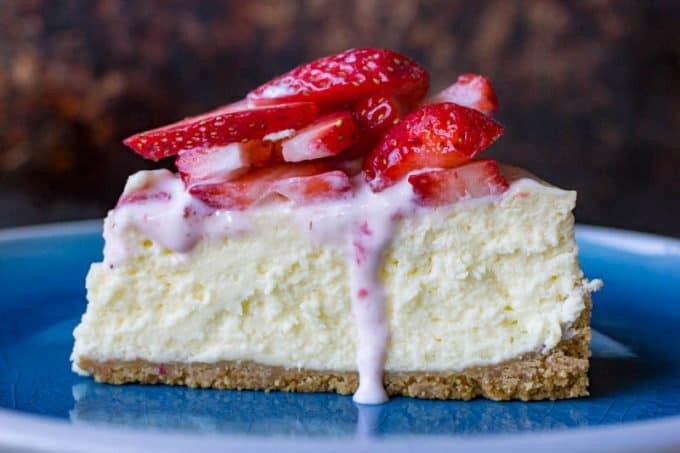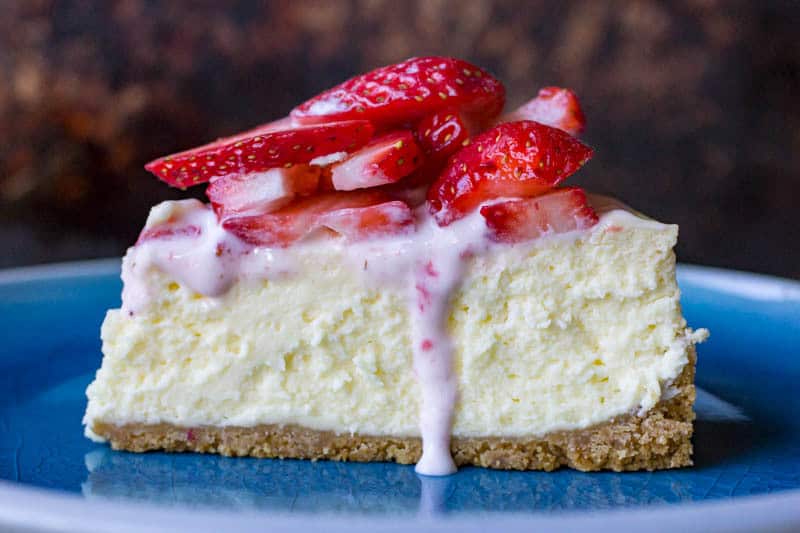 End the week with Thai Chicken Fried Rice from Manu's Menu and some egg rolls from this very site here. Sometimes I end up making the egg rolls as the main dish because they get eaten so ferociously. I'd like to be able to tell you how many egg rolls it takes to feed a family with six boys in it, but I can't. Because I've never been able to count them.
Next time maybe. 😀
If you enjoyed week one, you are going to go REALLY crazy for week two!
October – Week 2 Menu
Week two is making use of both the Instant Pot and the Slow Cooker again. These things don't really ever leave my counter once October hits.
This week is featuring this Easy Steak recipe from Fantabulosity. Once I realized that teak at home is almost always just as good, or not wayyyy better than restaurant steaks, I started to get a lot braver about cooking these at home.
Now steak is one of my favorite things to cook, and I hardly ever order it when we go out.
If you have cranberries around, don't miss the Rumberry Punch! Make it with the easy steak from Fantabulosity, or even with the Stuffed Cabbage Rolls from Growing Up Gabel pictured below.
Finish off this week with a Saturday night Chicken Enchilada night. Don't skip the blackberry margaritas! They are amazing!
These mushrooms from Foodie and Wine are going to make it from my October menu onto my Thanksgiving menu I think.
Week 3, make sure to buy extra chicken and the ground meat! You're going to use it in all of these dinners. The desserts are involved and amazing, so if you can't try them all, save them for later on by clicking through to the post and pinning!
October – Week 3 Menu
Cabbage is one of those ingredients that I used to not like. Not because I didn't actually not like it, but because when I was a super-picky kid I decided it sounded stupid and smelled worse so NAHHHHH.
Old habits die hard.
Now that I know how freaking amazing cabbage is, I try and find all the excuses to eat it. This Slow Cooker Stuffed Cabbage Rolls Recipe is going to be an easy one to get motivated to make!
Need more cabbage in your life? Try my Cabbage Roll Soup, aka Sarma Soup. It has all of the cabbage roll flavors, but in a form that is more like, "@($*&@)$(*@)$(*@#)% PEOPLE NEED TO EAT AGAIN!" instead of, "Look at this lovely meal I'm presenting you."
My Triple Berry Trifle isn't just good for summer. Pick out whatever berries look the best at the grocery store, and get your trifle on the next time you need a dessert to feed a crowd.
Wrap up this week with some traditional flavors! Instant Pot Meatloaf from Meatloaf and Melodrama is a great twist on a classic dish, and you'll be doing double duty if you go with the Instant Pot Mashed Potatoes from Pink When too. If you don't have two Instant Pots, I'd just make one of those the old-fashioned way.
October – Week 4 Menu
Slow Cooker Beef Noodles from Love Bakes Good Cakes, pictured below, is probably going to be responsible for a lot of our dinners this winter. It is like all of my favorite comfort foods in one meal, and YAY winter for making all of those foods come out of the cupboard and back into my life.
Obviously, we don't do a homemade dessert every day of the week, or a cocktail with dinner either, but I wanted to give you all some options if the mood happens to strike!
If you enjoy this meal plan, let me know in the comments below, and share with your friends! This is a new series for me and I want to make sure it is as useful as possible for you all!