This is a sponsored conversation written by me on behalf of Pillsbury™. The opinions and text are all mine.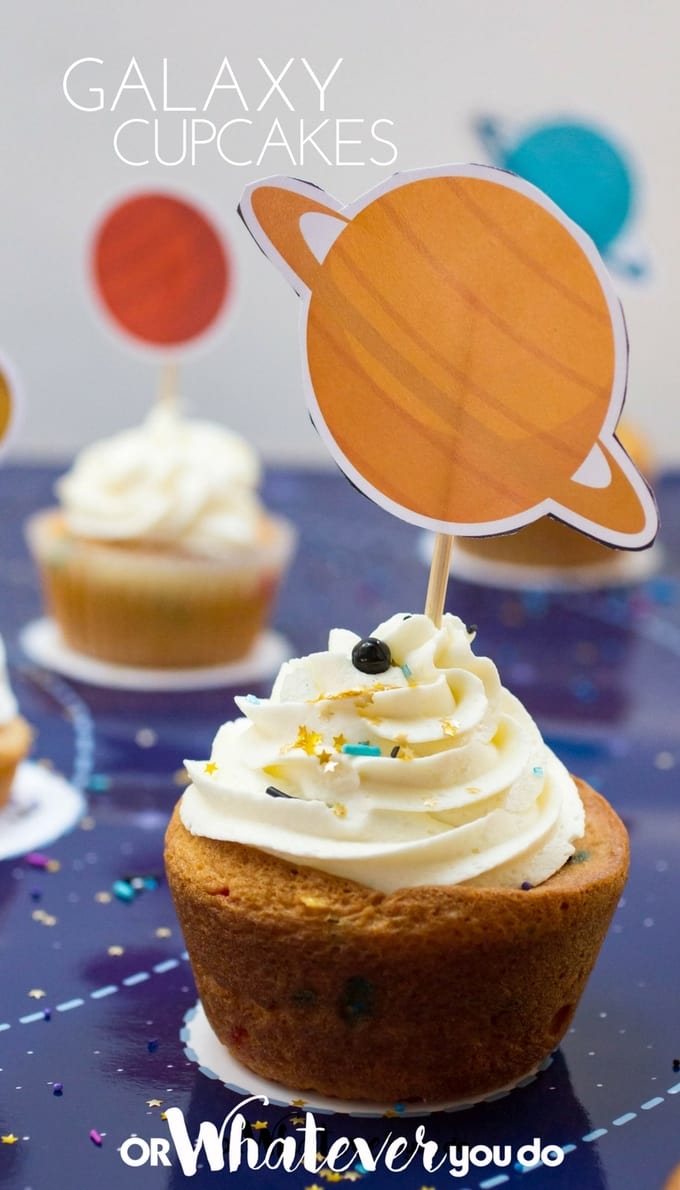 Galaxy Cupcakes
My kids are always wanting to cook and bake with me, but usually I shoo them out of the kitchen so I can get on with the business of keeping 9 people fed, watered, and relatively happy for 3 meals a day.
It isn't that I don't WANT to teach them, it is just that I don't normally have the extra time to add onto the meal prep, or the extra time to devote to the extra cleanup that inevitably follows MY kids in the kitchen.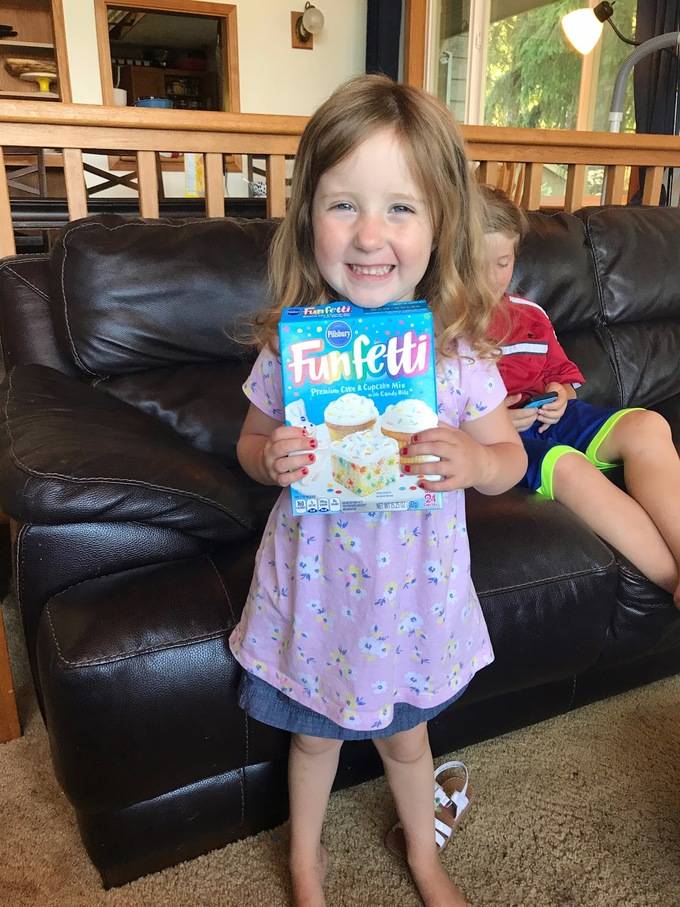 The major baking holidays – forget it. I gave up on cookie boxes for Christmas like 3 kids ago. It is just too much work and too much pressure to add onto an already stressful holiday season. I already don't do half of the things that I'd like to do, and the MOM GUILT, you guys. It gets me good.
I've found that it helps to make other opportunities that aren't so high pressure to get the kids in the kitchen which is why we're "celebrating" Space Exploration Day on July 20, with these sweet planet treats made easy with with a box of Pillsbury Funfetti® cake mix and a NEW Pillsbury Filled Pastry Bag. The kids got to learn about space in the most delicious way possible and had a blast making their own cupcakes.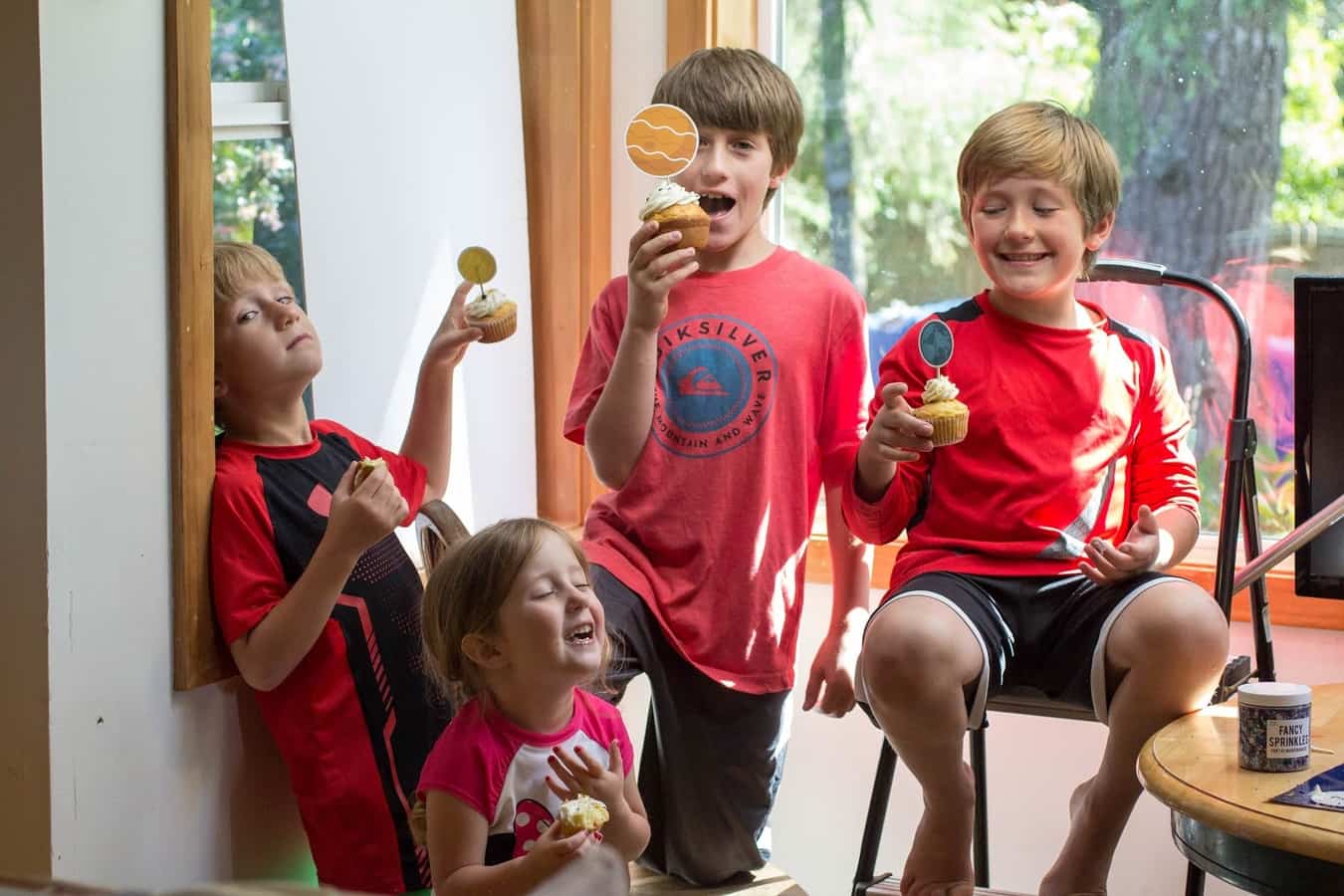 It didn't take ANY convincing to get these guys to bake, especially when they knew that they got to eat the end results.
This was one of the first time I really went "hands off" and let the older kids have at it. Another great recipe to get the kids into the kitchen are these easy banana bread muffins.
This is my 9 year old #3 son, and he did all of the mixing and baking, all by himself.
I'm not sure that a hand mixer qualifies as a power tool, but I'm not telling him any different. Shhhh.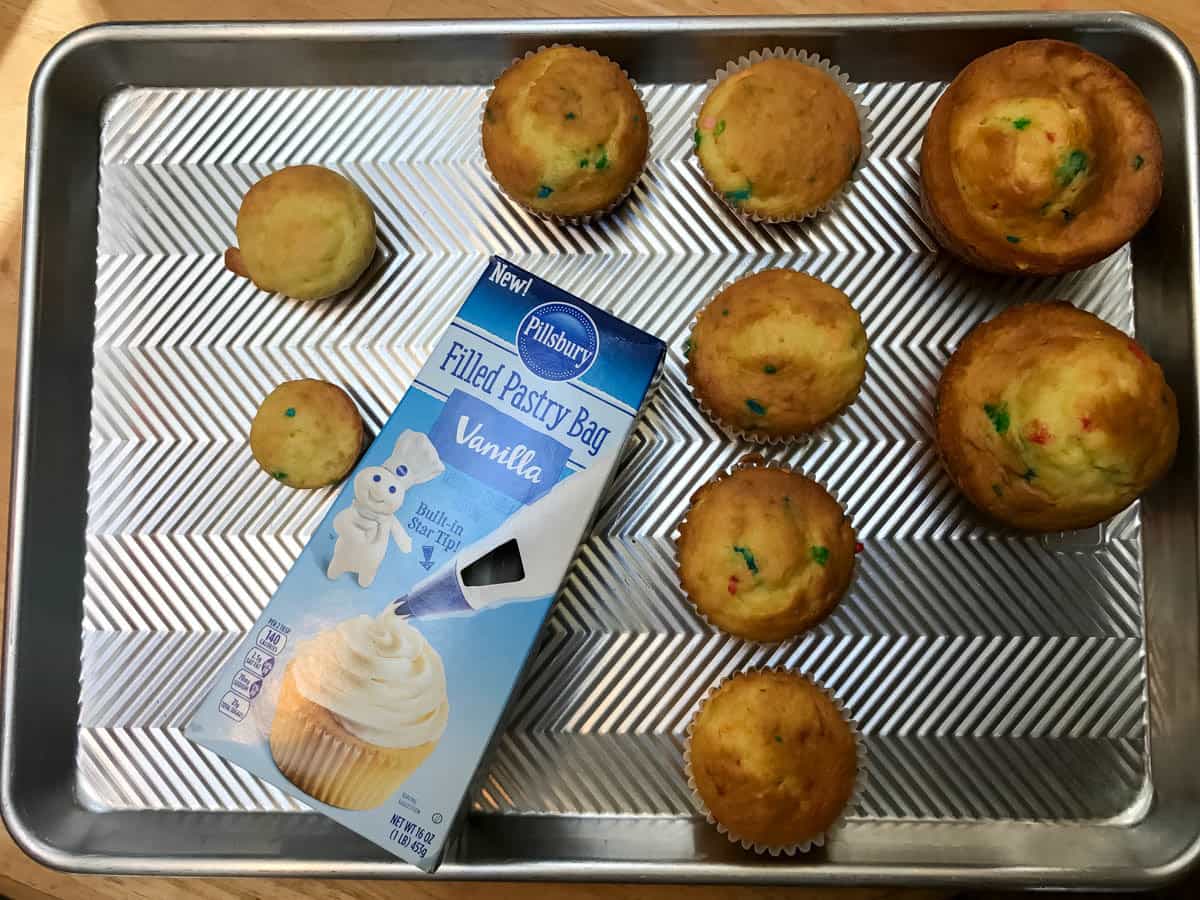 We were all loving the Pillsbury Filled Pastry Bag for piping frosting onto these! The kids were able to pipe on their own designs without getting frosting everywhere. Less mess = YASSSSSS over here right now.
Boy child #2, my newly minted MIDDLE SCHOOLER (OMGOSH WHAT???) did an awesome job cutting out these planets and making cupcake toppers with them! We just taped the planets to toothpicks and stuck in the cupcakes.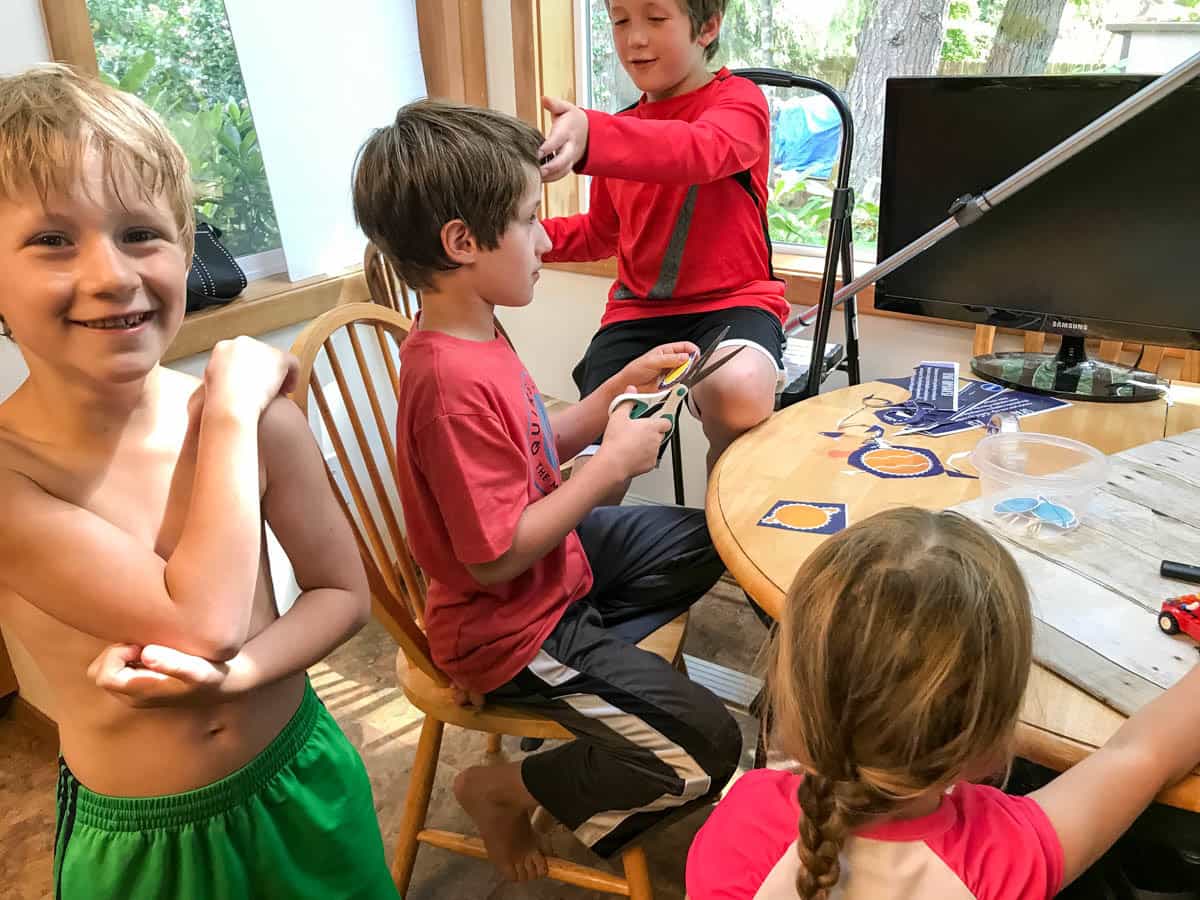 Ham city here. There's an appearance by man cub #4, and in the background you can see my baker fixing the hair of my planet cutter getting him ready for his "close up". (haha)
Son #1 isn't so enthused about photos these days, but I managed to snap ONE at least.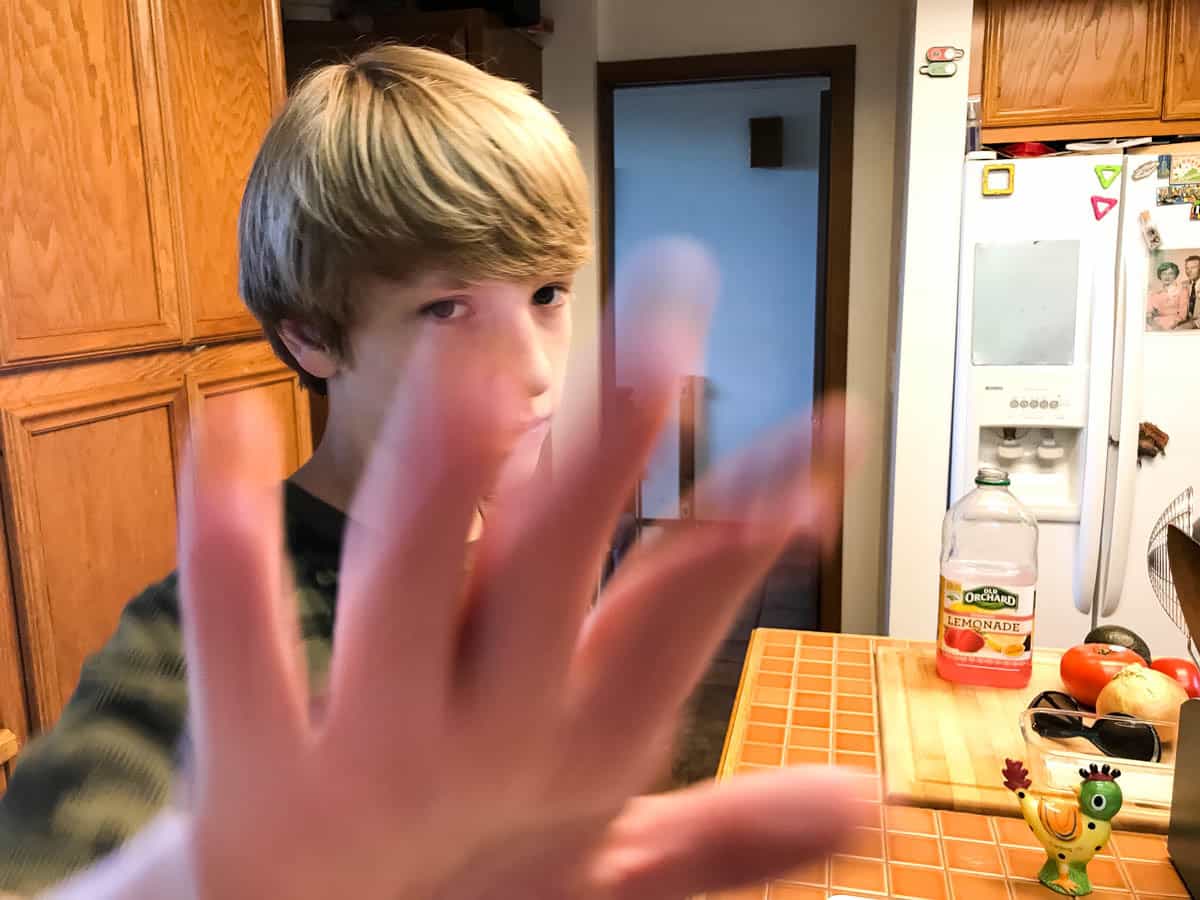 Teenagers, man. I tell ya what.
These cupcakes were so easy – and at the end, the kids got to position them in the cosmos to form their own "solar system!".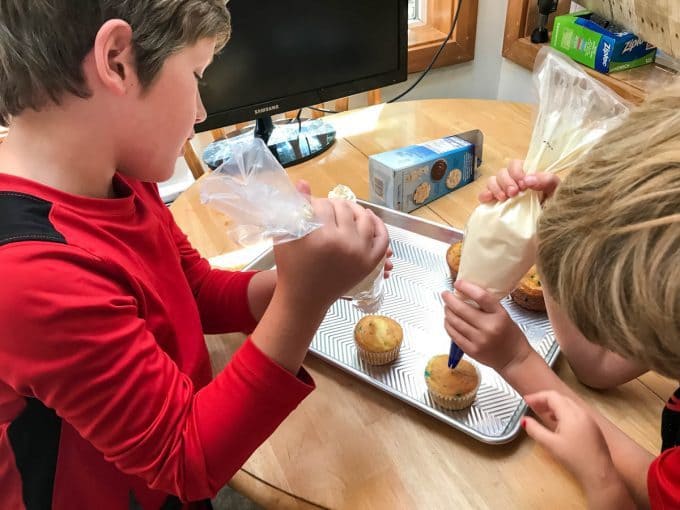 Next time we bake them, I'm going to go totally free-range, and see what baked goodies my older kids can come up with.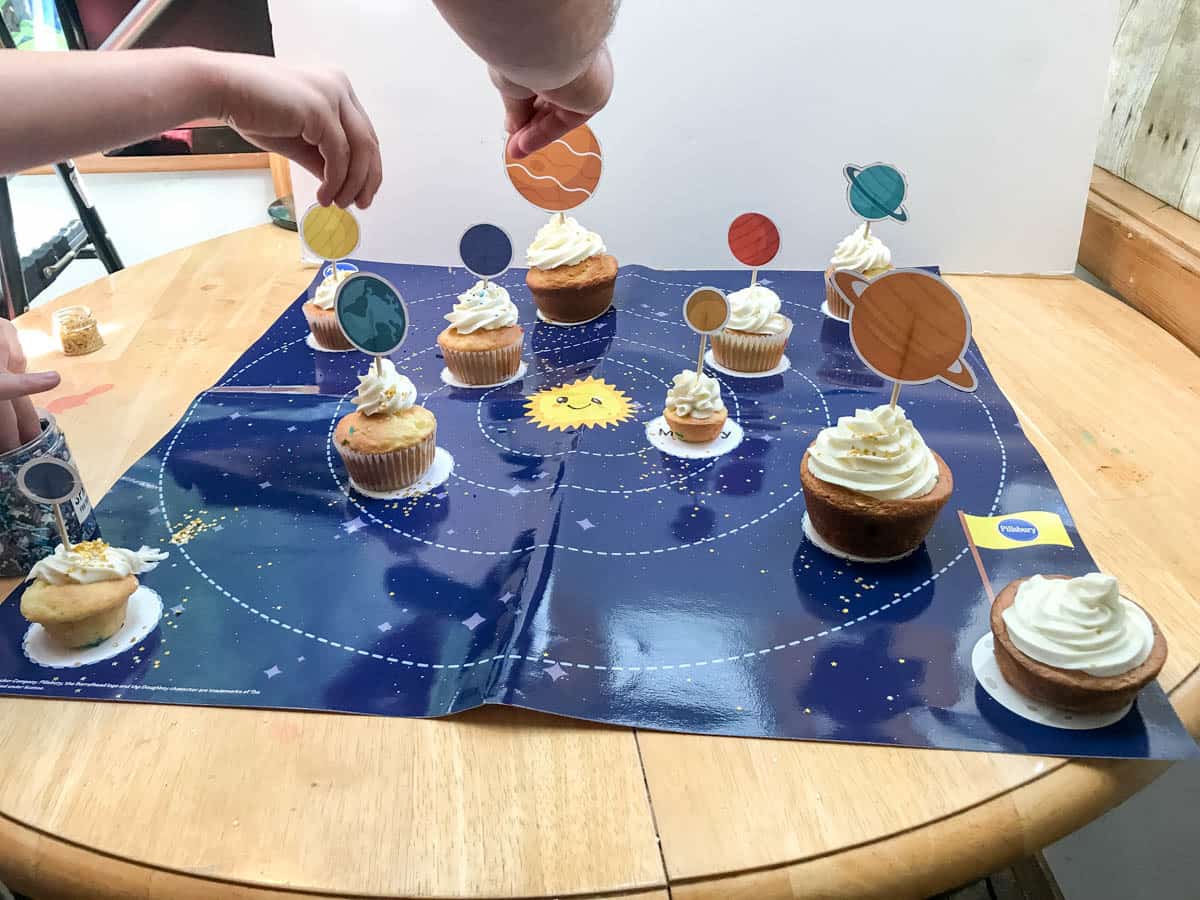 Join the Pillsbury Operation Celebration and create your own special treats! Sign up HERE for the Pillsbury newsletter to receive baking ideas.
Ad – This is a sponsored conversation written by me on behalf of Pillsbury. The opinions and text are all mine.