Spoiler Alert!

The end of the post (with lots of warnings prior) contains book spoilers.

Beware

. The main body discusses only this episode. Carry on. I'd avoid the comments section too if you haven't read the books.
---
Yay! Back from France. Life is good forever after. The people will EAT…
potatoes. Lots of them. Mashed, fried, buttered, and salted. And no famine will wipe out the Frasers thanks to Claire.
Oh snap. Never mind. Never a dull moment for this crew. The Prince has kindly forged Jamie's signature on a very bad paper, landing Jamie and Claire right in the midst of a huge mess.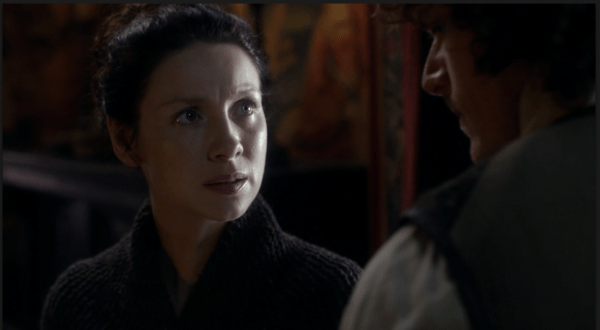 Claire wants to do what Claire's first reaction usually is. Avoid the trouble. Jamie cannot abide by Claire's request to run though, because he still holds out hope for a Scottish win against the British despite, you know – history. Poor Claire tries to speak some sense into his poor hopefully heart, but alas – Jamie's arguments are on point.
It is because of her that he has hope to change the future still. Because how could he not?
Jamie announces to the family that they'll be traveling to see Lord Lovat, none other than Jamie and Jenny's long-lost Grandfather with a long history of kidnapping, raping, and various other horrible behaviors.
After laying down the law with Jenny, he confesses his impure heritage to Claire under much trepidation. But do you think it matters to Claire?
Of course, "It doesn't."
And then in one of the most poignant and heartbreaking scenes of the entire show – Jamie cuddles Jenny's newest baby who was born while they were in France, while Claire looks on in tears. It's bittersweet, but healing for them both I think.
Jenny is so darling sending them off. She knows, somehow, that it isn't going to end well. (Does she know yet what they know?) She threatens Jamie with an everlasting grudge should he die while he's away, and in some very well-timed foreshadowing Jamie lays out some wisdom for us all to soak up.
Ooooohhhh. This was a confrontation a long time in the making. Claire, as usual, just comes out with it. Beyond the whole thing where she's captured the heart of whom many consider to be the penultimate man, I think this character has resonated so well with the audience because she takes no crap and pulls no punches. She says what she means at all times, and that's refreshing in a time of almost constant filters and prettying up of the truth. And she does it EVEN in front of….gasp….the "powerful" men in her general vicinity.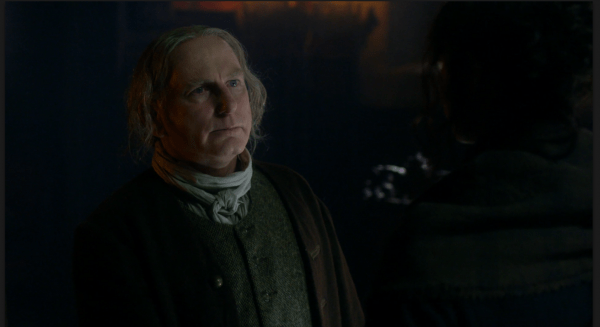 Lord Lovat is not impressed by either argument. Always a fence straddler, that one.
And he's even less impressed with the possibly of French help.
Jamie and Lovat meet in private later on, and a complicated scheme emerges where Lord Lovat is *sort of* after Jamie's pledge of loyalty, and his property, oh and possibly raping his wife.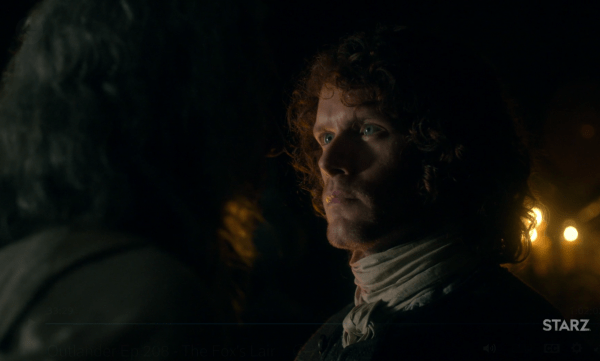 Jamie, the utter genius that he is; informs his Grandpa that his equipment will freeze, dry up and fall off if he tries that with La Dame Blanche, so good luck to him. Ha.
"I needena worry…Grandsire." Haha.
After much clever conniving and scheming, and a little fantastic acting by Claire, they think they have it all set up correctly.
But haha. Nope. Lord Lovat sides with the MacKenzie's and decides to remain neutral in the war.
I feel ya, Claire.
But it all turns out well in the end, when Lord Lovat declares himself the craftiest Chieftain of them all, and finds a way to both provide troops for the Stuart cause AND protect himself in the event of a British victory. Touché, Lord Lovat.
You'll probably notice right away if you are a book reader that I left out one huge player in this episode. Laoghaire (Leery) is back in the TV version, and trying to make amends.
Or is she?
---
BOOK READERS ONLY PAST HERE
Seriously.

If you don't want to be MAJORLY SPOILED, stop reading now. Fair warning.
Okay. If you are still reading it is your own fault now.
Book readers – any thoughts on this plot twist that was described by Diana as possibly, "Jumping the shark"? That description had fans in a complete tizzy since it was reported, with rumors of the show's demise swirling around like wildfire.
I didn't get quite so worked up about it, and honestly I'm still not.
Here's why – it really had to happen.
Laoghaire was painted in such a poor light in season one, and played such a major role in the witch trial in the TV version that there's NO WAY any version of Jamie, even the completely shattered, grieving version – would marry her.
This episode sets up the possibility that:
1) She's changed and isn't a complete snag
2) She still loves Jamie
3) Jamie can stand to be in the same room as her
That's a pretty big deal when you are talking about a possible marriage between Jamie and she NEXT SEASON.