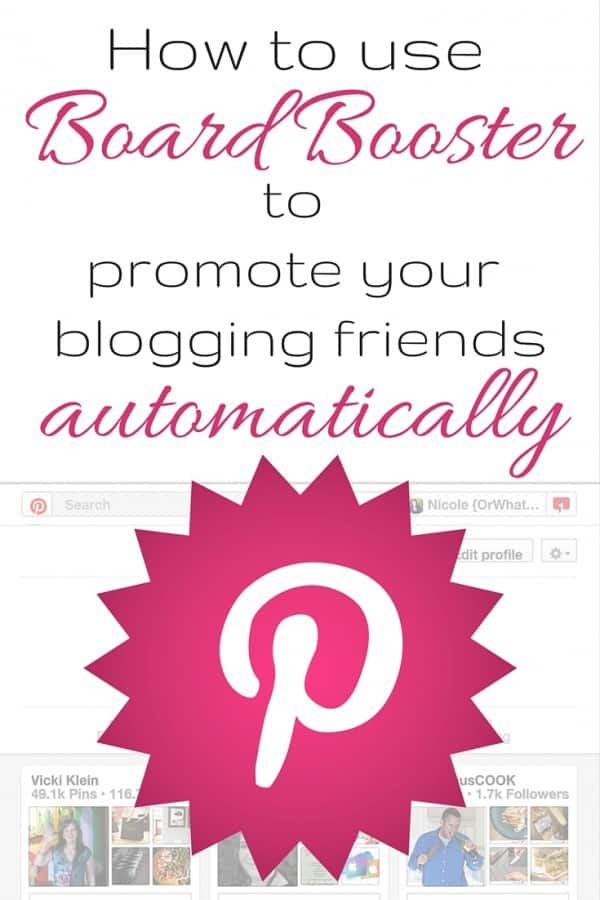 Do you ever get TIRED. Tired of finding content to pin? Tired of weeding through less-than-stellar photos? Tired of checking that pins lead to the correct link on Pinterest before repinning or scheduling them? Tired of going back to Foodgawker to source your content, or the same few Pinterest boards? How about weeding through eleventy million Facebook sharing group threads and hoping that someone will reciprocate and all of that time and energy won't be wasted?
Well – stop it. Right now, because you don't have to anymore.
What if I told you with about an hour of work you could have the vast majority of your outside content sourced automatically for you every day? You totally can, and I'm going to show you how. Here is How to Use Board Booster to Promote Your Blogging Friends – AUTOMATICALLY.
First though – you need some buddies.
Some blogging buddies who you trust, and whose content you love promoting and you know are continually putting out amazing looking, pin-able, legit content. We all have them. Our tribe. Our friends. The ones we came up with or the ones helping us along the way. Get some ideas in your head, and then proceed. Someone's going to have the be the leader of the pack, and it might as well be you. You don't NEED other people to participate in order to do this, but its more fun that way. 😉
Now, create a secret Pinterest board,
and invite all of them to it. Remember!!!! Make sure that you trust and LOVE all of their content because once this is set up it pretty much runs itself. Sending a message to them all to gauge interest. Make sure they are on board before you add them to a board. That's the key. Its the good and the (possible) bad about this set up. You have to be REALLY careful who you invite to your board.
Or, you can do this alone.
Just create a secret board and start pinning. An easy way to source a bunch of your friends pins is to go to their Pinterest profiles and check out their blog's board. You can pin away in there. Remember, you only have to do this once if you have friends participating. If you don't, it'll be a very occasional thing. And the more you add, the less you'll have to add to it.
On to the main event!
Now that you have your Secret Pinterest board set up and you've got your blogging besties added as contributors (or have added a ton of their pins yourself), get yourself over to Board Booster. You can SIGN UP HERE if you haven't already. That's an affiliate link. If you'd rather not use that here is a regular link too.
Once you've signed up, set up a Campaign – and choose Random campaign. This will source from the board you select, and choose random pins from it to share out to the boards you want them to go to.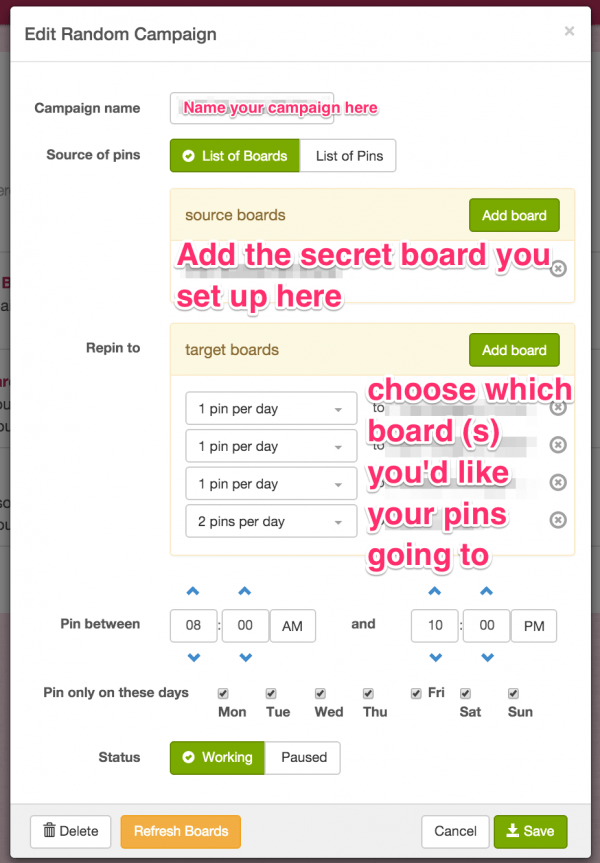 I like to use generalized food boards for this. "My Favorite Food Bloggers", "The Best Recipes", "Easy Recipes from the Best Bloggers Around!" – stuff like that is easier for ALL kinds of posts to go onto.
Board booster will automatically try and prevent duplicates from going out, and if you have a few hundred pins to start out with (which is easy to get to!) it works the best. If it ever gets through ALL of the pins? It'll just start again.
That's it! You're done! You'll now have pins going out automatically. You'll be supporting your friends, and you won't have to spend so much time sourcing great content to share with your followers. Win/Win!
Occasionally you'll want to add more content to this board, of your own if you're doing the group share, or of your friends if you are flying solo.