This is a sponsored post written by me on behalf of Buca di Beppo®. All opinions are 100% mine.
It is not very often that we get out for dinner. At all. Life is busy and babies are crazy and it just ends up being more trouble than its worth sometimes. But once every few months when we find ourselves looking for escape routes and sniping at each other a bit more than usual and without so much humor behind it – I know its time to get out and reconnect a bit. Have an entire conversation with no little ears listening in. Eat an entire meal – hot, without having to get up 18 times to clean up spills or get someone seconds. That is enough to refill the tanks for a while. That and a big glass of this house cab!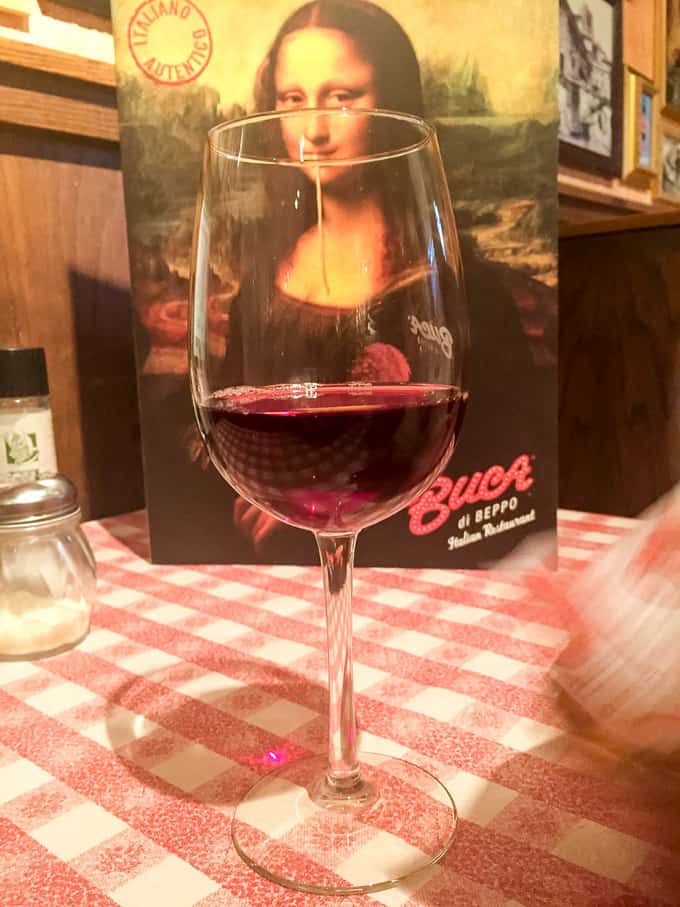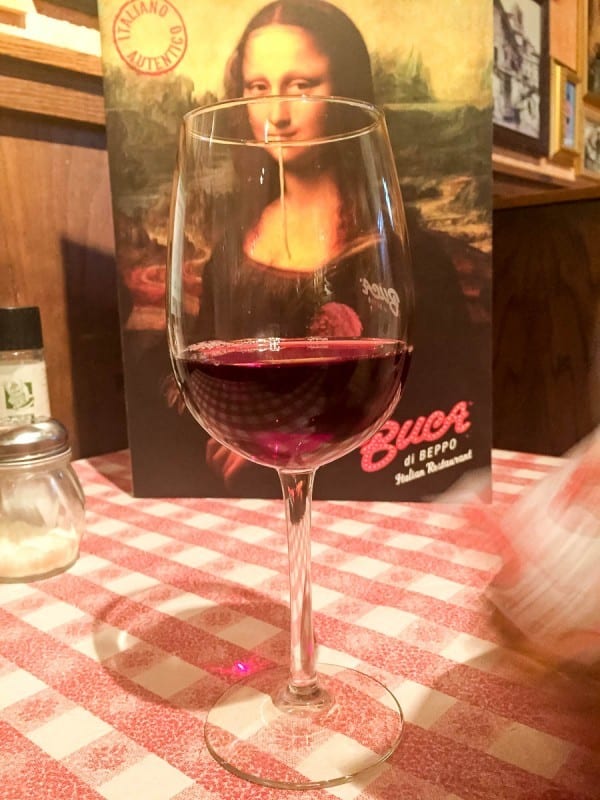 We decided to do the fried mozzarella for a starter. It was amazing, and I love the triangle form of these as opposed to the traditional mozzarella sticks that you find at other places.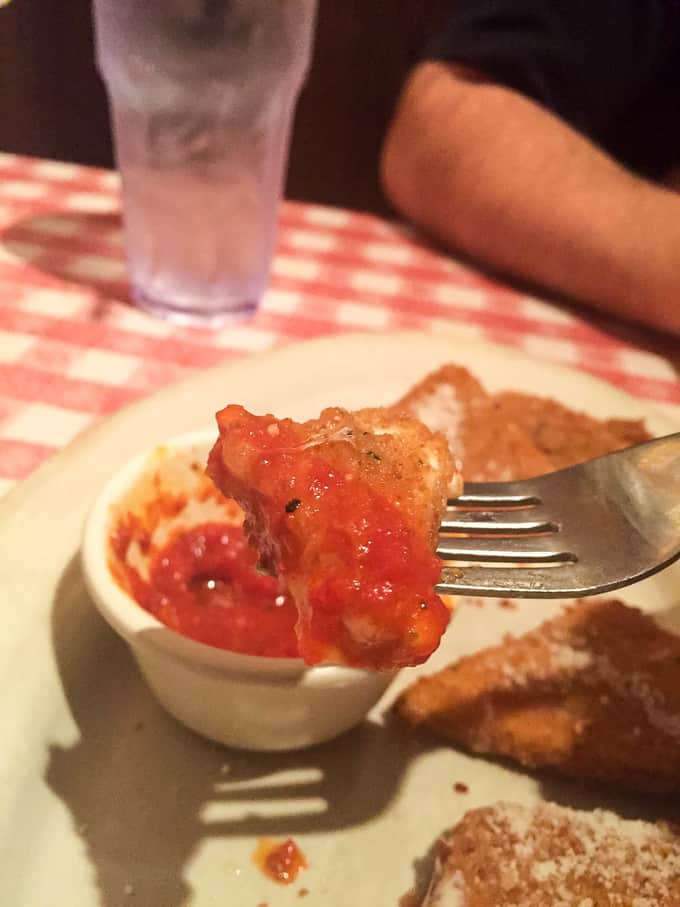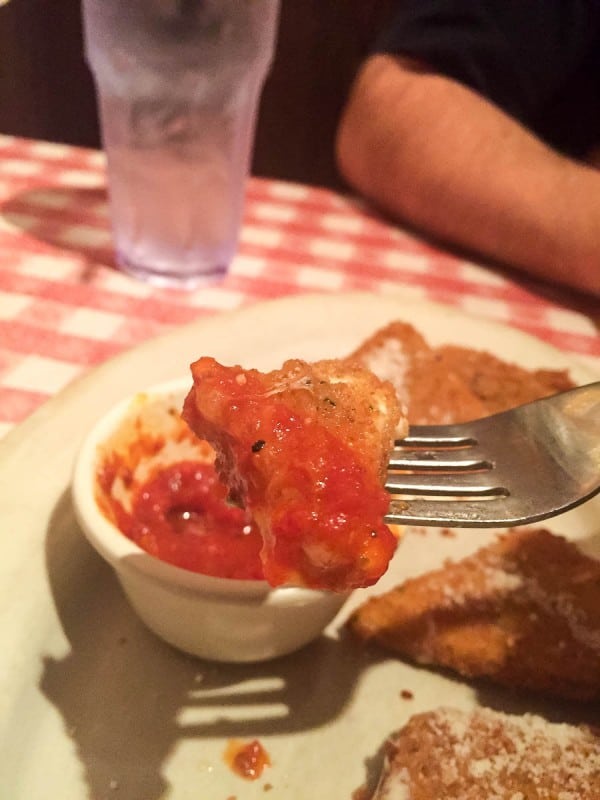 After that we ordered the caesar salad. Buca di Beppo serves family style, so we probably could've skipped one of these courses, but it worked out perfectly because we had quite a bit to take home for lunch the next day!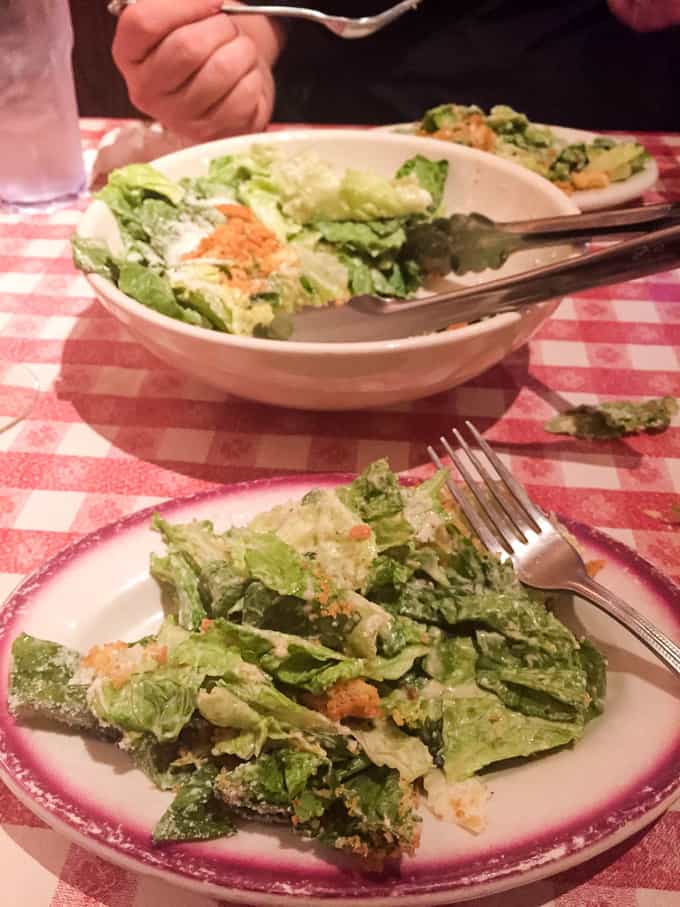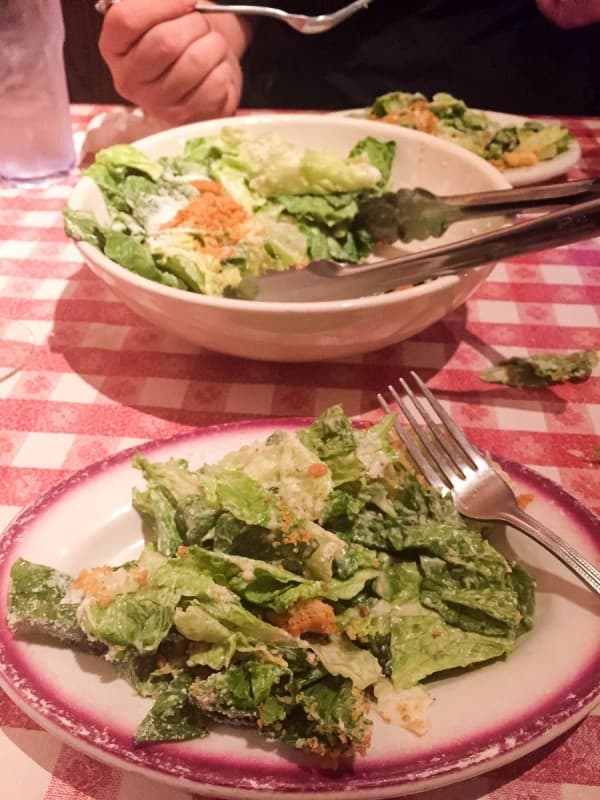 You guys know about my epic love of all things pasta. Did you know that I'm not alone? Pasta is so popular in the United States that 24% of the global consumption of pasta is by Americans – the largest of any country in the world. Americans consume 6 billion pounds of pasta each year with the average American consuming 20 pounds of pasta annually. Uhhhh – I definitely resemble that statistic. Low carb, I cannot.
October is World Pasta Month, and to celebrate Bucca di Beppo is doing a Create Your Own Pasta Bowl menu. I hardly ever order anything off the menu anywhere without some kind of modifications, so a menu like this for me is perfection. The Create Your Own Pasta Bowl menu had SO many awesome options! We went with the penne with marinara, mushrooms, meatballs, and poached garlic.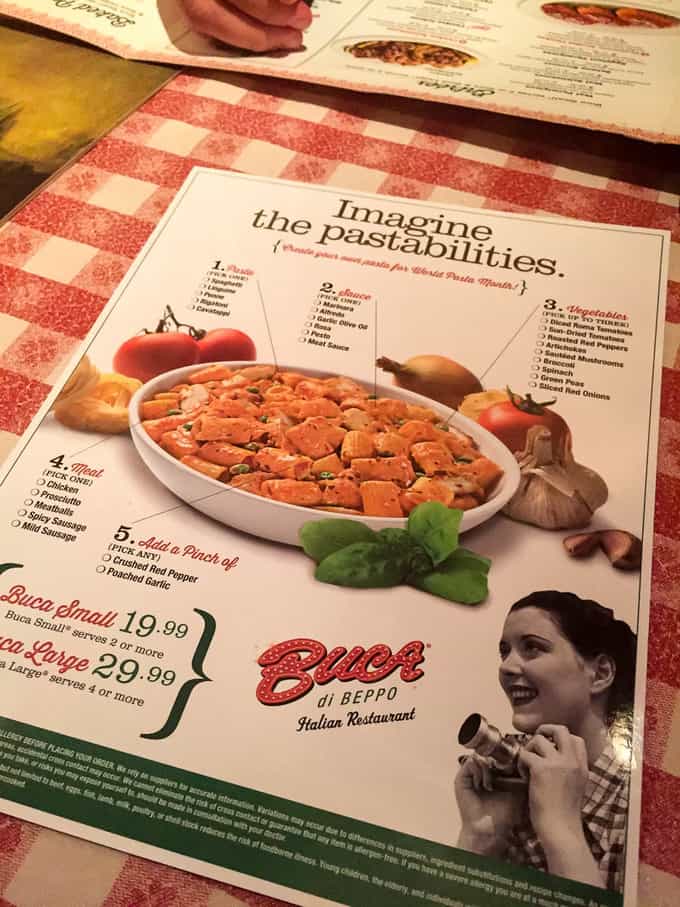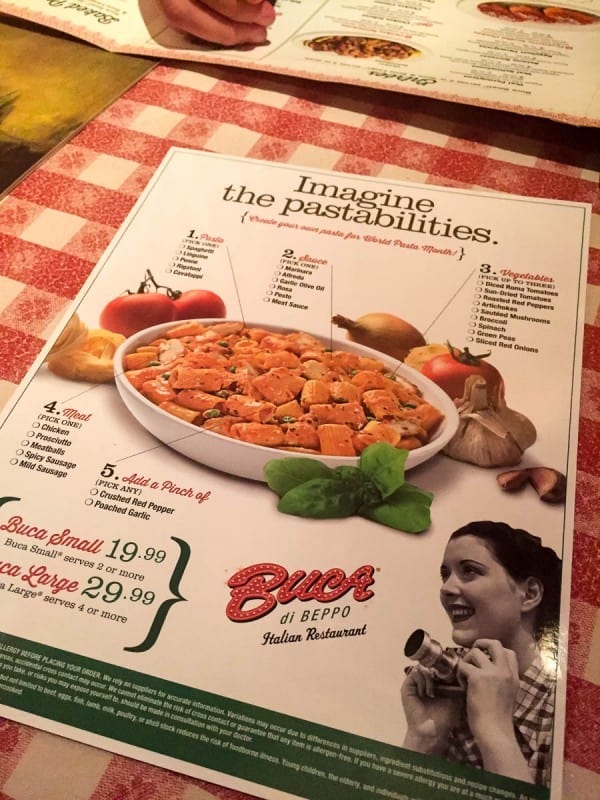 Oh my gosh you guys. These meatballs! Seriously! I kind of want to get the family together or a big group of friends and take up one of their giant round tables with the lazy Susan on it and get a full sampling of what Buca has to offer. It sure beats cooking after you have had your fill of holiday gatherings and work. There's nothing like a meal made for you that you don't have to clean up during holiday craziness!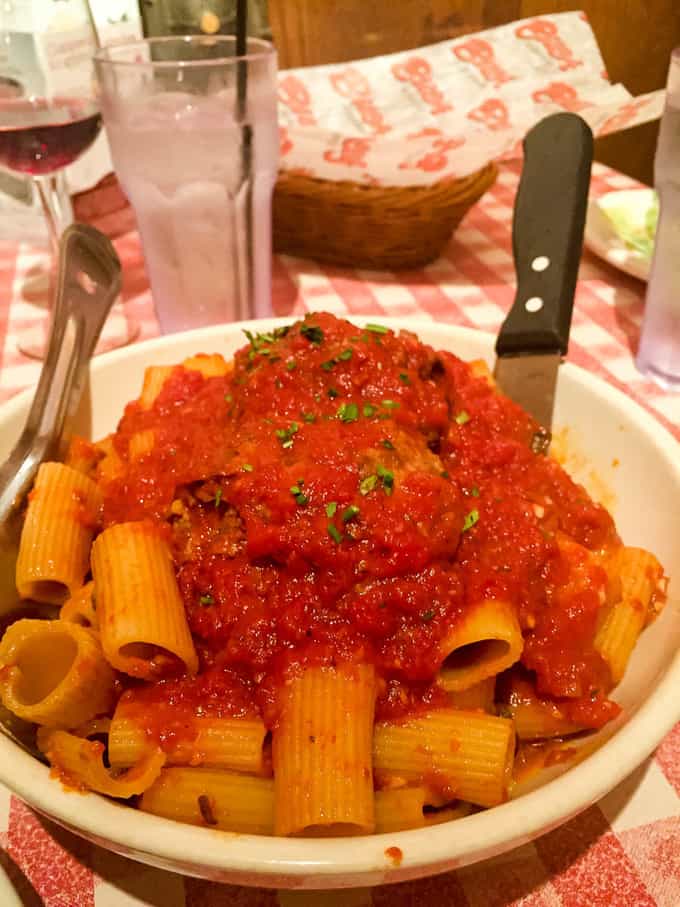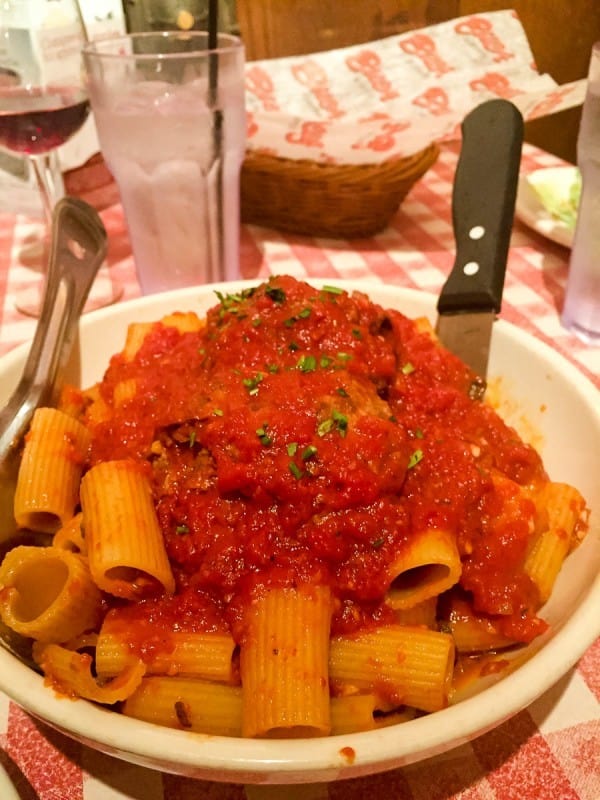 Do you want to go to Buca? I'm hosting a giveaway! All you have to do is leave a comment and let me know what your FAVORITE pasta dish or recipe is and follow the instructions here:
Buca di Beppo Create Your Own Pasta Bowl Giveaway
You can also post a #PastaSelfie on Instagram to enter Buca's contest!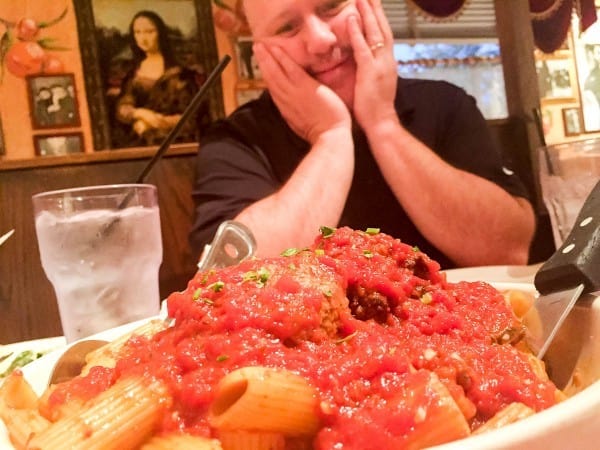 We had so much fun here. Such great atmosphere – and our server was amazing. Very fast, professional, and efficient. I was a waitress and bartender for about a million years, and I can be a little critical of rookie mistakes, but there was nothing to complain about (in my own head) here. He refilled glasses without asking and before the previous one was empty. Wasn't intrusive, but was very preemptive in meeting our needs. SO impressed.