I interrupt our regularly scheduled delicious programming to bring something for all the bloggers out there. This isn't a sponsored post, but I am going to feature a tool that I use, love, and also work for. I was a SUPER FAN before I started working there though, and seriously? Its legit. This post is going to detail how to organize your sponsored posts with CoSchedule!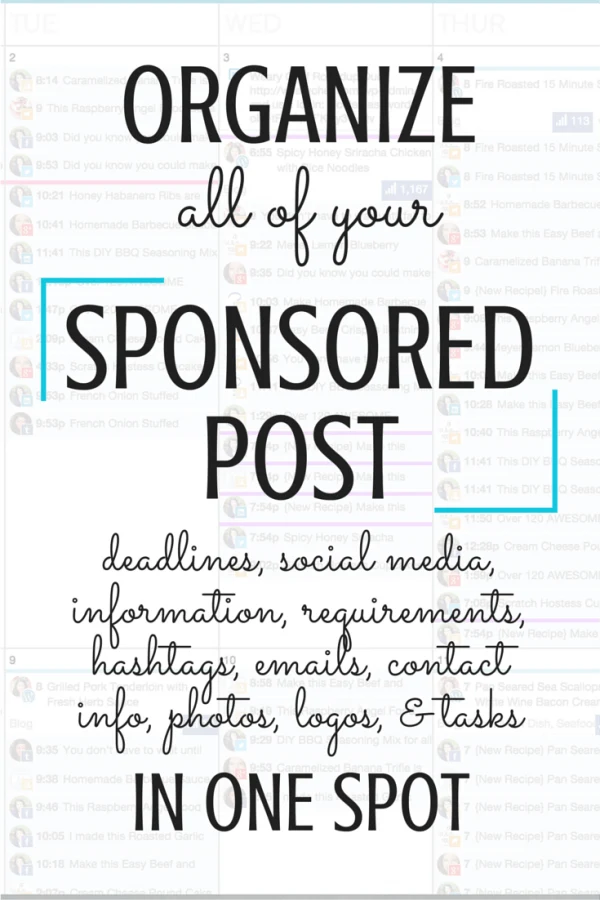 Oh my gosh. If you do sponsored posts, and do more than one a month? You need a place to organize your stuff. When I started branching out into sponsored content I would just keep it all in my email. It was fine, until I missed my first deadline. Oh crap. Not so fine.
Then I started keeping track of it in the network's dashboard that I was working for. That worked really great! Until I joined and started working for more than one network. Now I have to log into HOW many websites every day? And track down who is running which campaign when?
Enter CoSchedule. Have you tried this yet? You need to. Its the only way I can keep it all together here with an almost full time job, and the kids, and the house, and all of the other things that go on in my life. I have my blog's entire plan all in one spot on a drag and drop calendar. You can see my other posts on CoSchedule here and here. If you are new to CoSchedule, check them out. The first one gives a quick rundown of what CoSchedule is and how it works, and the second one is detailing how I used CoSchedule to grow my traffic 54% during the last half of last year!
[Tweet "The organization of my sponsored posts is becoming one of my FAVORITE things about @CoSchedule. "]
I store EVERYTHING here. As soon as I get an approval email from a sponsor – I put it on my calendar.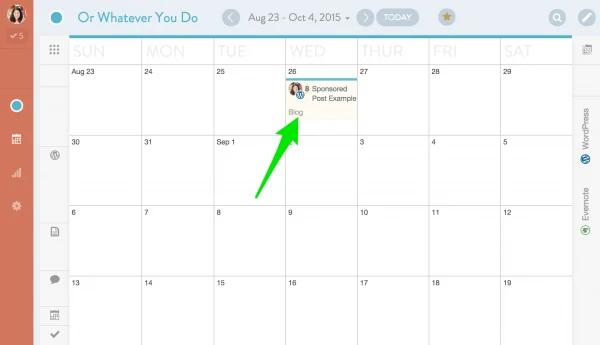 Once the details on the campaign come through, I open up that post in CoSchedule and enter in ALL of the information right there in my CoSchedule blog post edit window. You can enter:
contact email addresses
required links
pre-schedule social media requirements before the post is even written
due dates
PDF versions of emails or webpages
hashtags
images
files
logos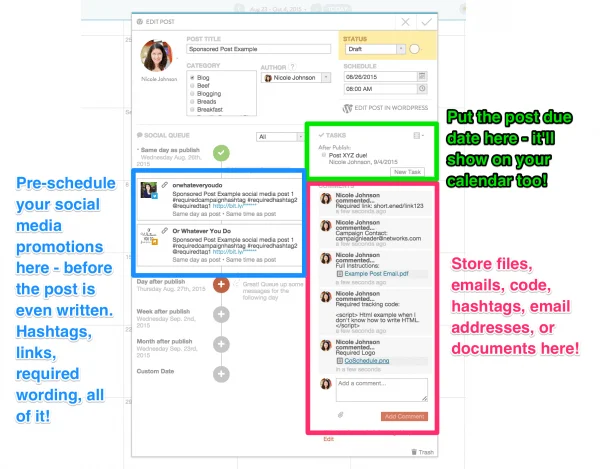 Yeah. No more searching though your email inbox or logging into a million places to see campaign instructions. Stay organized and on top of your editorial calendar.
[Tweet "Save PDF versions of websites and emails and upload to your @CoSchedule calendar! #organized"]
Now? Check out your calendar. There's your sponsored post, the social media messages, AND the due date – right on your calendar. Bonus points for you if you add the payment due date to your tasks as well. Follow up and check and make sure you're getting paid on time and as expected!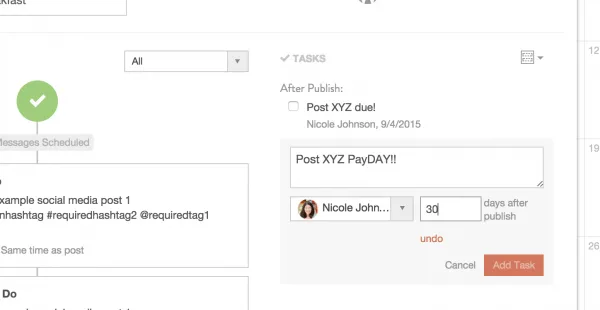 Did you see that? If you get paid a certain number of days after the post publishes – CoSchedule can calculate that FOR you. Now check out your calendar!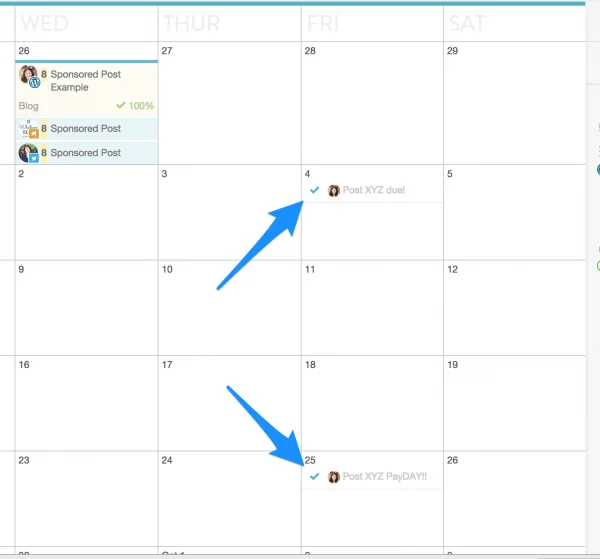 And those social messages? If you want to send a photo with them you totally can, and (if you use WordPress) CoSchedule will pick the best image to send so you can get those scheduled before ANYTHING is even written.
But what if your post date moves? Are you going to have to manually change ALL of that information?
NOPE. Just drag and drop it and all of the things that are scheduled relative to that posting date MOVE WITH IT. My post moved 2 days into the future, and so did my payment date. But NOT the post's due date – which is static. SO COOL.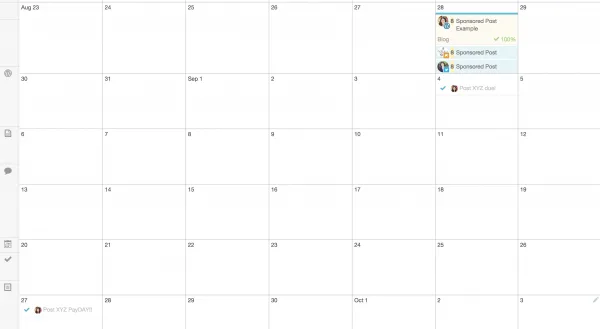 I told you it was awesome. I also like color coding my sponsored content – which also color codes the associated social messages, and that gives me a great overview of my entire content marketing strategy to make sure I have a good mix or organic content and sponsored content available and being promoted throughout my channels. See those pink and purple posts? Those are sponsored. The ones without the label aren't. Super easy!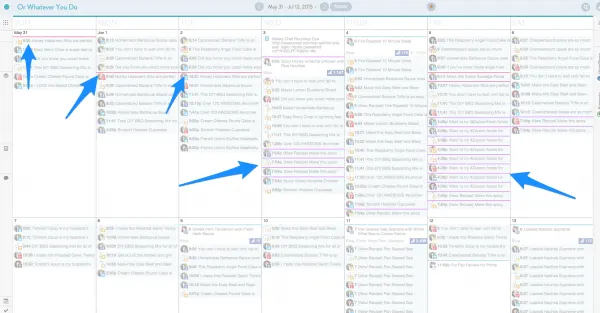 CoSchedule has a 14 day free trial, and if you have any questions I'm happy to answer them! In fact, if you write in to support@coschedule.com with questions there's a pretty good chance it'll be me on the other end of that email. And guess what? You don't even NEED WordPress in order to use CoSchedule – so no matter WHAT blogging platform you use, you can get organized too.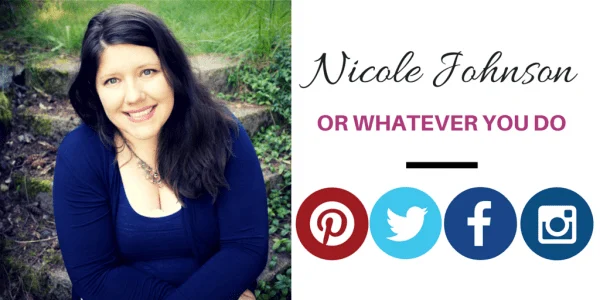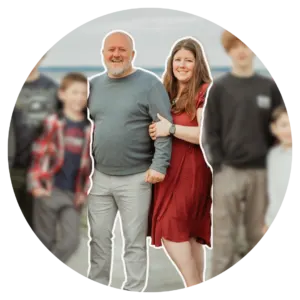 Nicole Johnson, a self-taught expert in grilling and outdoor cooking, launched Or Whatever You Do in 2010. Her blog, renowned for its comprehensive and creative outdoor cooking recipes, has garnered a vast audience of millions. Nicole's hands-on experience and passion for grilling shine through her work. Her husband, Jeremiah Johnson, also plays a pivotal role in recipe development, adding his culinary flair to the mix. Together, they form a dynamic duo, offering a rich and varied outdoor cooking experience to their followers.