I was selected for this opportunity as a member of Clever Girls and the content and opinions expressed here are all my own.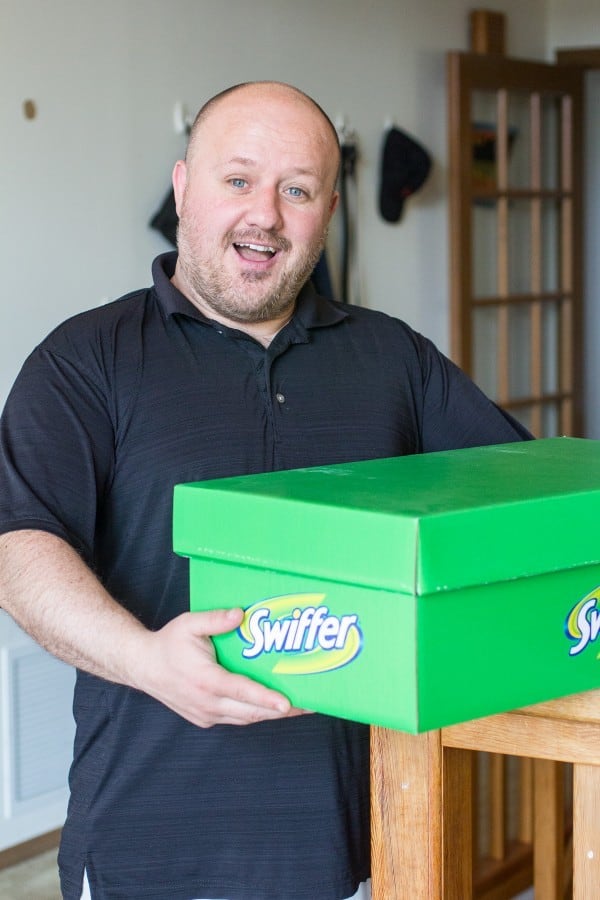 If you have ever met me in real life or even interacted with me on social media, you've probably heard me complain about the MESS. The constant-never-ending mess. I don't know if my kids are extra next-level messy, or if its just a product of having a bazillion of them AND an almost full-time job AND a blog, but holy MESS.
I never knew before I had kids that they leave an actual film behind them. I remember scrubbing the walls after 3 of the boys were all at walking age or above and thinking, "Really? WHAT are they touching and then WHY are they just running their hands along EVERY WALL IN MY HOUSE leaving all of that mystery kid-film behind?"
They still touch everything they pass, without fail, but our current battle is the whole, "The world is not your garbage can." game. Because really? Why would a person, even a small one, just pitch whatever they have in their hands right onto the floor. In the house. Outside. Everywhere. I'm done? PITCH. Not cool!
There have been EPIC toddler messes.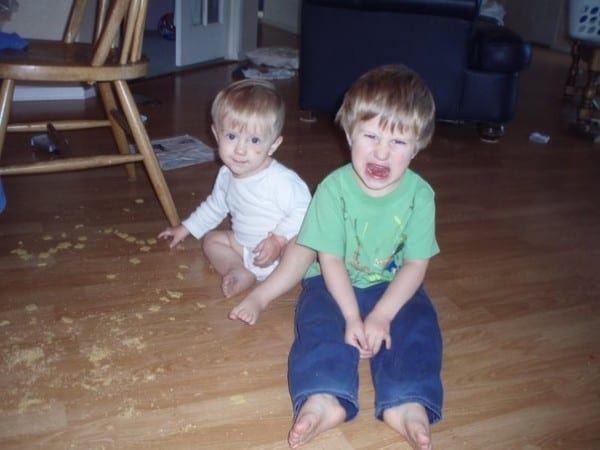 This wasn't even the half of it.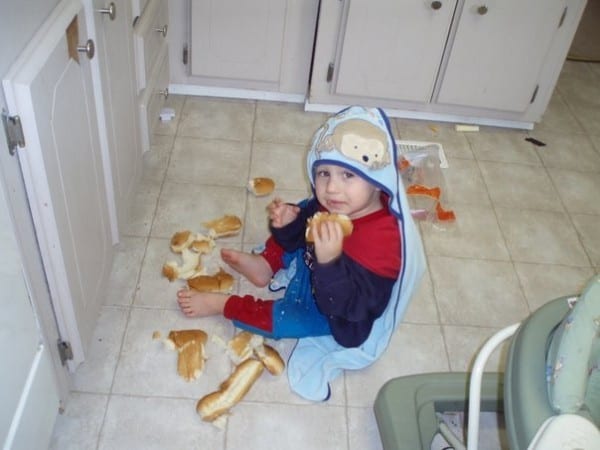 We had one very memorable instance with flour that I'm having trouble finding right now. But Whoa. FLOUR. EVERYWHERE.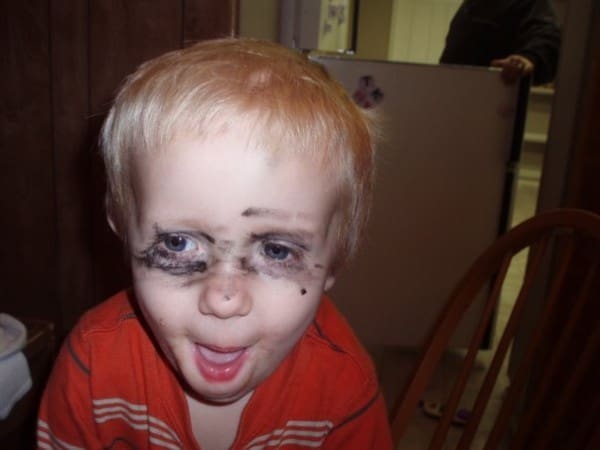 Now, granted. I had 4 boys in 5 calendar years. (That baby is 5 now! Where did the years go??)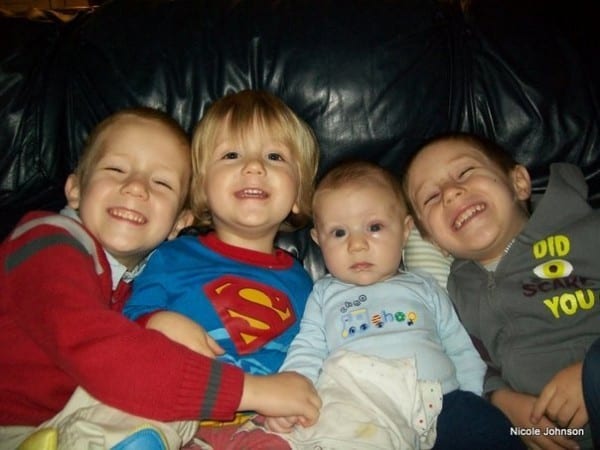 "Busy" didn't really adequately describe my life back then. It was insane. It's gotten a little less bottom-wiping and little kid stuff, and morphed into bigger issues like keeping up with chores and monitoring screen time, but it is no less crazy, just a different kind of crazy.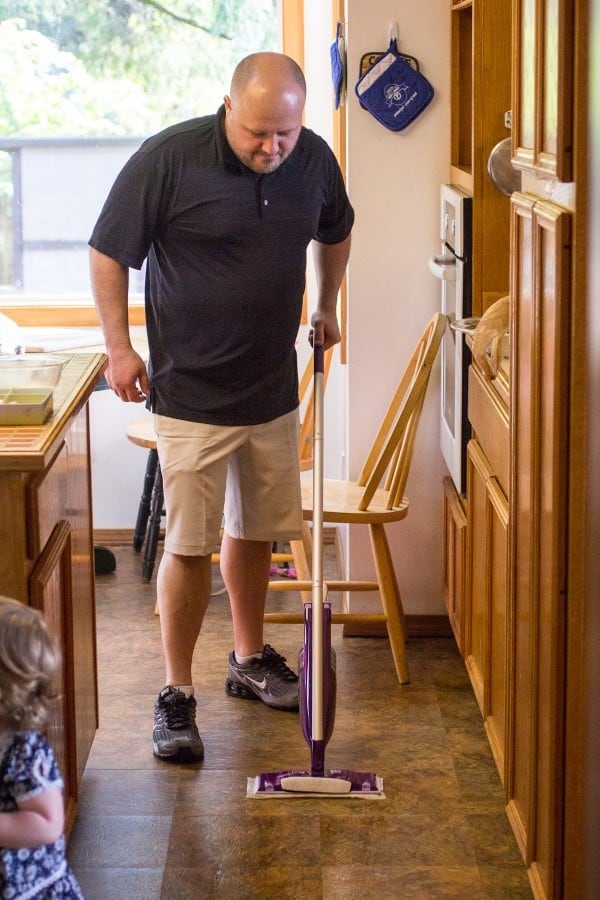 With that many kids, we ALL pitch in to help. Dad and the kids included. Does a baby need holding? Someone's on it. Chickens need feeding and watering? Get to it. Floor need sweeping? Got it. But until this week the mopping? That happened WAY less than it needed to. Like – WAY less. Finding the mop, cleaning out the sink, filling the sink, adding the floor cleaner, the mopping, the ringing – ugggghhhh. There just never is enough time in the day. Now? Oh.my.gosh!
The kids spill?
Swiffer.
I find mud tracked into the house for the 18th time today?
Swiffer.
Someone forget the bathroom rug and soak the bathroom getting out of the shower?
Swiffer
It is SO easy. I'd hesitated jumping onto that train for YEARS now because I just didn't think it would work as well as a mop – but it totally does. And I love that its quick and easy enough that none of us, even my husband, hesitates to pull it out and clean what needs doing.
We loved it so much we decided to give one to Jeremiah's Dad!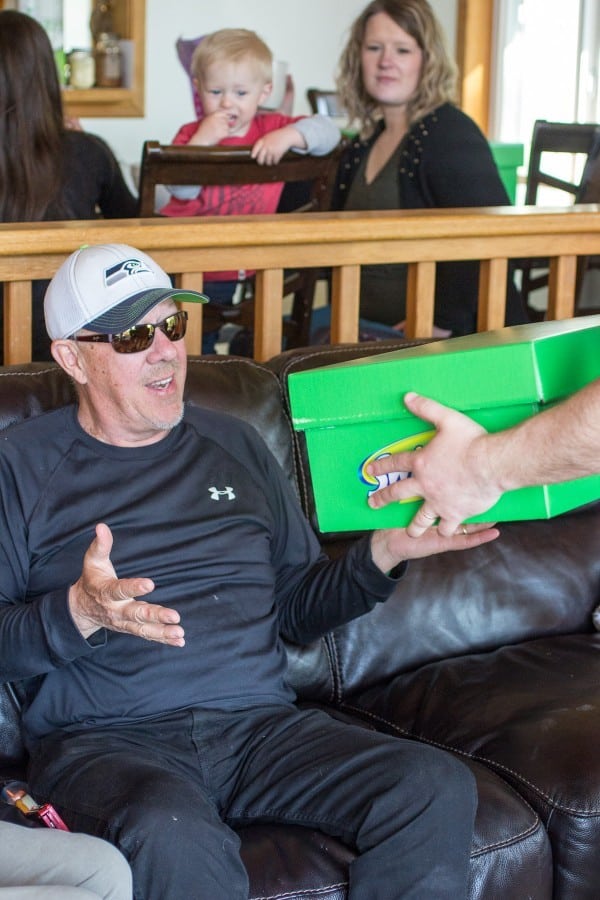 They have a toddler frequenting their floors too (Hi Max! He's checking out the action in the background there.), and I figured that if we could make a little bit of cleaning up those messes easier – why not!