Country Kitchen Breakfast Skillet is a copycat of a midwest favorite. We don't have any of these near me, so when I'm craving this I have to cook it up myself.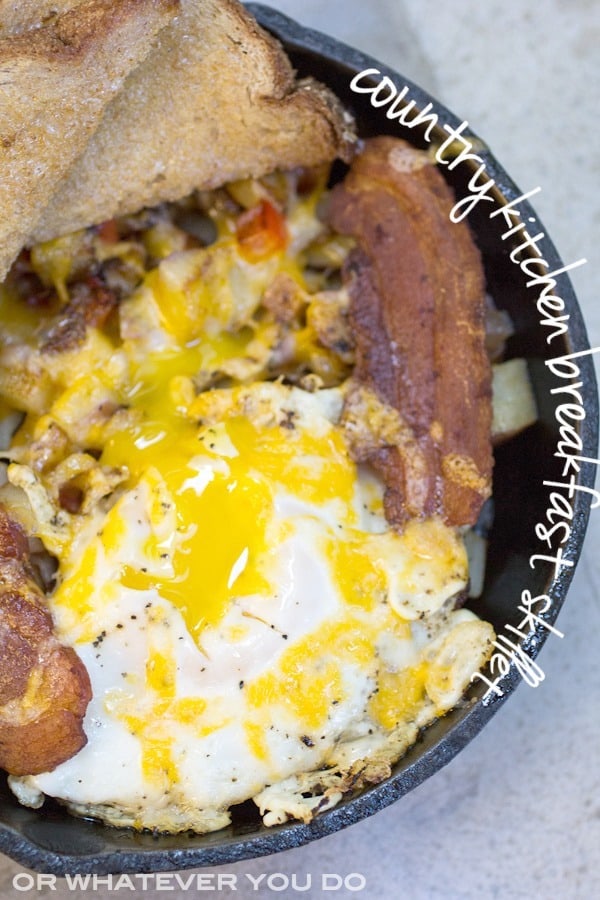 Country Kitchen Breakfast Skillet
I grew up in a small town on the edge of the Iron Range in Northern Minnesota. It has grown quite a bit from what it was back when I was a teenager, but back then there were only a few choices if you wanted to be out and about after 7pm.
Most of them were not things I would want my teenagers doing. Country Kitchen was one of the two restaurants in town open 24 hours a day, and they let us annoying teenagers sit in there and drink coffee for hours and hours on end.
I'm sure the waitresses had to have drawn the short straw to get our section, but hopefully they realized that there was much worse things we could be out doing during those hours than drinking coffee, eating french fries, and laughing like maniacs.
I was never into the breakfast skillets back then because I didn't like spending money, or eggs, or anything that could've touched an onion, or any fat on bacon, or pepper, or peppers, or anything that wasn't pasta, tomato sauce, french fries, or gravy, but looking back I sure wish I would've been! I missed out on full access to amazing breakfast skillets.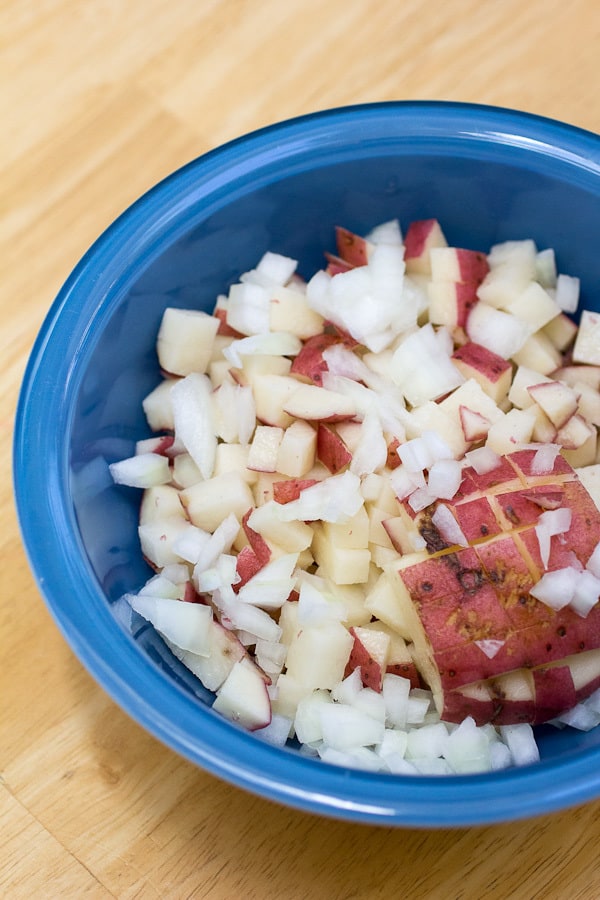 I'm am fixing that now, and have made several iterations of this breakfast skillet over the past couple of weeks.
It is very simple.
A red pepper, onion, and potato hash on the bottom, with bacon, a fried egg, and some toast to finish it off.
This isn't groundbreaking, and I probably could skip the "recipe" portion of this and you would get the hint, but maybe you are living in a part of the country that isn't graced with abundant Country Kitchens and you want to try a famous Country Kitchen Breakfast Skillet too?
---
Hungry for more egg recipes? These will hit the spot!
---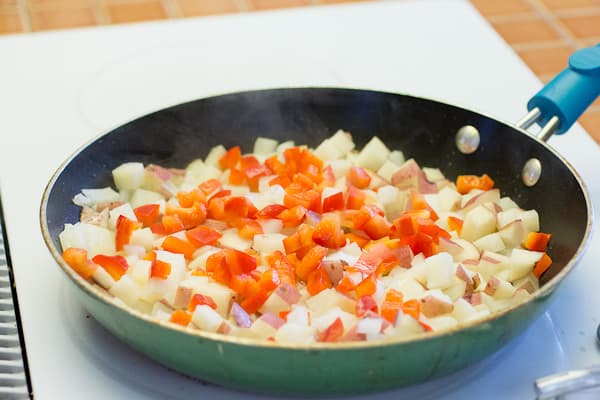 Well, you'd better get in the car and drive to one, because I actually have no idea how country kitchen really makes theirs. What you will get if you make my version though is whole ingredients, cooked simply, and served fresh. Can't beat that, right?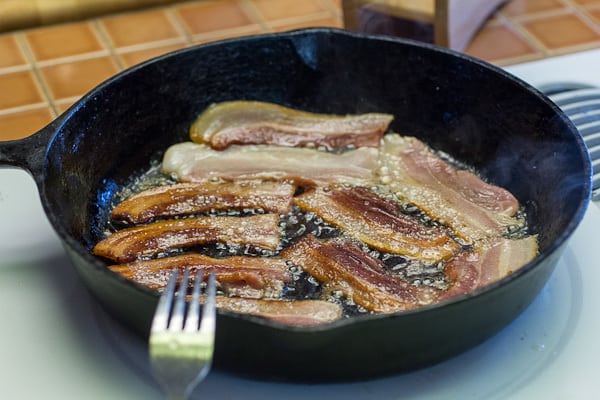 One thing that I love to do is to reserve some of my bacon greases, and fry my potatoes and sometimes even my eggs in that. I will put the excess bacon grease in the fridge. Butter is insanely expensive here right now, and for some things a little bacon grease does the trick just fine, or even better.
Also, you NEED this blueberry syrup and buttermilk pancake recipe!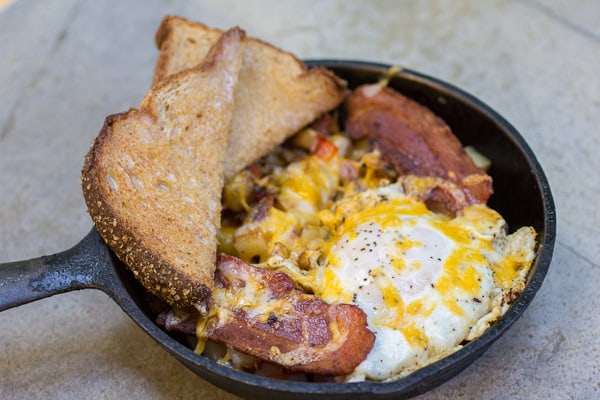 Another trick I do is to only cook my egg on one side in the pan, then I finish it off in the oven under the broiler so I can melt the cheese and cook the top of the egg all in one shot.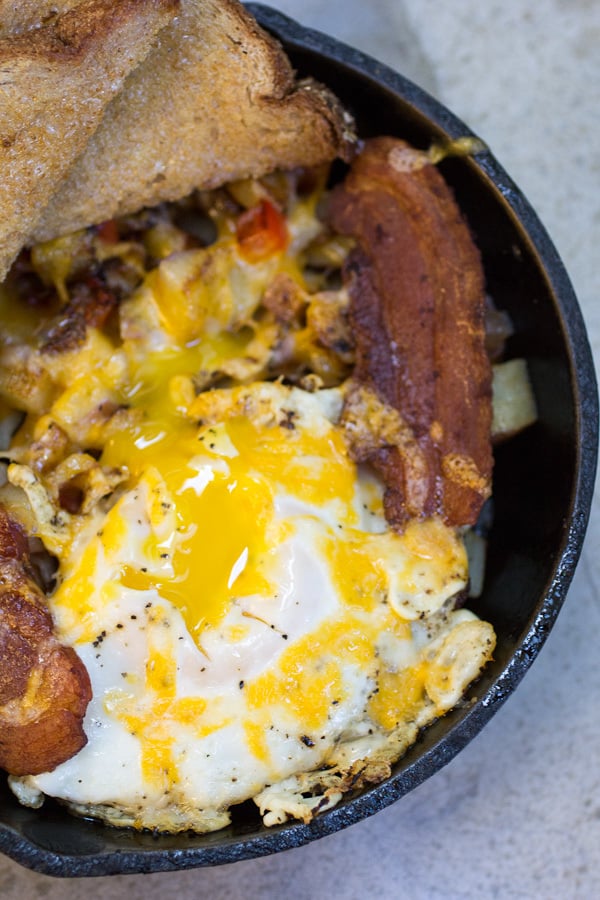 Yield: 2 servings
Country Kitchen Breakfast Skillet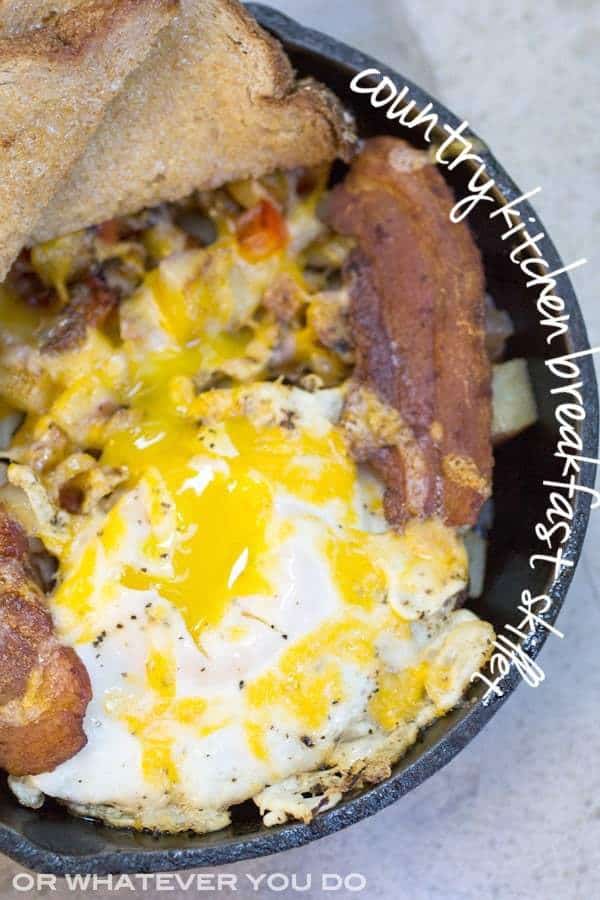 Your favorite skillet at Country Kitchen comes to life right at your own house.
Ingredients
5-6 pieces of bacon
2 medium red potatoes
1/2 small yellow onion
1/2 red bell pepper
1/2 teaspoon salt
1/8 teaspoon pepper
1/4 teaspoon Johnny's or Lawry's seasoning salt
2 large eggs
1/4 cups cheddar cheese
toast
Instructions
Cook bacon, and reserve bacon grease.
Dice the potatoes and bell peppers into 1/3 inch chunks. Finely chop onions. Mix together, season with salt, pepper, and seasoning salt, and cook in a nonstick skillet that's been lightly coated with bacon grease over medium heat. Stir frequently, and brown hash evenly.
Place cooked hash brown in an oven safe skillet or baking dish. Top with cheddar cheese.
Put a teaspoon of bacon grease in a small skillet over medium heat, and cook egg sunny side up.
Place egg on top of hash, and place under broiler for about 1-2 minutes, or until whites are set and cheese is melted.
Serve with toast, and more bacon grease. Just kidding.
Nutrition Information:
Yield:
2
Serving Size:
1
Amount Per Serving:
Calories:

497
Total Fat:

23g
Saturated Fat:

9g
Trans Fat:

0g
Unsaturated Fat:

12g
Cholesterol:

235mg
Sodium:

2121mg
Carbohydrates:

45g
Fiber:

4g
Sugar:

5g
Protein:

27g