Caramel Monkey Bread is a sweet treat that your whole family will love. This made-from-scratch recipe take a little time, but once you taste it you'll be glad you took it!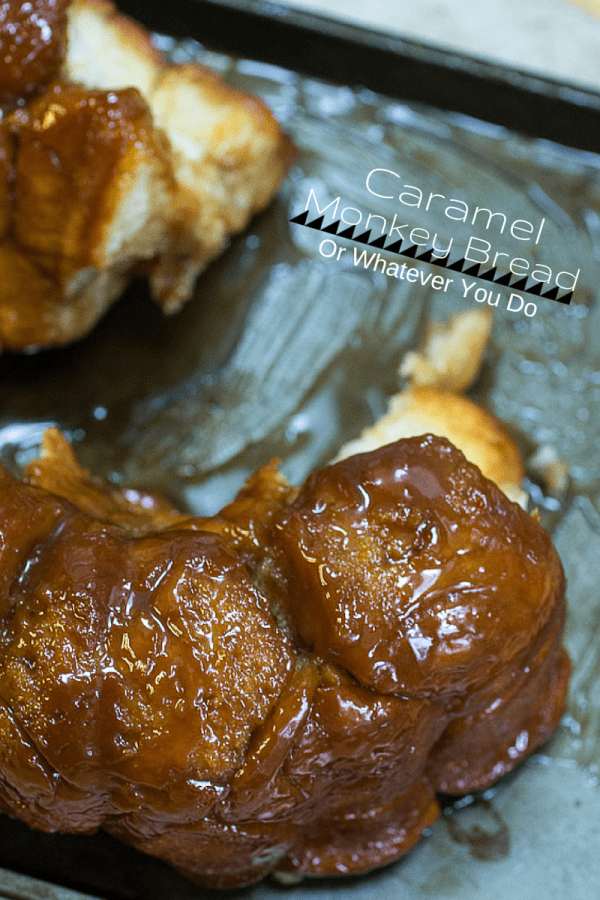 Caramel Monkey Bread
I made this monkey bread the other week when a dear friend of ours came over and delivered an extra washer and dryer to us because our washer was on the fritz.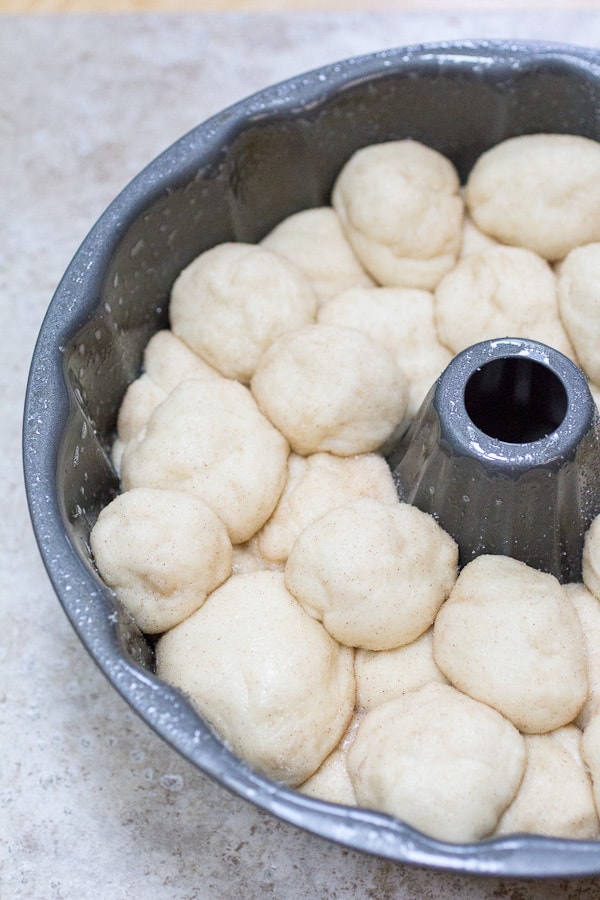 I wanted to make a little treat to offer him as a small thank you for taking the time out of his Saturday to come over and help us, and I figured that freshly baked rich bread coated in sugar and covered in caramel would probably say "Thank You" as well as anything else could.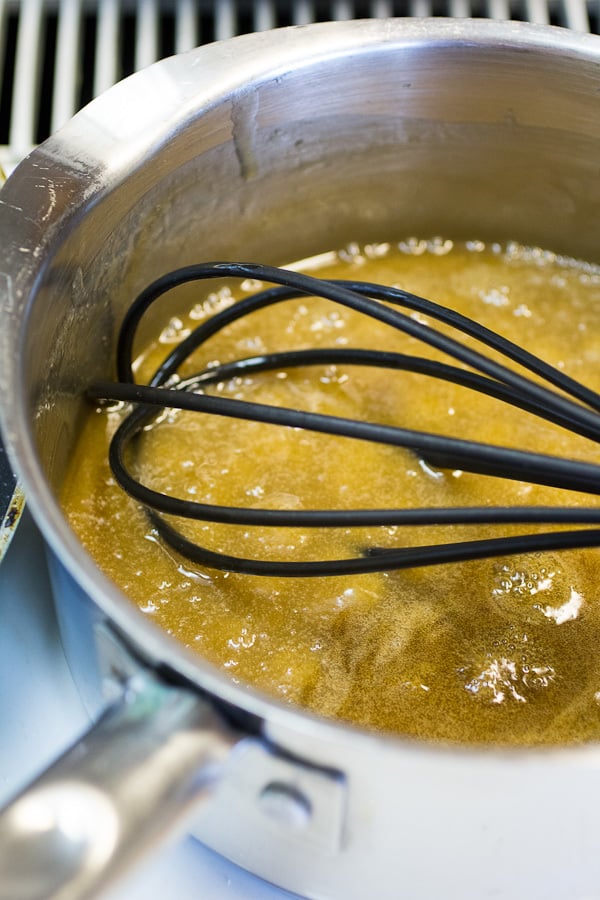 Usually when I am whipping up something like this I go for traditional caramel rolls.
Why not, right? Who can resist that?
This caramel monkey bread may have slightly tipped the scales. I loved the two-bite sized pull-apart balls of dough that these feature, and mopping up the extra caramel on the pan may have made my entire day.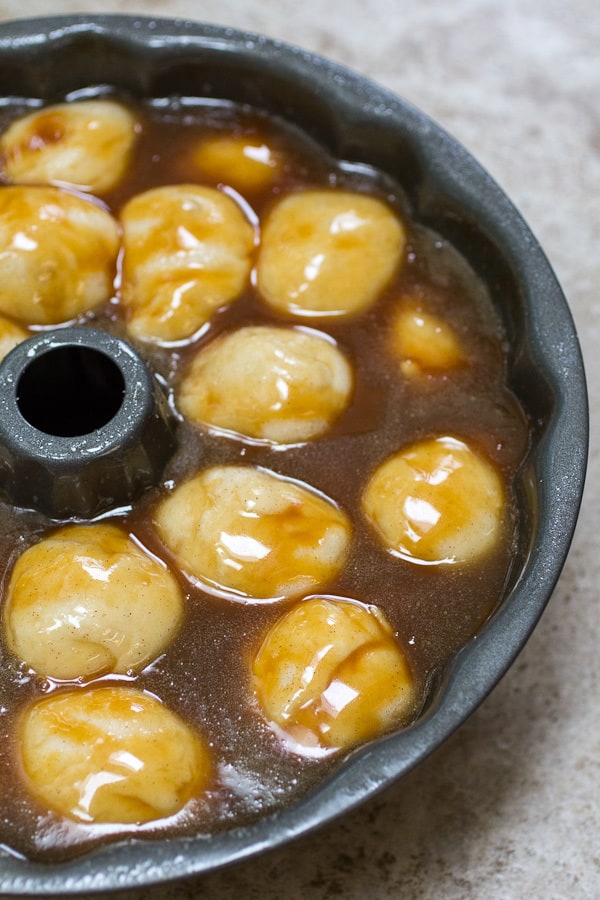 In fact, I have good reason to expect that this Caramel Monkey Bread made everyone's day, as the entire batch didn't make it much past lunch.
---
NEED SOME MORE IDEAS? I'VE GOT YOU COVERED!
Checkerboard Marble Cake
Instant Pot Beef Street Tacos Recipe
Baked Tortellini Recipe
Apple Crumble Pie Recipe
---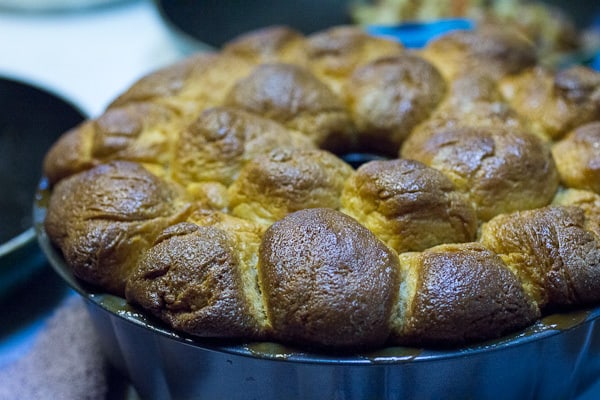 You may have to pry these out of the pan a bit. I thought I had greased mine well, but evidently not so much. The good thing is that even if it does come out in two different pieces, it still looks and tastes amazing.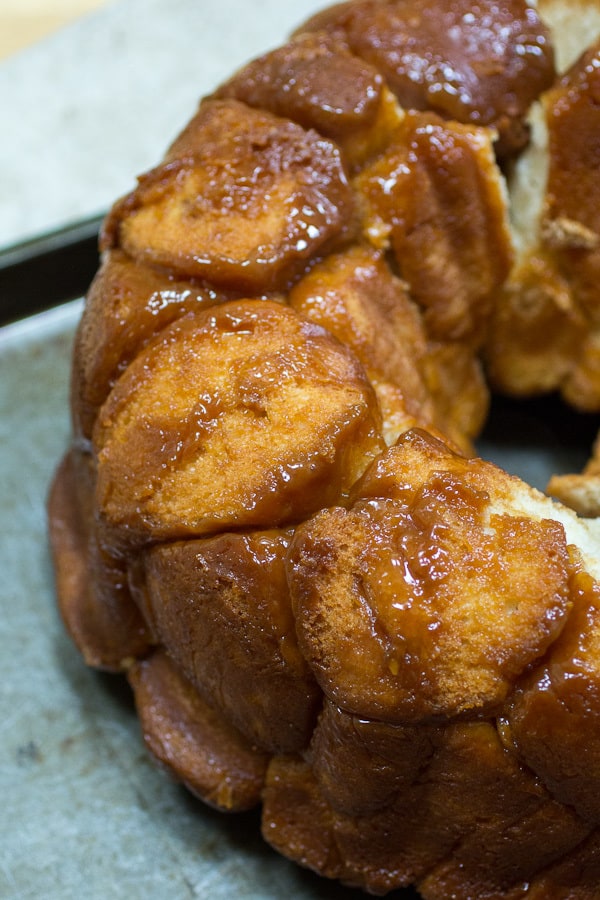 I also thought I was going to have way too much caramel for this batch, but then I remembered that there is NO SUCH THING as too much caramel. When they came out of the oven and came out of the pan I was really glad to have that extra 1/2 – 3/4 cup of caramel to drench these in. Double.Caramel.Monkey.Bread.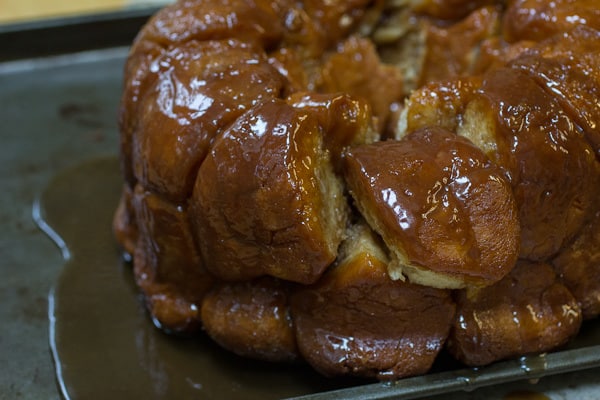 I may be late getting this post up today, but I'm still plenty early for you to get what you need to make these for someone you love, or someone you want to say a special "thank you" to this weekend.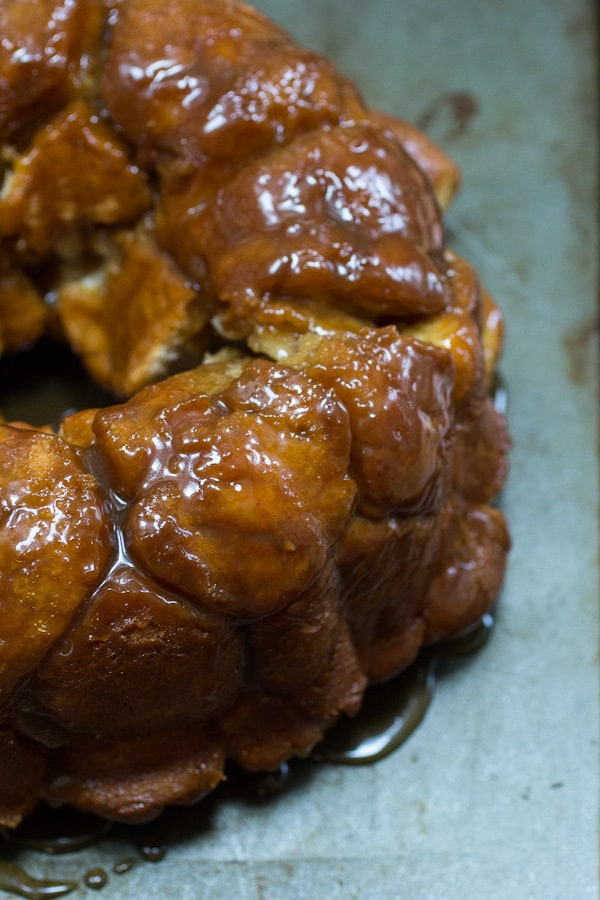 Yield: 8 servings
Caramel Monkey Bread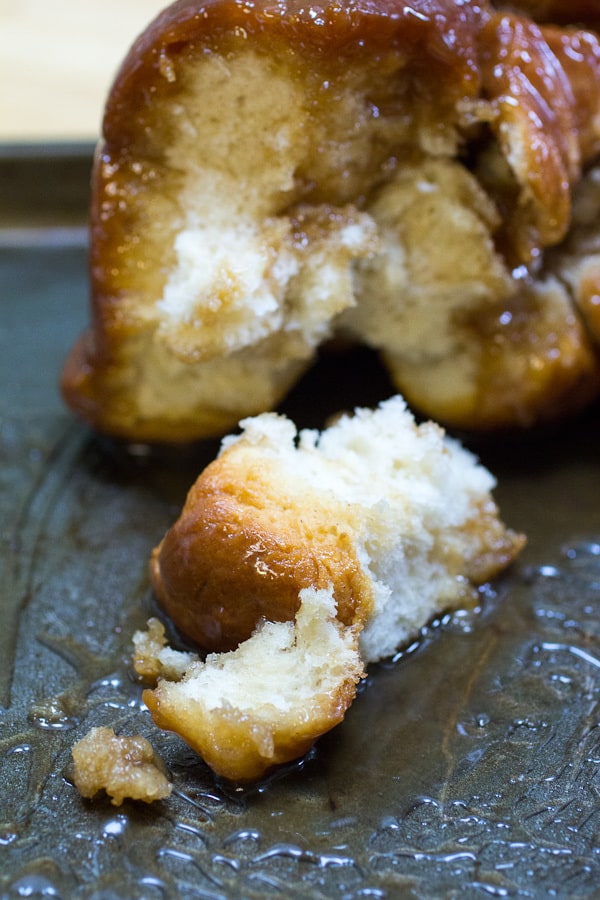 Monkey bread is such a fun treat! Caramel monkey bread is like a whole different level of pull-apart monkey bread though! Drench your bread in caramel sauce and get eatin'.
Total Time
2 hours
40 minutes
Ingredients
Dough:
3 cups whole milk
1 tablespoon yeast
1 cup sugar
1 stick butter, salted, melted and slightly cooled
2 eggs, lightly beaten
6 1/2 cups bread flour
3/4 cup bread flour
1 cup sugar + 3/4 teaspoon cinnamon, mixed
Caramel Sauce:
1 cup butter, unsalted
1 cup heavy whipping cream
2 cups brown sugar
1 teaspoon vanilla
a shake cinnamon
Instructions
Heat the milk up in 30 second increments in the microwave until it is lukewarm. In the bowl of a mixer, combine the milk and yeast. Let sit for 10 minutes. With the dough hook attached, add in the sugar, butter, and eggs. Mix for 1 minute on low speed. Add in 6 1/2 cups of flour and mix for 5 minutes. Cover and let rise for 1 hour.
While the bread is rising, make the caramel sauce by combining the butter, whipping cream, brown sugar, and vanilla in a medium sized saucepan over medium heat. Bring to a simmer, stirring frequently, for 3-4 minutes. Sauce should be completely smooth, and sugar dissolved. Add a dash of cinnamon, and stir to combine.
Add remaining 3/4 cups of flour and mix for 2 minutes. Dough should be smooth, and not too sticky. You will need to lightly grease your hands to handle the dough, but that should be enough to work with it easily. If the dough is still too sticky, add in another 1/4 cup of flour and mix another minute.
Preheat oven to 350. Lightly grease hands with butter and form dough into small balls about 1 inch in diameter. Roll in cinnamon sugar, and place into a bundt or tube pan that's been sprayed with baking spray or greased well. Repeat until all dough is rolled. Depending on the size of your bundt or tube pan, you may have enough dough to do an extra cake pan, or loaf pan. You can also roll the excess dough into cinnamon roll form if you are feeling frisky, or fry them into donuts while you wait for your monkey bread to rise.
Let the monkey bread rise for 30-40 minutes in a warm, draft-free place. Gently pour 1/2 of the caramel (or as much as will fit leaving 1 inch space at the top of the pan) over the bread, and then bake at 350 for 30-45 minutes, or until the dough is golden brown and cooked all the way through.
After you pull the bread out of the oven, invert the pan onto a baking sheet and let cool for 5 minutes before removing. You may have to pry out the bread a bit. Pour the caramel sauce over the monkey bread, and serve warm!
Nutrition Information:
Yield:
16
Serving Size:
1
Amount Per Serving:
Calories:

685
Total Fat:

27g
Saturated Fat:

16g
Trans Fat:

0g
Unsaturated Fat:

9g
Cholesterol:

93mg
Sodium:

119mg
Carbohydrates:

102g
Fiber:

2g
Sugar:

56g
Protein:

11g
Nutrition data provided here is only an estimate. If you are tracking these things for medical purposes please consult an outside, trusted source. Thanks!
Follow me on Facebook, Twitter, Pinterest, Google+, Foodie, and Instagram!