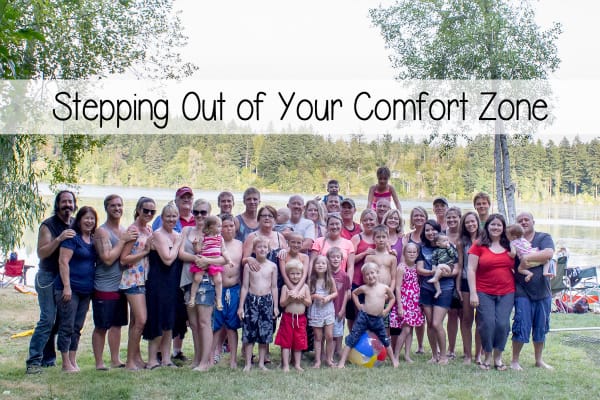 I am such a homebody. During the summer there will be days on end where I won't even leave my own yard. By the end of it I am itching to get out of here, but for the most part I'm pretty happy with that arrangement. I like sleeping in, getting things done at my own pace, not worrying about getting everyone up and ready and out the door. I know my own surroundings, and I can tell you from two rooms and a floor away what that sound was, who did it, and why they shouldn't be doing it. When you have five kids every day has a little chaos thrown in, and anything I can do to combat that a bit helps…a lot. Home is awesome. That was not how the last 10 days have been. Even though it was crazy and busy and some parts of it left me a little overwhelmed, it was an amazing time. It is so important for me to force myself to step outside of my comfort zone once in a while. I'm always so glad when I do.
The Thursday before last was Caleb's 5th birthday, bible study was cancelled due to my husband not feeling well, so we decided to abandon all housework and blog work and hit the road. We went to a local state park and walked the beach, and then to a playground. After that we ordered pizza, and went home. It was pretty much the perfect day. I usually hesitate to undertake any big outings all by myself, because when they go bad they go REALLY REALLY bad, and REALLY REALLY quickly. Fighting, tears, and yelling often result, and its only mostly from the kids. I'm a little gun shy sometimes about tackling that kind of thing, especially with a tiny one on board as well (she was on my back while I shot this in my Ergo carrier!), but I'm determined to do this kind of thing more often and make the most of the summer we have left. Caleb (and everyone else) had a great day, and I'm so glad we got OUT to enjoy the weather and each other.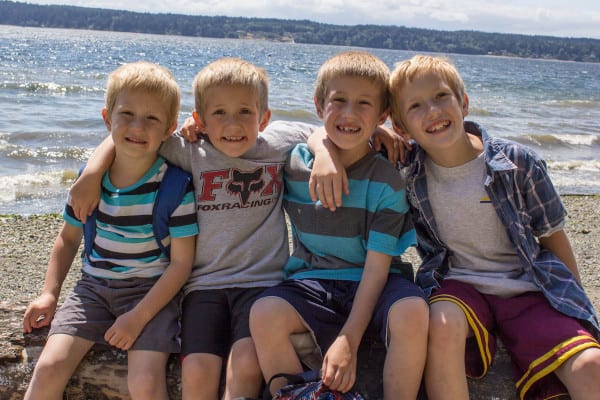 My crazy week continued on Saturday the 26th when I not only stepped outside of my comfort zone, I hurled myself face first out it it. I was invited to do a recipe demo at the Pacific Northwest Mushroom Festival by the amazing Barry C.B. Martin of Our Community Table. I've been working with Barry and contributing content to Our Community Table for quite a while now, and I just love his vision and passion for local, regional, fresh foods.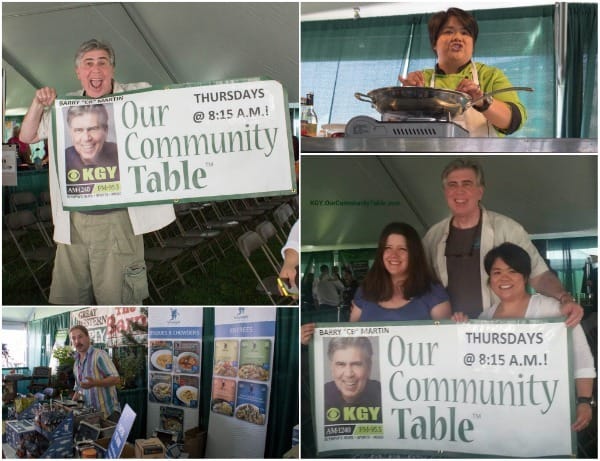 So I faced my fear of public speaking and bungled my way through a cooking demo. I'm positive I didn't hit all my talking points, I'm fairly certain that I talked WAY too fast, and I couldn't possibly tell you if it took me 5 minutes or 15 minutes, but hello? I spoke. In front of people. Almost this many people.
Oh, and I got to sample some fantastic Fish People Seafood. I am so impressed. They are a local Portland company sourcing local seafood, and making some incredible product. I can't wait to review the varieties that weren't available at the Festival, and I'm hoping to be able to get something lined up and giveaway some packets to some lucky readers! Stay tuned!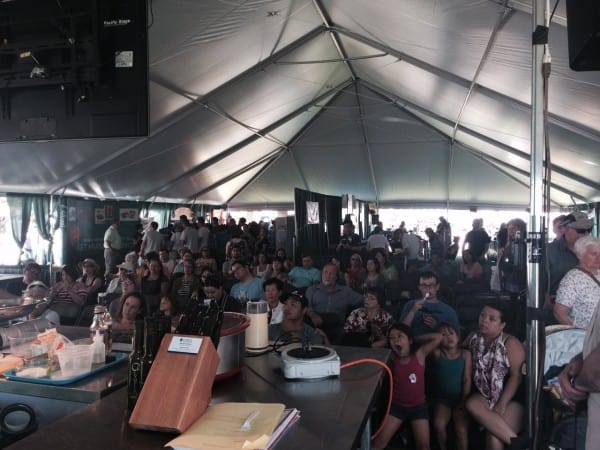 I wasn't really expecting the nerves so much. When I sing in front of a crowd it is literally no big deal. As soon as I walk out on stage, I'm good. It is totally different when you are speaking. I'm so glad I did it though!
In addition to that awesome public speaking experience, I also got to try some awesome festival foods.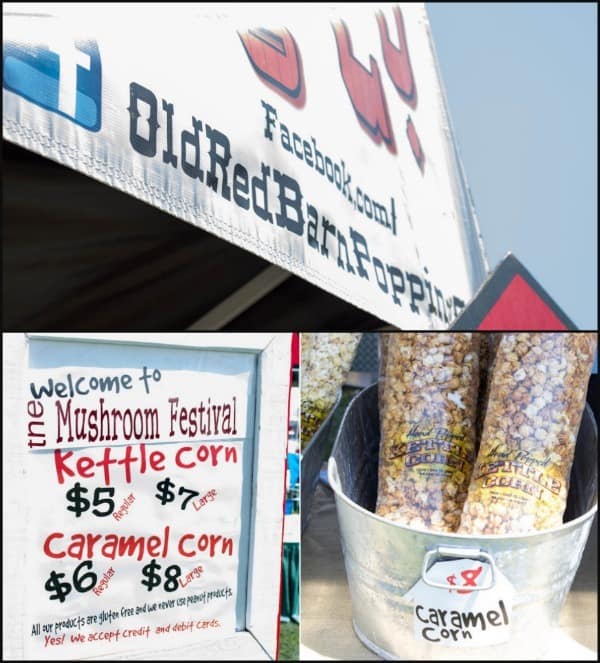 Look at these smoked fried mushrooms and garlic onion rings! I really wanted to sample everything coming out of this stand, but my appetite wouldn't allow it. Just the SMELLS alone. So amazing! Check out Uncle Jim's Smokehouse if you are in Washington, especially if you are a hunter and need your game processed! (This is NOT a sponsored post, I just love supporting great local businesses.)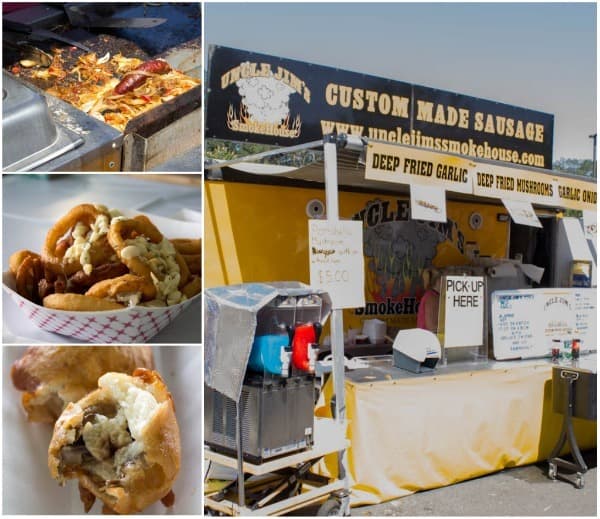 What I didn't tell Barry that day was that the very next day I was hosting a birthday party…for 40. So after the Mushroom Festival I came home and started power cleaning and baking cakes. Caleb requested Seahawks cake, and this is as close as I could get. I also put together a chocolate layer cake because….40 people! I totally cheated and used box mixes, and I'm not even a little bit sorry.

We did a water balloon toss. A slip-n-slide. And lots of running wild. We also managed to squeeze in a picture of all of the Grandkids on this side of the family! Amelia got so partied out she just couldn't take it anymore, and passed out in her cousin's arms.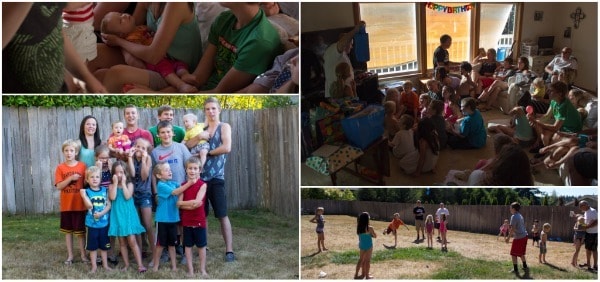 The birthday boy (2nd from the right) and his cakes! I totally forgot to do my typical "Kid with Cake" shot with the "good" camera.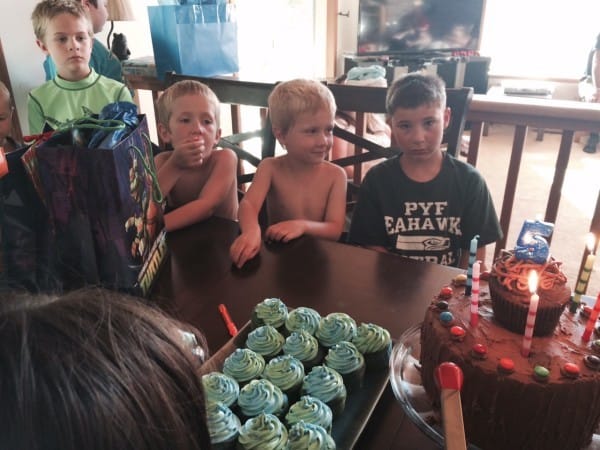 I spent all day Monday cleaning up from the party, and then Tuesday my awesome Brother and Sister-in-law along with three of my nephews and my niece came to stay with us for a couple of nights. They flew in from Minnesota for a visit, and we got to hang out. We spent most of Tuesday at the lake, and had dinner out there with the family. Wednesday I did another gigantic family get-together and made a ginormous batch of spaghetti. We had a family reunion last weekend, and there were some more out of towners that flew in. It was so awesome to get to see everyone! Thursday we host a bible study at our house, and then Friday was day one of the reunion! I cleaned and cooked and ran over for dinner to the lake, and thus began our weekend of awesomeness. Rope swinging. Barbecuing. Visiting. More coffee drinking than I thought was possible. Swimming. Jet skiing. Canoeing. Kayaking. Meeting new family.
Even taking a large group photo! This is something that I've never done before, and I'm so happy with how it came out! Those of you who are photography nerds like me, know how challenging large groups can be, and to add to that I had forgotten my tripod, AND there was a lake in full sun in the background!
I'm not going to lie. Today was pretty awesome in all of it's "I'm staying home ALL DAY and not going ANYWHERE!" glory. It took me half of the day today to clean my kitchen after a weekend of cooking and running, but the experiences and the uncomfortable periods lead to so much growth.
That novel was all to explain my lack of usual posts and new recipes over the past couple of weeks. New content is on the horizon, and new specials, links, and giveaways! Make sure you enter my two current giveaways for the Rib and Roast Rack and Pan, and the Napoleon Travel-Q grill. Both are ending relatively soon!
I'd love it if you would follow me on social media.
Follow me on Facebook, Twitter, Pinterest, Google+, Foodie, and Instagram!