This Bing Cherry Galette Recipe tastes like a big bite of summer. Get those cherries while they are ripe!
Bing Cherry Galette Recipe
Cherries are probably one of my favorite parts of summer. They usually don't last long enough to actually use them to make anything because we eat them as fast as we can buy them, but last Thursday I needed a dessert that could feed a crowd, and happened to have all the ingredients available for this fresh cherry galette.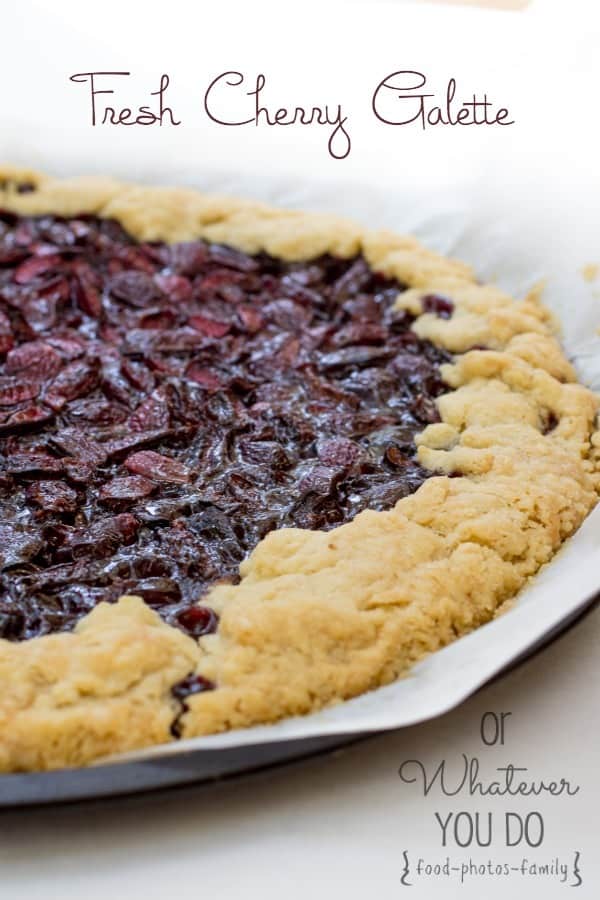 Start this recipe by whipping together your pie crust.
This particular pie crust uses butter-flavored shortening. If you have a FAVORITE pie crust recipe, please feel free to use it for this! You will need TWO double crust recipes. I like the butter-shortening version, but if I hadn't have been out of butter I would've made a slightly different variety.
If you are following along with mine, take your shortening and flatten it out into a large rectangle on some parchment paper, cover it with more parchment, and then stick it in the freezer.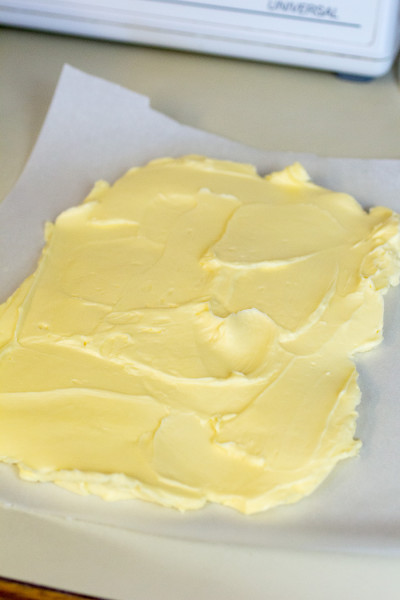 In about 30 minutes it should be good and cold, but not solidly frozen. That's good. Mix up your flour, sugar, and salt, and then break up your shortening into chunks and using a pastry cutter or your hands, mix in the shortening until its pea-sized lumps and chunks left.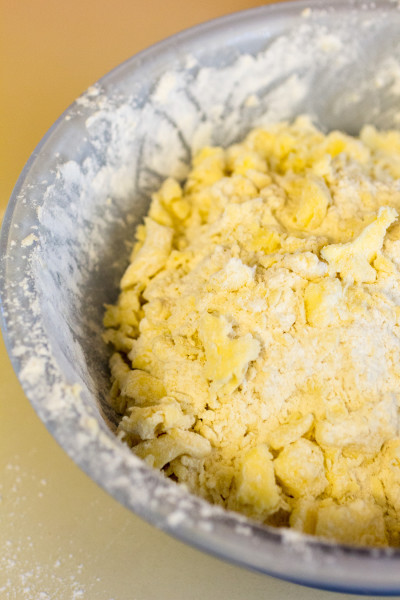 Slowly drizzle in the ice water and mix with a fork until a dough forms and the mixture stays together and does not crack when you pinch it. Form the dough into a ball, wrap in plastic wrap, and chill for 3-4 hours.
Next you need to pit 2 pounds of fresh ripe cherries. You can do this however you'd like. I used a bamboo chopstick, and got through the entire bag of cherries in about 5 minutes. No too bad! My hands looked like I'd just butchered a pig or something, but if you want less messy I'd suggest you spring for Rainier cherries.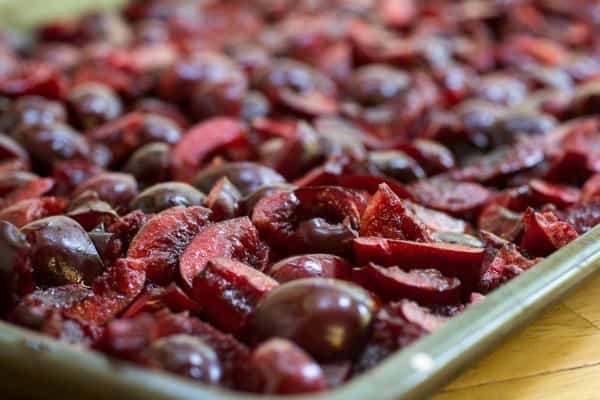 If you don't have 3-4 hours, you *can* work with this dough earlier than that, but it won't roll out as well and you may end up just kind of piecing it together on the pan and pressing it down with your hands. This will work too.
---
Hungry for more desserts? I've got some great ones!
Homemade Marble Pound Cake
Triple Berry Trifle
Toasted Coconut Cake
Easy Fluffy Cherry Cheesecake Dip
---
If you plan ahead and are more patient than I am, you can wait until the dough is fully chilled and then roll it out into a giant circle and place on a parchment covered pan. A large rectangular cookie sheet would work for this as well. Use what you have!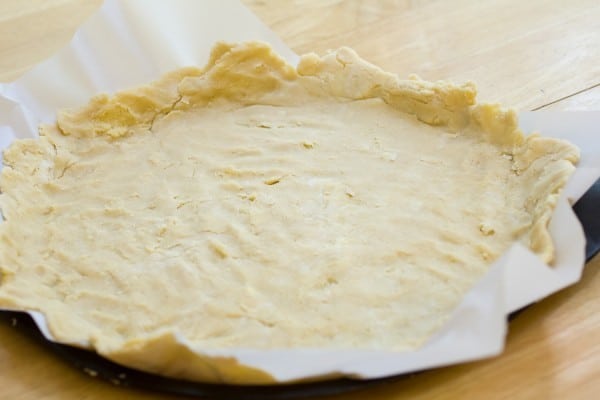 Combine 2/3 cup sugar with 1.5 TBSP of cornstarch, mix together until well combined, and then pour over the cherries and stir until they are evenly coated and the sugar starts to dissolve. Dump the cherries onto the crust, and fold the edges over.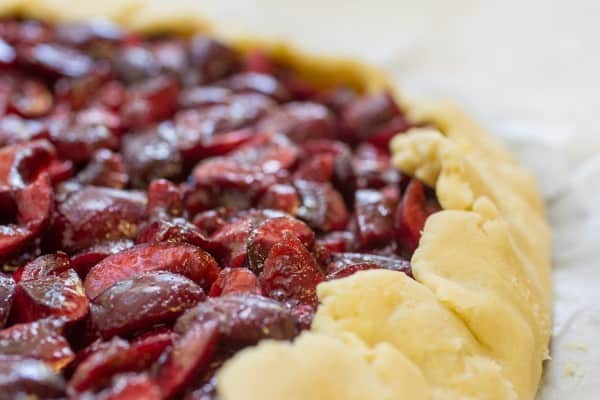 Sprinkle a bit of sugar on the folded over edge, and bake in a preheated 350 degree oven on the 2nd lowest rack until the crust is golden brown. About 75-90 minutes depending on your particular oven. I feel like mine took a LONG time. Start checking yours at an hour, and make sure you remove it when the crust is golden brown and the cherries are bubbly.
Serve with ice cream or whipping cream and a smile.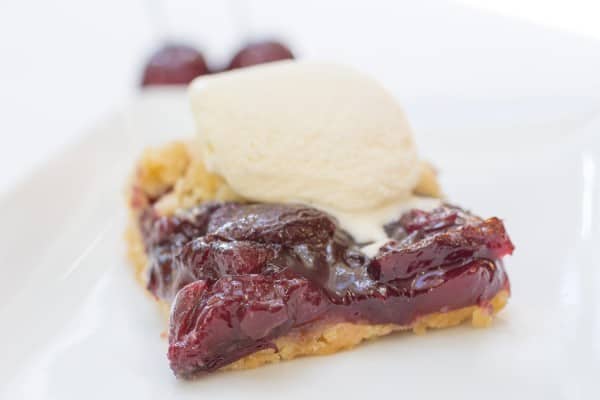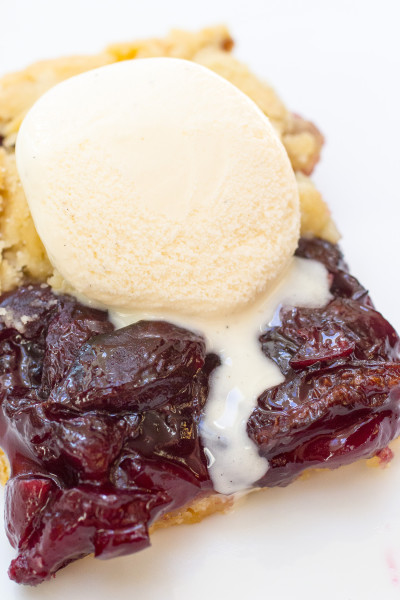 Yield: 10 servings
Bing Cherry Galette Recipe

This bing cherry galette recipe takes advantage of that surplus of fresh bings you have, and turns them into something amazing!
Cook Time
1 hour
15 minutes
Total Time
1 hour
45 minutes
Ingredients
Crust:
4 cups all-purpose flour
1 teaspoon salt
1 1/3 cup butter flavored shortening, chilled in freezer
1 tablespoon sugar
3/4 - 1 1/4 cup ice cold water
Filling:
2 lbs bing cherries, pitted and halved or quartered
1/4 tsp vanilla
3/4 cup sugar
1 1/2 tbsp cornstarch
Sugar for dusting crust
Instructions
Mix together the flour, salt, and sugar. Set aside. Chill shortening in freezer until very cold. Cut cold shortening into flour mixture until coarse crumbs are formed. Slowly pour in ice cold water while mixing with a fork until dough forms. You will probably not use it all. Form into a ball, wrap in plastic wrap, and chill for 2-3 hours.
Preheat oven to 350. Pit cherries and chop into halves and quarters. Place in a bowl and mix in vanilla. Combine sugar and cornstarch until evenly incorporated, and pour over cherries. Stir until cherries are evenly coated and the sugar dissolves.
Remove dough from fridge and roll out into a large disc. Place onto a parchment lined pizza pan or large cookie sheet, leaving dough hanging over edges to make the crust.
Pour cherries over the dough, fold over edges, lightly sprinkle sugar over the crust edges, and bake for 75-90 minutes on second lowest rack. Start checking at an hour, and remove when the crust is golden brown and the cherries are bubbly. Ovens vary!
Remove from oven when crust is golden brown. Cool and serve with ice cream or whipped cream.
Nutrition Information:
Yield:
12
Serving Size:
1
Amount Per Serving:
Calories:

537
Total Fat:

26g
Saturated Fat:

16g
Trans Fat:

1g
Unsaturated Fat:

8g
Cholesterol:

66mg
Sodium:

408mg
Carbohydrates:

70g
Fiber:

3g
Sugar:

28g
Protein:

6g