Chewy Oatmeal Chocolate Chip Cookies are one of my favorite cookies, ever. Once you make them you'll see why!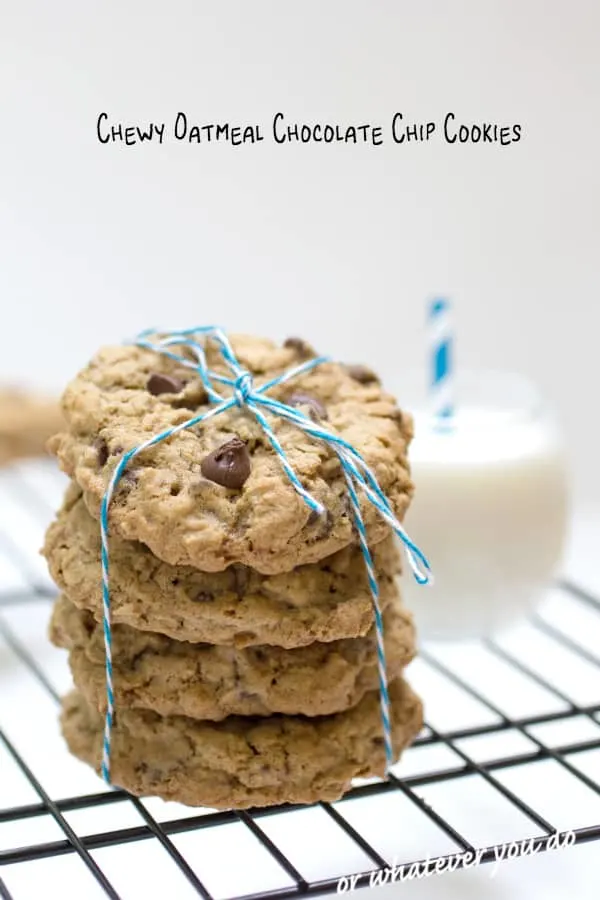 Today I am guest posting over at my friend Ashley's blog, Wishes and Dishes. She is a fabulous fellow food blogger, who happens to be fortunate enough to be vacationing in HAWAII right now! Go Ashley!
You guys MUST get over there and check out these chewy oatmeal chocolate chip cookies. They were so fantastic! Click any of the cookie pictures to be taken to Wishes and Dishes! Tell Ashley that Nicole sent you, and go forth and make these cookies! They are WORTH the oven being turned on. Or you can get brave and fire up your grill and cook them in there!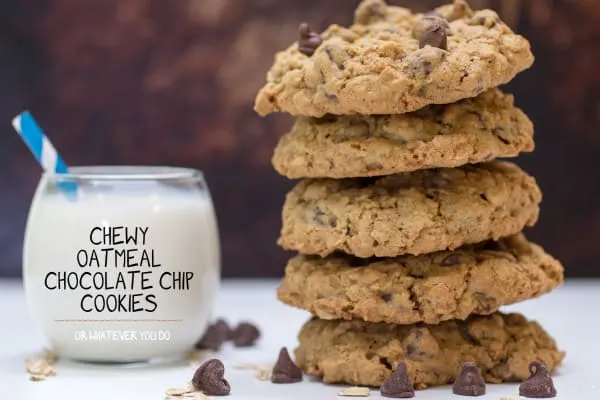 We are just enjoying the first full week of summer vacation here. Or rather learning how to manage it, I guess. It is hard on a school day to find time to get everything done that needs to get done, and often times it just doesn't happen.
When there are five kids running around the house, four of them who are rambunctious little boys who think nothing of wiping whatever disgusting things happen to be on their hands on whatever happens to be closest (wall, shirt sleeve, me, carpet), and for whom no matter how many thousands of times I tell them feel like the floor is an acceptable place for any old thing to go, (Garbage. Dirty clothes. Broken bits of styrofoam. Empty cereal boxes. FULL cereal boxes. The rest of the handful of cheese crackers that they didn't want to eat because they thought their brother MIGHTS have touched one when they walked by.) It is almost impossible to have even a moderately acceptable house, much less a company-ready in less than an entire day house.
I desperately WANT to be clean and tidy and organized, but then I'm like, "But I'm tired! And I've been going ALL DAY LONG and I don't WANT to spend the 15 seconds I have to myself today organizing that closet!" My brain talks me out of it every.time. So this summer I'm getting help.
In an effort to tame the beast that is this gigantic house that I LOVE but it nearly impossible to keep up with currently, I'm enlisting the help of my many minions that we created to help clean up their OWN messes. Imagine that! Novel idea, right?
I've done chore charts before, but I kind of gave up on it a few months ago. It was a LOT to keep up with during school with homework, dinner, dinner clean up, a little play time, and then the bed time routine. There isn't really time for chores with all of that to do between the hours of 4:00pm – 8:00pm. But now that it is summer? It is game on.
It is really important to me that my kids learn how to work, how to do a good job, even if its hard, and how to be proud of what they do. It is definitely going to take some coaching. There were a few tears and some discipline going on just during the EXPLAINING of the chore chart, but once we got going it was pretty smooth sailing.
Tomorrow I'm going to make up a color coded behavior chart too, and what color they end up on is going to determine their nightly bed time. I don't have all the details of that worked out in my head yet, but basically if they do something that's against the rules, they get to pick a chore from the "extras" list that needs to be done, and they have to move down a color. If I notice them doing a lot better and working hard to change their attitude or be extra kind to each other, I'll let them move back up the chart. Kids that are struggling to maintain will end up in bed earlier, which is what they need anyway, and kids who are behaving well get rewarded by staying up later withOUT having to deal with the bad behavior of those who can't handle it.
These small changed *should* solve a lot of our summer issues, which are (in no particular order):
Fighting and arguing, constantly.
Yelling
Being rude and mean to each other
Hitting/Kicking/Punching/Pinching, etc
Not listing to directions
Ignoring me when I talk to them
Too much screen time
We are going to do a lot of talking about kindness, and WHY we should treat our family nicely, and lift them up instead of tearing them down. I am going to tone MY volume down, and model the behavior that I want them to have. We are all going to fail at times, but as long as we keep trying its okay! Have you guys heard of the Orange Rhino challenge? I'm taking it.
I started it once before, but failed pretty early on and just kind of gave up and decided I would just "try on my own". I HAVE toned down a little, but not nearly enough. I'm loud. Really loud. Add a chaotic trying time with the kids when everyone is talking, no one is listening, and I get even louder.
Now, I'm not opposed to *some* yelling. The kids are down the street and outside of their boundaries and I see them from the kitchen window? I'm yelling to get their attention. (Sorry neighbors!) Kids downstairs and I need them to come upstairs? My head is going all the way into the laundry chute, and I'm using these lungs to get them upstairs. Productive yelling = okay. Angry yelling = not okay
So pray for me! I'm going to need it! And after you do, go check out Ashley at Wishes and Dishes and make these cookies!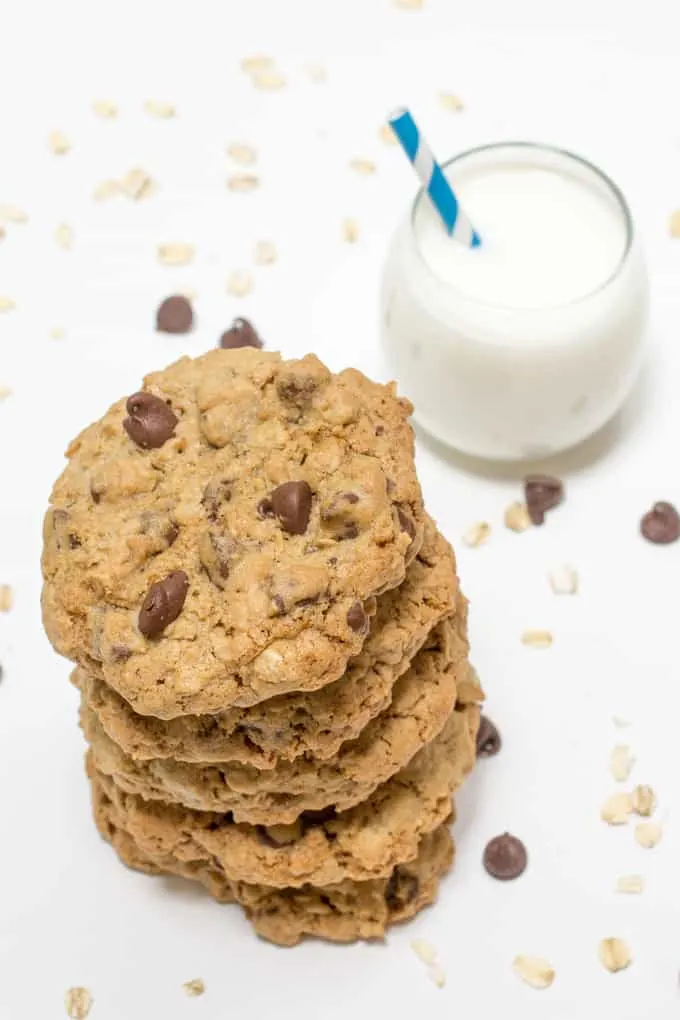 Yield: 24 cookies
Chewy Oatmeal Chocolate Chip Cookies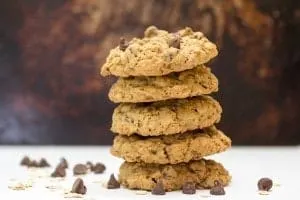 This simple recipe for soft, chewy oatmeal chocolate chip cookies creates a moist and flavorful dessert that will make everyone's day a little bit better.
Ingredients
1/2 cup butter, softened
3/4 cup dark brown sugar
1/3 cup sugar
1 egg, large
1 tablespoon vanilla
13/4 cup oatmeal, Old-Fashioned, NOT quick cooking
3/4 cup flour
1/2 teaspoon cinnamon
1/2 teaspoon baking soda
1/4 teaspoon salt, unless you use salted butter...then omit the additional salt
11/2 cups semisweet chocolate chips
Instructions
Preheat oven to 325 degrees.
Cream together the butter and sugars until light and fluffy and the color has lightened slightly.
Add the egg and vanilla, and mix to combine.
In a separate bowl, combine the oatmeal, flour, cinnamon, baking soda, and salt (if using). Mix well and fully incorporate the baking soda into the mix.
Add the oatmeal mixture into the butter mixture, and mix until a dough is formed. Stir in chocolate chips.
Line a baking sheet with parchment paper, and place rounded scoops of dough onto the paper about 2 inches apart from each other.
Bake for 15-20 minutes. How long depends entirely on how large your scoops are. Small cookies will take several minutes less than large cookies. Keep a close eye on them, and remove as soon as the edges of the cookies start to turn golden brown.
Let cool for 3-4 minutes on the baking sheet, and then carefully remove to a wire rack.
Nutrition Information:
Yield:
12
Serving Size:
1
Amount Per Serving:
Calories:

622
Total Fat:

34g
Saturated Fat:

20g
Trans Fat:

0g
Unsaturated Fat:

12g
Cholesterol:

38mg
Sodium:

234mg
Carbohydrates:

82g
Fiber:

6g
Sugar:

61g
Protein:

6g
Nutrition data provided here is only an estimate. If you are tracking these things for medical purposes please consult an outside, trusted source. Thanks!