A fajitarrito salad. Yes. You read that right. A fajita, a burrito, and a taco salad mixed and mingled and made this lovely concoction that is now forever a part of my AmeriMex repertoire.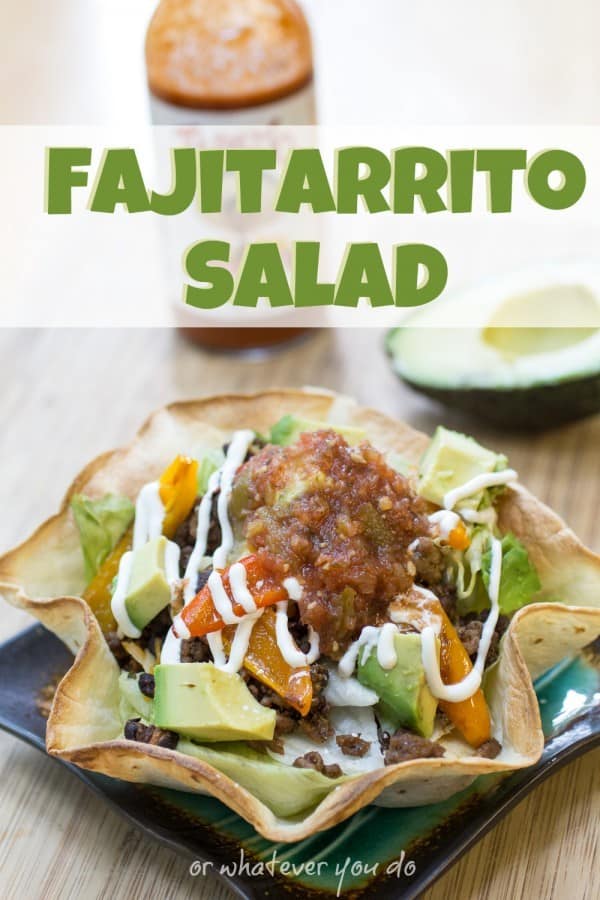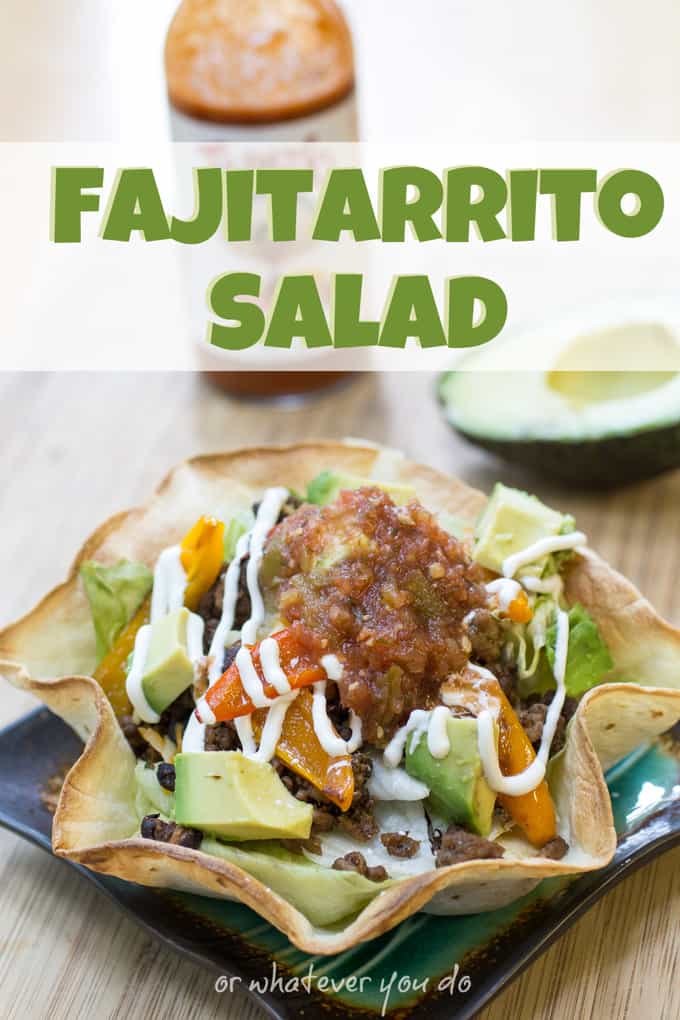 Fajitarrito Salad
It also helps that it is so EASY to throw together. I am ALL for easy. You could make this even easier by doing a batch of my crock pot fajitas and using that as the meat base. You can use almost anything you want in this, really.
This time I used ground beef. Next time? Marinated steak…for sure. The time after that? Chipotle chicken breast maybe. My Tequila Lime Shredded Beef would be amazing in this!
Today I'm on a mission to conquer my laundry pile, and get the main floor of my house to the point where if someone drops by I can actually answer the door. That would help. A lot. I just have to remember…Someday my house will be clean. There won't be dirty socks all over the floor, and drinking glasses all over the cupboards.
There won't be any more dirty hand-prints all over the walls waaaaay down low where I have to get down on my knees to wipe them off. There won't be kids begging for my attention, there will be kids begging for me to leave them alone. Let them go and do this. Drop them off to do that. Send them off to be big, and grow, and fly. And I'll miss all the dirty socks. And extra work. Or so they tell me. 😉
Start by slicing up some bell peppers. I used these adorable mini bells that are so widely available right now.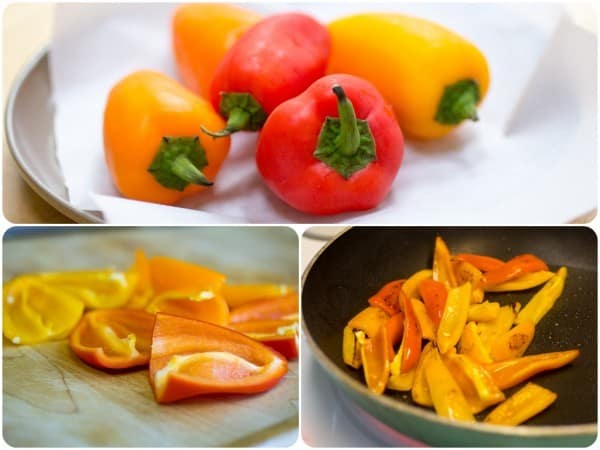 Slice them up, and lightly cook them in a hot pan. You want them cooked just enough to add some color to them. If you have a grill pan, or an actual grill, that would be ideal.
Next cook up your meat. I used some ground beef this time with cumin, chili powder, onion powder, garlic powder, salt, pepper, and oregano. I didn't measure though, and normally I'd just toss in some taco seasoning, so that's what we're going with!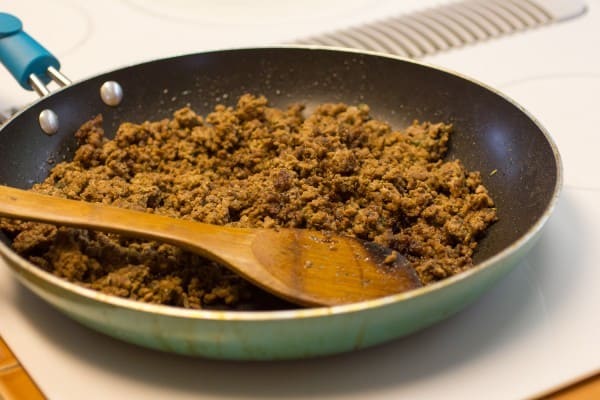 Remove the meat from the pan, and add in a can of rinsed and drained black beans and about a teaspoon of oil. Shake on some salt, chili powder, and tapatio. Cook over medium heat for about 2 minutes, until the beans are heated through.
To assemble the fajitarrito salad bowls, toss in some iceberg lettuce into your tortilla bowl, and then layer on the meat, beans, peppers, and diced avocados. Don't forget the tomato, salsa, and sour cream as well! I like to toss in some extra Tapatio too, just for good measure.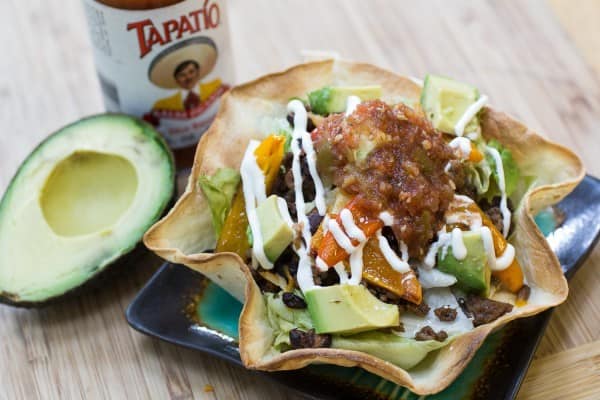 Enjoy with some tortilla chips, or if you aren't a salad person, whip up some Fajitarrito Nachos.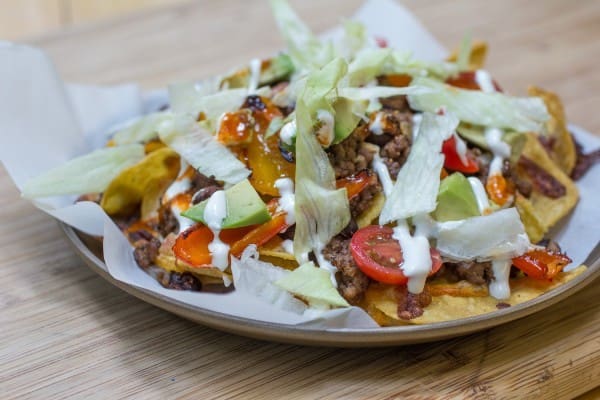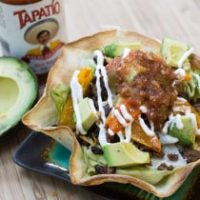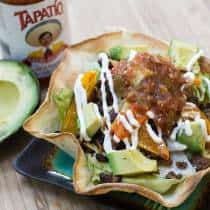 Fajitarrito Salad
Delicious taco salad with elements of all your favorite Mexican dishes!
Ingredients
4 tortilla bowls
1/2 head iceberg lettuce, shredded
1 - 1/5 pounds lean ground beef
1 packet taco seasoning, or your favorite homemade seasoning combination!
1-2 cups red, yellow, and orange bell peppers, sliced
1 can black beans, drained and rinsed
1-2 teaspoons chili powder
1/2 teaspoon salt
1-2 teaspoons tapatio
avocado, tomato, sour cream, & salsa for garnish
Instructions
Quickly cook the sliced bell peppers over high heat in a lightly oiled pan until they have a bit of color. Remove from pan, and add ground beef. Add seasoning to ground beef and cook completely. Drain excess fat, and set aside.
Assemble salad bowl with desired toppings, and serve immediately.