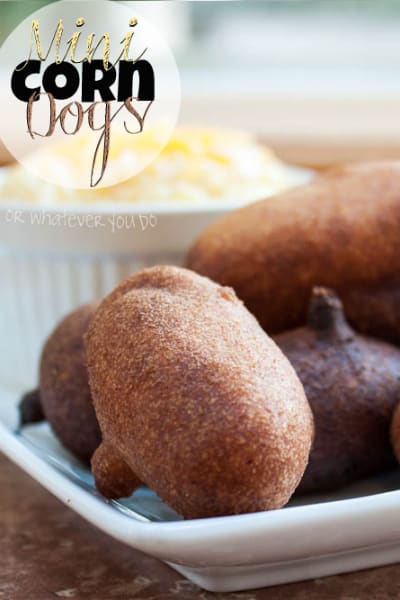 Happy 2014 OWYD'ers!  Have you had a good January thus far? Unlike a lot of you, I have not been trapped in a deep freeze for the past few weeks, but I have been hibernating a bit. The kids just went back to school last week, and this week was spent TRYING to catch up on house stuff that got left behind during the Christmas Chaos, and grabbing a few minutes to myself here and there to work, and think, and breathe.
I've been cooking up a storm these days, but haven't had much of an opportunity to photograph what I'm making. I had forgotten how hard that is during Washington winters! Back in Michigan, I could at least rely on some GREAT light 4-5 days a week with which to get some good shots in. Out here? Well, not so much. NOT that I'm complaining. I don't miss that snow or those temps for one tiny minute even. It just takes some adjustments. I'm considering putting together some DIY lighting to tide me over for the next few months, but until then I will have to be more disciplined about cooking something great for you all mid-day, and catching the light when I can.
These corn dogs were great! I have never had much success with traditional corn dogs at home. I found the full sized hot dogs hard to work with, and hard to keep uniform while frying them. Using Lit'l Smokies for mini corn dogs was the perfect solution! This recipe, unlike most of mine, uses a boxed mix. You can easily make these from scratch by subbing the following for one box of Jiffy Corn Muffin Mix:
2/3 cup all-purpose flour
1/2 cup yellow cornmeal
3 tablespoons granulated sugar
1 tablespoon baking powder
1/4 teaspoon salt
2 tablespoons vegetable oil
Start by combining the Jiffy Muffin Mix and flour.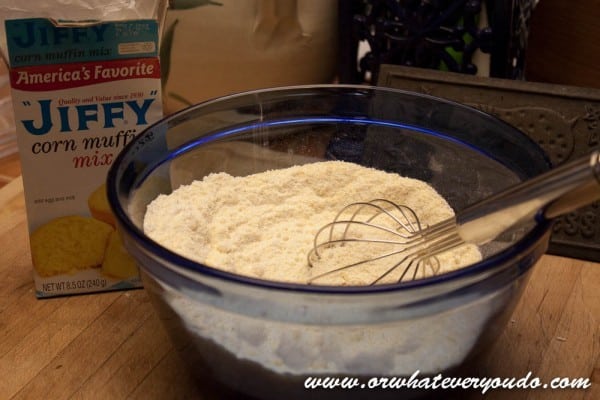 Next mix in the egg, milk, cayenne, & mustard powder. Stir just until the mixture is combined. There will be some small lumps. You don't want to overmix this!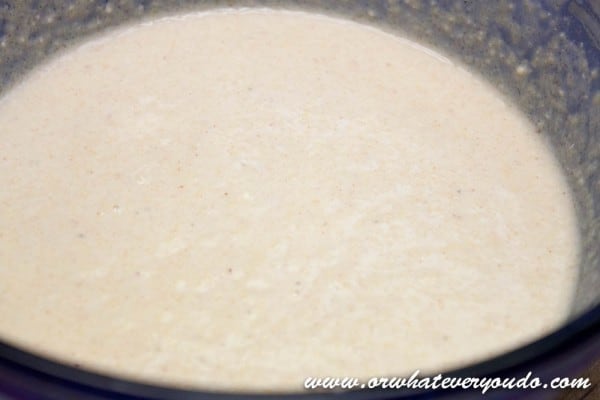 Open up your Lit'l Smokies. Next time I'm going to try the cheddar variety. Yum!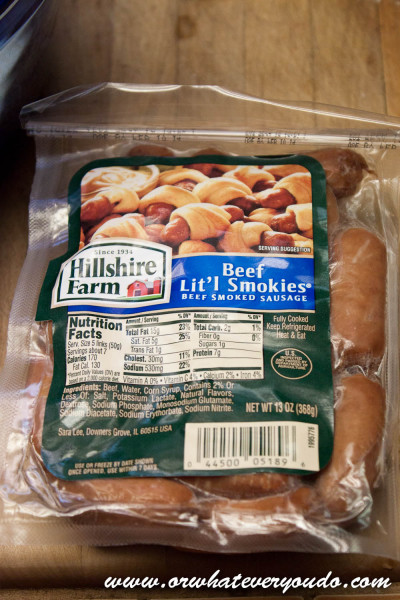 Lightly dust the drained sausages with flour.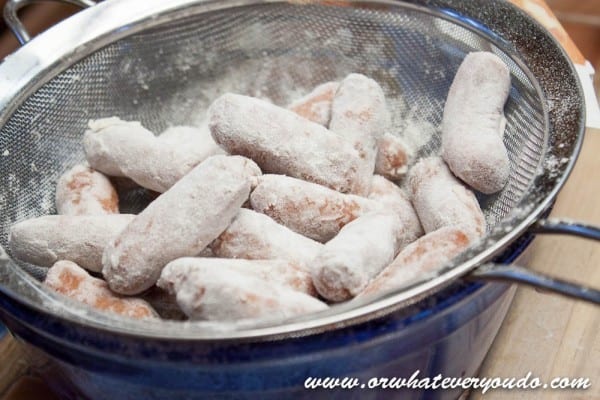 Using a toothpick, grab a flour coated smokie and submerge in the batter. Lightly tap off excess batter, and gently set into the hot (375°F) oil. Gently twirl the toothpick until it releases from the corn dog. As soon as the corn dog floats, rotate it in the oil (think lumberjack log rolling!) so that it cooks evenly on all sides. Remove from the oil with tongs or a slotted spoon when all sides are golden brown.
Once you get the method down, you can get several of these frying at once.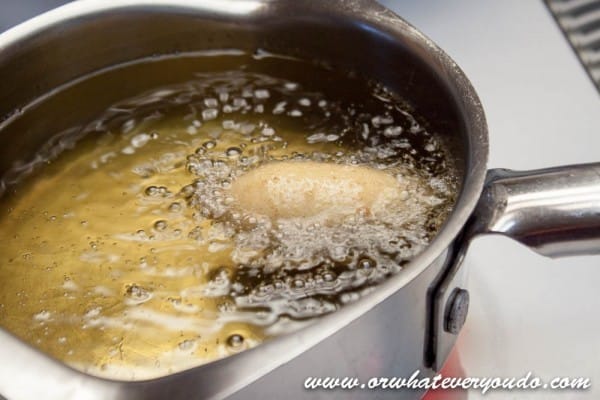 Clearly, I wasn't as coordinated as I should've been, as I as also making the Easy Cheesy Orzo you see pictured below. None of them actually tasted burnt, thank goodness, but try not to let yours get QUITE so dark. Look for that Easy Cheesy Orzo recipe too!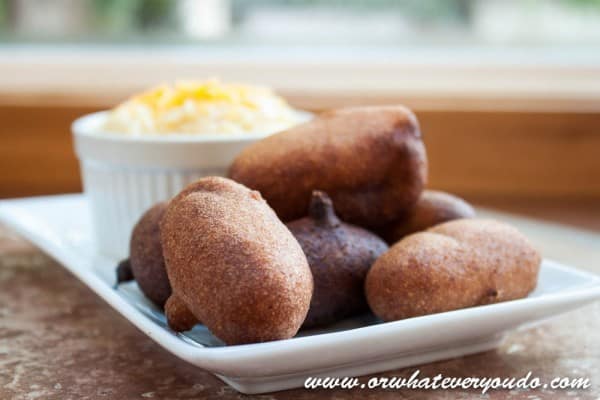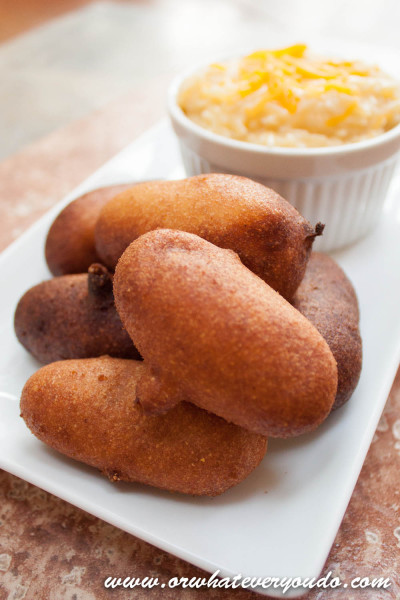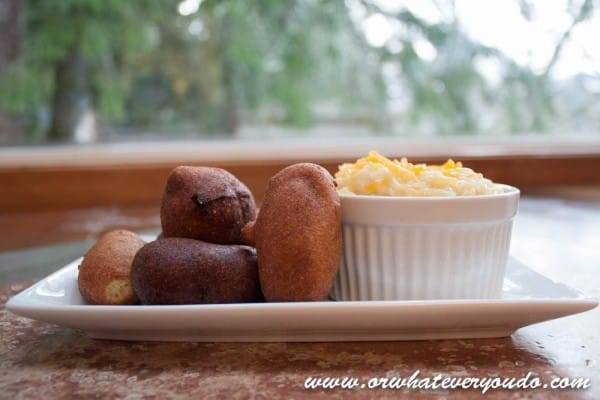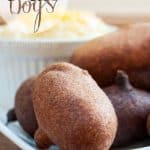 Mini Corn Dogs
Recipe credit: http://www.jiffymix.com/recipe.php/search:corn+dog/153-Corny+Dogs
Ingredients
1

package Jiffy Corn Muffin Mix

2/3

cup

flour

1

egg

1

cup

milk

1

tsp

dry mustard

1/2

tsp

paprika

1/4

tsp

cayenne pepper

2

packages Li'l Smokies
Instructions
Preheat oil in a heavy bottomed pan to 375°. Mix together the flour and corn muffin mix. Next mix in egg, milk, mustard, paprika, and cayenne just until combined. Lightly coat the Li'l Smokies with flour.

Using a toothpick, dunk the flour coated sausages into the batter. Gently tap off the excess, and then place into the hot oil. Carefully twirl the toothpick until it releases from the corn dog.

As soon as the corn dog floats, roll it in the oil so that all sides cook evenly. Remove from the oil when all sides are golden brown using a slotted spoon or tongs.
As always…
Thank You for looking! I LOVE comments. Use the comment form below to interact, or if you like what you see, and want to see more, please feel free to jump on over to my Facebook page and like me there. I post teasers for upcoming recipes, answer any and all of your questions, and every recipe from here gets linked to there as well.

If you are a Pinterest fanatic like I am, you could also drop by and follow me there, and pinning my images is always appreciated!
Find me on Instagram!
Thanks for dropping by! Hope to see you again soon!
~Nicole~