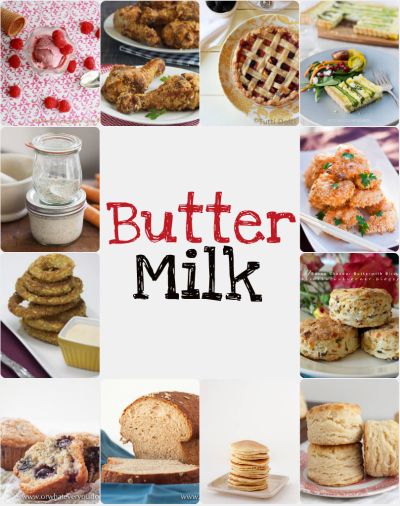 Hey everyone! TIme for another installment in the "What should I make with…" series. This time, I chose buttermilk! I get buttermilk pretty often for various recipes, but I always end up with leftovers that sit in the fridge too long. I know that you can just "make" your own buttermilk by adding lemon juice or vinegar to regular milk, but honestly? I don't really like that method. It works in a pinch, but the taste really isn't comparable to cultured buttermilk. I have used the powdered buttermilk quite a bit and have been happy with the end results, but I don't think to buy it that often. What is your experience with buttermilk? Do you buy the fresh cultured variety or use the powdered or home made versions?
On the homefront, we are T – 6 DAYS until our flight leaves and we say goodbye to our time here in Michigan. I can't believe it! I have SO much to do this week. We will get there though. Thanks for hanging in there with me!
As always…
Thank You for looking! I LOVE comments. Use the comment form below to interact, or if you like what you see, and want to see more, please feel free to jump on over to my Facebook page and like me there. I post teasers for upcoming recipes, answer any and all of your questions, and every recipe from here gets linked to there as well.

If you are a Pinterest fanatic like I am, you could also drop by and follow me there, and pinning my images is always appreciated!
Find me on Instagram!
Thanks for dropping by! Hope to see you again soon!
~Nicole~