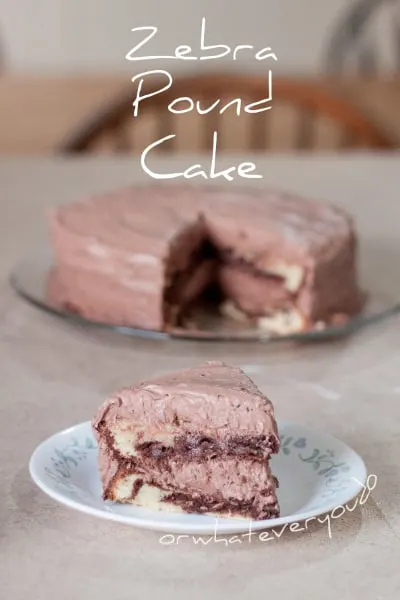 Still here. Still pregnant! My official due date is tomorrow, but this time for some reason I already am feeling over done. Much like this zebra pound cake. The last few babies I've been pretty patient at this point still, pretty much expecting to go past my due date. This time I was really really hoping to be a * little* bit early. Doesn't look like that is going to be the case unless drastic things happen in the next 7 hours!
I am just so excited to meet this new little one, and have all the questions answered. The not knowing is the hardest part of pregnancy and childbirth, in my opinion. I am a planner, so not knowing when it'll happen, how it'll happen, what it will be like, will I have time for pain management? Is it a boy or a girl? Very hard not knowing all of those things for a planner. I will survive though, and it can't be TOO long, right? I am due tomorrow, so hopefully within the week I will be holding my 5th baby, and all my questions will be answered.
This cake was not perfect. I over baked it, for one, by about 10 minutes. It wasn't burned, but it was a little…crispy. Still worked for me, but I wouldn't suggest it! I found the recipe over at Baker Street. I'm just going to go ahead and link you up to that recipe there because even though I made a few changes, I am sure that NOT making those changes would've been the better choice! 😉 Don't follow my mistakes, follow the recipe she has perfected. I'll still give you my play-by-play since I did take and edit and upload the photos. I'll do that occasionally here. Not every attempt is a home-run, but I like sharing my success and my failures!
I started by lining cake pans with circles of parchment. I trace circles out, cut them, and then spray the pans with baking spray, put the parchment in, and then respray.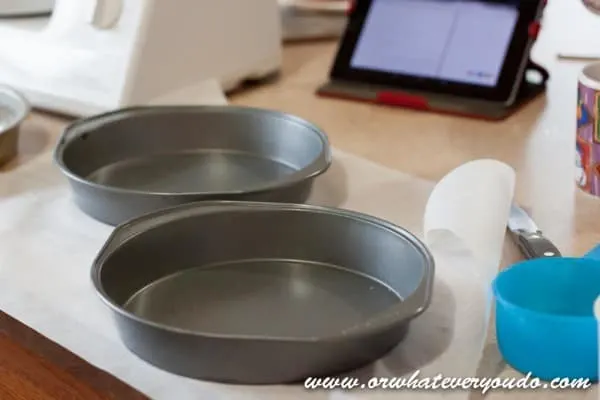 Like this!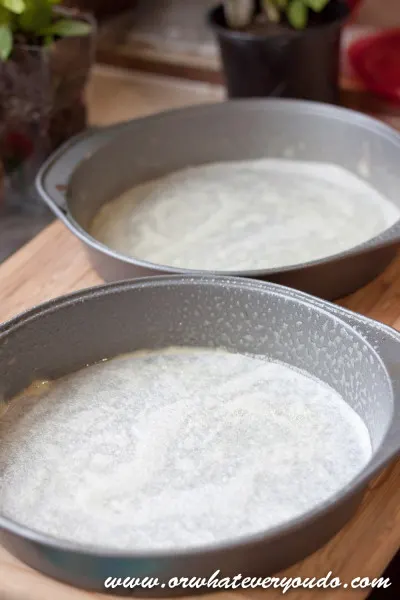 Next I mixed up my batter. Cream the butter and sugar until it is light and fluffy.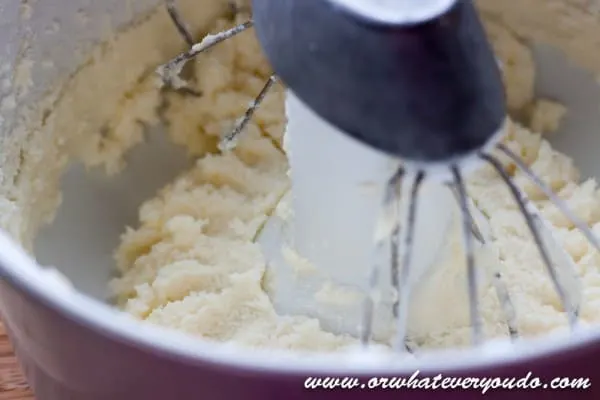 Then add in the softened cream cheese and mix until creamy.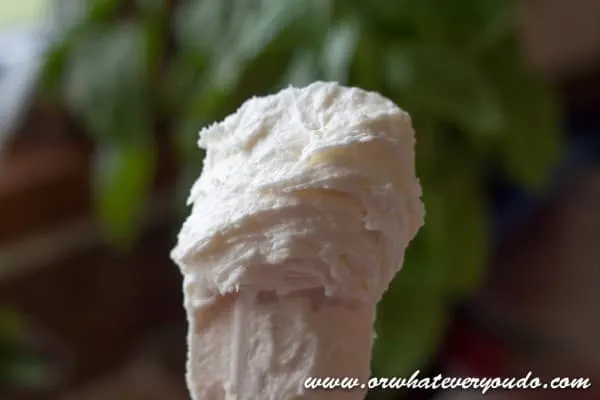 Then you add the eggs in one at a time, and mix after each addition until its combined. Next add in the flour, mix well, and then separate the batter into two bowls. Mix in the chocolate and cocoa powder into one, and the vanilla into the other.
This was my first attempt at a zebra pattern. I will definitely be trying this again with a more traditional cake that includes more leavening agents, when I have time to watch it more closely. You do the zebra by gently pouring small spoonfuls of batter into the pan alternating between one flavor and the next.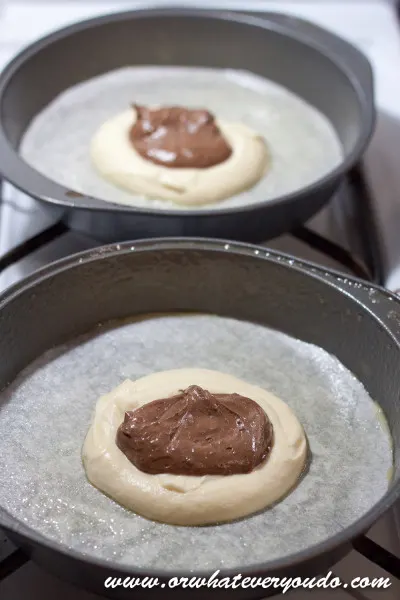 Then just keep on going.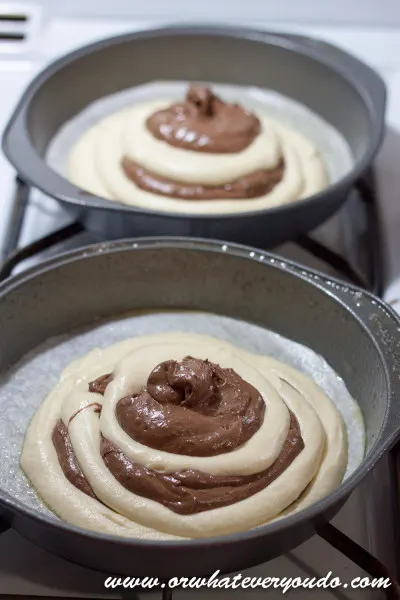 And when all of your batter is gone, you are done! Bake according to the directions given (and use a timer if you are horrible about remembering things, like I am!!)
I couldn't even quite get the frosting right with this one. See those lumps? I used a pudding frosting, which tasted really good and actually complimented the cake quite well, but my method of mixing it left a LOT to be desired. I was winging it. That's what I get, right?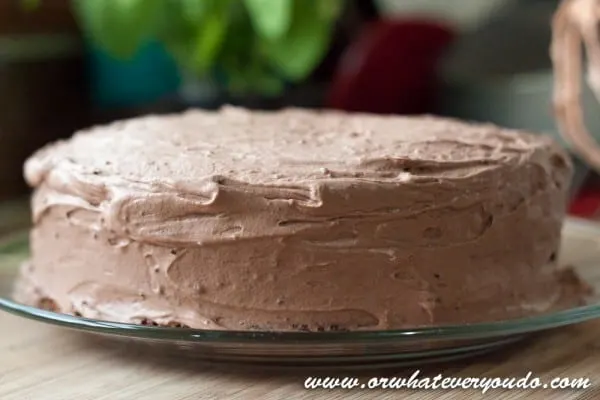 At least it tasted good. The entire cake got eaten in two days, so it couldn't be that bad! 😉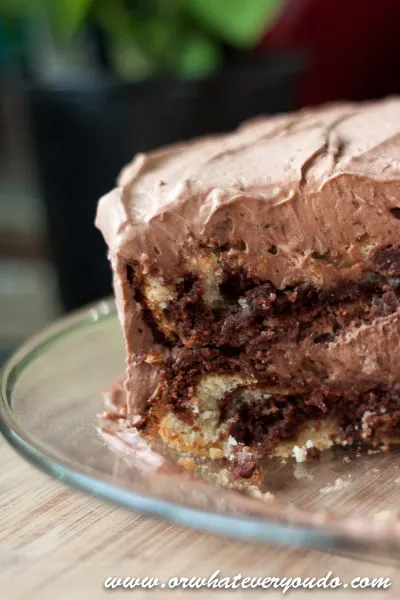 The middle was a bit thin from the overbaking, as you can see.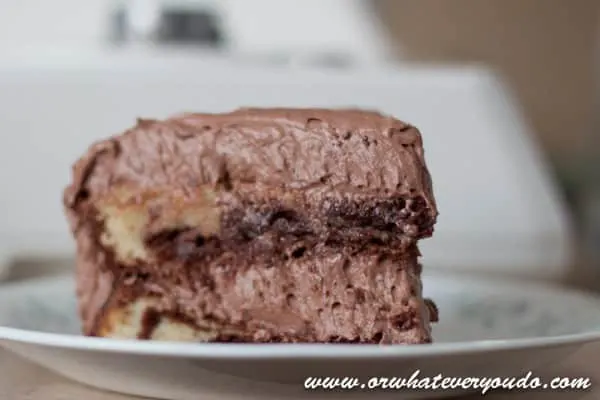 But the flavor was really yummy, and the chocolate fudge pudding combined with the whipped cream was actually a perfect choice for this almost train wreck of a dessert.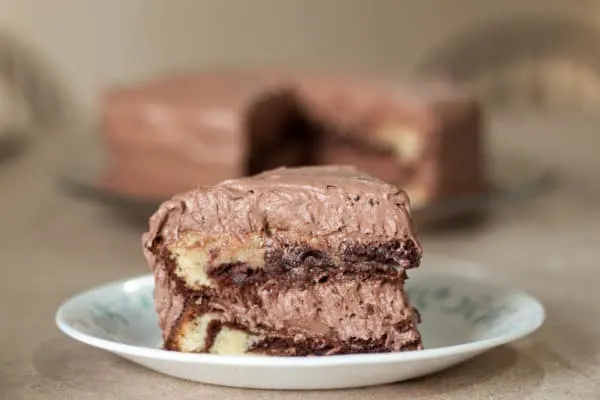 Make sure you stop by Baker Street and try out this recipe in its original glory, and thanks for stopping by here at Or Whatever You Do and bearing with me while we add this lately addition to our family! Make sure you are a facebook fan of mine if you want the latest updates on the newest posts, and also for any news on baby #5.
---
As always…
Thank You for looking! I LOVE comments. Use the comment form below to interact, or if you like what you see, and want to see more, please feel free to jump on over to my Facebook page and like me there. I post teasers for upcoming recipes, answer any and all of your questions, and every recipe from here gets linked to there as well.

If you are a pinterest fanatic like I am, you could also drop by and follow me there, and pinning my images is always appreciated!
Thanks for dropping by! Hope to see you again soon!
~Nicole~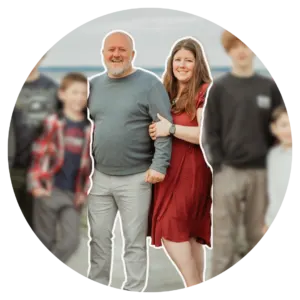 Nicole Johnson, a self-taught expert in grilling and outdoor cooking, launched Or Whatever You Do in 2010. Her blog, renowned for its comprehensive and creative outdoor cooking recipes, has garnered a vast audience of millions. Nicole's hands-on experience and passion for grilling shine through her work. Her husband, Jeremiah Johnson, also plays a pivotal role in recipe development, adding his culinary flair to the mix. Together, they form a dynamic duo, offering a rich and varied outdoor cooking experience to their followers.