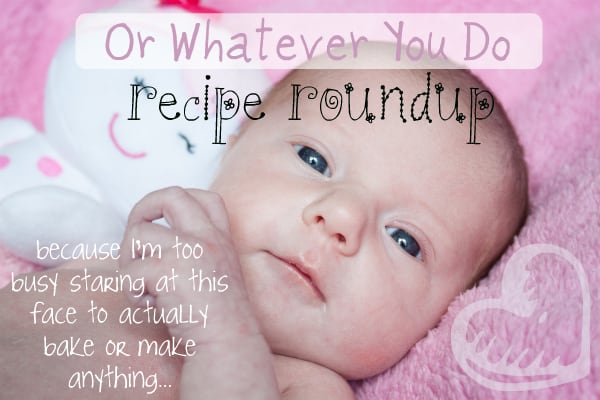 It is time for another addition of "What I WISH I was baking". Amelia is 11 days old today, this is the first full week of summer vacation for the boys, AND my husband went back to work this week, meaning I am flying solo. I am very fortunate that he works close to home, and comes by during his lunch hour. He's throwing in the kids' lunch right now, in fact, while I'm in our room relearning how to type one-handed and nursing baby girl.
This postpartum recovery has been quite a bit harder than my other kids, with exception of the first. Yesterday I was feeling better and figured I would tackle the kitchen. Big mistake. I am so used to just bouncing back and feeling almost 100% after a week, this "prolonged" recover period is really really hard for me.
So for this time of rest and recovery we are going to be eating a lot of quick and easy things. Nothing bloggable, that's for sure. Until I am back and an actual functioning adult again, occasionally I'll be featuring things that I WISH I was making/baking. Eventually, you may even see versions of these right here on OWYD, but until then, pop over and visit these other awesome blogs, and if you make any of these recipes come on by here or visit me on facebook and let me know what you thought!
Don't those pinwheel cookies look amazing? I can't wait to try those. How fun would it be to try them in some other colors too? I've never tried a rolled cookie like this, but the instructions over at Cook Eat Delicious look really easy, and her photos are really great.
Triple.Chocolate.Cupcakes. Good thing Caleb turns 4 next month! That will be the perfect excuse to make these up. Sugary Winzy is such an adorable blog, and the desserts on there??? That could keep me in baked goods for over a year.
I just love this photo of these blueberry crumble bars from Magically Delicious. I had never been by her blog before, but I'm glad I stopped by! She tests recipes from Allrecipes.com and posts photos and shares about them there. I am a long time fan of allrecipes, so I'm happy to see this! I haven't been very involved in the community over there for quite a while, but I still visit fairly frequently when I'm on the hunt for new ideas or to check for variations of recipes I'm making.
Last, but certainly not least, this delicious looking sandwich bread by Baked By Nicole. Loving the photos and the recipes over there! Definitely check her out! Plus, as a fellow "Nicole" (along with my other Nicole over at Heat Oven to 350! Hey name pal! Oh…and hey. Just realized. We now both have Amelias too!!) we have got to give her some props. (What are props, anyway?)
Until next time…
---
As always…
Thank You for looking! I LOVE comments. Use the comment form below to interact, or if you like what you see, and want to see more, please feel free to jump on over to my Facebook page and like me there. I post teasers for upcoming recipes, answer any and all of your questions, and every recipe from here gets linked to there as well.

If you are a pinterest fanatic like I am, you could also drop by and follow me there, and pinning my images is always appreciated!
Thanks for dropping by! Hope to see you again soon!
~Nicole~