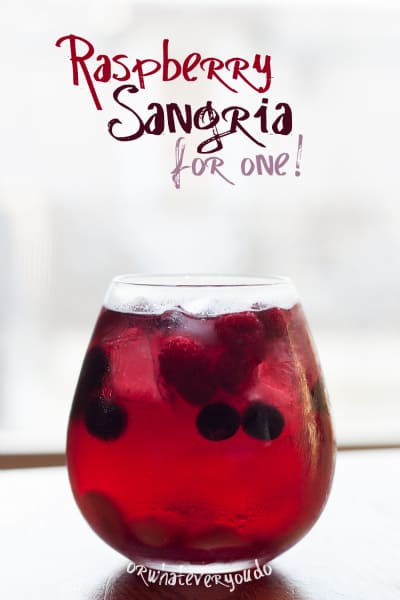 Some of you may find it ironic that my very first real recipe post after having our 5th child is for an alcoholic beverage, especially since there is only one other post like it on this entire blog and I am, admittedly, not much of a drinker.
I'll let you chuckle a bit about it, then we'll get back to business. This raspberry sangria was out of this world.
I rarely have a chance to have any fun drinks around here because we don't have company very often, and my husband doesn't drink at all. I don't usually like to just sit around by myself and have a cocktail, so that only time I will really have anything with alcohol is if we are out and other people are having one, or occasionally I will have a glass of wine while I'm making dinner.
Yesterday I was searching my favorite blogs and on foodgawker for some more recipes to feature in a "What I wish I was baking/making" post, and I came across this beauty.
This is a mixed berry basil sangria by the glass from Foodie With Family. Take a minute to soak that in. Mixed berry & basil. I will definitely be trying her version in the near future!
Unfortunately I forgot to look at her recipe yesterday evening before heading to the store, and bought the wrong kind of wine to try this one out myself last night. I was in the mood to partake of my first post-pregnancy beverage though, so I whipped up my own version.
I'm pretty sure Rebecca would not enjoy the sweetness of my variety, with both 7up, juice, AND simple syrup, but my sweet tooth hasn't receded much since Amelia arrived on the scene, and this definitely satisfied my sweet tooth!
You may want to hold off on the juice concentrate and simple syrup until the end and then add just to your personal tastes. Next time I will most definitely be using her trick with the ice cubes. Make sure you pop over there and see what it is.
Speaking of Amelia, she is SEVENTEEN days old now. Yes, I am still counting in days. I may never stop counting in days because changing over to weeks means she isn't a NEWBORN anymore, and that means my NEWBORN time is over, FOREVER! Say it ain't so!!
I'm not quite wishing for time to pass so quickly these days. I'm excited for the next stage, but not in any hurries this time. With my first baby I couldn't WAIT until he started smiling, then laughing, then rolling and sitting and eating real food and crawling and on and on and on. This time I am really trying to just relish and soak up every day.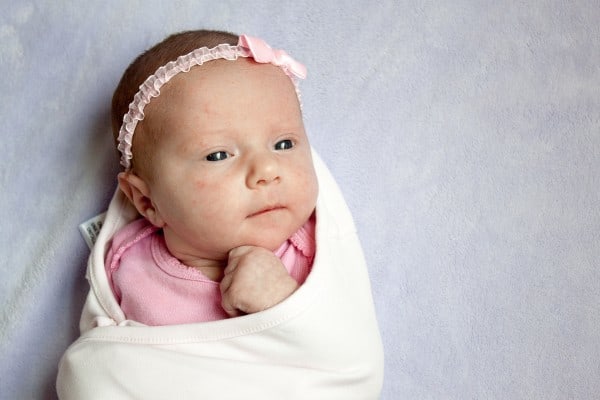 The boys are amazing with her. It gets a little overwhelming because there are not enough hours in the day to satisfy how much they want to hold and be by her, which is awesome, but also…hello. Tiring. It will get easier when she is a little older, and when they go back to school! Ha!
Yesterday I sent all of the boys off with my husband to a movie, and then when they came back I went and did some grocery shopping while they played outside in the sprinkler. My husband made some outstanding ribs on the grill, by the way. He has got that dialed in! While he was doing that I was inside making my Raspberry Sangria.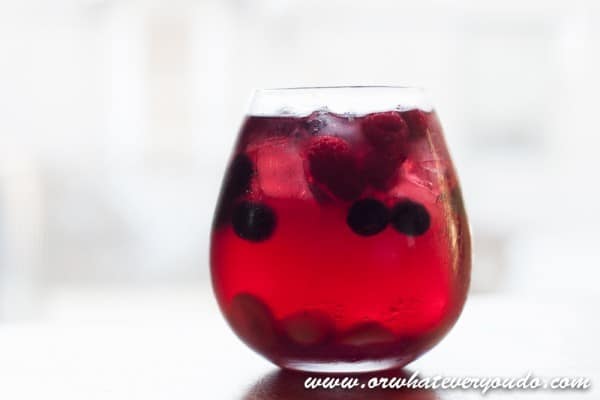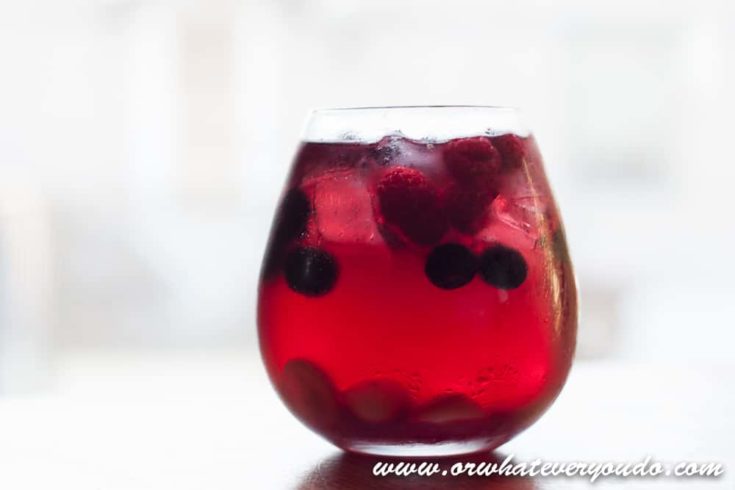 Clearly I need some more practice photographing drinks. I cannot seem to land the focus on the items INSIDE the glass. So frustrating! If you have any tips feel free to send them my way.
Yield: 1 serving
Raspberry Sangria for one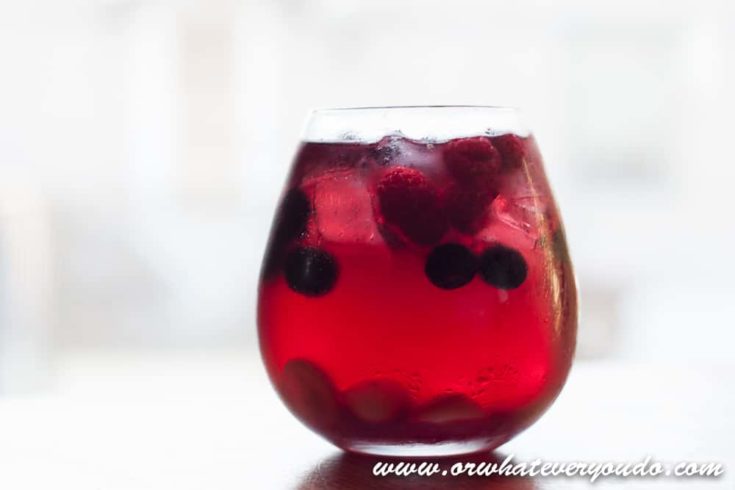 Raspberry Sangria in single serving proportions is the perfect summer treat. Fresh berries, sweet wine, all you need is a little sunshine.
Ingredients
ice
raspberries
blueberries
white grapes
4 tsp white grape and raspberry juice concentrate
2 tsp raspberry simple syrup
1 part Barefoot red moscato
1 part 7up
Instructions
Fill large wine glass with ice.
Toss in some of your garnish.
Pour the rest of ingredients into the glass, beginning with the juice concentrate and simple syrup, and finishing with the Barefoot Red Moscato and 7up.
Enjoy!
Nutrition Information:
Yield:
1
Serving Size:
1
Amount Per Serving:
Calories:

315
Total Fat:

0g
Saturated Fat:

0g
Trans Fat:

0g
Unsaturated Fat:

0g
Cholesterol:

0mg
Sodium:

186mg
Carbohydrates:

240g
Fiber:

1g
Sugar:

227g
Protein:

1g
Nutrition data provided here is only an estimate. If you are tracking these things for medical purposes please consult an outside, trusted source. Thanks!