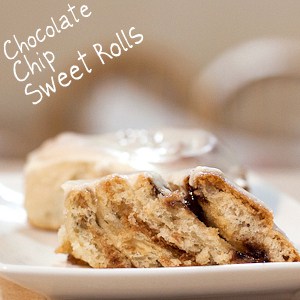 Just when you think the sweet roll can't get any better than the cinnamon roll, or even better yet, the caramel roll, the Pioneer Woman comes up with this little doozy. The chocolate chip sweet roll. I don't think there has been one Pioneer Woman recipe that I haven't really really liked. She is a "go-to" for me when that "what's for dinner" question has me stumped.
Speaking of that "what's for dinner" question. Some of you may have noticed the lack of a Meal Plan Monday post this week. That's because I made exactly ONE thing off my list last week! We had ANOTHER bout with a stomach bug, and any cooking I did was fast, and uninvolved. It was a long week, and I'm glad to be back to cooking, and so thankful the kids are all back to normal! I am still catching up the house from that, which is just par for the corse when you have approximately one million children. Any upset in the routine can take a week, or more, to get caught up from.
Back to the rolls. I sent a large pan of these into work with my husband, and he heard nothing but good things about them! I love getting feedback like that, and sending in treats for people.
Start these by whipping up a batch of dough. Directions are more in depth below. I stuck pretty close to PW's recipe with a few tiny exceptions. I have tried other roll recipes, but I always seem to come back to this one. It is easy, and it is delicious.
After the dough is ready take half of it and roll it out into a LONG rectangle. Pour a bunch of melted butter on it, sprinkle some white and brown sugar on top, and get busy with those chocolate chips!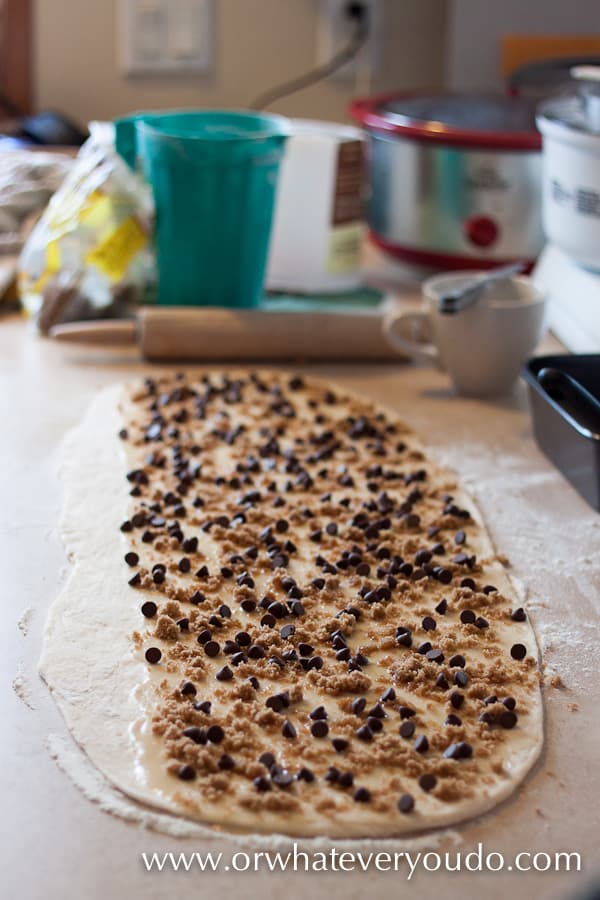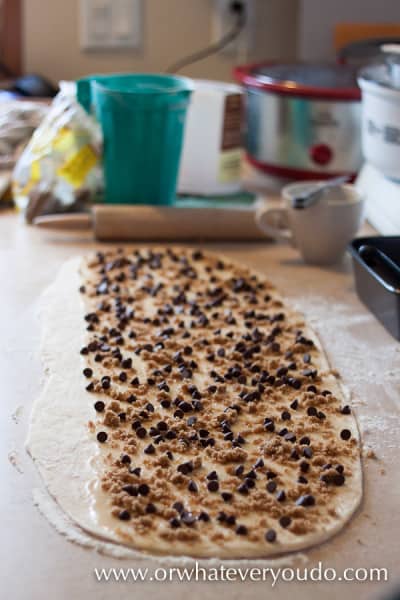 Roll it up starting from the far side and working towards you. Seal the seams, and slice with a bread knife being careful not to squish the rolls! Place the sliced rolls in a buttered pan.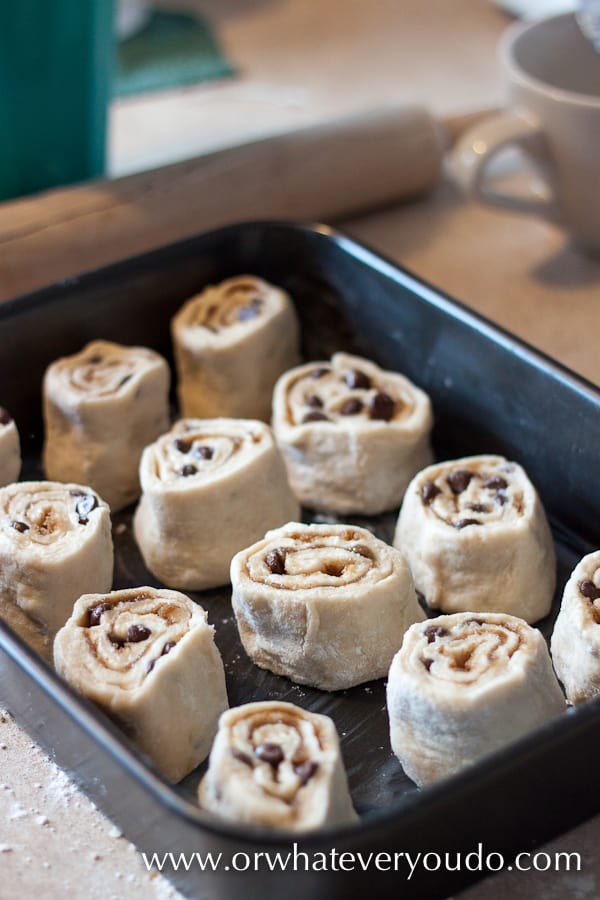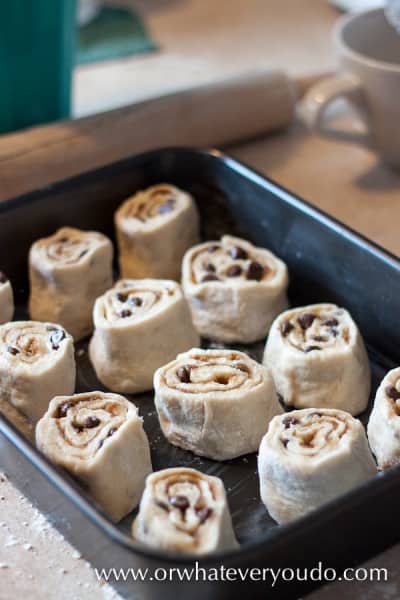 Let the rolls rise for 30-45 minutes, and then place into a preheated 350 degree oven for 15-20 minutes, or until the rolls are golden brown on the tops. While the rolls are baking, whip up your icing! I used the other half of my dough to make caramel rolls.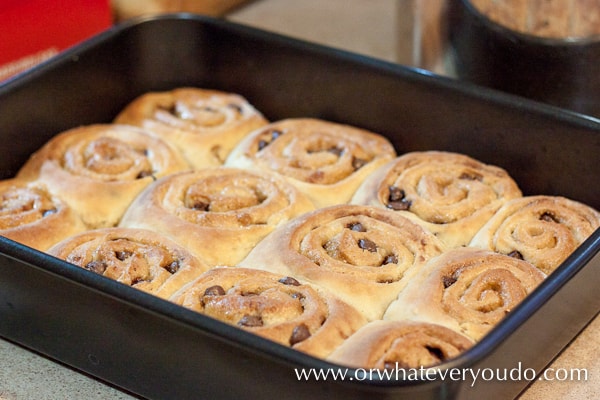 Cover the rolls with icing, and enjoy.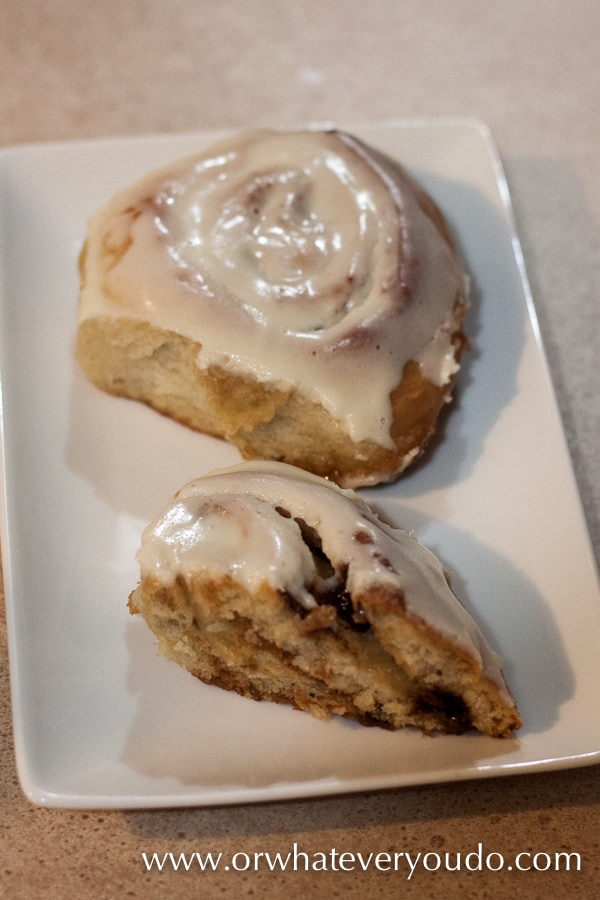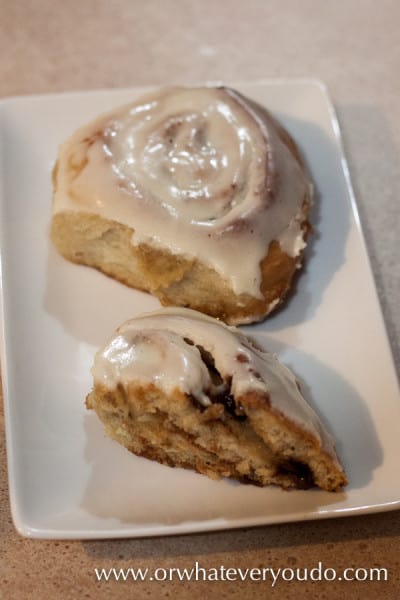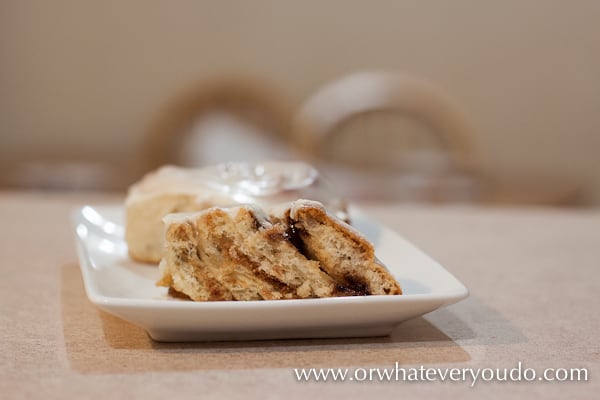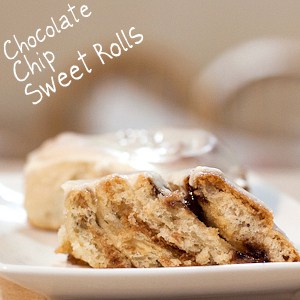 Chocolate Chip Sweet Rolls
Yield: 12 servings

Prep Time: 1 hour

Cook Time: 25 minutes

Total Time: 1 hour 25 minutes

Delicious homemade sweet rolls with a chocolate-lover's dream - chocolate chips!
Ingredients
Rolls:
4 cups 2% milk
1 cup white sugar
1 cup canola oil
9 cups bread flour
4.5 tsp yeast
1 TBSP salt
1 tsp baking soda
1 tsp baking powder
1 stick butter, melted
2 tsp vanilla
1 cup brown sugar
1/2 cup white sugar
1.5 cups milk chocolate chips
Icing :, enough icing for half the total batch of rolls. If you make ALL of them Chocolate Chip Rolls, double these amounts.
4 oz cream cheese - softened
1.5 cups powdered sugar
1/2 stick butter, salted & softened
1/2 cup 2% milk
2 tsp vanilla
Instructions
Mix the milk, sugar, and oil in a large stock pot. Heat over medium heat until warm. Let this to cool until you can comfortably stick your finger into it. You want lukewarm temps.
Add the yeast and 8 of the 9 cups of flour into the pot and stir until combined. Place a lid on the pop and let it sit for an hour. After the hour, add in the last cup of flour along with the baking soda and baking powder. Mix well into the dough.
Split the dough in half, refrigerate the half you are not using now. With the remaining half, and roll it out into a long rectangle. Stir vanilla into the melted butter, and pour over the dough and spread evenly, leaving about an inch on the side closest to you unbuttered. Starting at the edge farthest away from you, roll the dough up towards you, and seal the edge when you are done.
Slice with a bread knife, and place into a buttered baking dish. Bake at 350 for 15-20 minutes, or until the tops are golden brown. Remove from the oven and pour the icing over them while they are still warm.
To make icing, mix softened cream cheese, softened butter, milk, and vanilla together until lumps are gone and it is well combined.
Nutrition Information:
Yield: 25 Serving Size: 1
Amount Per Serving:Calories: 500 Total Fat: 21g Saturated Fat: 8g Trans Fat: 0g Unsaturated Fat: 12g Cholesterol: 25mg Sodium: 439mg Carbohydrates: 70g Fiber: 2g Sugar: 33g Protein: 9g

Nutrition data provided here is only an estimate. If you are tracking these things for medical purposes please consult an outside, trusted source. Thanks!
---
As always…
Thank You for looking! If you like what you see, and want to see more, please feel free to jump on over to my Facebook page and like me there. I post teasers for upcoming recipes, answer any and all of your questions, and every recipe from here gets linked to there as well.

If you are a pinterest fanatic like I am, you could also drop by and follow me there, and pinning my images is always appreciated!
If you would rather have every recipe delivered to your inbox, the morning after they are posted, please sign up below to be on my email list!
Thanks for dropping by! Hope to see you again soon!
~Nicole~