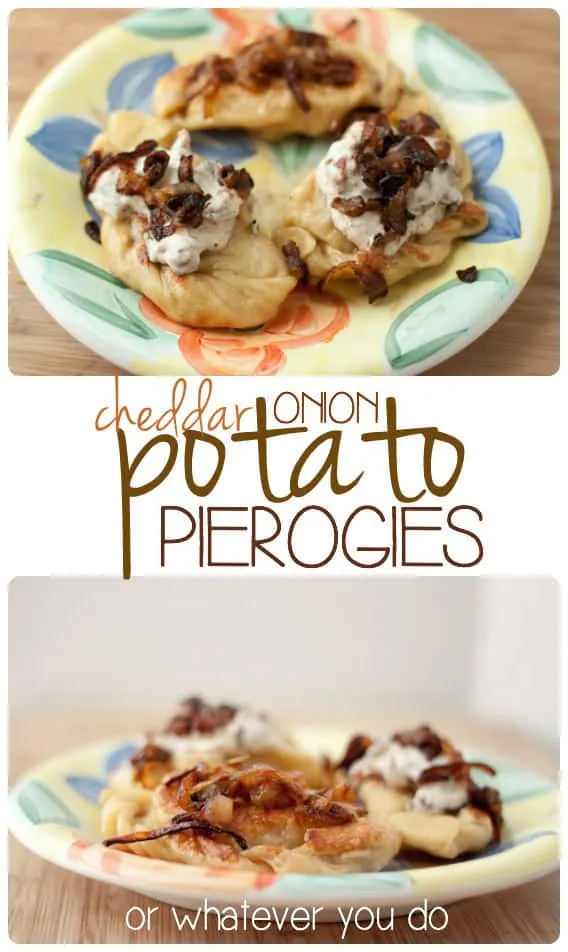 I am not going to lie to you guys. These caramelized onion, cheddar, and potato pierogies are no joke. They are best attempted with at LEAST one other person helping you. Assembly line style is best. If you can tackle it, the end result is really, really, really worth the extra effort. They are amazing.
At the end of making these I was too exhausted to enjoy them properly. How much that has to do with being 6 months pregnant and also dealing with all four of my kids during the process I will leave up to you to decide. They certainly CAN be done alone. I'll never do it again, by myself, but you might be tougher than I am.
The magic happened when I left the boiled but not sautéed pierogies in the fridge for a few days, and then fried them up and topped them with the sour cream, bacon, and even MORE caramelized onions. Then ate them.
That, my friends. That changed my mind. That made me think that the hours of work WAS worth it. No frozen, store-bought, mass produced product can compare to these. It isn't possible. Maybe a restaurant version could, but I haven't seen them on many menus in my area.
I got the base recipe from Pinterest, of course, courtesy of My Gourmet Connection. Please check them out! They have some wonderful stuff going on at that site. Love it!
First things first…get your large pot of water boiling and your potatoes peeled and ready to go in.
Start out mixing up your dough by placing the flour, eggs, sour cream, and 1/2 cup of water into your mixer. Run it until it is mostly combined.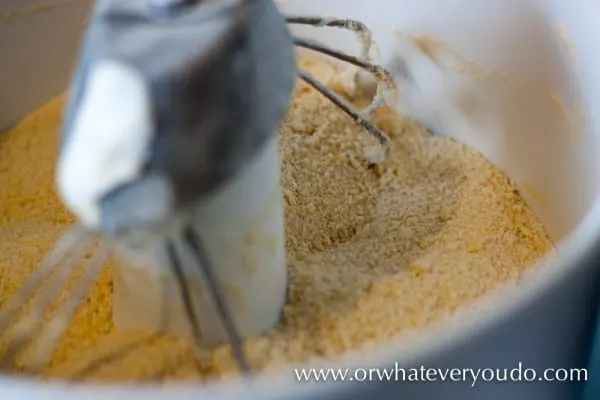 Now slowly add the rest of the water and mix until a ball of dough forms. Turn the dough out onto a floured counter and knead it until it is soft and slightly sticky, or about 4 minutes. Wrap it in plastic wrap that has been sprayed with non-stick spray and let it rest for 30 minutes.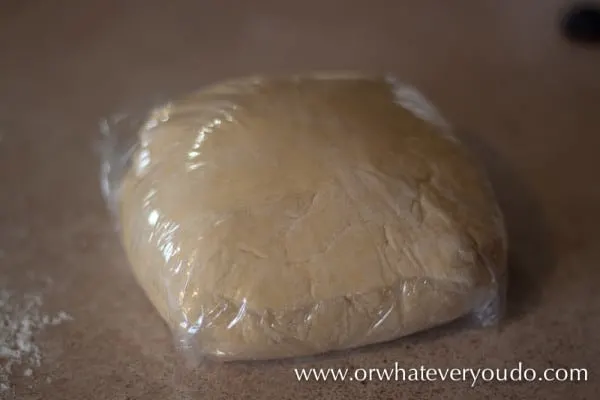 While that is resting, start your onions by placing 1/2 stick of butter and 1 large sweet onion, sliced in half and then in half rings, in your saute pan over medium-low heat.
Let your onions caramelize slowly, stirring every now and then, until they are golden brown and delicious. Remove 1/3 of the onions and set aside for the sauce.
When the potatoes are done boiling and are fork tender, drain them well and return them to the pan over low heat, stirring frequently, to cook out the remaining water that lingers after draining.
It should only take 3-4 minutes over low heat. You will start to see when the water is mostly gone. Next mash the potatoes with a potato masher and mix in the onion/butter mixture as well as your cheese. Taste this and add salt to taste.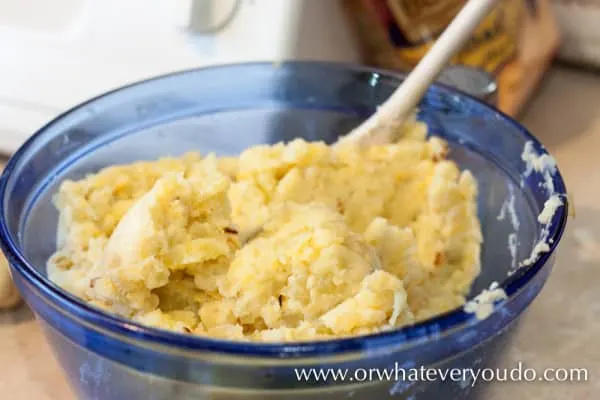 Set aside your potatoes and start further prepping the dough by pinching off small 1 inch balls of dough, and rolling into balls. Feel free to use some flour to help with the stickiness.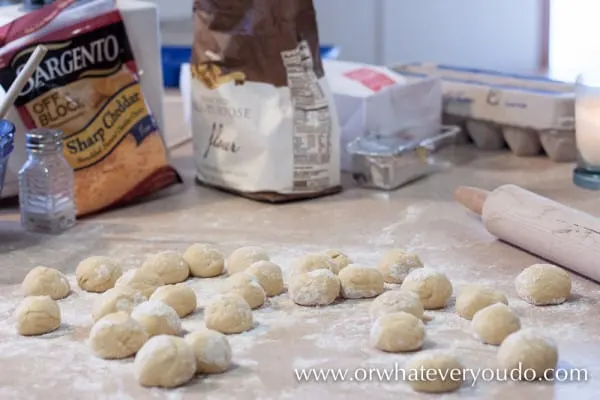 Next roll out each ball into a flat disc, about 1/4 inch in thickness.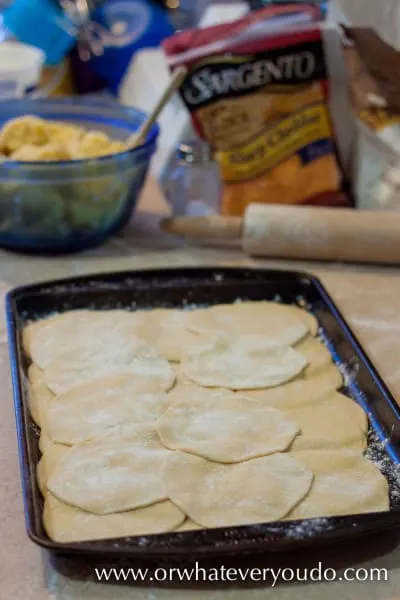 Once they are all rolled out, get another large pan of well-salted water boiling, and start filling the dough. It'll take 2-3 TBSP of filling for each one. Hold the dough in your hand, place the filling in, fold over the other half of the dough, and either pinch or slightly roll the dough up starting on one end and working your way down to the other, ensuring a good seal so you don't have filling leaking out into your water.
The photo below shows dough closed off using a fold over and pinch method. Later on in the process I switched to a rolling closed method. I found that they both stayed shut equally as well (if your dough is REALLY well floured, slightly wet your fingers and damped the inside seams to help seal it shut), but the rolled version which you see in the finished product shots looked prettier.
Once your water is boiling, places 4-6 sealed piergoies into the water and boil for 2-3 minutes past when they float.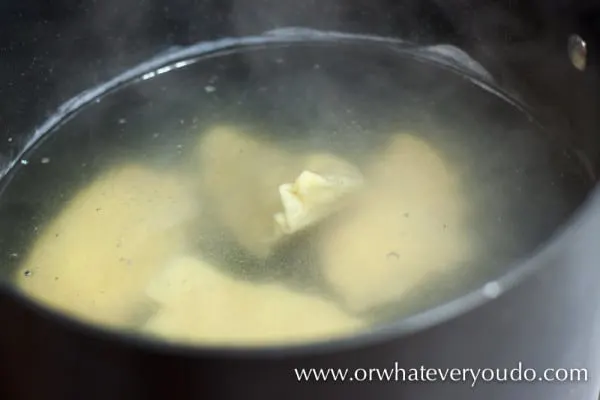 Remove from the water and place on a towel to drain. Keep sealing and boiling in batches until they are all done.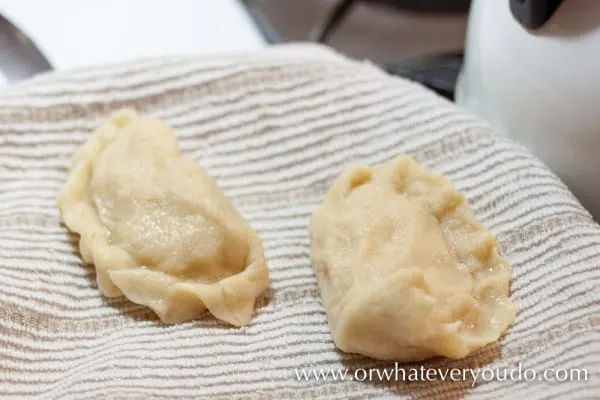 When they are doing being boiled, melt some butter in a saute pan and lightly fry on both sides until golden brown.
Top with a mixture of sour cream, bacon, and the caramelized onion/butter that you set aside.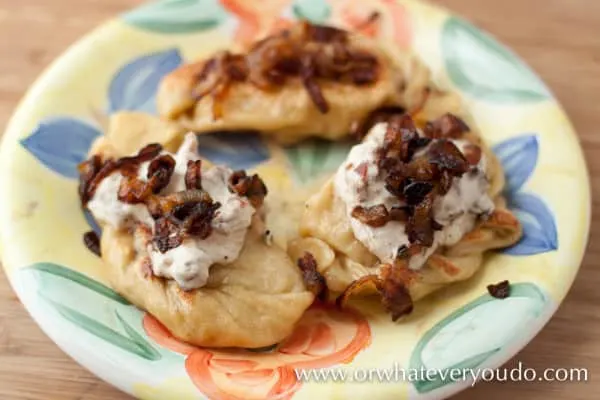 If you prefer, they were equally as good with only the caramelized onions on top.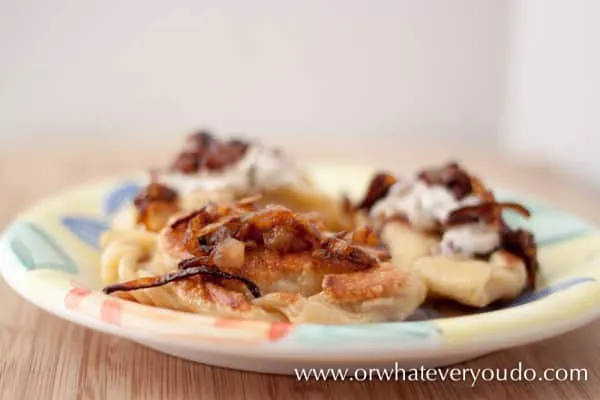 I'm tired just remembering all of that! Do you see how it would be easier to have another set of hands (or two more sets?). Makes all that rolling into balls, rolling into discs, and the filling/sealing go a LOT faster.
Yield: 8 servings
Caramelized Onion, Cheddar, and Potato Pierogies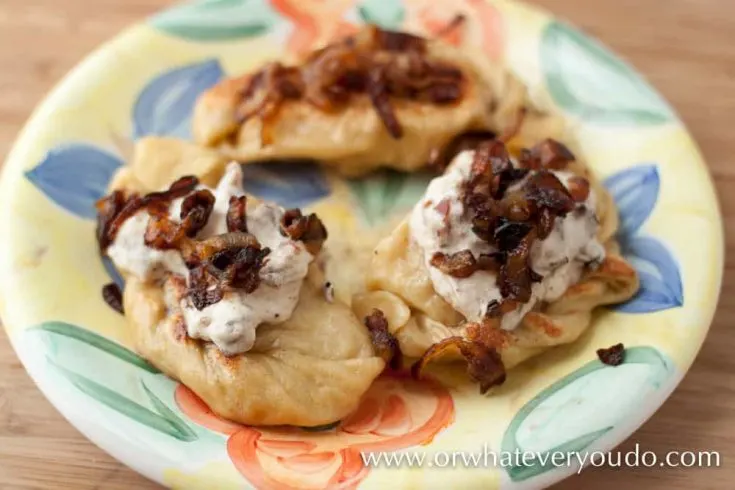 Homemade pierogies are a treat that will go down in the family history books. They are amazing. The dough is homemade, the filling it homemade, and there's really not much better than a hot, fresh, homemade pierogie.
Total Time
1 hour
40 minutes
Ingredients
Dough:
3.5 cups flour, and extra for dusting
3 large eggs
3 TBSP sour cream
1 cup water, divided
Filling:
1.5 pounds potatoes, I used Klondike Rose because they are my fav. Most people use some sort of russet for these though., peeled and quartered
1/2 stick butter
1 lg vidalia onion, cut in half and then sliced into half rings
1 cup sharp cheddar cheese, grated
salt and pepper to taste
Sauce:
1/2 cup sour cream
1/2 lb bacon, fried crispy and broken into pieces
salt to taste
Instructions
Peel potatoes, cut into quarters, and get a large pot of well-salted water on to boil.
In a mixer, place the flour, eggs, sour cream, and 1/2 cup of water. Mix until sandy. Slowly add remaining water until a ball of dough forms. Turn dough out onto a well-floured surface and knead for 3-4 minutes, or until smooth and slightly sticky. Wrap in cooking spray coated plastic wrap and let rest for 30 minutes.
While potatoes are cooking and the dough is resting, caramelize onions by melting butter in a medium saute pan over medium-low heat. Place onions in pan and cook slowly, 20-30 minutes, until brown and caramelized. Remove 1/3 of onion/butter mixture and set aside for sauce.
Once potatoes are fully cooked, drain well and return to pan. Mash slightly over low heat until the remaining water evaporates. Remove from heat and finish mashing. They can be slightly lumpy. Add butter/onion mixture along with cheese and mix in to potatoes. Taste and add salt and pepper as needed. Set potatoes aside to cool. Wash large pot and replace water/salt and put on stove to boil again.
Unwrap dough and pinch off 1 - 1.5 inch balls. Roll into balls and set on well-floured surface. When all the dough is rolled into balls, roll balls into discs about 1/4 inch thick. When all the dough is rolled out into discs, fill with 2-3 TBSP of filling. Fold over and pinch seam closed. Boil in batches for 2-3 minutes after they float. Remove from water and place on a towel to dry. Saute in batches in melted butter until golden brown. Repeat process until all are cooked. The boiled but not sautéed pierogies can be refrigerated/frozen for future use.
To make sauce, mix sour cream and bacon with a bit of the melted butter from the saute pan. Place on finished pierogies, and top with a few of the remaining caramelized onions.
Nutrition Information:
Yield:
8
Serving Size:
1
Amount Per Serving:
Calories:

629
Total Fat:

27g
Saturated Fat:

12g
Trans Fat:

1g
Unsaturated Fat:

12g
Cholesterol:

138mg
Sodium:

776mg
Carbohydrates:

72g
Fiber:

4g
Sugar:

5g
Protein:

25g
Nutrition data provided here is only an estimate. If you are tracking these things for medical purposes please consult an outside, trusted source. Thanks!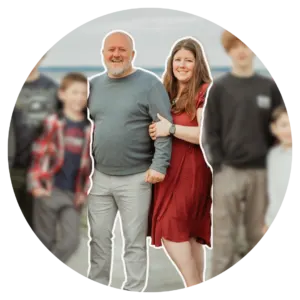 Nicole Johnson, a self-taught expert in grilling and outdoor cooking, launched Or Whatever You Do in 2010. Her blog, renowned for its comprehensive and creative outdoor cooking recipes, has garnered a vast audience of millions. Nicole's hands-on experience and passion for grilling shine through her work. Her husband, Jeremiah Johnson, also plays a pivotal role in recipe development, adding his culinary flair to the mix. Together, they form a dynamic duo, offering a rich and varied outdoor cooking experience to their followers.