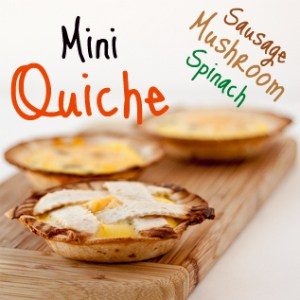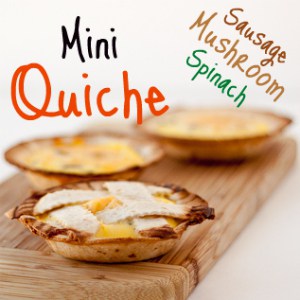 Mini Quiche in your Breville Personal Pie Maker
are quick to whip up, and are so simple to stick in the fridge or freezer for quick breakfasts throughout the week. I got the mini pie maker quite a few months ago, and after I make a few more things with it I will be sure and post a complete review for you guys. So far, I like it, but there are a couple of small things I would like to see if time and experience will sort out for me. This recipe can be adapted easily if you do not have this machine into muffin tins or a small cast iron pan in the oven.
Begin by plugging in your Breville Personal Pie Maker and letting it preheat really well. While it is heating up, cut your tortillas.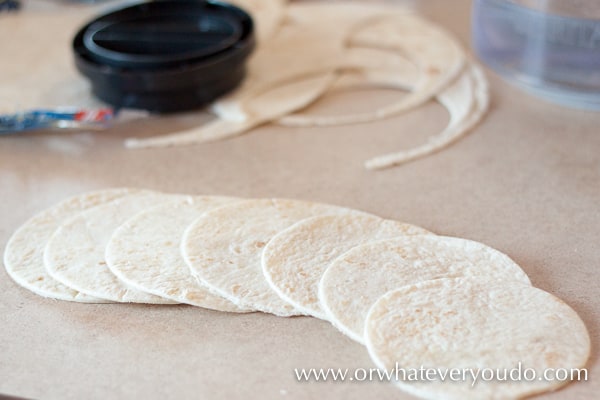 After your tortillas are cut, cook your sausage according to the package directions.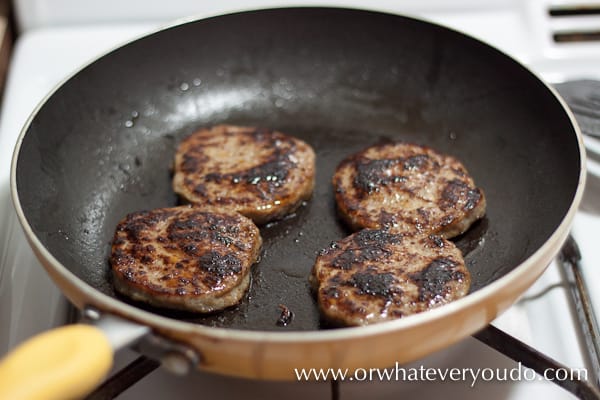 You can use any kind of breakfast sausage for this. The links, or plan ground sausage would work just as well as these patties did. These patties just happened to be on sale.
Remove the sausage from the pan and add some diced up mushrooms. I used two medium sized white mushrooms for this.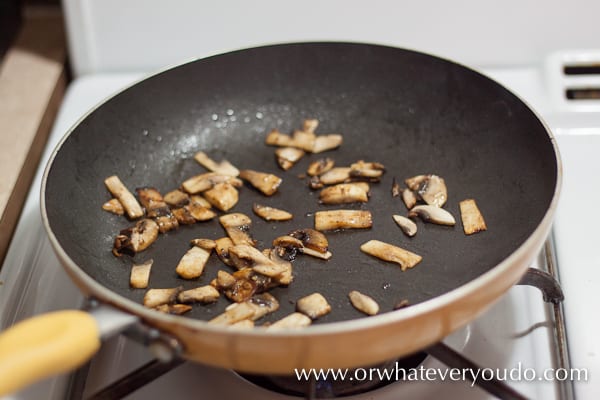 Once the mushrooms are browned, scoot them over to the side of the pan and toss in a handfull of spinach. I chopped mine up a bit first. You don't have to. Tearing it up, or just throwing it in whole would work just as well.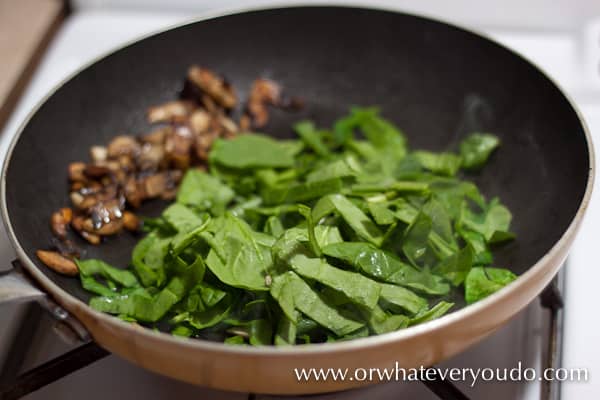 Stir that around until the spinach is wilted, give the mushrooms and spinach a shake of salt and pepper, and then remove to a bowl.
Chop up the sausage and mix it in with the other ingredients.
Take 3 eggs, 3 Tablespoons of milk, and 1/4 tsp salt and whisk together well until they are fully incorporated together.
Briefly microwave the tortillas for 20-30 seconds to warm and soften so they do not tear when you press them into the pan. Using the tool that came with your pie maker, press the tortillas into the machine, add a heaping tablespoon of the filling mixture, and then fill with the egg mixture. Sprinkle the tops with cheddar cheese.
If you want, you can put a top "crust" on with a top tortilla, you can do a fancy little lattice as you will see pictured below, or you can just leave them open faced.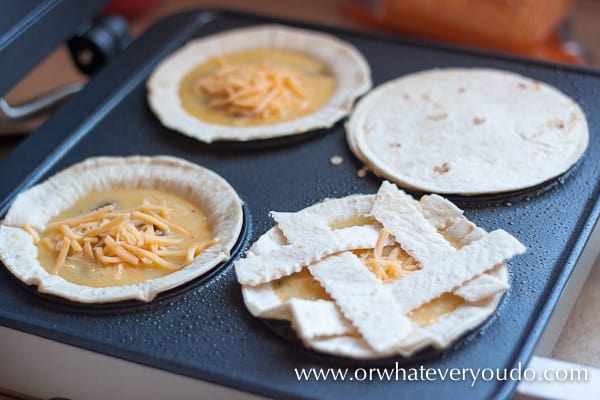 Bake for approximately 7-10 minutes, or until the eggs are set. If the edges start to get overcooked, prop open the lid using the tool provided for the last few minutes, as pictured below.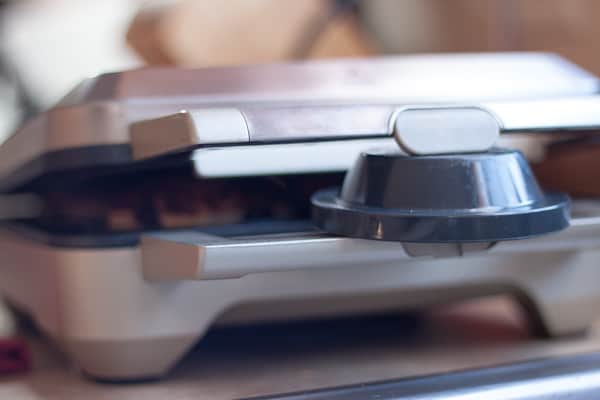 Carefully remove when finished either using the option removal tool, which I do not have, or by using a fork to gently lift the edge, and then scooping it out with a large flat bottomed utensil.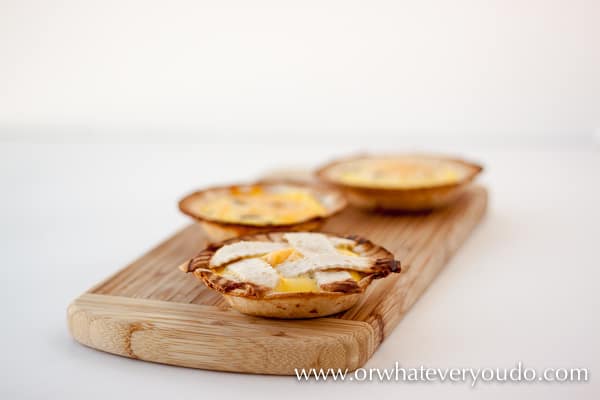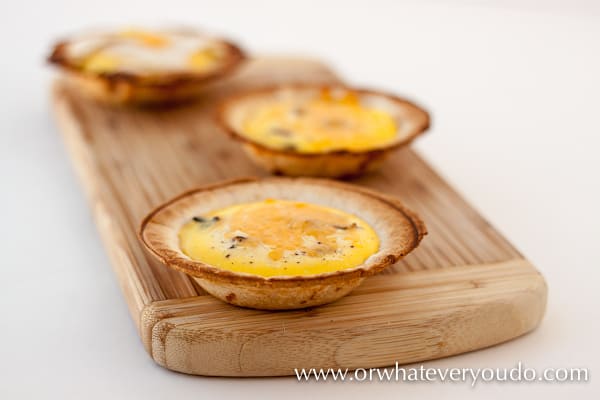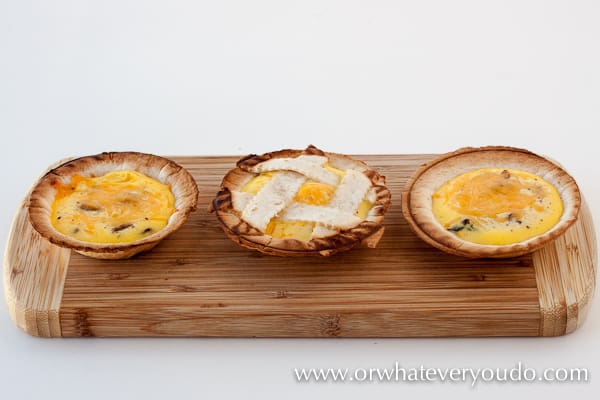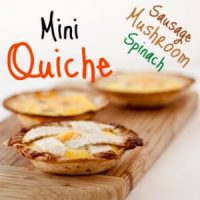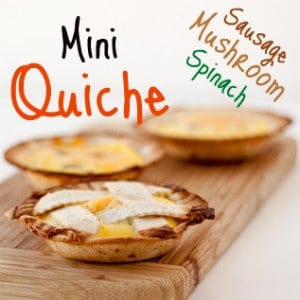 Mini Quiche
These mini quiche are made in a mini-pie maker and are a wonderful breakfast option!
Ingredients
4 large flour tortillas
4 patties breakfast sausage
2-3 medium sized mushrooms, chopped
1 handfull fresh spinach
3 eggs
3 TBSP milk
1/4 tsp salt
1/3 cup cheddar cheese
Instructions
Plug in pie maker. Cut tortillas using the tool provided. Set aside.
Fry sausage according to package directions. Remove from pan and add mushrooms. Cook over medium heat until browned, scoot to the side of the pan, and add spinach. Cook, stirring frequently, until wilted. Lightly salt and pepper the vegetables. Remove from pan. Chop the sausage up and mix in with the spinach/mushroom mixture.
Mix three eggs with milk and salt well.
Microwave tortillas for 20-30 seconds to soften. Press tortillas into pie maker using tool provided. Add a heaping tablespoon of filling, and fill remaining room with egg mixture. Sprinkle with cheddar cheese, and if desired top with top tortilla.
Close lid and cook 7-10 minutes. Check mid-way through. If the edges are getting overly browned, prop open lid for remaining time. Cook until centers are set.
Nutrition Information:
Yield:

4
Serving Size:

1
Amount Per Serving:
Calories:

352
Total Fat:

18g
Saturated Fat:

6g
Trans Fat:

0g
Unsaturated Fat:

10g
Cholesterol:

174mg
Sodium:

731mg
Carbohydrates:

30g
Fiber:

2g
Sugar:

1g
Protein:

17g
Nutrition data provided here is only an estimate. If you are tracking these things for medical purposes please consult an outside, trusted source. Thanks!
Notes:
If you misjudge the doneness of the completely encased quiche as I did, and when you cut into it, you find its a bit runny, nuking it for 30 seconds solves the problem. I would suggest cooking the encased quiches a little longer than the open or partially open ones.

This made a little bit extra of each of the ingredients for me. I fried it up in the frying pan I used to cook the other ingredients and ate that while I waited for the others to bake! Yum!