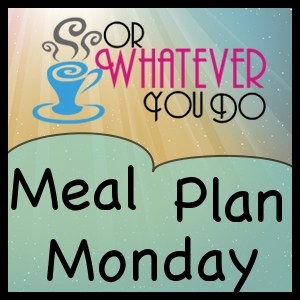 It is time already for another meal plan Monday over here at Or Whatever You Do. I know, I know, it is Tuesday. MLK day threw me off! The kids were home, running wild, and I spent almost ALL DAY LONG in the kitchen, so it threw me off a bit. Sorry for the delay!
It has been a fabulous week here! I have seen more traffic this week than I have over the last several months, combined. This is mostly thanks to having four recipes up over at Tastespotting and at Foodgawker. If you found me through them, thanks for hanging around! If you like what you see here, take a minute and add me as a favorite over on those sites. That will help more people find me. Did you miss the past week's recipes? Here they are! Click to be taken to them in another window.
Also, please feel free to like me over at my Facebook page (I LOVE hearing from you guys! It makes my day!), follow me at Pinterest (I added new pin buttons to all my images to try and make pinning easier for all of you. What do you think?), or subscribe by entering your email address over in the left hand side of the site to be sure to never miss another OWYD recipe.
If you are a fan at foodgawker, and enjoyed my donut post, I would sure appreciate it if you would pop over there and click "favorite" for me! For the first time EVER I am on the "Most favorited" last 7 days AND last 30 days lists. Clicking the little heart on my photos there helps them move up on those lists, so more people can see them and click on over.
If you are a long-time OWYD reader and enjoy what you see, please pass the word on! Share my site with your friends and family via facebook or email. There are convenient little buttons at the bottom of each post to make this as easy as possible for you. This would bless me so much. I have set a goal this year of trying to grow my site, and hopefully I can meet that, but not without your help!
Are you a fellow food blogger? I am always looking for new blogs to check out, and new food blogging friends! Leave a link to your site in my comments and I will stop by and take a peek, and say hello while I am there.
Okay, enough of all that, now on to the meal plan. I haven't stuck to last week's meal plan all that well this week, so this is going to be somewhat of a repeat for some of you that read last week's Meal Plan Monday. In fact, I only crossed THREE of them off my list from last week. And two of them were this weekend. Such is life! I stalled shopping, which was a big part of it. And another was that sometimes by the time I was ready to start dinner, I just wasn't up for the whole production of photographing/editing/writing up, etc. Being pregnant with 4 kids will do that to a girl sometimes.
So, this week here is the "plan". I hope this will help give you some ideas. Do you meal plan? Leave yours in the comments, or a link to your meal plan post!
Tortellini Soup

Tacos with leftover spanish rice
Ribs with Cheesy Bacon Oven Chips