Hi again! I am here, still, the same place I always am. Drowning in a sea of dirty dishes, dirty little boys, and dirty laundry. 🙂
School is starting soon though! T – 13 days and counting. I will only have ONE child at home this year! ONE! I haven't had ONE child to look out for the majority of the day since 2005! Not that I am excited or anything. Nope. I am sure I will be right there along with the other kindergarten moms, holding back the tears. Or not. I have all the confidence that my about-to-be-newly-minted kindergartener will do great! I cannot wait for him to meet new friends, play, learn, and have all of those new experiences that school brings. I also cannot wait for the relative lack of fighting, time to do things around here without 4 kids underfoot, and the freedom to do the shopping during the day without wanting to tear my hair out and run away from home by the time we get to the check-out line. Four boys, even as well-behaved as mine always are (cough-cough), are still four rowdy boys!
I am going to break out this great recipe for your next pizza night, that I made a month or so back. This was a HIT with my husband and I. I cannot wait to do it again!
( Can you tell my keyboard is broken and my apostrophe doesn't work. I have to manually click my on-screen keyboard for most of the buttons on the right hand side of my keyboard. UGH. )
I hope you enjoy it as much as we did! As always, if you have any questions, comments, or feedback, please feel free to post in the comments here, or email me at orwhateveryoudo@gmail.com. I love to hear from you guys! How have your summers been? Are you excited or sad for the kids to go back to school? What is your favorite kind of pizza?
Chicken Spinach Pizza with White Sauce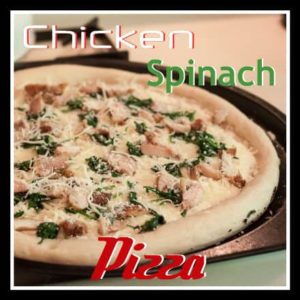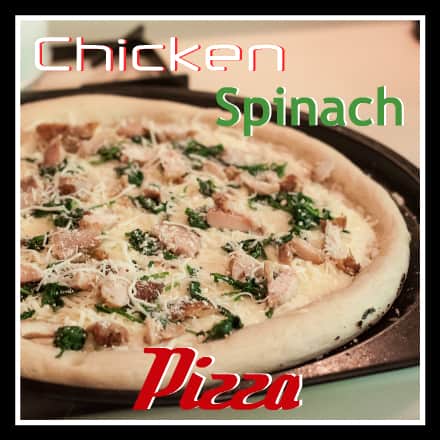 I love pizza. We all love pizza here in this house. Sometimes though, I get tired of the regular toppings that we usually default to. Pepperoni, ground beef and mushroom, even Hawaiian gets old sometimes. During those times I usually make some kind of white pizza. The sauce for this takes less than 5 minutes to make, and it goes so well with these toppings. I hope you enjoy it as much as we did!
For this you will need my pizza dough recipe! You can find that HERE. You can also use one of the ready-made pizza crusts, the box crusts, or the pre-made dough. They all work well.
Start by melting about 3 tablespoons of butter in a small saute pan. Add to that 2-3 teaspoons of garlic, depending on how much you like garlic (and if you plan on doing any kissing later on in the evening.)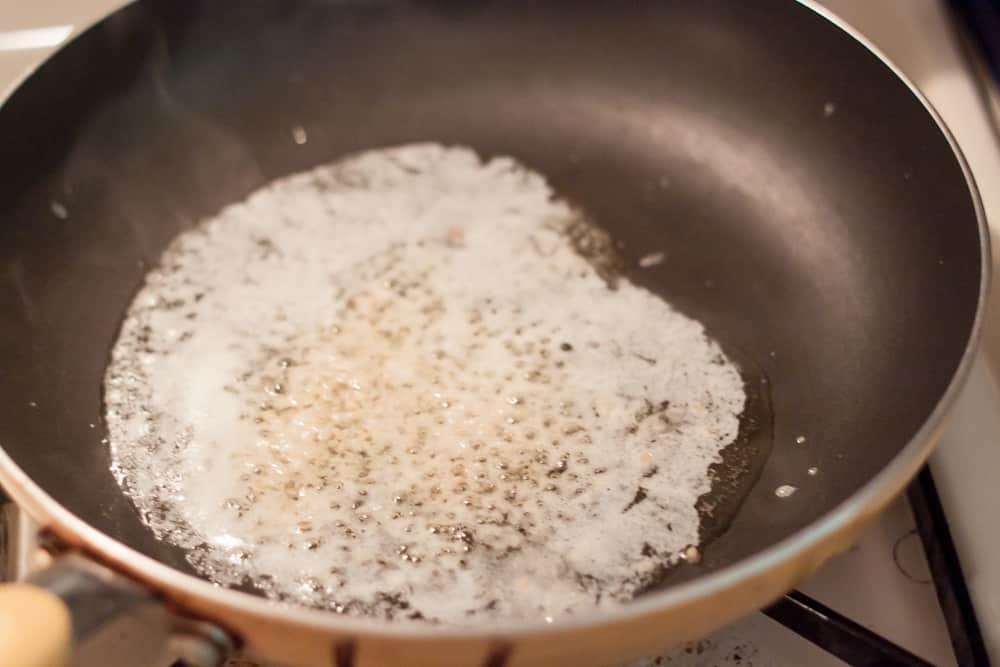 Let that cook over medium-low heat for about 30 seconds, and then add to it 1.5 cups of heavy cream, and ½ cup parmesan cheese. The kind in the green can is fine for this, but if you have some of the good stuff laying around, feel free to use that too. Let it all cook, simmering lightly, until it cooks down a bit and thickens up. Add salt to taste, and if you like it, some fresh basil goes great with this in the sauce.
While the sauce is cooking, pre-bake your crust until it starts getting a bit brown on the top.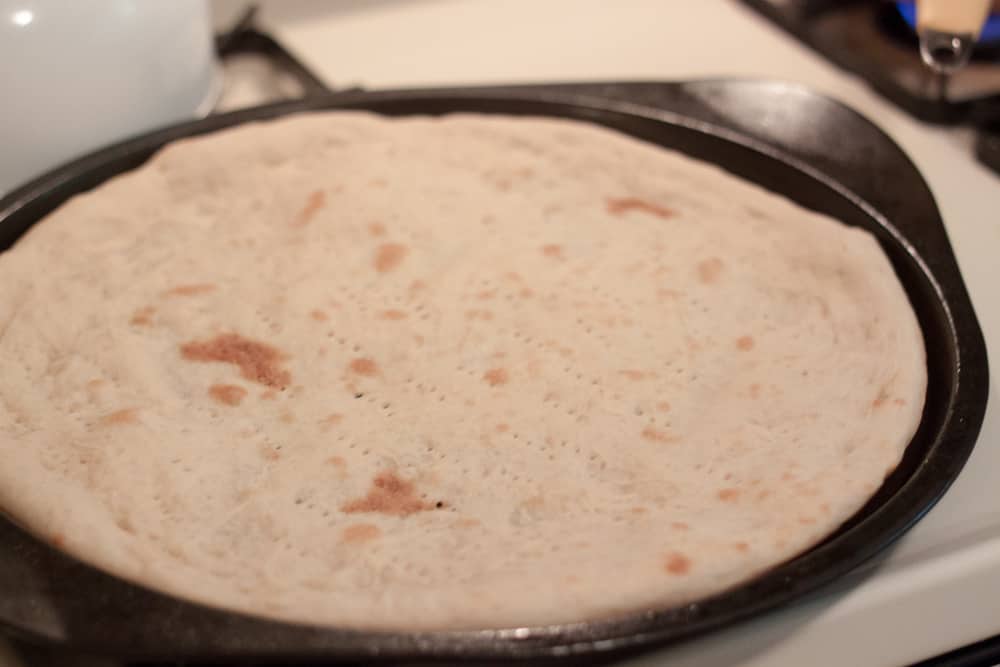 Chop up some cooked chicken. You can use breasts or thighs. Either works well!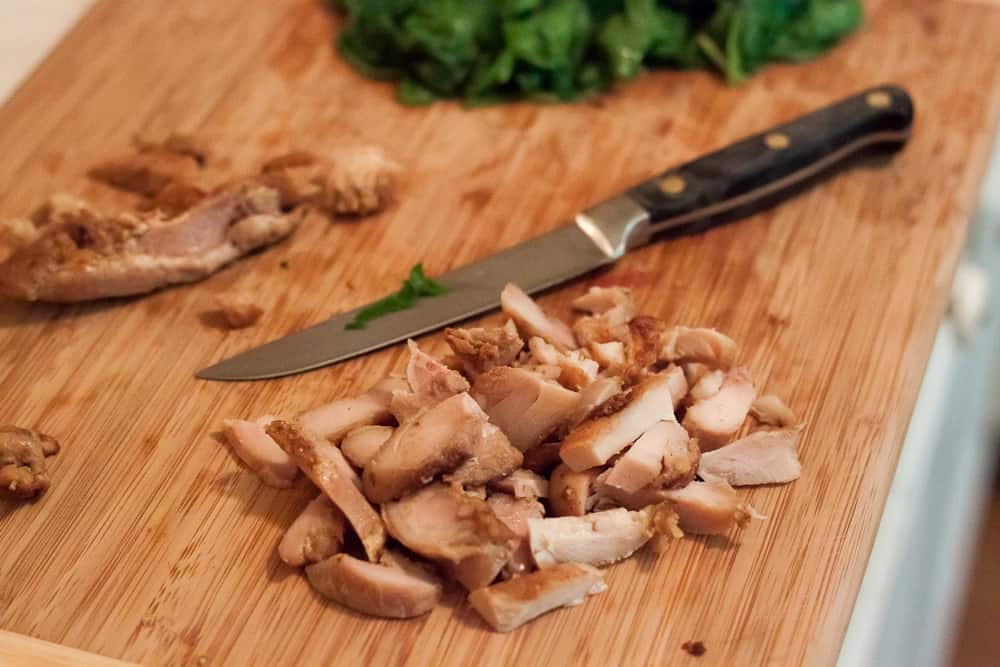 While you are at it, chop up some lightly steamed and WELL drained spinach. (this photo is before I squeezed all the water out!)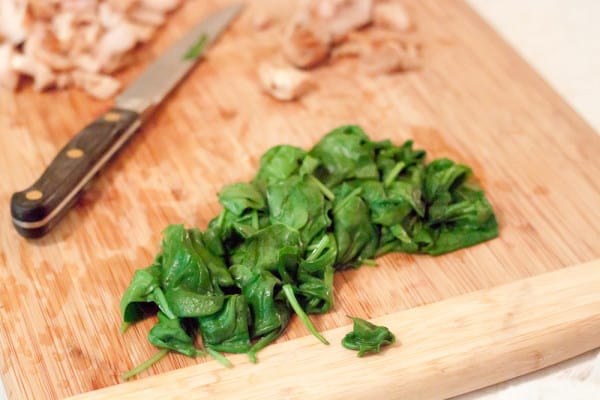 Put the sauce (as much as you like on it! I had some left over to dip my crusts in.) on the pizza, top with some mozzarella and provolone cheese, and the spinach.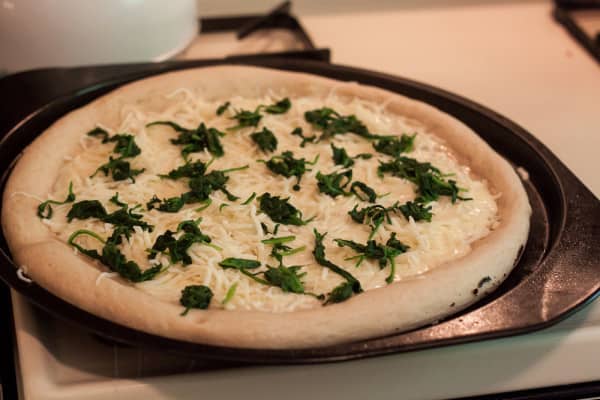 Toss the chicken on, and top the pizza with a little more mozzarella, and a few sprinkles of parmesan.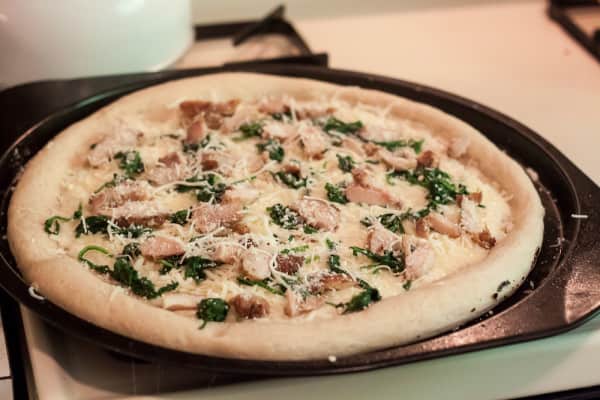 Pop the pizza back in the oven and bake until the crust is fully cooked and the cheese is melted and bubbly.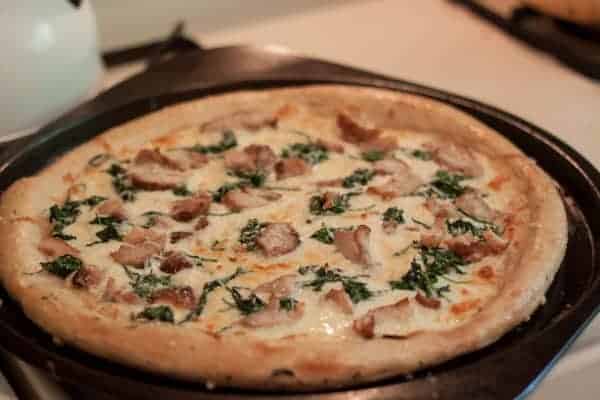 Brush the crust with a mixture of melted butter, garlic salt, parsley, and more parmesan cheese if you want it to be extra yummy!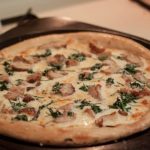 Chicken and spinach pizza with garlic white sauce
Ingredients
3

TBSP

butter

2

tsp

garlic

minced

1.5

cups

heavy cream

1/4-1/2

cup

grated parmesan

1/2

batch pizza dough

2

cups

mozzarella & provolone cheese

3-4

TBSP

grated parmesan

1

cup

diced cooked chicken

2

cups

lightly steamed and drained spinach

3-4

TBSP

seasoned garlic butter
Instructions
Melt butter in a saute pan over medium-low heat. Add garlic. Cook 30 seconds and add cream and parmesan. Continue cooking over medium-low heat until reduced and thickened. Salt to taste.

Pre-bake crust for approximately 10 minutes, or until it starts to get a lightly golden brown color on top.

Top pizza with white sauce, mozzarella/provolone cheese, chicken, spinach, and parmesan cheese.

Bake an additional 10 minutes, or until crust is completely cooked and the cheese is melted and bubbly.

Brush crust with the garlic butter mixture and enjoy!
P.s. I am using a new formatting plug-in for my recipes. Do you like it? Thoughts? Happy end of summer!
~Nicole