Mini Cottage Pies are cooked in your automatic pie maker, or in mini pie tins! Make these single-serving comfort food classics for your freezer for easy homemade weeknight meals, or for your kids to take for lunch!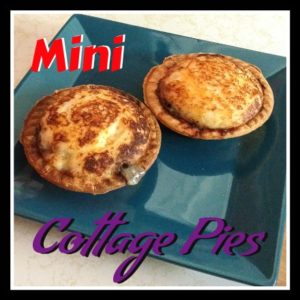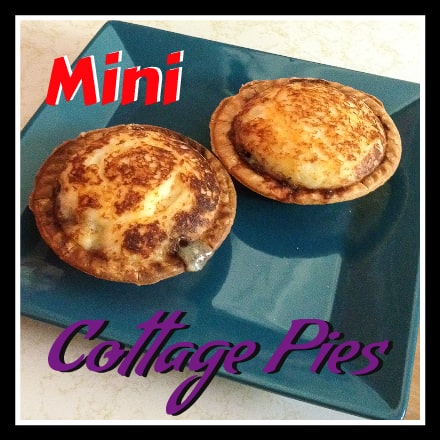 Mini Cottage Pies
It has been a while since I broke out the mini pie maker and made some pies!
I have never actually made cottage pie before, much less mini cottage pies, but it was amazingly simple and came together in less than 45 minutes. I had some pre-sized pie crusts in the freezer, which definitely helped things along quite a bit.
My picky kids devoured these! They are filled with ground beef, celery, onion, carrots, mushrooms, and seasonings. Held together in a pan gravy that consists of a bit of red wine, water, beef bouillon, and a cornstarch slurry.
If I would have had enough beef stock I would have made extra gravy to pour over the top of these, but they were great without. I just put a dollop of butter on top of each one, and that was perfect!
If you do not have a mini pie maker, you can feel free to modify this to make a regular sized pie. Same method!
How To Make Mini Cottage Pies
Start by dicing up some onion, carrots, and celery. Put in a pan with about 1/2 – 3/4 lb of ground beef. Season liberally with salt, pepper, garlic salt, and onion powder. Also toss in about 1/2 tsp of thyme and marjoram.
If you don't have your mashed potatoes already made, start the water now.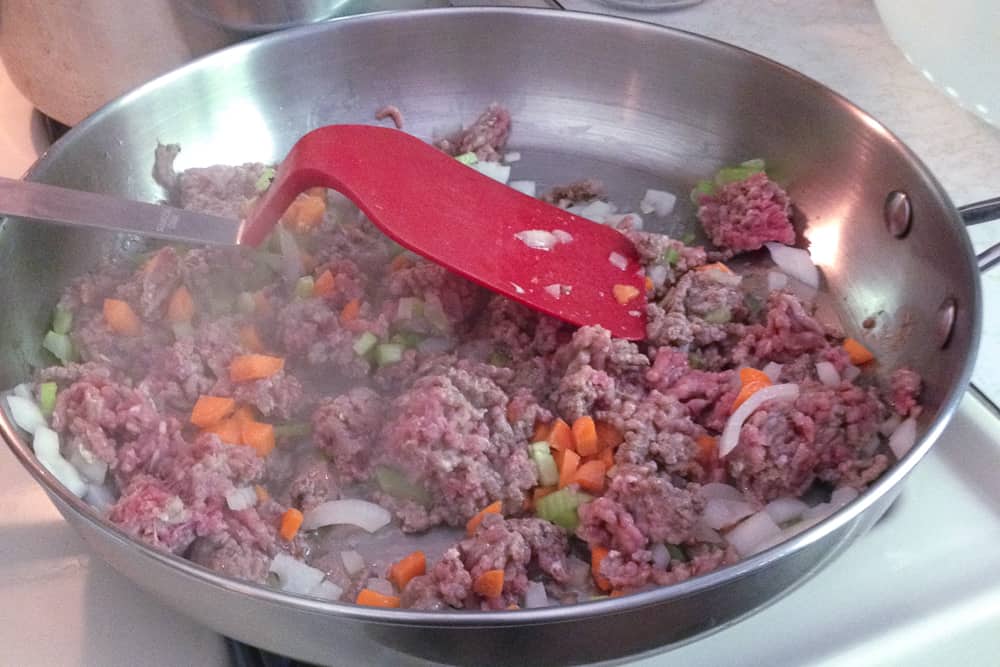 You can also throw in some mushrooms if you like them!
Add some frozen peas. Add some garlic. When that is all cooked and delicious, spoon out some of the excess fat. Add 1/3 cup red wine, and cook for 2 minutes. Now add 1 cup of water and a beef bouillon cube, packet, or teaspoon. Whatever form you prefer. You can also use beef stock in place of the water/bouillon combo. Let that cook for about 5 minutes over medium-low heat.
Boil those potatoes! We need mashed potatoes for this!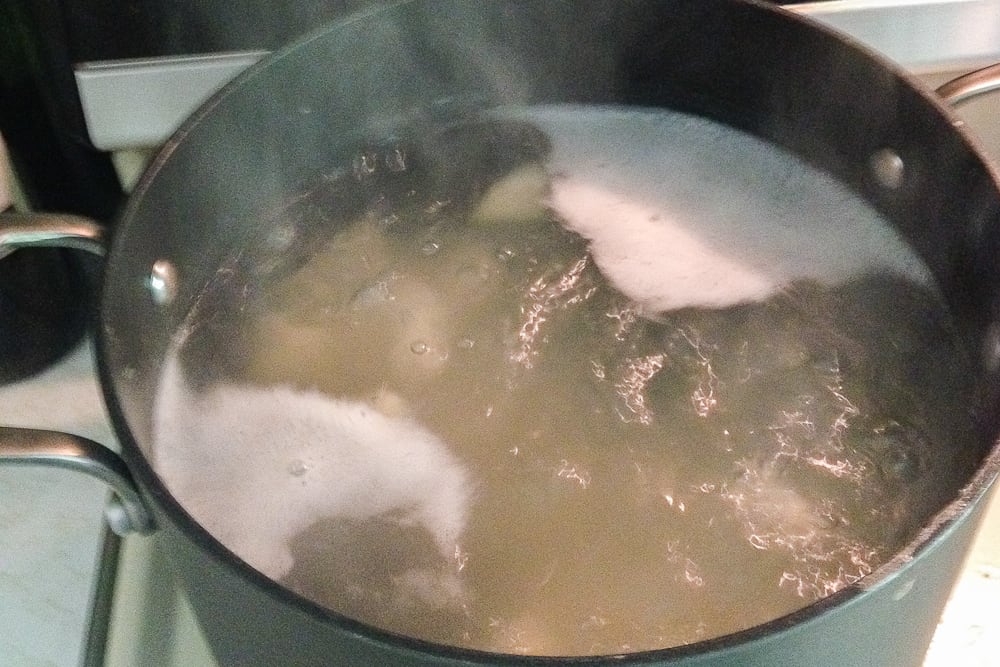 Next mix up a cornstarch slurry. I used about 2 TBSP of cornstarch and enough water to make it pourable. Pour this into your beef mixture and stir until it thickens. If you think it needs to be thicker, add more slurry, if it is too thick, add more water/broth.
Now take your pre-sized pie crusts and place them into a COLD mini-pie maker. I KNOW that the directions probably say to do it hot, but I have much better results when I start it up cold. Of course, for the second batch, this wasn't possible, but we made due.
Press them down with the tool that comes with it. Don't turn it on yet.
If your potatoes aren't mashed yet, do so. I like to do mine with about 2 oz cream cheese, 1/2 cup butter, 1/2 cup sour cream, and enough milk to make them soft. Do not forget the salt. Potatoes need to be liberally salted. There is nothing worse than bland mashed potatoes! When they are ready and mashed and seasoned, put them in a large ziplock and cut the tip off the end.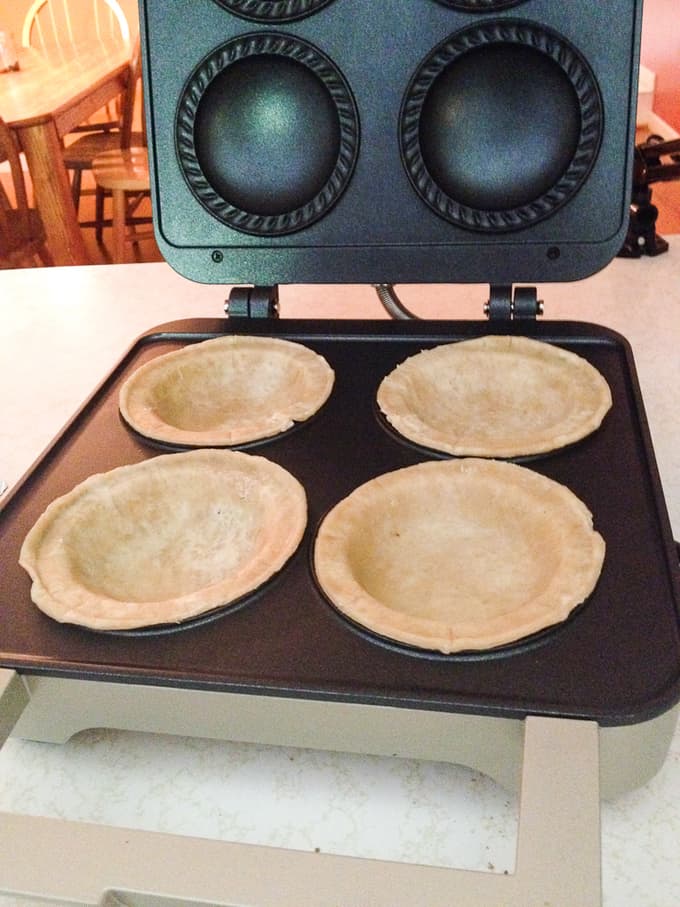 Now fill with the beef mixture.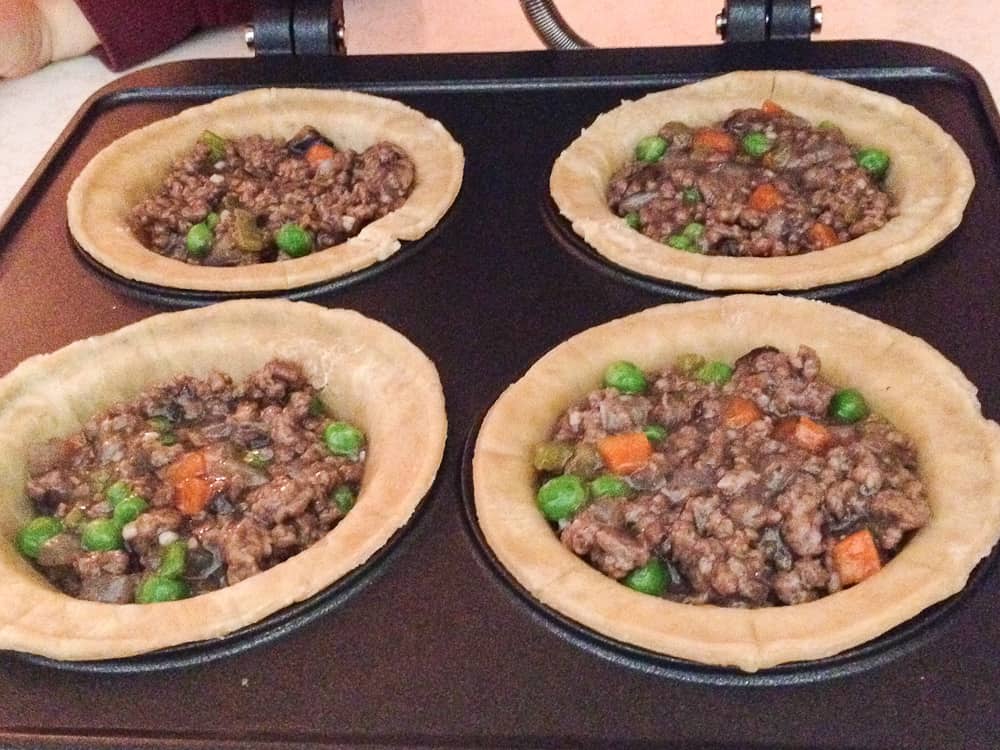 Top by piping on the mashed potatoes and give it a sprinkle of paprika.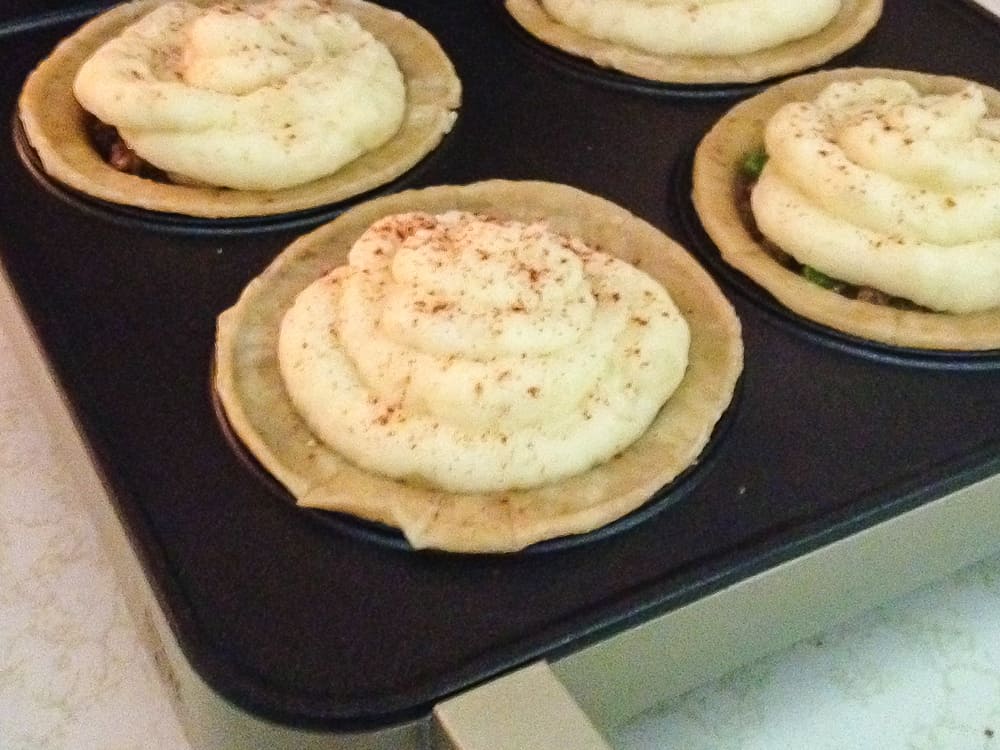 NOW turn on your pie maker and close the lid. Cook for 10-15 minutes, checking near the end, and take them out when the crust is golden brown and the potatoes have developed a bit of a crust.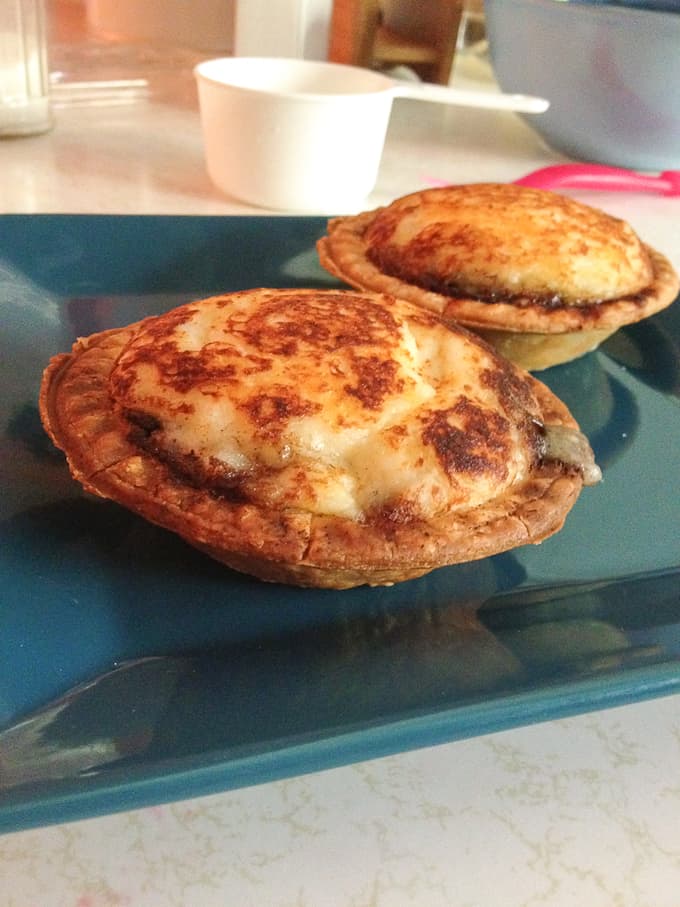 Now doesn't that look yummy!
My kids LOVED these. I did too. I cannot wait to try a variation of this with left-over roast beef dinner, complete with scratch gravy to go on the top. Can you see me drooling from there? I hope not!
Yield: 4 people
Mini Cottage Pies
Delicious meat-filled pies are cooked in a mini pie maker, and topped with mashed potatoes!
Ingredients
8 mini pie crust rounds
1/2 - 3/4 lb ground beef
1/2 teaspoon salt
1/2 teaspoon pepper
1/2 teaspoon garlic salt
1/2 teaspoon onion powder
1/2 tsp thyme
1/4 tsp marjoram
1/2 cup diced onion
1/2 cup diced carrots
1/2 cup diced celery
1/2 cup frozen peas
1 cup diced portabella mushroom
1/2 cup red wine
1 cup water
1 tsp beef bouillon paste, or equivalent
1/2 cup corn starch slurry
6 cups prepared mashed potatoes
sprinkle paprika
Instructions
Brown ground beef with onion, celery, carrots, and mushrooms. Season with salt, pepper, garlic salt, onion powder, thyme, and marjoram.
Add garlic, cook 1 minute. Drain excess fat. Add 1/2 cup of red wine. Cook, simmering, for 2 minutes. Add frozen peas and 1 cup of water plus beef bouillon.
Cook for 4-5 minutes, and add corn starch slurry. Let thicken to desired consistency. Remove from heat and let cool.
Place pre-shaped pie crusts into mini pie maker and press down with tool. Fill with ground beef mixture, and top with prepared mashed potatoes, piping on with a snipped ziplock baggie.
Turn on pie maker and close lid. Cook for 10-15 minutes, or until crust is golden brown and top has formed a slight crust.
Top with a small dollop of butter and serve hot.
Notes
Make this in a non-mini form in your oven if you don't own the mini pie maker! Just use a regular-sized pie tin that's been coated with non-stick.
Nutrition Information:
Yield:
8
Serving Size:
1
Amount Per Serving:
Calories:

1087
Total Fat:

55g
Saturated Fat:

17g
Trans Fat:

1g
Unsaturated Fat:

32g
Cholesterol:

21mg
Sodium:

1586mg
Carbohydrates:

126g
Fiber:

9g
Sugar:

11g
Protein:

20g
Nutrition data provided here is only an estimate. If you are tracking these things for medical purposes please consult an outside, trusted source. Thanks!