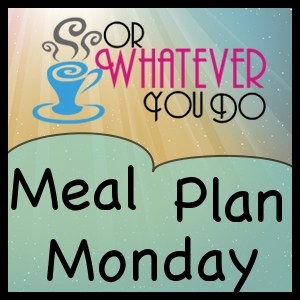 Hello friends and readers! Welcome to the very first edition of my new series, "Meal Plan Monday". I'm going to go through this in depth so you can "see" the process I go through in order to meal plan. Maybe that will help you in your efforts to meal plan!
So, in the fridge and freezer currently I have enough meat for 5-6 meals.
chicken breast
chicken thighs
ox tails
beef short ribs
venison steak
Bacon
I also have a few things I need to use up in the fridge.
Buttermilk
Fresh Mushrooms
Carrots
Celery
Lettuce
My grocery budget for this pay-period is pretty much gone, so we're going to work with what we have already this week. I also have a fairly well-stocked pantry that includes a variety of potatoes, pasta, and grains. When I meal plan on a week like this where I'm not going to go and shop specifically for what I *want* to cook, I go around my kitchen and take stock of what we have available, and what I might need, choosing dishes where I'll need to buy the least amount of items.
For me, I don't like to specify the days on which the meals will be cooked. I just come up with a list of meals to make. I also don't include lunches in these plans because we typically eat either leftovers from dinner the previous night, or one of our "go-to" lunches which include mac and cheese, grilled cheese & tomato soup, noodles and sauce (just noodles and plain tomato sauce, a long-time favorite of mine! I know…weird!), hot dogs, or various other kid-friendly foods I usually have laying around. That way, I can make whatever I feel like making, whatever day I feel like making it. Having a list to choose from helps me SO much during that afternoon "What's for dinner" time that I have been dreading since I stopped meal planning a while back.
So for this week, here is what I *know* I'll make from what I have.
Sweet Chili Chicken (chicken breasts)
Venison stroganoff (venison steak)
Red Wine Braised Beef Short Ribs w/ mashed potatoes
Grilled venison steak?
Breakfast for dinner with Buttermilk Pancakes and Bacon
Chicken Caesar Salads
You'll notice the ox tails are not on that list. That is my husband's thing. I consider myself pretty adventurous in the kitchen these days, but something about ox tails just doesn't sound great to me. I think I'm going to request he make those next Saturday while I'm working! I'm sure they will be wonderful, but some of my old pickiness still lingers I guess.
The Sweet chili chicken is as simple of a meal as it gets. I will post a "recipe" this week, but in case you don't want to wait, it is basically a simple stir fry with sweet chili sauce tossed over the cooked chicken. We serve it with rice and usually broccoli. When my husband makes it, he lightly breads the chicken and fries it. The kids like it better that way, my scale likes it better my way.
We've had venison steak in the freezer for quite a while. A coworker of my husband's stocked our freezer a while back with a ton of awesome venison meat. Lots of venison burger, and sausage, and those steaks. We've been saving the steak for something special, and it looks like stroganoff will be it. There is quite a bit of it though, so we may even have enough left over to grill up some venison steaks for another meal!
My husband, the awesome cook that he is, usually handles the beef short ribs, but I think that this week I'll go searching out a recipe online and try my hand at them myself. That way, I can share the recipe with you! He doesn't like writing down his ingredients as he goes, and doesn't really remember what he does after, so getting a recipe out of him is pretty difficult.
When I go searching for recipes I usually start on foodgawker and tastespotting. I search what I'm looking for first. Look at the options! Beautiful!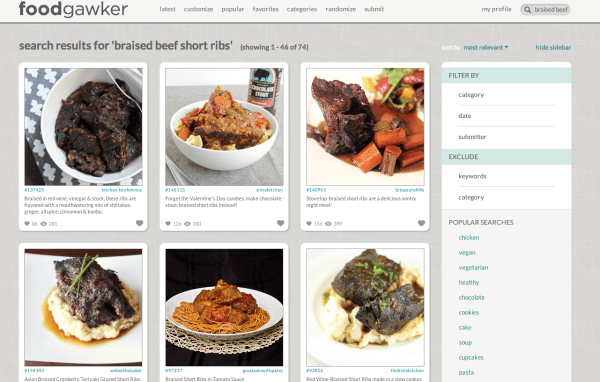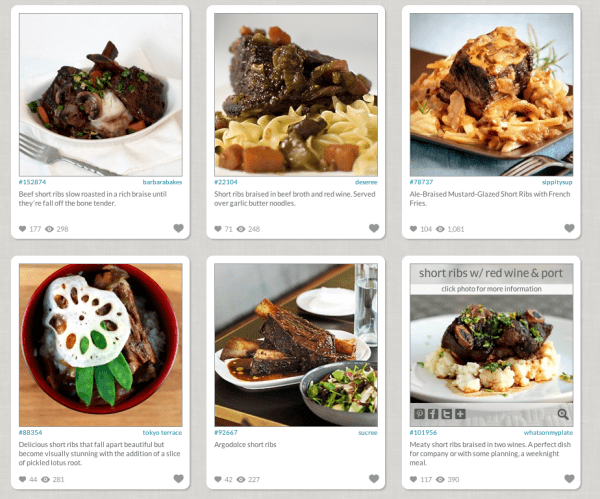 After searching around a bit I think I'm going to go with a version from Zen Can Cook. Mostly the method, as I don't have all of the ingredients on hand, and I cannot possibly ever just follow a recipe. I always have to change something up!
I'll probably look something up for the venison stroganoff also. I think that the venison deserves a little better treatment than my simple ground beef stroganoff usually gets.
That's the basic method I go through when picking recipes and meal planning. Some weeks I want to do a lot of new things. Some weeks I stick to easy and fast dishes with a lot of pre-made ingredients. I have four kids. I don't always have the time, energy, or motivation to cook everything from scratch! I usually don't post about our english muffin pizza nights, or Pasta Roni with chicken nuggets nights though!
What is your meal plan for the week? Link up here and pin the meal plan Monday graphic at the beginning of this post, and help spread the word about my new Meal Plan Monday series!
Powered by Linky Tools
Click here to enter your link and view this Linky Tools list…