I usually don't review products on here, but when I saw this Lobster Ravioli in Costco tonight I had to pick some up. We had a sample last year while shopping, but didn't buy any. By the time we went back to actually pick some up, it was GONE! I've been waiting for months, and they are finally back. They are different than last year, but still just as good as I remembered, but prettier!
I loved the red stripes. They lose a little bit of the oomph in the cooking process, but still looked pretty after cooking. I made a late dinner for Jeremiah and I with my Garlic Pinot Cream sauce, which sounds fancy, but comes together very quickly.
Start out by melting 2/3 of a stick of butter in a heavy saucepan. Add sliced mushrooms and cook until browned, stirring occasionally, about 5 minutes.
Add in the garlic and stir while cooking for about 30 seconds, or until the garlic is fragrant, but not browned. You don't want it brown at all. Add in 2 cups of Pinot Grigio, or any dry white wine. I often use Chardonnay, but its a little sweet for this dish in my opinion.
Let the wine reduce in the pan by 3/4 until its slightly thickened. Slowly pour in heavy cream while stirring. Reduce heat to medium low, and let sauce come to a light simmer. DO NOT substitute half and half or milk for the cream. It will curdle and you will hate it. I don't use anything but heavy cream in my sauces and soups anymore because of the risk of curdling. Its just not worth it!
Slowly grate in 3/4 cup of a good Parmigiano-Reggiano. Technically you CAN substitute the green stuff in the can, but I wouldn't recommend it. One of the only food snobbery hang-ups we have in this house is Parmesan cheese. Ever since we've tried the GOOD stuff, its really hard to go back to the green crap in a can.
Food snobbery aside, stir the entire time you are adding the cheese, and remove from heat as soon as its melted and delicious and pour over hot pasta. This sauce would be awesome with some spinach in it too, which I would've done if I'd have had it!
I really liked the Lobster Ravioli. Really. It satisfied my seafood and pasta craving, which is a hard thing to do. The first ingredient in the filling is lobster, which is a nice thing to see as well. Try some tonight, or wish you could if there is no Costco by you. 😉
P.S. Someone please rescue me from these cookies. They've taken over my life the last few days. All warm and melty and delicious.
Yield: 6 servings
Garlic Pinot Cream Sauce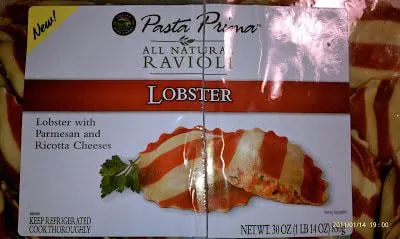 Garlic Pinot Grigio Cream Sauce can go on any type of pasta, but is especially good with seafood pasta!
Ingredients
1/3 cup butter
1 cup mushrooms, sliced
2 TBSP garlic, finely chopped
2 cups dry white wine
2 cups heavy whipping cream
3/4 cup shredded Parmigiano-Reggiano
Salt & Pepper, to taste
Instructions
Melt butter in heavy saucepan. Add mushrooms and cook over medium heat until browned. Add garlic and saute 30 seconds. Add wine and let reduce by 3/4.
Slowly add heavy whipping cream while stirring. Reduce heat to medium-low, and let come to a gentle simmer. Gradually add in cheese while stirring. Remove from heat. Add salt and pepper to taste. Serve immediately over hot pasta.
Nutrition Information:
Yield:
6
Serving Size:
1
Amount Per Serving:
Calories:

480
Total Fat:

42g
Saturated Fat:

27g
Trans Fat:

1g
Unsaturated Fat:

13g
Cholesterol:

124mg
Sodium:

341mg
Carbohydrates:

7g
Fiber:

1g
Sugar:

4g
Protein:

7g